Raspberry Peach Cheesecake Salad - An amazingly refreshing fruit salad that's rich and creamy with cheesecake filling!  Perfect for summer with the addition of raspberries and peaches!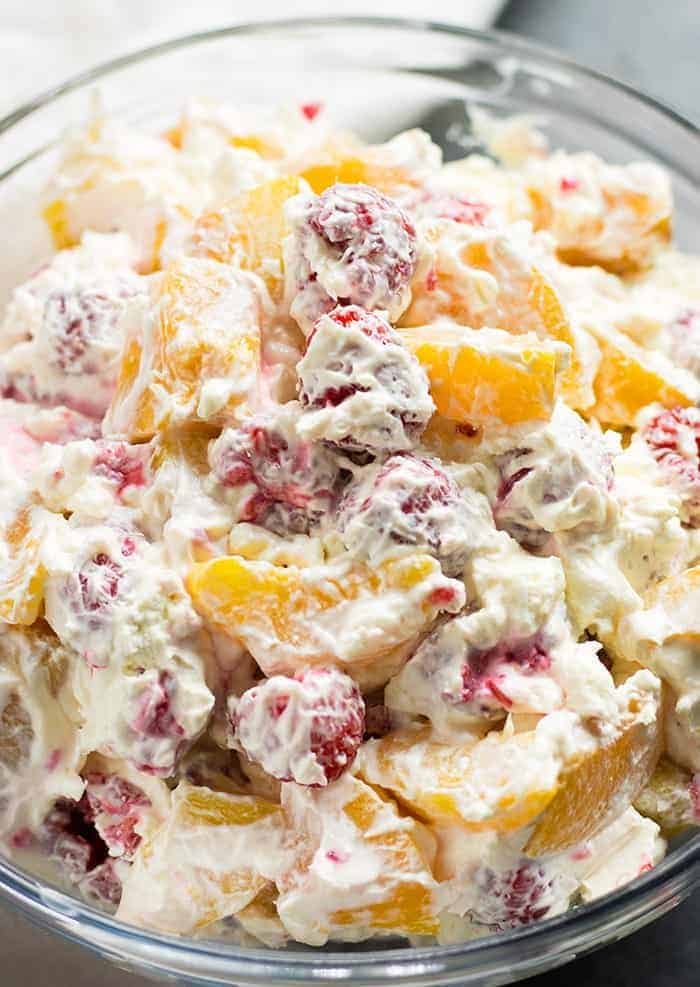 Well, hey guys!  Can you tell I'm ready for a good old summer BBQ?
First this week with the grilled cajun shrimp - now I'm all over it with the fruit salad.
Give me those two things and I'm done for.  Tears of joy.
Of course it was all crazy warm and beautiful here and today it's windy and chilly - tears....not the joyful kind.
I'm still managing to eat my way through the bowl of creamy goodness that this cheesecake salad is though.
CHECK OUT OUR VIDEO OF THIS RECIPE BELOW!
So, I don't know about you guys, but I grew up eating fruit salad this way - with creamy whipped topping and it seems like we always threw marshmallows into the mix too.
Was absolutely my favorite thing at every summer get together.
My kids, haven't grown up with it - I know, what's wrong with me?  I'm totally depriving them!
I ADORE this, I just don't make it all that often - again, why?
When I made it a few days ago, I tell my kids it's fruit salad......
They both look at me with a blank stare - look back at the bowl of yum - back at me.
"Isn't salad supposed to have lettuce??" they ask.
I feel like I've now completely confused them!  Not this time kids - it's dessert salad!
They'll never be the same again.
Get this salad on your Spring/Summer menu, pronto!
It only takes a handful of ingredients, and about 10 minutes to throw together.
You're on your way to creamy fruity heaven in no time flat.
Enjoy!
~Nichole
Ingredients
8

Ounces

Cream Cheese, Softened

½

Cup

Granulated Sugar

1

Teaspoon

Vanilla Extract

8

Ounces

Whipped Topping, thawed

2

Cups

Raspberries

2

Cups

Peaches, sliced
Instructions
In a large bowl with hand mixer, mix together the cream cheese, sugar, and vanilla until light and fluffy.

Fold in the whipped topping until well combined. Gently fold in the fruit. Serve immediately, or chill until ready to serve.
I shared this recipe on Meal Plan Monday at Southern Bite and The Weekend Potluck!