Grilled Taco Burgers are so easy to make and perfect for a summer cook out! You can add your favorite toppings to these burgers and combine the flavors of tacos and burgers together!
Grilled Taco Burgers:
Very few things taste as good as Grilled Taco Burgers. Imagine a burger that tastes like a taco with your favorite toppings! You'll find that the burgers are super juicy with the perfect amount of flavoring, you just can't go wrong. These burgers can feed a crowd or just one or two people, you choose.  If you're someone that likes to mix things up try these topped off with Black Bean Salsa or Mango Salsa, it's so good!
What are taco burgers?
To put it simply, taco burgers are burgers that are made to taste just like a taco. It's like the perfect mixture of a burger and a taco! The best part is that you can add whatever toppings you'd like! The choices are endless for guacamole, pico de gallo, lettuce, and tomato!
How to Make a Taco Burger
1. Take a bowl and add the ground beef and all of the seasonings. You will want to mix everything together gently but thoroughly.
2. You are then going to take your mixture and divide it equally into 6 burgers. Make each divided part into a ball.
3. then you are going to flatten it. Make a small indentation in the middle of the patty.You can also let your meat sit for around 30 minutes. Go ahead and preheat the grill to 400-450 degrees! Put the patties on the grill, close the lid, and cook for 3.5 minutes.
4. You will want to flip the burgers and grill them for an additional 3.5 minutes. You will get medium doneness with this cooking time.
You can cook the burgers longer if you prefer. When you take them off the grill, allow the burgers to rest for about 5 minutes. Now is the fun part: add whatever toppings you want to the burger.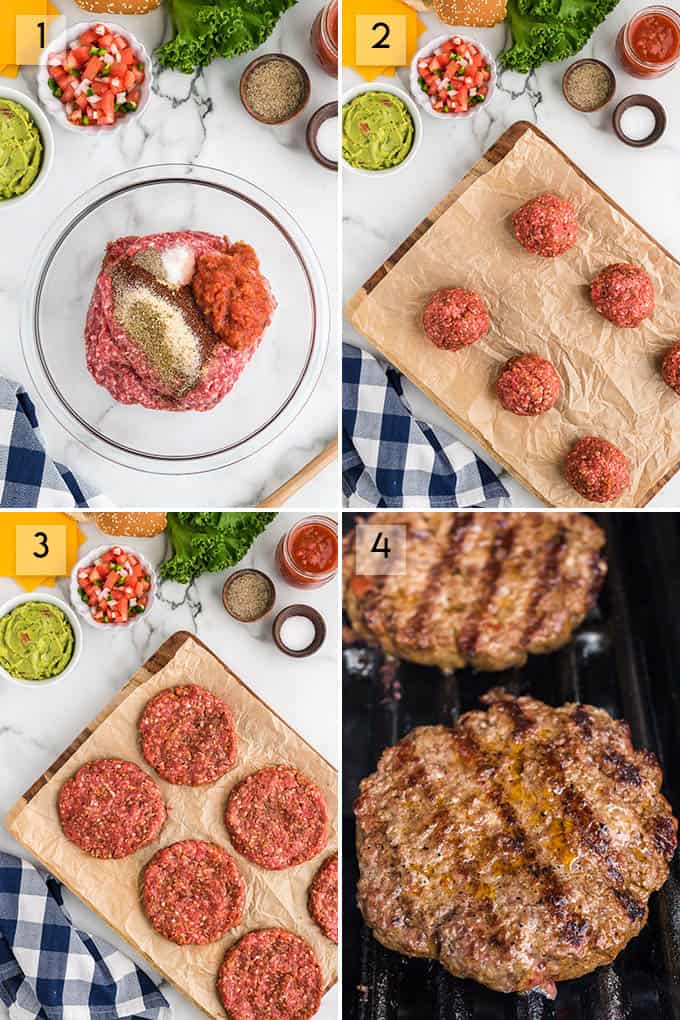 What can I serve with grilled taco burgers?
Sweet potato fries or regular French fries
Grilled vegetables such as zucchini, bell peppers, and onions
Chips and easy Blender Salsa or Guacamole are a must!
A side salad like this Corn and Black Bean Salad is also great
Mexican-style rice or quinoa
Corn on the cob or grilled corn
Black beans or refried beans
Nachos with melted cheese, jalapeños, and sour cream
Roasted potatoes with paprika and garlic
A simple and refreshing cherry tomato salad
What toppings go well on a taco burger?
Salsa - A spoonful of fresh salsa can add a burst of flavor to your burger.
Guacamole - The creamy texture of guacamole pairs well with the spicy flavors of the taco burger.
Jalapenos - Add sliced jalapenos to your burger for an extra kick of heat, or pickled jalapenos for a mild and tangy kick!
Sour cream - A dollop of sour cream cools down the spiciness of the taco burger and adds a creamy texture.
Cheese - Shredded cheddar or Monterey Jack cheese is a classic topping for taco burgers.  Pepper Jack is also great here for little kick of spice!
Lettuce - A crisp lettuce leaf can add a refreshing crunch to your burger.
Tomatoes - Sliced tomatoes provide a juicy sweetness that complements the savory flavors of the burger.
Red onion - Thinly sliced red onion adds a sharp bite that balances out the other flavors.
Cilantro - Fresh cilantro leaves can add a fragrant herbaceous note to your burger.
Pickled onions - Quick-pickled red onions can add a tangy sweetness that pairs well with the spicy taco flavors.
If you're out of ideas for lunch or dinner, try this one! This recipe for Taco Burgers is always a hit around here. Give it a try, and let me know what you think!
Enjoy!
~Nichole
Grilled Taco Burgers
Grilled Taco Burgers are so easy to make and perfect for a summer cook out! You can add your favorite toppings to these burgers and combine the flavors of tacos and burgers together!
Print
Pin
Rate
Instructions
In a large bowl, add the ground beef, salt, pepper, chile powder, garlic powder, onion powder, cumin, oregano and salsa. Gently mix to evenly distribute everything.

Divide the meat into 6 parts for ⅓ pound burgers, or 8 parts for ¼ pound burgers.

Carefully roll each portion of beef into a ball, and then flatten into a round patty. Using your thumb, make an indentation in the center of each patty. For best results, let the meat sit at room temperature for about 30 minutes before cooking.

Preheat the grill to 400-450°. Place the patties on the grill, close the lid and cook for 3 ½ minutes. Flip the burgers and grill for an additional 3 ½ minutes. This cooking time gives you a medium doneness. Adjust to your preferences (see notes).

After removing the burgers from the grill, allow them to rest for 5 minutes before serving.

Top your burger with lettuce, cheese, guacamole, salsa and any of your favorite Mexican toppings and enjoy. Goes great with chips and salsa.
Notes
RECIPE NOTES:
80/20 ground beef is the best option for a juicy burger.

Your hands are your best tool for mixing the meat together. Alternatively, you can use a stand mixer on the lowest setting to gently stir everything together.

I recommend restaurant style salsa to mix in the burgers. It is less chunky and will blend better.

For an extra spicy burger add diced jalapeno to the ground meat or some red pepper flakes.

These are the recommended cooking times for burgers:

Rare = 145° 2-2 ½ minutes per side

Medium rare = 160° 3-minutes per side

Medium = 3 ½ minutes per side

Well = 170° 3 ½-4 minutes per side
SEE THE POST ABOVE FOR ALL OF OUR TOPPING IDEAS!