The Best Guacamole Recipe!  This classic guacamole has a secret ingredient that makes it the absolute best!  An easy recipe for guacamole and how to make it!
For those of you that have been following me for a while - this recipe was originally posted last year!  The recipe is still the same, but, we have updated with some more info and a video for you!
How to Make Guacamole:
Making guacamole at home is a very simple process with only a few minutes of time, and a few simple steps!
The first thing you will want to do is chop up your red onion, tomato, and cilantro then set them aside.  Next, you will want to cut open your avocado and remove it from the peel.
You can see in the video below how simple it is to slice an avocado and remove the pit.  You will simply want to slice through the avocado lengthwise until you hit the pit.  Then, simply rotate the avocado around the knife while keeping the knife nice and steady.  This is how you cut around the pit.
Next, pull the avocado apart by gently twisting.  You will see the large pit in the middle.  With your chef's knife aimed at the pit, carefully whack into the pit using enough force that the knife does not slip.  Then, twist the knife to pull the pit out.
Alternately, if you aren't comfortable whacking the knife into the pit, simply place the knife directly on the pit and press firmly so that the knife doesn't slip.  Once the knife has pierced the pit, you can pull it out.
Once you have the pit out of the avocado simply scoop the green flesh out with a spoon and add it to a large bowl.  You can then use a fork to mash your avocado along with your lime juice, salt, hot sauce, and garlic powder.
Once you have your desired consistency, stir in your remaining ingredients.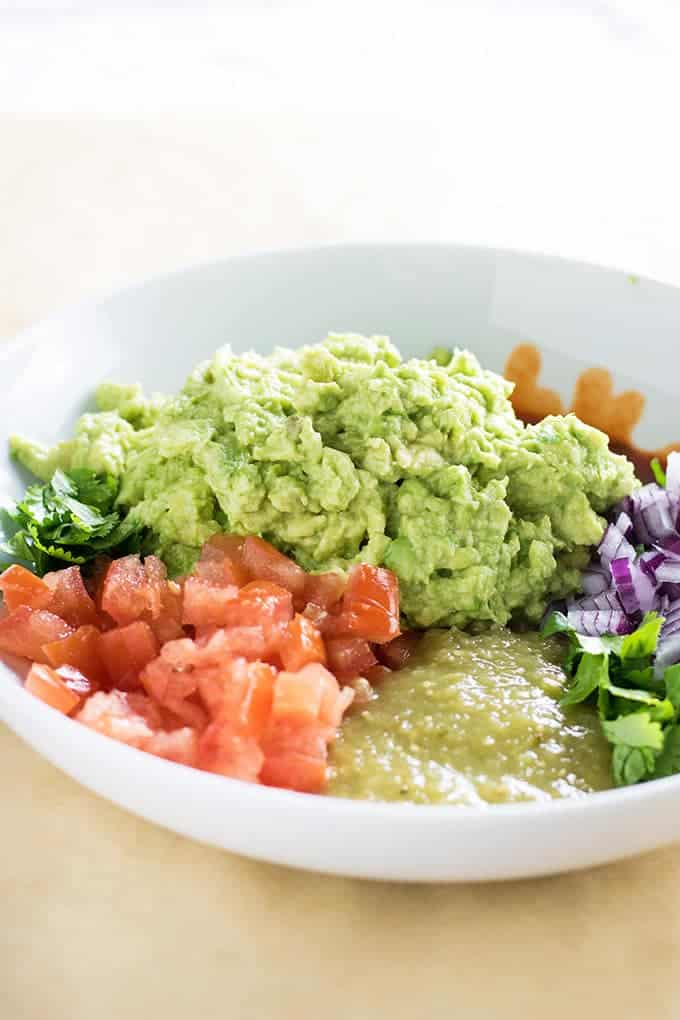 How to Keep Guacamole from Turning Brown:
Homemade guacamole can be made ahead of time and there are a few tips to keep it from turning brown before serving.  Keep in mind that once guacamole is mixed up it should be eaten within 24-48 hours.
Sealing the guacamole as tightly as possible with plastic wrap is a great way to keep if from turning dark.  You will want the plastic wrap to actually touch the guacamole.  Simply smooth the plastic wrap right over the surface.
Another great tip is to add the avocado pit into the guacamole until time to serve!  Add the pit, then, cover tightly with plastic wrap and chill.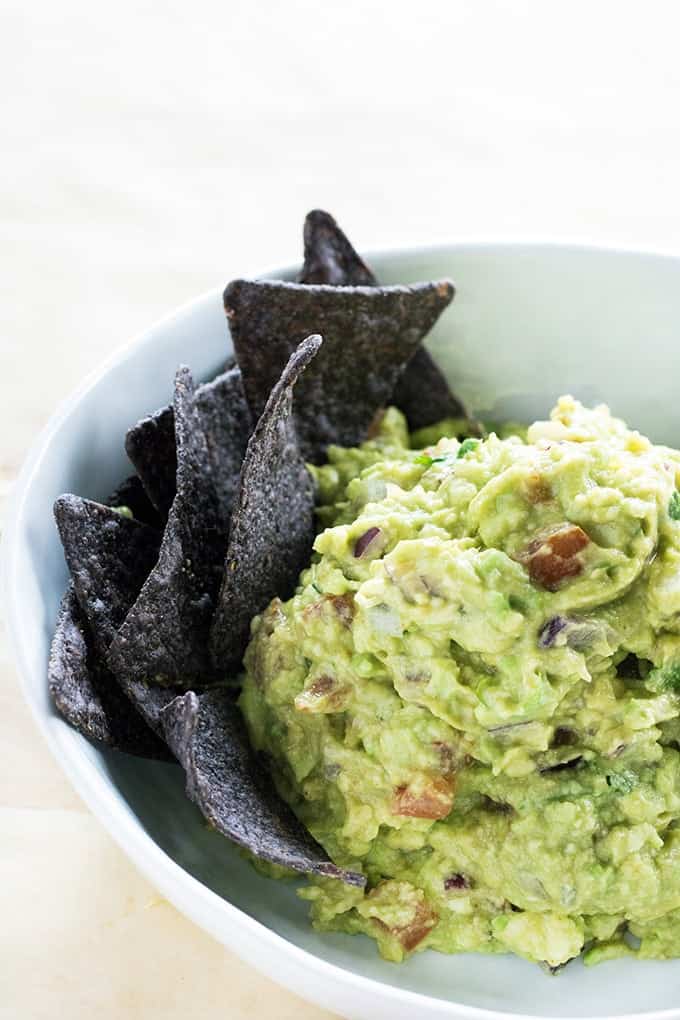 The Best Guacamole Recipe:
While guacamole is easy to make, there are a few things that make one recipe stand out from another!
I call this recipe "the best" because I have made my guacamole at home for years, and have found the perfect combination of ingredients for the absolute best flavor.
The secret ingredient in my guacamole recipe is salsa verde!  Adding a couple of tablespoons of green salsa takes the flavor to the next level without taking away the freshness of the avocado.
A note here, if you are a cilantro hater, feel free to leave it out!  If you are a cilantro lover, add more to your hearts desire!
If you don't have salsa verde, I recommend adding a couple of tablespoons of red salsa, but it is ok if you leave it out all together!
If you are looking for an easy dinner to serve with this guacamole I recommend my One Pot Mexican Rice Casserole or these Shredded Beef Enchiladas!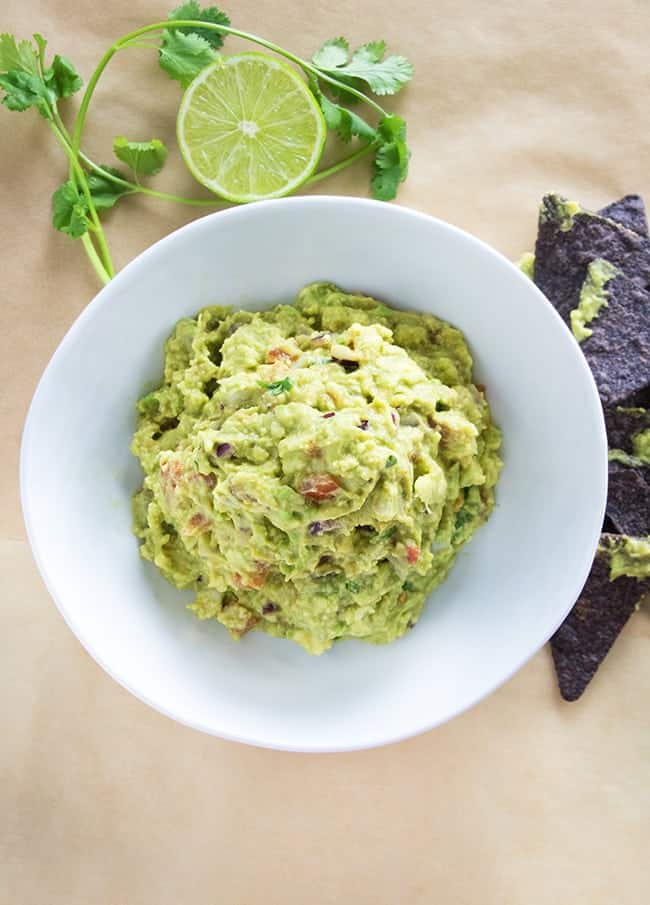 Enjoy!
~Nichole
Be sure to follow along with us on Facebook where we share the tastiest recipes!
The Best Guacamole Recipe
The Best Guacamole Recipe! This classic guacamole has a secret ingredient that makes it the absolute best! An easy recipe for guacamole and how to make it!
Print
Pin
Rate
Ingredients
3

Ripe avocados peeled

and pit removed

½

Red onion

finely chopped

1

Tablespoon

cilantro

chopped

1

Teaspoon

garlic powder or fresh garlic

minced

Juice of one lime

½

Teaspoon

salt

1

small tomato

seeded and chopped

2-3

Tablespoons

salsa verde

½

Teaspoon

hot sauce

1

Jalapeno

stems and seeds removed and chopped (optional)
Instructions
Mash avocado slightly in a large bowl using a fork. Add lime juice, salt, hot sauce, and garlic powder and continue mashing to desired consistency.

Stir in the onion, cilantro, tomato, salsa verde, hot sauce, and jalapeno.

Taste and season as necessary.

Serve immediately or cover bowl with plastic wrap and refrigerate.