French Onion Dip is so easy to make at home from scratch with simple ingredients!  This dip is a family fave, packed full of caramelized onions and so much better than store bought!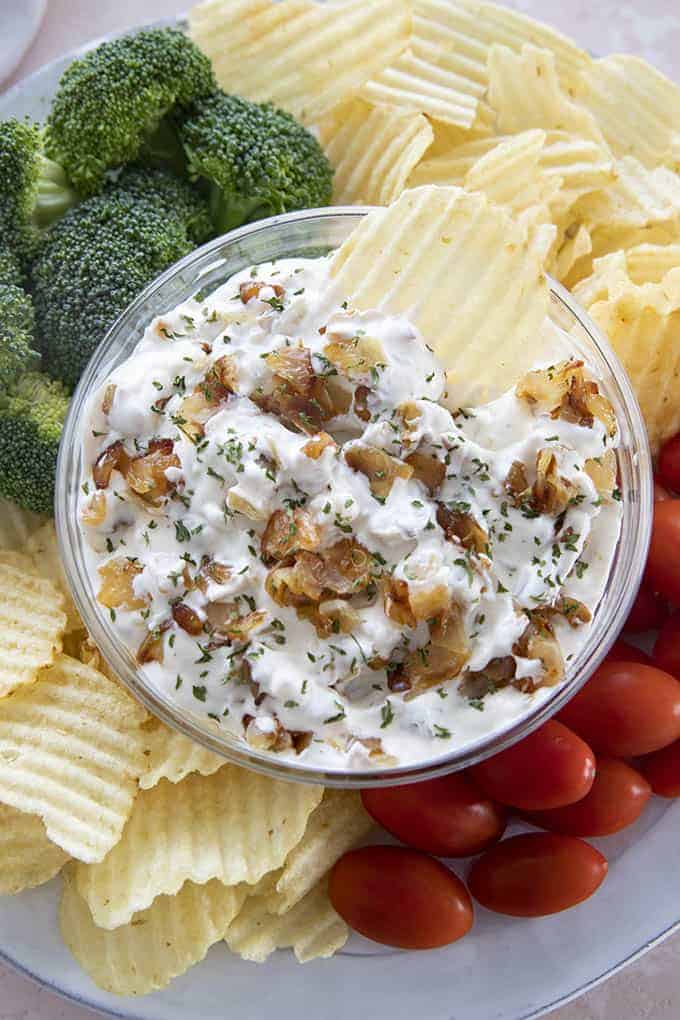 We all know and love the classic French onion dip that comes as a dry packet and is mixed with sour cream.  Or, sometimes you get it in a big fat tub at the store.  It's cool, it's creamy, it's one of the first things to disappear at a party!  If you think you love those versions, just wait until you have it homemade!  It doesn't get any easier than this!  Our simple ingredients are onions, butter, sour cream, mayo, dried onion, garlic powder, Worcestershire sauce, and a pinch of S&P.  Homemade is best and once you try this you'll never go back!  It's got the slight sweet and buttery flavor from the caramelized onions, tang and richness from sour cream and mayo, and it's way creamier and more satisfying to dip!  If you're looking for more dips, try our Fiesta Ranch Cream Cheese Dip and our reader fave Buffalo Chicken Dip too!
What Do You Dip In French Onion Dip?
We personally love classic wavy potato chips the best like Wavy Lays or Ruffles, either are good.  The salty chips are amazing because they don't overwhelm the dip flavor and the ridges are perfect for scooping!  I also happen to personally like a sour cream and onion chip with this dip.  Some people might think that's too much, but the flavors together are so good to me!  You can also use toasted bread, your favorite buttery crackers, pretzels, or veggies.  Some of my fave veggies for this dip are broccoli florets, baby tomatoes, cucumber, and carrots.  Use what you love!
How Do You Make Onion Dip From Scratch?
First you will start by dicing and caramelizing your onions.  I used 3 large onions for this dip, and that may seem like a lot but it does cook down quite a bit!  This is the step you will need to set aside time for, but it's easy and pretty hands off.  The onions need to caramelize in the butter low and slow for a good 30 minutes.  Just give them a quick stir every few minutes.
While the onions cook, I like to mix the rest of the dip up.  Just combine your mayo, sour cream, dried onion, garlic, Worcestershire, S&P in a large bowl with a lid.  Then pop it in the fridge to let the flavors start to combine while you wait to add the onion.
When the onions are done they need to cool, and I like to dump them in a bowl and cool them in the fridge for about 15-20 minutes.  Then, just fold them into your dip!
At this point you can eat the dip right away and it tastes amazing!  Of course it will have even more flavor if you let it chill for a couple of hours before serving, but that's optional.  This dip will last for up to 5 days for best results and flavor.
Enjoy!
~Nichole
French Onion Dip
French Onion Dip is so easy to make at home from scratch with simple ingredients!  This dip is a family fave, packed full of caramelized onions and so much better than store bought!
Instructions
Melt the butter in a large non-stick skillet over medium-low heat.

Add the onion and cook, stirring every 5 minutes or so for 30-45 minutes. Until the onion is soft and golden brown in color.

Meanwhile in a large bowl whisk together the remaining ingredients until combined and place in the refrigerator.

Once the onions are cooked, place them in a bowl and into the refrigerator to chill for about 20 minutes.

Fold the cooled onions into the sour cream mixture.

Serve with your favorite chips and veggies for dipping.

This dip can be served right away or chilled before serving for more flavor. Store in the refrigerator for up to 5 days.
Nutrition
Calories:
298
kcal
,
Carbohydrates:
1
g
,
Protein:
1
g
,
Fat:
32
g
,
Saturated Fat:
10
g
,
Cholesterol:
42
mg
,
Sodium:
260
mg
,
Potassium:
51
mg
,
Fiber:
1
g
,
Sugar:
1
g
,
Vitamin A:
372
IU
,
Vitamin C:
1
mg
,
Calcium:
36
mg
,
Iron:
1
mg
Nutrition information is automatically calculated, so should only be used as an approximation.
Like this? Rate & review this recipe below!