The easiest cookies for Easter and Spring!  These cookies are super soft, made with white cake mix - topped with a decadent lemon frosting, toasted coconut and robins egg candies for a super cute nest look!
RECIPE REVAMP!  These cookies were originally posted on the blog one year ago - we have updated the recipe ANNNDDD added a video, check it out below!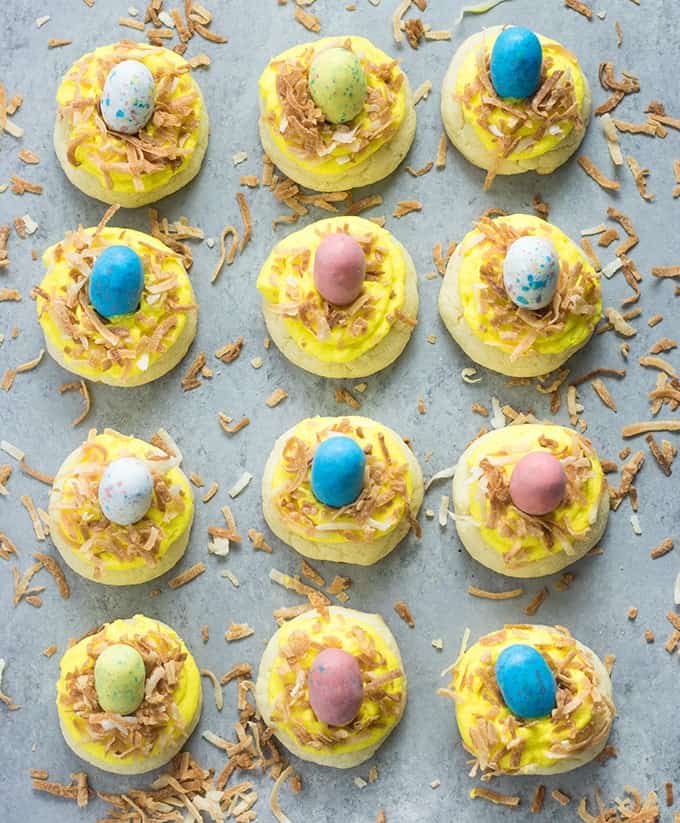 Ok, you all know I love working with cake mix!
And, well, if you don't know that you can find find some recipes like Strawberry Cake Mix Cookies and this easy Strawberry Skillet Cake to find out more about my love of "revamping" cake mixes.
Anywho - I know it might seem like a lot of steps with these cookies - but, you can have the cookies made, cooled and frosted, and decorated in about 30 minutes.
Cake mix cookies are one of the first things I started baking, and something I still love to make - because they're SO EASY.
It's fun to make them with my kids without having to pull all of the things (flour, sugar, etc.) out of the pantry.
Their a great go-to, impromptu cookie, and I always have a mix in my pantry for last minute baking.
The lemon buttercream is as simple as can be, only three ingredients.
I literally trust my 12 year old to make these cookies all by her little self.
Point made that these are easy and simple?  Or shall I keep rambling?
I won't do that, promise.
I will say, I like it when holiday's are easy, more time to spend with the fam.
If you're looking for, ya know, some actual holiday food to go along with these cookies my Maple Cherry Glazed Ham is easily the quickest, tastiest, ham I've ever made - AND it's made in the crockpot.
Happy (early) Easter!
~Nichole
Ingredients
Instructions
Preheat oven to 350 degrees. Line a large baking sheet with parchment paper or spray with non-stick cooking spray, set aside.

In a large bowl, or bowl of stand mixer fitted with paddle attachment, beat together the cake mix, butter, olive oil, eggs, and vanilla extract until combined.

Drop the cookies onto prepared pan in rounded tablespoon-fulls. Bake in preheated oven for 8-10 minutes. Allow cookies to cool for 5 minutes on pan before removing to wire rack to cool completely.

Reduce oven temperature to 325 degrees. Pour the coconut flakes onto a small baking sheet and toast for about 10 minutes, until golden.

In a medium bowl using hand mixer, or bowl of stand mixer using paddle attachment. Beat together the powdered sugar, butter, and lemon juice for 2-3 minutes until well combined. Beat in yellow food coloring as desired.

When cookies have cooled completely, frost them with the lemon frosting as desired. Top each cookie with toasted coconut and the Robin's egg candies.