A super easy cake made using vanilla cake mix with a few upgrades - this cake is swirled with strawberry jam throughout and topped with a simple glaze.
So, I'm sitting here having a piece of this glorious strawberry cake for breakfast with my coffee this morning.
I'm not even sorry, because it's Friday, and the weekend should really always be celebrated with cake anyway.  Right?
Even more to love and celebrate is that this cake is incredibly easy.  I love, love, love, taking boxed cake mix and making it into the very best cake it can possibly be.
This is what I like to do for an ultimate-moist-decadent boxed cake.
 Milk instead of water - It really "fluffs up" the cake
 Extra eggs - makes the cake super moist, rich, creamy, bakery quality
 Butter instead of oil - even more richness and brings out the flavor.
For this cake - all that strawberry goodness you see swirled through is JAM!  Yes, strawberry jam dolloped on top and swirled into the cake.  Max flavor.  So good.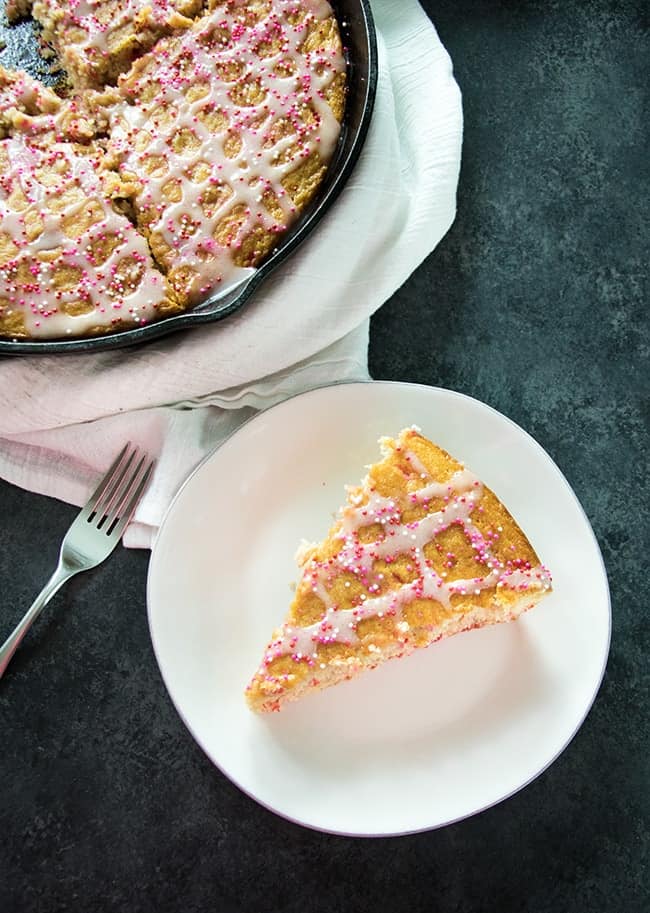 This cake is a red and pink gem that's perfect for Valentine's Day.  I personally wish V-Day would hurry it up so I have a good excuse to make this cake again!
I don't need flowers.  I do need cake.  Always.
Enjoy!
~Nichole
**NOTE: This cake can be made in a 12 inch cast iron skillet, or a 9x13 inch baking dish.
Ingredients
Instructions
Preheat oven to 350 degrees. Spray a large (12 inch) cast iron skillet (or 9x13 inch pan) with non-stick spray.

In a large bowl, mix together the cake mix, milk, melted butter, and eggs until well combined. Stir in sprinkles

Pour cake into skillet. Drop the strawberry jam by Tablespoon fulls onto prepared cake, and swirl through with a knife.

Bake cake in preheated oven for 34-38 minutes.

Allow cake to cool before frosting.

Frosting:

Whisk together the powdered sugar, jam, vanilla, and milk until well combined. Add frosting to a ziploc bag, and cut about ¼ inch off of the corner (or use a piping bag), and frost cake as desired.