Crockpot Frito Chili Pie – A recipe for Frito pie made simple using your crockpot!  Simple homemade chili with plenty of cheddar cheese and crunchy Fritos corn chip topping.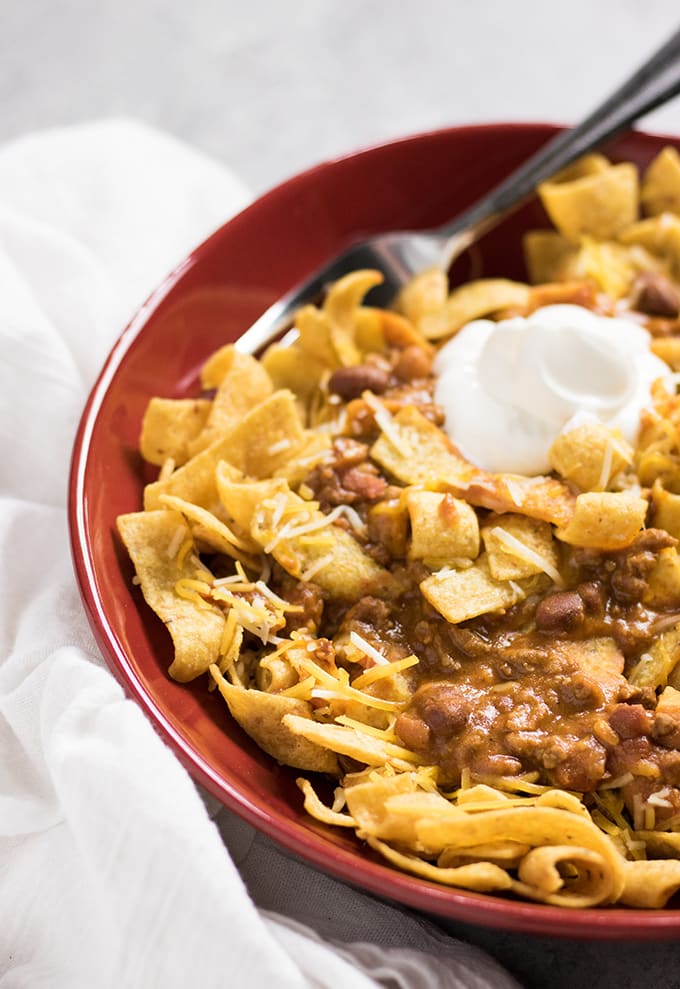 Guys.  FRITO CHILI PIE.
This is what I like to call Summer comfort food.
I wax nostalgic about the days when we would go to Sonic in the summer.
My tiny little child self always looked forward to getting that Frito pie.
Not much has changed.
Except that I'm not a child, and I have to buy my own Frito pie now, and I prefer to make it at home instead of going to the drive in restaurant.
Do you guys have Sonic where you live?
CHECK OUT OUR VIDEO FOR THIS RECIPE BELOW!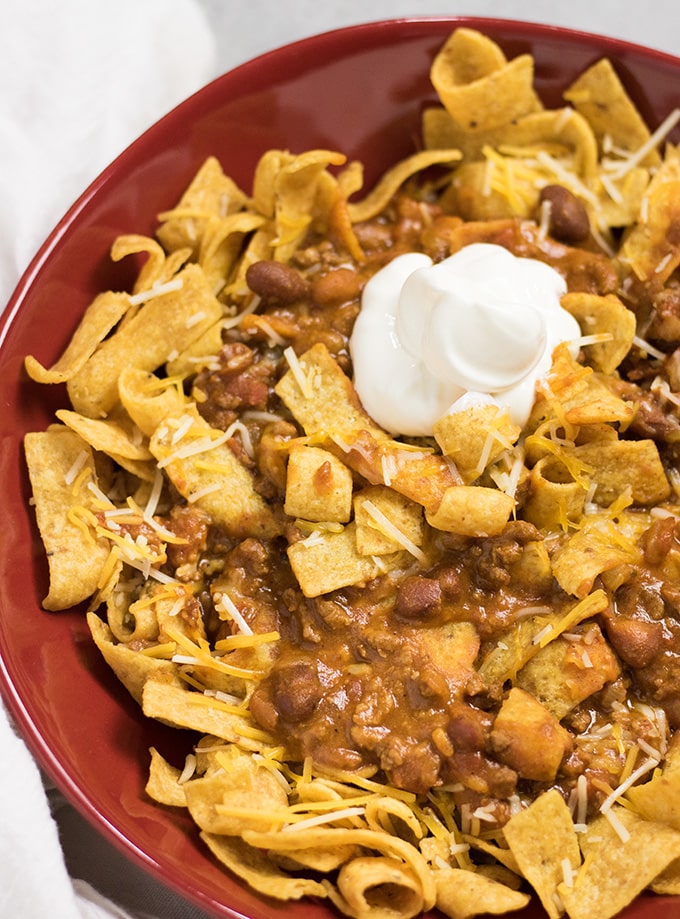 So, I like making this at home because I prefer the chili "my way."
This isn't like the chili you eat in a bowl with a spoon.  It's much thicker and meat to have a boat load of cheese stirred into it.
Yes, always with the cheese.
Then I like to layer chips under it in my bowl AND on top.
Since the chili is nice and thick, chips don't get all soggy and turn to mush.
Definitely much more like a crockpot casserole than a soup/stew.
I'm having major cravings for this as I sit here typing.
It's so easy to make – give yourself about 10 minutes to get that hearty chili into the crockpot in the morning.
Then, come home and top it with cheese and chips and dinner is served.
Stuffing your face full of goodness doesn't get much easier than this!
~Nichole
Crockpot Frito Chili Pie
Ingredients
1

Pound

Ground Beef

1

Medium

Onion

Chopped

1 (8 ounce)

Can

Tomato Sauce

1 (14 ounce)

Can

Diced Tomatoes

1 (15 ounce)

Can

Pinto Beans

1 (15 ounce)

Can

Chili Beans

1

Package

Taco Seasoning

1

Teaspoon

Chili Powder

1

Teaspoon

Garlic Powder

1/4

Teaspoon

Cayenne Pepper

1/2

Teaspoon

Salt

2

Cups

Shredded Cheddar Cheese

1 (10 ounce)

Bag

Fritos Corn Chips
Instructions
Brown the ground beef with the chopped onion in a medium skillet over medium-high heat. Drain grease from meat if necessary.

Pour ground beef mixture into the slow cooker. Add the tomato sauce, diced tomatoes, beans, and seasonings to the crockpot. Stir. Cook on low for 6-8 hours or high for 4-5 hours.

Right before serving, stir one cup of the cheese into the chili. Top with remaining cheese and Fritos.

Serve with more chips, sour cream, letttuce, tomato as desired.
Recipe Notes
NOTE:  You can drain and rinse the beans for thicker chili if you want, but it's not a necessary step.