Turkey Guacamole Pinwheels - These pinwheels are an amazingly easy appetizer that are perfect for any party or gathering.  Soft tortillas filled with homemade guacamole, turkey, and cheese!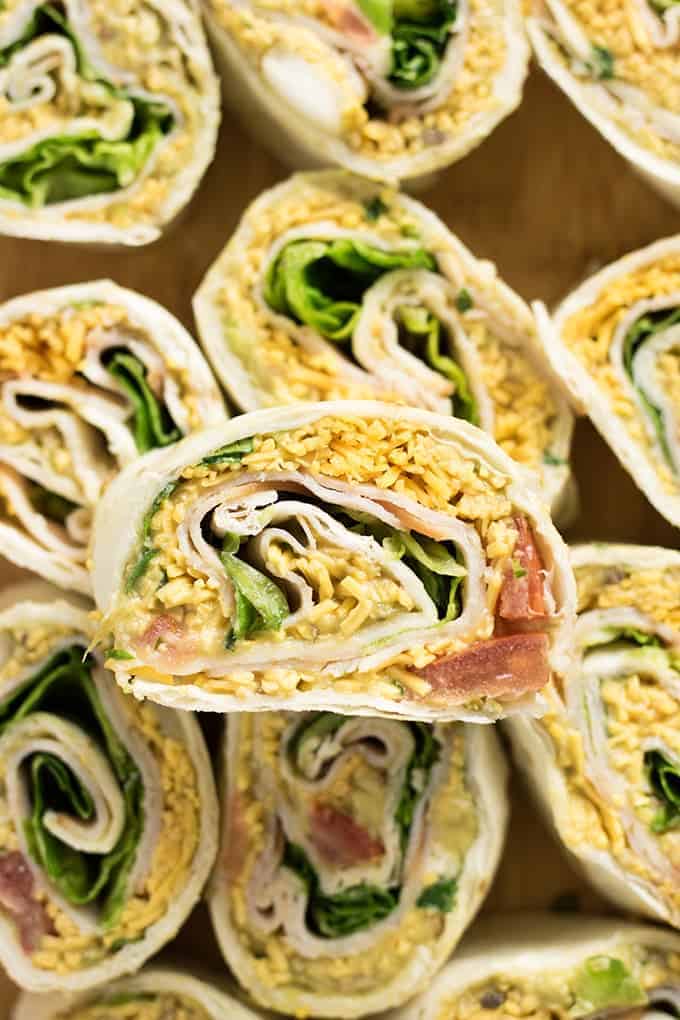 Pinwheels, guys.  One of those appetizer recipes that never gets old and everyone loves!
What's best is that they take no time at all to put them together, and you can really switcheroo the filling up however you darn well please!
I love the typical pinwheels with cream cheese and those have always been my go-to, until now.
There's a restaurant here in my city that serves this wrap - it's so good and has guacamole and turkey and cheese and then you dip it in ranch dressing.
Since I can't get enough of it, why not recreate it at home and turn it into an appetizer that everyone can enjoy?
CHECK OUT THE VIDEO FOR THIS RECIPE BELOW!
I think most people make pinwheels during football season for parties.
For me, they're really an anytime thing but I love them most during the spring and summer.
These are the perfect portable appetizer to take with you anywhere.  I take a ton of them with us anytime we go camping!
Seriously, take these to a party, they will be the first thing to disappear.
We sometimes have them for dinner in the summer when it's just too hot to cook!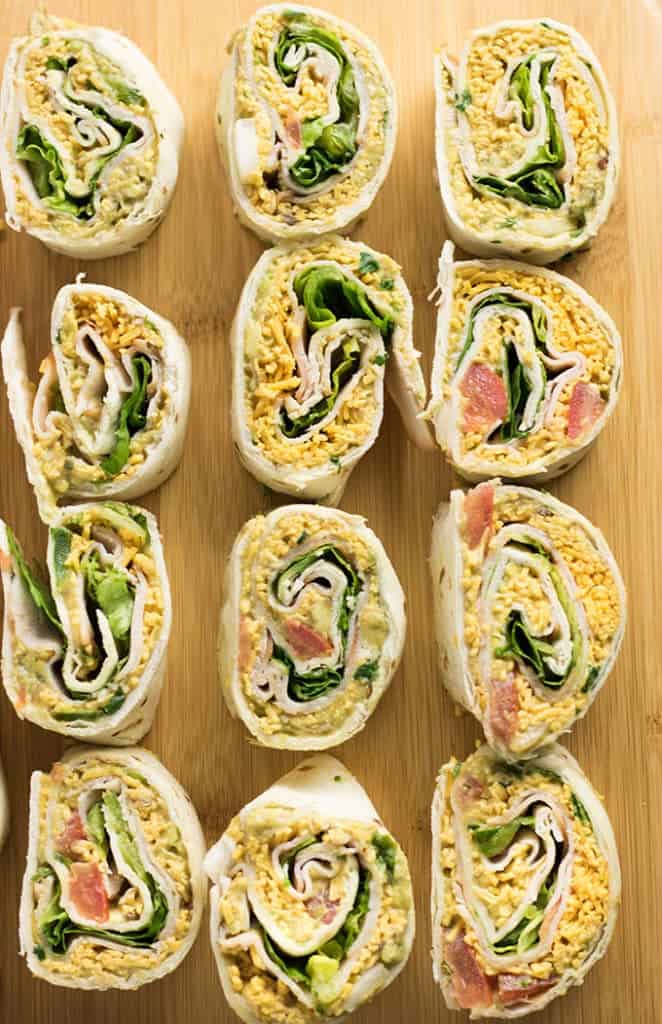 If you haven't made pinwheels before - I demand that you do so right away. I also need to tell you how easy it is.
For these, I use my homemade guacamole - it's still the most popular recipe on my blog!
If you're really short on time you can always use store bought guac....BUT, mine is better, just saying!
So, you'll just make a little assembly line of tortillas.
Top them with guacamole, then some cheddar, then some turkey, and then a bit of lettuce.
Roll them up good and tight, and let them chill for a good 20-30 minutes so that everything doesn't squish out when you slice them up.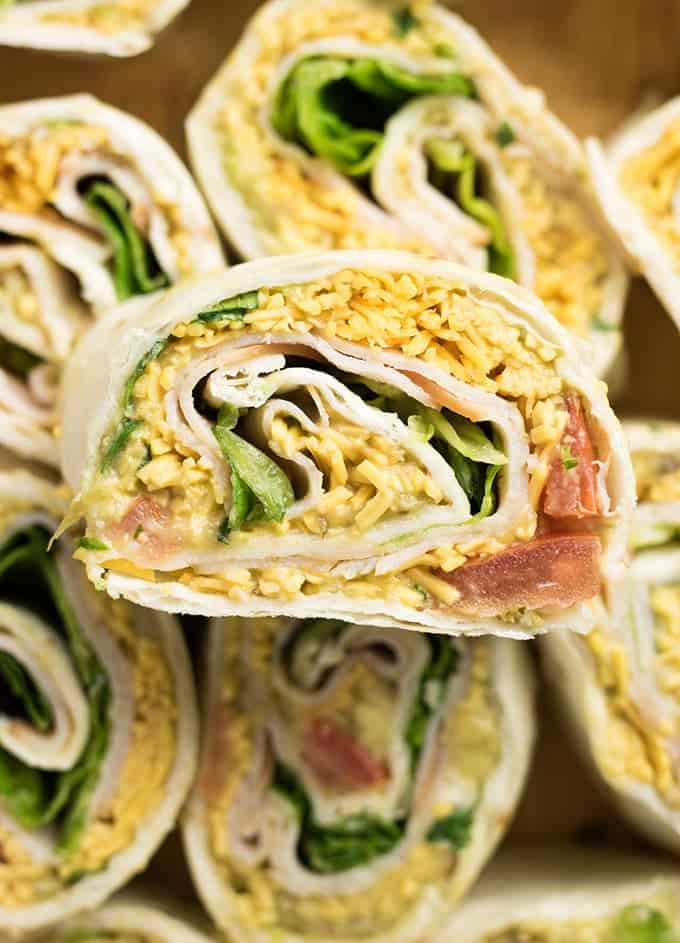 If you are planning to take these somewhere you can make them ahead and chill for several hours, then slice them up right before you eat.
Keep in mind that the guacamole will look the best if these are eaten with in 1-2 hours of being cut up.
Also, dip them in ranch - you won't be sorry.
Enjoy!
~Nichole
Don't forget to check out my simple Secret Ingredient Guacamole recipe to go in these!
Turkey Guacamole Pinwheels
These Turkey Guacamole Pinwheels are an amazingly easy appetizer that are perfect for any party or gathering. Soft tortillas filled with homemade guacamole, turkey, and cheese!
Print
Pin
Rate
Ingredients
5

Large

Flour Tortillas

1-2

Cups

Guacamole

½

Pound

Sliced Turkey

1

Cup

Shredded Cheddar Cheese

1

Cup

Romaine Lettuce

Ranch Dressing, Salsa, Extra Guacamole,

Optional, for serving.
Instructions
Lay the tortillas out on a flat surface. Spread each tortilla with about 2-3 Tablespoons of guacamole.

Top the guacamole with shredded cheese, 3-4 pieces of sliced turkey, and lettuce.

Roll the tortilla up tightly, being gentle so that the tortilla doesn't tear. Refrigerate the tortillas for 30 minutes before slicing into pinwheels.
Notes
NOTE:  I added pico de gallo into my guacamole for this recipe so my pinwheels have tomato.  If your guac doesn't have tomato, you can chop them up and add them as desired.
Nutrition
Sodium:
385
mg
|
Calcium:
104
mg
|
Vitamin C:
2.7
mg
|
Vitamin A:
560
IU
|
Sugar:
1
g
|
Fiber:
2
g
|
Potassium:
279
mg
|
Cholesterol:
23
mg
|
Calories:
153
kcal
|
Saturated Fat:
3
g
|
Fat:
8
g
|
Protein:
8
g
|
Carbohydrates:
10
g
|
Iron:
0.8
mg