Super easy, extra cheesy, homemade bread sticks!  These cheese sticks are easy to whip up, ready in 30 minutes.
RECIPE REVAMP!  This recipe was originally posted back in March of 2016.  One of my first blog posts!  I'm simply updating the photos for this recipe and adding a video!  We're also super excited to link this in with our 3o minute miracle dough, and breakfast pizza!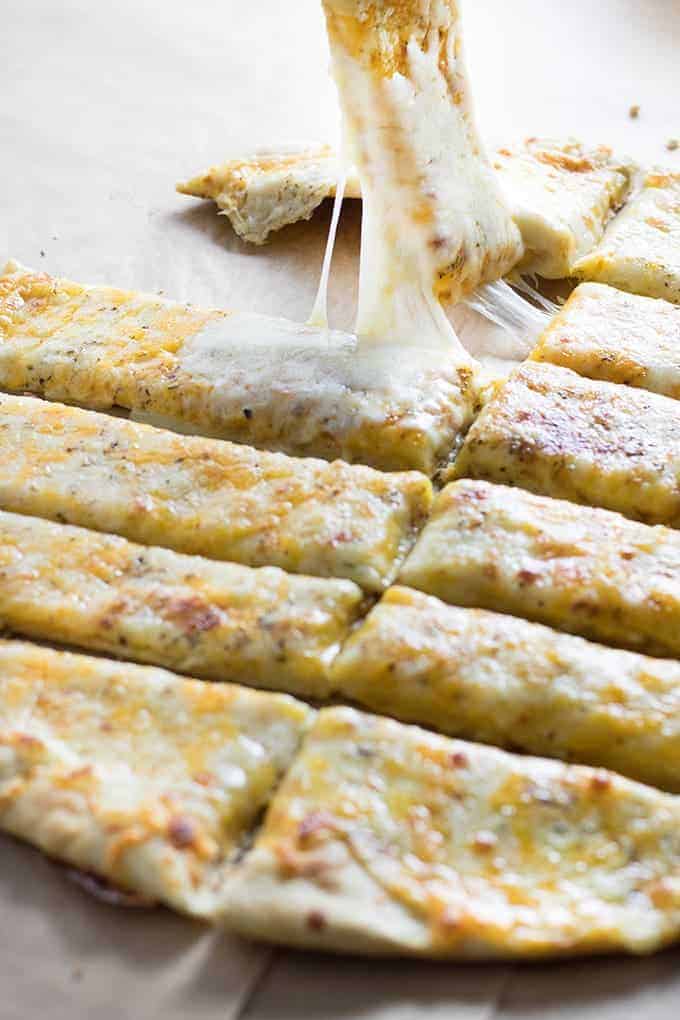 Check the video out below!
Yes, I did just use the words "quick" and "bread" and "homemade" all in the same sentence. It can happen, and it can be soft and cheesy and delicious.  This is my favorite bread to have with my crockpot tomato soup. I typically do not skimp on time when it comes to bread. I'm willing to put in the work for that fresh perfect homemade dough. But, we all have lives and sometimes those lives interfere with spending hours waiting for bread to rise. When those days come around, we have solutions! Lucky for us, this generally doesn't even involve running to the store. You probably have all the simple ingredients in your home, right at your fingertips. If you don't bake with yeast often, or typically keep it at home, go ahead and buy yourself a jar of it to have on hand. It lasts 4-6 months in the refrigerator. Now that you're convinced that you can make homemade dough any darn time you feel like it....on to the cheesy goodness.
If you'd like to see photos of this dough in the process of being made you can find those in the original miracle dough recipe HERE.
If you're swooning over the idea of breakfast pizza I mentioned above, it's right HERE.
~Nichole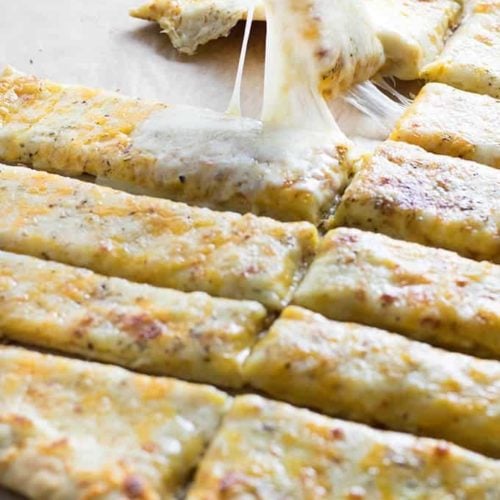 Ingredients
1

Tbsp

yeast

1

Cup

warm water

½

Tsp

granulated sugar

1

Tsp

salt

1

Tbsp

olive oil

2 ½

Cups

all purpose flour

1 ½

Cup

shredded cheese (monterrey jack

cheddar, mozzarella, parmesan, etc.)
Instructions
Preheat oven to 450 degrees.

Stir yeast and sugar into warm water until dissolved and allow to sit for 10 minutes until foamy.

Add the salt and 1 Tbsp. of the olive oil to the yeast mixture.

Begin adding the flour ½ cup at a time, stirring after each addition.

Turn dough onto floured surface and knead for 3-5 minutes, until all four is incorporated and dough is smooth.

Roll dough out into a large round about ¼ inch thick and place on pizza pan or stone.

Brush dough with the other Tbsp. of olive oil, then top with the cheeses.

Bake at 450 degrees for 10-12 minutes until crust is golden and cheese is melted.