Miracle Pizza Dough Recipe is the absolute best, easy, super flavorful pizza! This simple pizza dough gives you a tasty homemade crust in 30 minutes!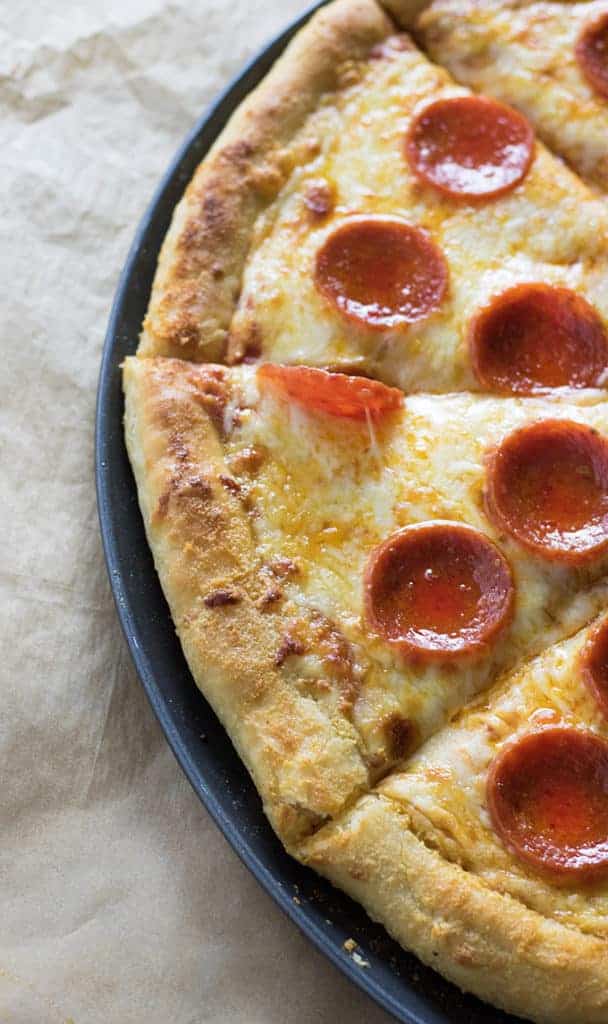 Pizza Dough Recipe:
This pizza dough recipe was originally posted on February 21, 2017.  One of my first and most popular recipes! I am updating it some more detailed instructions, and new process shots for you to follow along with.  Occasionally, I like to update these posts if I feel like I can better answer some of your questions.  The reason I first posted this, is to show you guys that baking with yeast really IS EASY.  Don't be intimidated at all, this recipe is foolproof!  I know many of you already love our Easy Thin Crust Pizza, so try that one too if you haven't!  This is a basic dough, you can top it however you want!  I recommend that you try out our amazing Homemade Pizza Sauce, or even change it up with Homemade Pesto or the very best Alfredo Sauce!
How Do you Make Pizza Dough Rise:
For this recipe, there is no rising involved!  This is a 30 minute dough, that requires a higher amount of yeast, and eliminates the rising process altogether.  You can allow the dough to rest, in a large bowl for 30 minutes if you prefer though.
How to Make Pizza Dough:
First of all, don't be intimidated!  Making pizza dough at home is incredibly easy, and my pizza dough recipe only takes 30 minutes! I am here with some process shots, instructions, and a short video to help walk you through the process.
To make pizza dough, you will start by dissolving your yeast and sugar in warm water. You can do this in the bowl of your stand mixer, or just a large bowl if you don't have a mixer.  Then, you will allow this mixture to sit for 10 minutes.  You will notice it get "foamy" as in the picture below.  Once the yeast foams up, you know it is active and ready to be used to make the dough.
Next add in your salt, olive oil, and ½ cup of flour.  Add your hook attachment to your stand mixer, OR use a large wooden spoon for the next steps.
Stir the dough with the hook, or your spoon while continuing to add ½ cup flour at a time.  You can tell in photo #3 that the dough has started to come together but is still very wet.
Continue adding flour until your dough looks somewhat "shaggy" like in photo 4 below.  It should still feel "tacky" but not be sticky.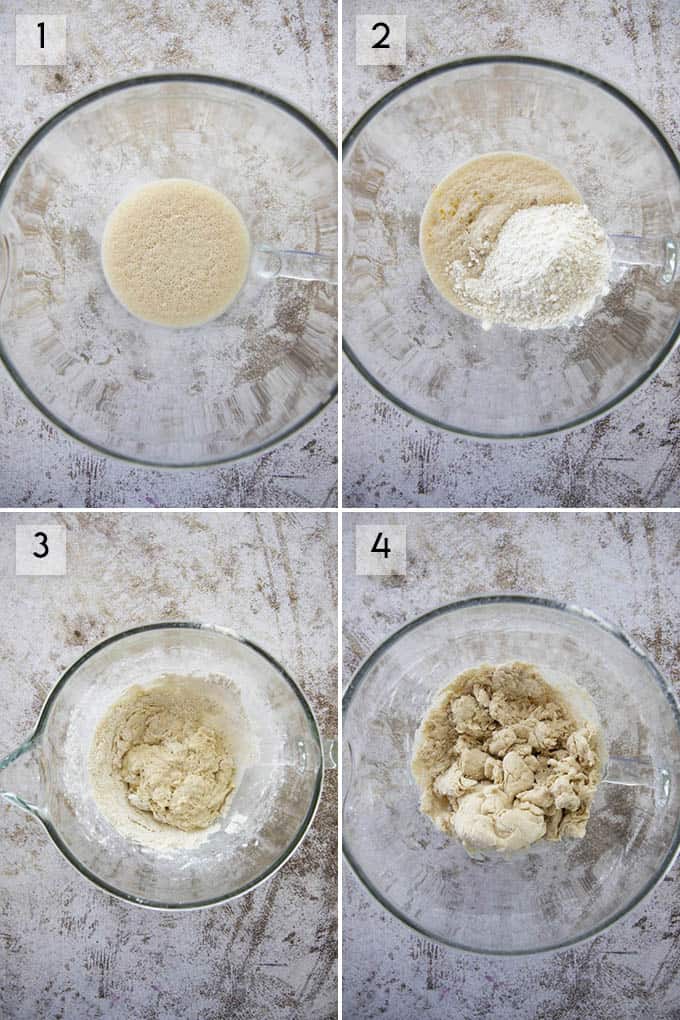 How To Knead and Roll Pizza Dough:
You can see in the first photo below that the dough has completely come together.  Again, it will feel slightly tacky or "wet" but it shouldn't be sticking to your fingers.  Now, plop your dough out onto a lightly floured surface.  Knead it by using the palms of your hands to push the dough down, then fold the dough over itself and continue this process for 3 minutes.
Now, gather your dough into a ball on your floured surface.
Push the dough down with the palm of one of your hands into a circle.  This makes it easier (in my opinion) to roll.
Use a rolling pin, or your hands to shape the dough into a circle that is about ½ inch thick.  This does not have to be perfect!  I prefer using a rolling pin.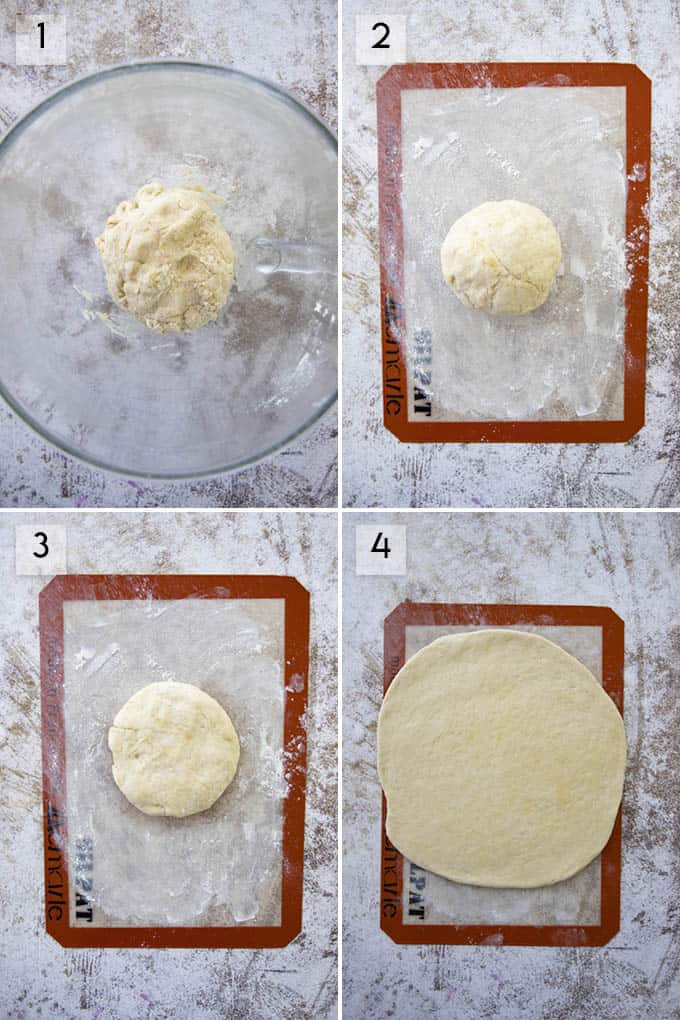 Is Bread Flour Better for Pizza Dough?
Not necessarily!  I typically only use all purpose flour for my dough.  For me, this is because I always have all purpose on hand, so I don't have to go out and purchase another flour.  I have made this with bread flour and it tastes exactly the same either way!  The biggest difference is that bread flour tends to result in a chewier dough.  If you decide to use bread flour for this recipe, you can, keep in mind that you will not need the full 3 cups of flour though.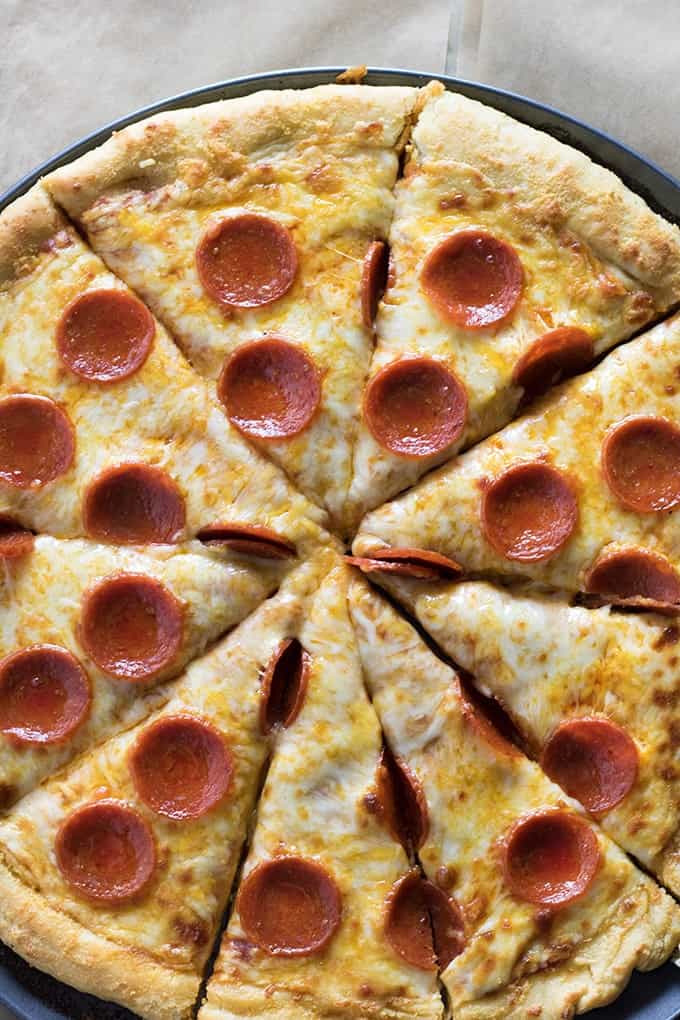 How to Flavor Pizza Dough:
My favorite way to add a little extra flavor to this dough is to add some garlic butter to the crust!  It's a simple way to add that "restaurant" style feel to the crust while still keeping things easy.  This step is optional, but, you will want to microwave your garlic powder and butter and brush on the crust when it comes out of the oven.  Then, add the pizza back to the oven and broil for 1-2 minutes just until golden.  You can also add a nice sprinkle of oregano or Italian seasoning over the crust or the entire pizza for extra flavor!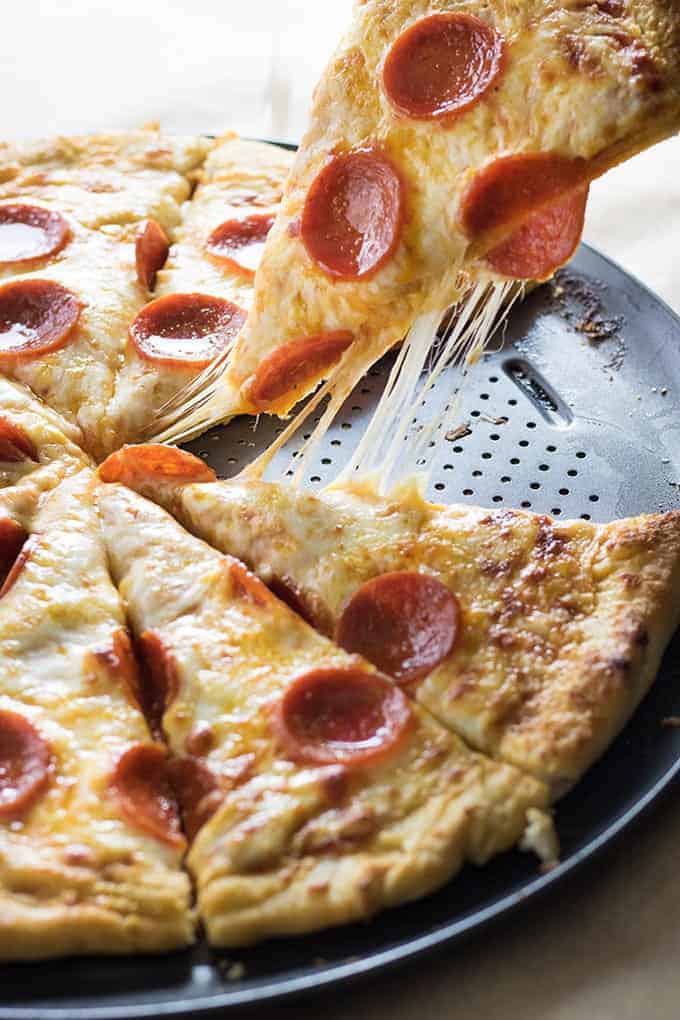 Enjoy!
~Nichole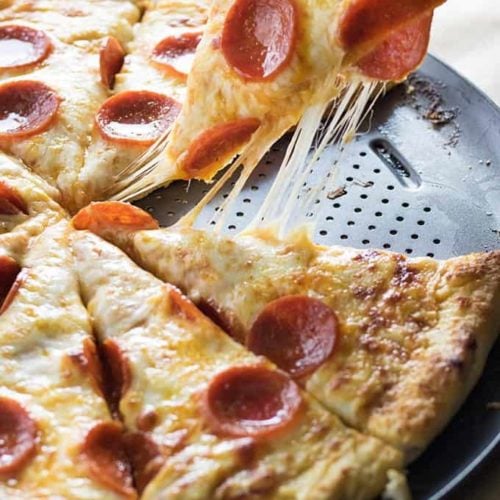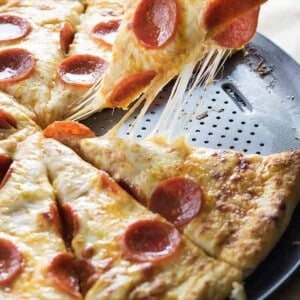 Easy Miracle Pizza Dough
Miracle Pizza Dough Recipe is the absolute best, easy, super flavorful pizza! This simple pizza dough gives you a tasty homemade crust in 30 minutes!
Print
Pin
Rate
Instructions
Preheat oven to 450 degrees.

In a large bowl, or bowl of stand mixer, stir the yeast and sugar into the warm water until completely dissolved. Allow mixture to sit and proof for 10 minutes, until foamy.

Add the salt and olive oil to the yeast mixture.  Begin adding the flour ½ cup at a time, stirring (with a large spoon or hook attachment if using stand mixer) after each addition.

When the dough has pulled away from the sides of the bowl and is no longer sticky, knead the dough for 3 minutes in the bowl or on a well floured surface. You can also knead with the dough hook attachment on medium speed for 3 minutes.

Roll or pat the dough out on a well floured surface, into a large circle about ¼ - ½ inch thick, and place on oiled pizza pan.

Bake crust for 5 minutes. Remove crust from oven, and top as desired. Bake for an additional 10 minutes.

Optional: In a small bowl, microwave the butter and garlic. Remove pizza from oven and brush with the garlic butter, place pizza under broiler for 1-2 minutes, until crust is golden brown.
Notes
NOTE:  This dough is able to be frozen for up to three months.  Wrap your ball of dough in plastic wrap and place into a freezer safe bag, and seal, squeezing out all of the air. Thaw dough in the refrigerator overnight (8-10 hours) before using.  
Note that calories for this recipe are estimated and will depend upon which toppings you use.
Nutrition
Serving:
1
Slice
|
Calories:
200
kcal