Miracle Pizza Dough Recipe is the absolute best, easy, super flavorful pizza! This simple pizza dough gives you a homemade, thick, buttery, and chewy crust in only 30 minutes!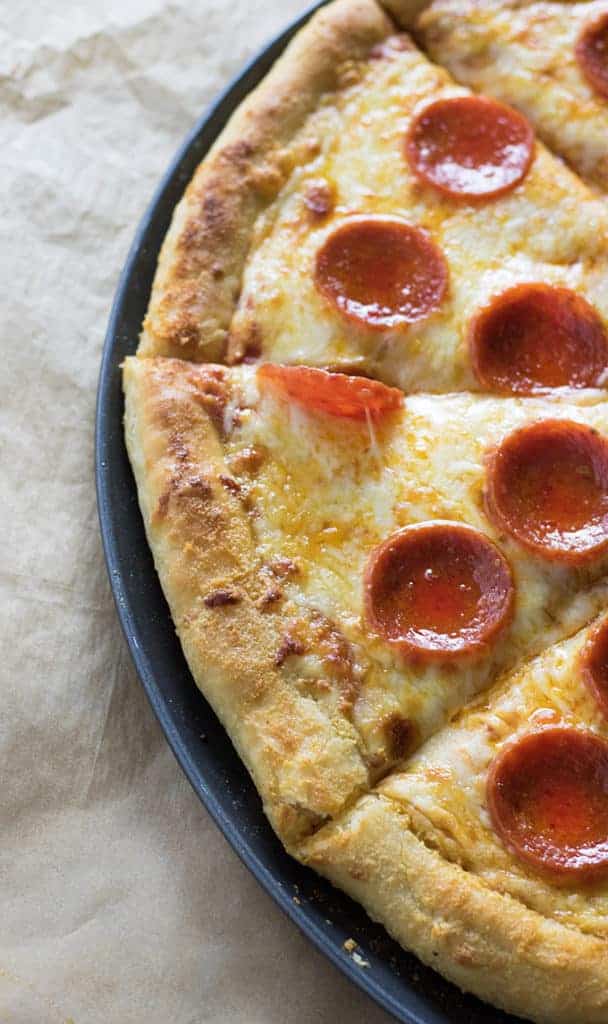 This pizza dough recipe was originally posted on February 21, 2017, and I am updating it some more detailed instructions.
Guys!  Can we talk about pizza?  Because it's my favorite thing to talk about ever!  Given the opportunity to eat pizza every single day of the year I would absolutely take it.  I love my thin crust pizza,  which now has updated instructions as well, and this breakfast pizza is a regular weekend addition too!  Be sure to top this crust with my Homemade Pizza Sauce, it's way better than store bought!
Pizza Dough Recipe:
First of all, don't be intimidated!  Making pizza dough at home is incredibly easy, and my pizza dough recipe only takes 30 minutes! I am here with some process shots, instructions, and a short video to help walk you through the process.
To make pizza dough, you will start by dissolving your yeast and sugar in warm water.  Then, you will allow this mixture to sit for 10 minutes.  You will notice it get "foamy" as in the picture below.  Once the yeast foams up, you know it is active and ready to be used to make the dough.
Once your yeast is foamy, like the picture above, add in your salt, olive oil, and flour. I like to add the flour in 1/2 cup at a time, stirring after each addition.
At this point, you can reference the photo below.  All of the flour has been incorporated, and the dough is ready to knead.  You can lightly flour your work surface, or simply knead the dough right in the bowl.
How to Knead Pizza Dough:
To knead the dough, first pour it out of the bowl onto a lightly floured flat surface.  Gather the dough (it will be slightly sticky) into a ball.
Next, start pressing the dough out with the palms of your hands.  Press down until the dough is flat, then, fold it back onto itself again.
Kneading is a fairly fast process.  Continue to press the dough out, turn it, fold it back on itself, and press it out again for 3 minutes.  Then, shape the dough into a ball.
How to Freeze Pizza Dough:
Once you have your ball of dough, you can go ahead and continue with the topping and cooking process.  Or, you can wrap it loosely in plastic wrap, and place it in a freezer-safe bag or container and freeze it for up to three months! I often double this recipe and keep an extra ball in the freezer for another day.
To thaw the dough at a later date, simply place the plastic wrapped dough in the refrigerator to thaw overnight.
At this point, if you are cooking your pizza right away, carefully lift the dough from your work surface on to your pan or pizza stone.  Bake in the preheated oven for 5 minutes before topping.
Next, top your dough as desired and continue to bake until the dough is cooked through and your cheese is melted and bubbly.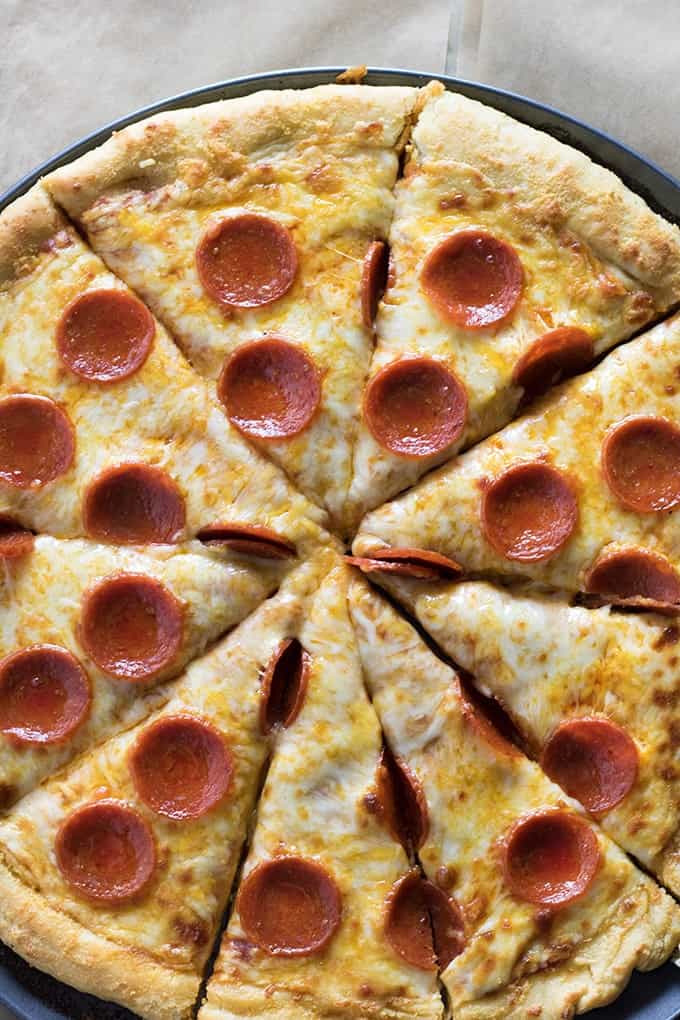 You'll notice that my pizza crust is pretty golden brown.  That is from the step of brushing the garlic butter over the crust and broiling.  This step is opional, but, I do recommend it for very flavorful results!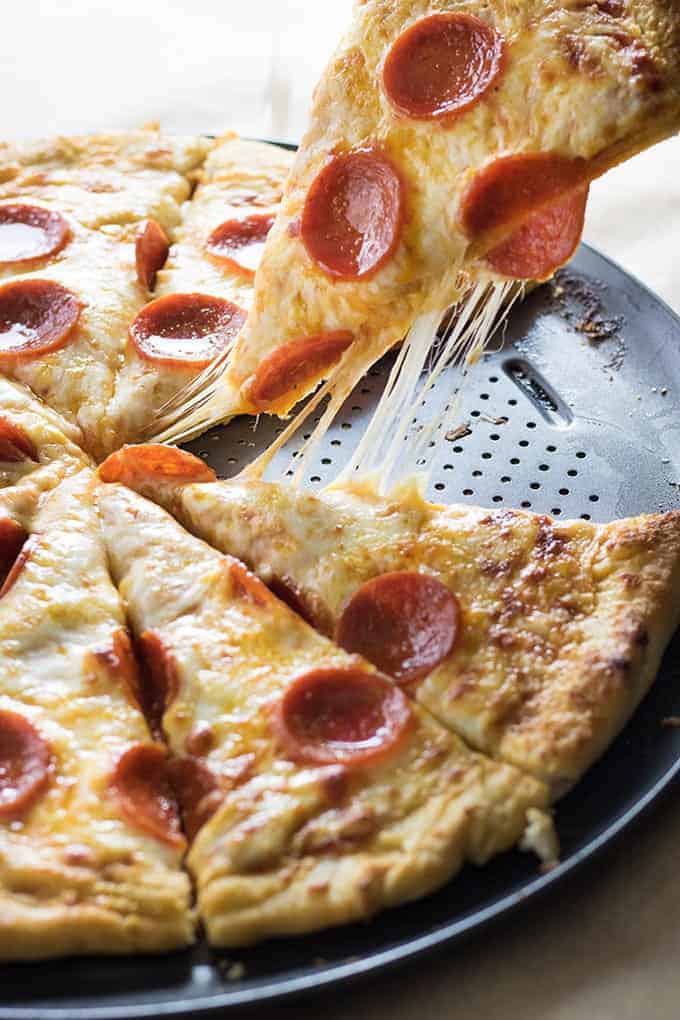 Enjoy!
~Nichole
Make sure you come follow me on Pinterest – I'm always pinning the tastiest food!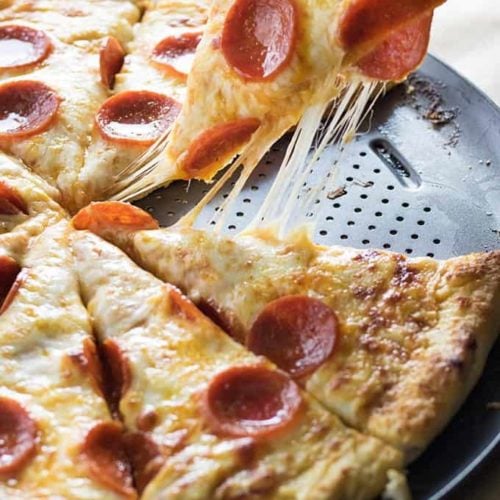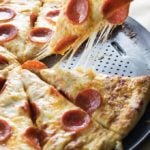 Print Recipe
Easy Miracle Pizza Dough
Miracle Pizza Dough Recipe is the absolute best, easy, basic pizza dough recipe! This super easy pizza dough gives you a homemade, thick, buttery, and chewy crust in only 30 minutes!
Ingredients
1

Tablespoon

Yeast

1

Cup

Water

1/2

Teaspoon

Granulated Sugar

1

Tablespoon

Olive Oil

1

Teaspoon

Salt

2 1/2 - 3

Cups

All Purpose Flour

2

Tablespoons

Butter,

Optional

2

Teaspoons

Garlic Powder,

Optional
Instructions
Preheat oven to 450 degrees.

In a large bowl, stir the yeast and sugar into the warm water until completely dissolved. Allow mixture to sit and proof for 10 minutes, until foamy.

Add the salt and olive oil to the yeast mixture. Begin adding the flour 1/2 cup at a time, stirring after each addition.

When the dough has pulled away from the sides of the bowl and is no longer sticky, knead the dough for 3 minutes in the bowl or on a well floured surface.

Roll or pat the dough out into a large circle about 1/4 inch thick, and place on oiled pizza pan.

Bake crust for 5 minutes. Remove crust from oven, and top as desired. Bake for an additional 10 minutes.

Optional: In a small bowl, microwave the butter and garlic. Remove pizza from oven and brush with the garlic butter, place pizza under broiler for 1-2 minutes, until crust is golden brown.
Notes
NOTE:  As with most of my recipes, you MUST spoon and level the flour for this recipe.  If you do not, the dry to wet ingredient ratio will be off, resulting in a dry crust. NOTE:  This dough is able to be frozen for up to three months.  If you make a double batch, divide the dough in half before freezing.  Place each ball of dough into a separate freezer safe bag, and seal, squeezing out all of the air.  Thaw dough in the refrigerator overnight (8-10 hours) before using.  
Nutrition Disclaimer