Chilaquiles (Verdes or Rojos) are a classic Mexican recipe made with fried tortillas and a savory red or green sauce!  Simple ingredients make this dish easy to cook at home!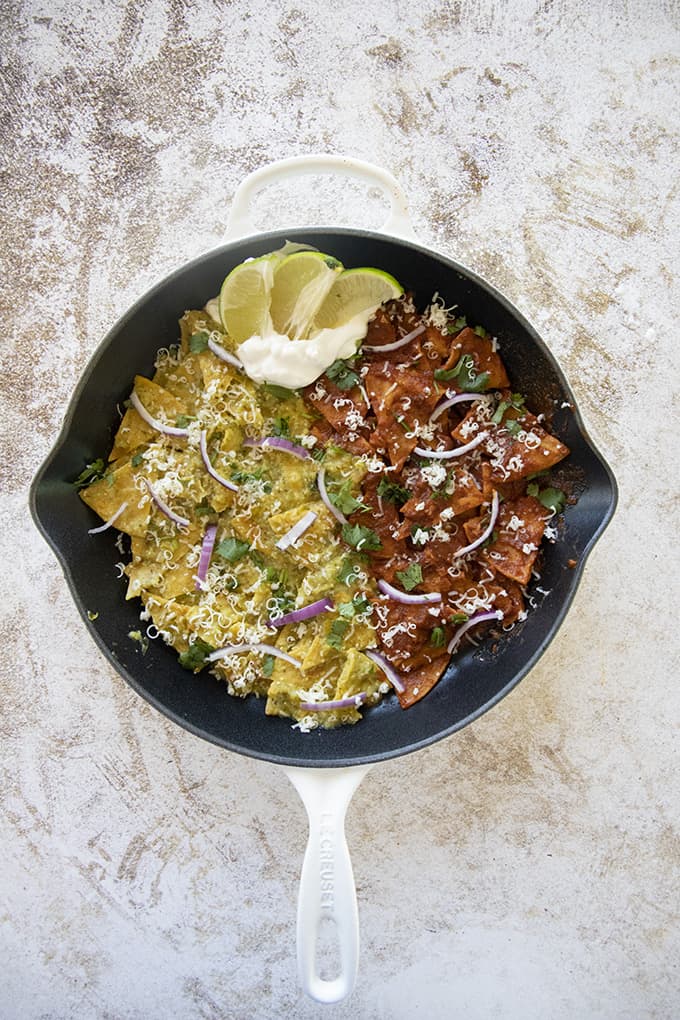 Chilaquiles:
One of our family favorite dishes, I had to give you my version on the blog!  This is the only thing that we eat for breakfast, every single day, every time we head to Mexico.  I crave it so much at home when we return, I have to make it regularly.  If you aren't familiar, Chilaquiles consists of nothing more than corn tortillas that are cut into wedges and then fried in vegetable oil on your stove top.  Don't worry about the frying, it's very easy to do and we use minimal oil for easy clean up!  Once your tortillas are fried, you can use your blender to make a simple red sauce, or use our easy Salsa Verde Recipe if you like green sauce instead!  The red sauce recipe is in the recipe card in full, or I'm also linking to the green salsa as well.
What are Chilaquiles Made of?
You will need at least 12 corn tortillas for this recipe.  Yellow or white corn tortillas work just fine!  The easiest thing to do is to stack them and then cut into eight equal triangles.  Then we fry them up in just about 1/3 cup of vegetable oil.  The tortillas fry really fast in 3 batches for about 2-3 minutes per batch.  If you are feeling lazy/don't have corn tortillas on hand, you can also make this recipe using about 4 cups of your favorite tortilla chips.  My goal with this recipe was to keep it simple and use staples that are easy for everyone to find.  For the red sauce we use tomato sauce, chili powder, cumin, garlic, a bit of red onion, and a few other seasonings and just blend them all together.  Our green sauce is made with tomatillo salsa, which I will link to in the recipe card.  Once you have the sauce made and tortillas are fried, you simply heat your sauce on the stove and then add in your chips!  Stir them gently just for a couple of minutes to coat in the sauce, you want them to be soft but not mushy.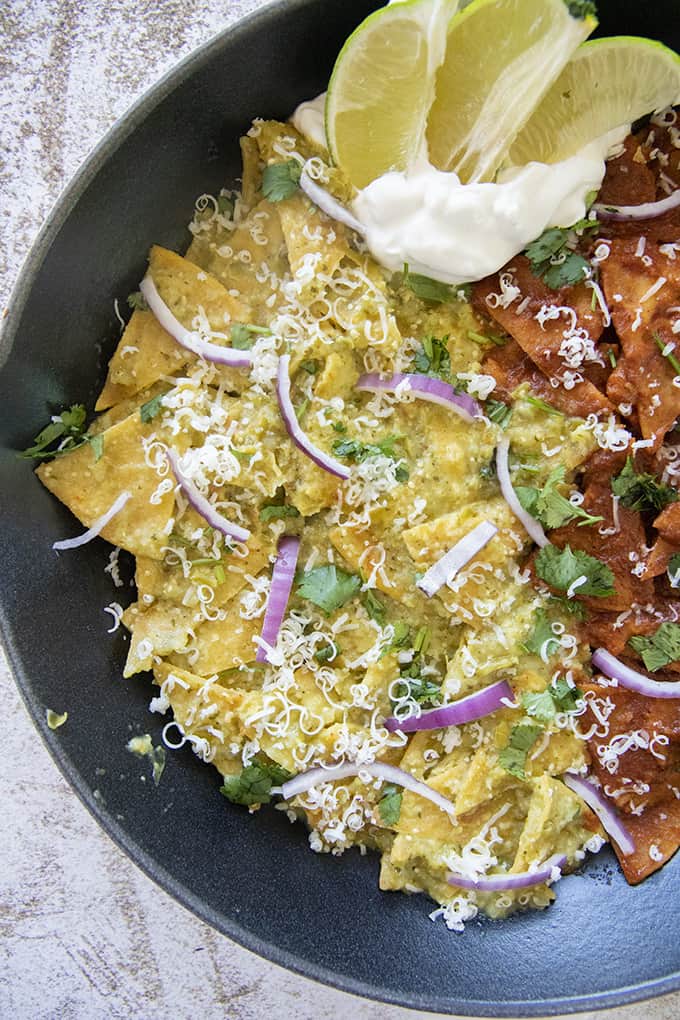 How Do You Eat Chilaquiles?
You will love that this recipe is different than the typical nachos that you might be used to!  You definitely need a fork for this saucy dish, and you can serve this up with any of your favorite nacho type of toppings.  Cojita or Monterrey Jack cheese are great, as well as onions, avocado, cilantro, and sour cream.  If you want to make this even more hearty, fry up a couple of over easy eggs to go on top.  If you are a meat lover, try making some Shredded Chicken or even Taco Meat or leftover Pulled Pork would be amazing!  We actually usually skip the meat, but I will say in Mexico I often had them with chicken and they were great!  One of my favorites is just to serve it with a side of refried or black beans.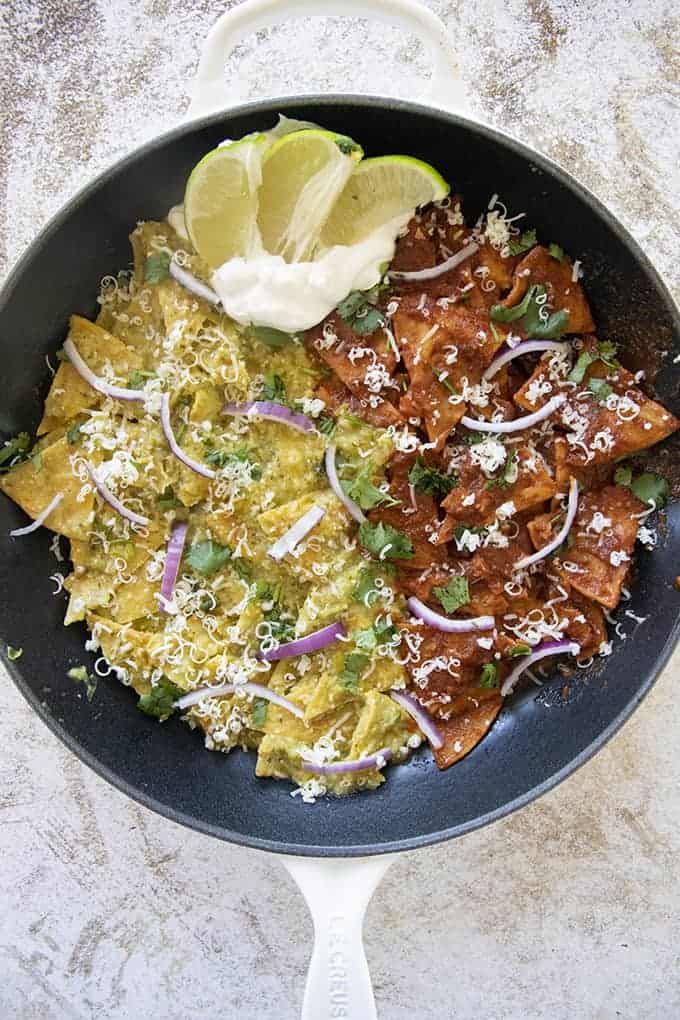 Enjoy!
~Nichole
Chilaquiles (Verdes or Rojos)
Chilaquiles (Verdes or Rojos) are a classic Mexican recipe made with fried tortillas and a savory red or green sauce!  Simple ingredients make this dish easy to cook at home!
Ingredients
FOR THE RED SAUCE:
1

16 Ounce Can Tomato Sauce

1/2

Cup

Chicken or Vegetable Broth

1/4

Cup

Chopped Red Onion

3

Cloves

Garlic

Peeled

1

Tablespoon

Chili Powder

1

teaspoon

Ground Cumin

1/2

teaspoon

Oregano

1/2

teaspoon

Smoked Paprika

1/4

teaspoon

Cayenne Pepper

Optional or to taste

Salt

to taste
Instructions
FOR THE TORTILLAS:
Heat the vegetable oil in a large skillet over medium heat.

Stack the tortillas on a cutting board and cut the stack into eight pieces.

When the oil is hot, add 1/3 of the tortilla pieces and cook, turning once with tongs for 2-3 minutes until lightly browned and becoming crisp. Use tongs to remove the tortillas to a paper towel lined plate, and sprinkle with salt as desired.

Repeat with the remaining tortilla pieces, until they are all fried.
FOR THE SAUCE:
Combine all ingredients in a blender or food processor and pulse until completely smooth.

Wipe the pan clean that was used for frying the tortillas.

Pour the sauce into the pan and warm over medium-low heat.

Add the fried tortilla pieces, stirring gently and cook for 2-3 more minutes until the tortillas are coated in sauce and becoming soft.

Remove from the heat and serve immediately.
Notes
NOTE:  You if you prefer green sauce, you can use our

SALSA VERDE

Recipe.  Keep in mind that sauce takes 15 minutes to make.  So, make it first before your fry your tortillas.  Then, simply pour into the pan and warm as you would do with the red sauce.
NOTE:  These are best eaten the same day that they are made.  You can reheat them, however they will be much more soft than they were the first time.
NOTE:  Serve with refried or black beans, seasoned cooked and shredded chicken, ground beef taco meat, sour cream, onions, cheese, and any of your other favorite toppings!
Nutrition
Serving:
1
Cup
,
Calories:
360
kcal
Nutrition information is automatically calculated, so should only be used as an approximation.
Like this? Rate & review this recipe below!