Salsa Verde Recipe is so fast and easy to make with simple ingredients!  This authentic, flavor packed, tomatillo salsa is the best you will ever taste!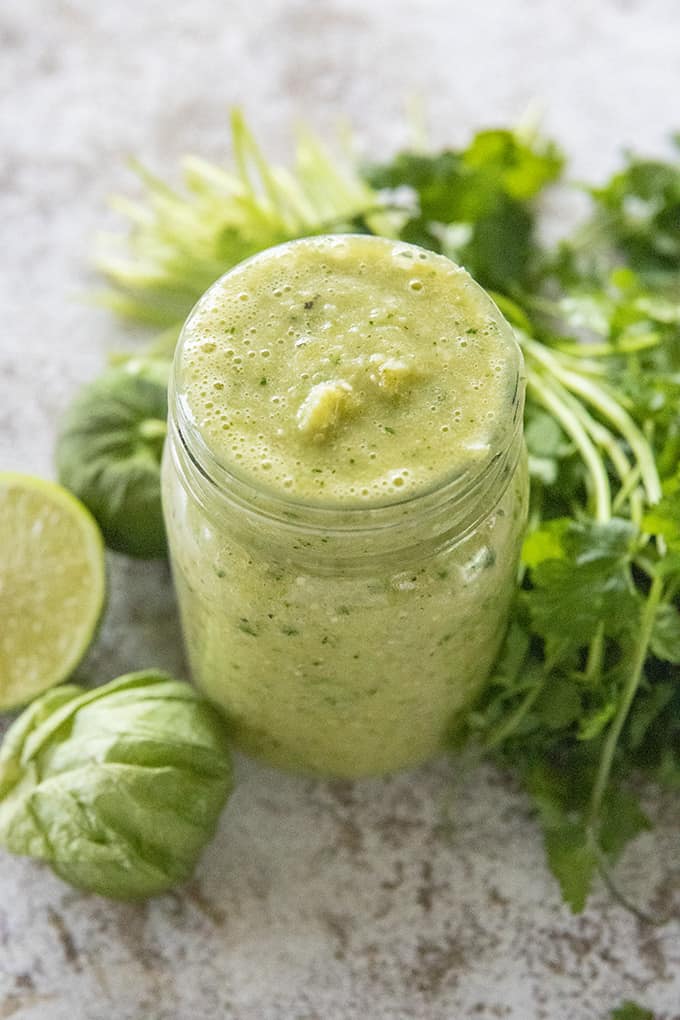 Salsa Verde Recipe:
My salsa verde recipe has come from several years of trial and error to get that perfect taste!  A few years ago, when we were in Mexico I had the opportunity to make friends with a couple from the Cancun area!  They are wonderful, and gave us all the tips and tricks for what makes a perfect salsa verde.  If you aren't familiar with this type of salsa, you should know that the main difference is that salsa verde uses tomatillos instead of red tomatoes.  It has a really distinct tangy flavor, with mellow hints of sautéed onion, jalapeno, and garlic.  If you can't get enough salsa, try out our Easy Blender Salsa Recipe as well as our Pico De Gallo!
What is Salsa Verde Used For?
This versatile salsa is a staple in Mexico and good on just about anything!  We happen to love this served on eggs for breakfast, or with our Chicken Tinga or authentic Machaca Recipe.  You could also serve it up with Cheese Enchiladas because it's a nice taste contrast with the traditional red sauce.  Put it on top of your favorite tacos, burritos, or Nachos for an extra kick of flavor!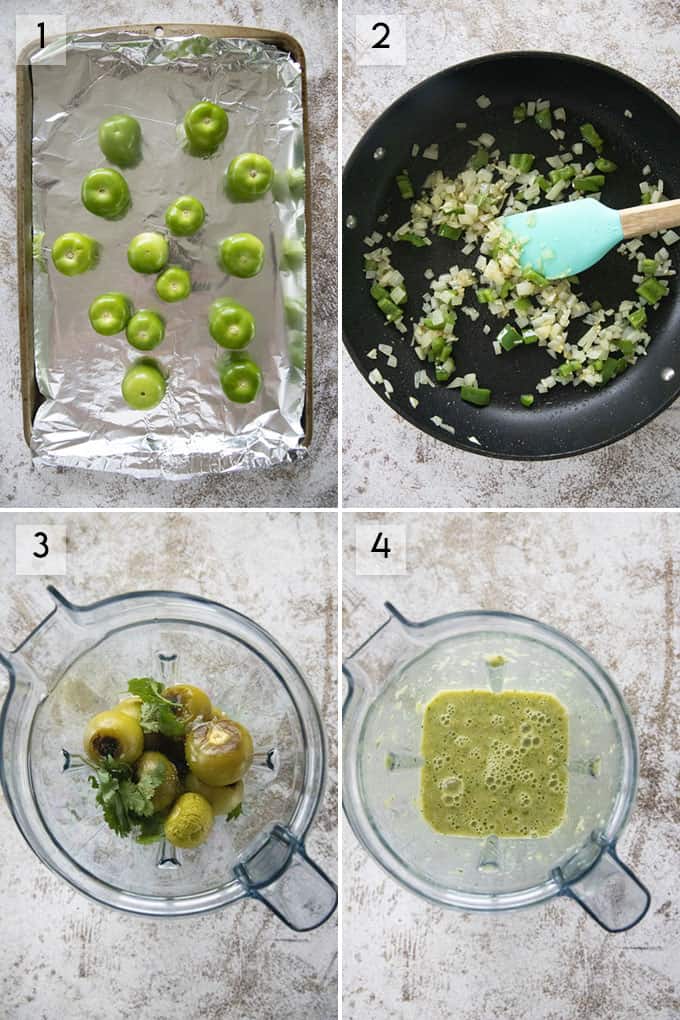 Making Salsa Verde:
I did a short photo collage which you can reference above for how we make this salsa.  Here are a few recipe tips/tricks/notes that make this recipe come out perfect every single time!
Tomatillos are a Mexican husk tomato.  They are green, and have a husk on the outside that you need to peel off.  You can simply peel with your hands, it comes off easily!  Make sure you rinse your tomatillos after peeling because they will be somewhat sticky.
If you can't find tomatillos that are all the same exact size, that is ok!  They roast for about 15-20 minutes until nice and soft.  If some of your smaller tomatillos get a little char on them, it just adds more flavor to the salsa.
Don't skip sautéing your jalapeno, onion, and garlic together!  This is one of the tips I got when we were in Mexico, and they were right!  Cooking these things down really adds another layer of flavor that would be missing if you threw everything in raw.
You can use a high power blender, a stick blender, or a food processor for this recipe.  Use whatever you have or prefer.  Everything is nice and soft and blends up easily.
Allow the tomatillos to cool for about 5-10 minutes before blending everything up.  Hot liquids expand in the blender, and allowing them to cool briefly will keep any spills from happening.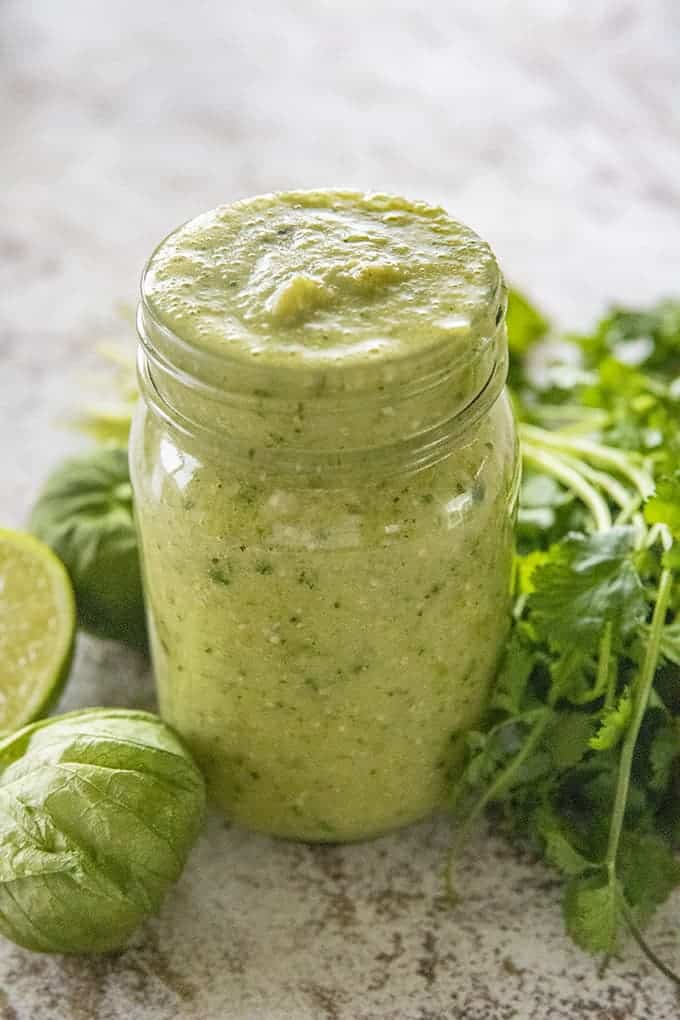 Enjoy!
~Nichole
Salsa Verde Recipe
Salsa Verde Recipe is so fast and easy to make with simple ingredients!  This authentic, flavor packed, tomatillo salsa is the best you will ever taste!
Print
Pin
Rate
Ingredients
Instructions
Preheat oven to 425 degrees. Line a large baking sheet with foil.

Place the tomatillos, on the prepared baking sheet and roast in the preheated oven for 10-15 minutes until starting to turn golden brown.

Meanwhile, heat the olive oil in a large skillet over medium-high heat. Add in the chopped jalapeno and onion and cook, stirring occasionally for 4-5 minutes until onion is soft.

Add the garlic to the pan and cook stirring constantly for one minute, remove the pan from the heat.

To the bowl of a food processor or high powered blender add in the roasted tomatillos, jalapeno mixture, cilantro, lime juice, salt, and cumin.

Pulse (don't blend) a few times until desired salsa consistency is reached. Taste the salsa and add more salt or cumin if desired.

Pour the salsa into an airtight container and chill in the refrigerator until cooled through. Salsa is good stored in the refrigerator for up to 5 days.
Nutrition
Serving:
2
TBSP
|
Calories:
12
kcal