Best Pulled Pork is fall apart tender, juicy, and packed with flavor from the perfect seasoning! This pulled pork can be made in the slow cooker or oven!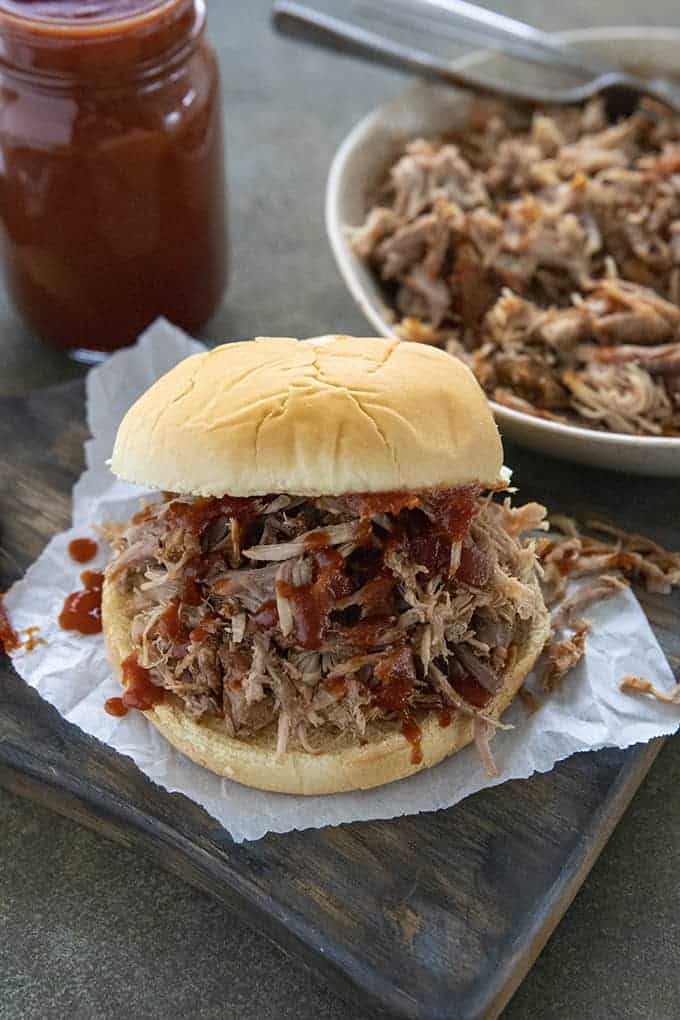 I am beyond thrilled to finally be sharing my good old pulled pork recipe with you guys!  You know I've said it before, Kansas girl, I know BBQ, and I am biased but this is really the only pulled pork you ever need. This recipe is so good with our Classic Baked Mac and Cheese, try it out!  I've shared by Bacon Bourbon Pulled Pork and an easy Instant Pot Pulled Pork too.  But, this is my tried and true oven or slow cooker method that I have used for many many years and perfected.  You guys asked for it, and I hope you love it as much as we do!  What makes this the best?  It's the combo of seasonings in just the right amounts which I've played around with for along time to get it just right.  It's cooking it in the right liquid for the perfect amount of time until it just falls apart and melts in your mouth!  It's amazing!
Pulled Pork Seasoning:
The seasoning is super simple, it's more about that perfect blend in just the right amounts. We use brown sugar, onion powder, garlic powder, cumin, smoked paprika, a good amount of salt & pepper, and a pinch of cayenne! Make sure you use all of the seasoning!  Also, really rub it into the pulled pork, get all of the nooks and crannies!  After seasoning, I recommend if possible, to wrap the pork in plastic wrap and chill in the refrigerator overnight.  This step is optional and the pork is great either way even if you don't have time for that.
What is the Best Cut of Pork for Pulled Pork?
You will want a good sized, 3-5 pound cut of pork for this recipe!  I almost always use a pork shoulder and that's what I'd recommend you use too.  Note that pork shoulder is also sometimes called "pork butt" and they're the same thing. This is a really easy cut of meat to find at your grocery store.  The pork shoulder is higher in fat (which does NOT make this fatty the fat cooks down) but it adds a ton of great flavor to your pulled pork.  If necessary, you can use a pork loin (not tenderloin) for this recipe as well.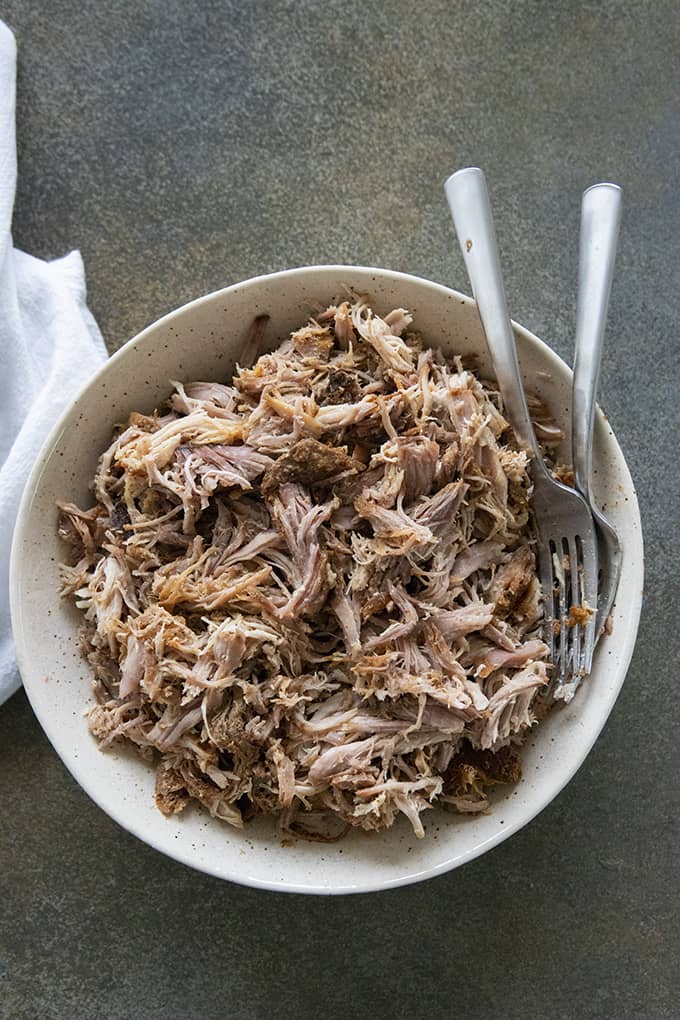 What Goes Well With Pulled Pork?
We always serve this on oven toasted buns!  Well, almost always.  It's also great made into some pulled pork nachos on top of your favorite chips with cheese and whatever toppings you love.  It's great stuffed into baked potatoes or served with Mashed Potatoes!  We also really enjoy a big pan of Green Beans to get a green veggie in.  A couple of my personal favorites are this easy One Pot Mac and Cheese, there's something nostalgic for me about a big bowl of cheesy noodles with my pulled pork!  Last but not least, the very perfect Potato Salad or our tired and true family fave Macaroni Salad because this pork reminds be of spring and summer bbq's!
Best Pulled Pork Recipe Notes:
Noting again on chill time.  You don't have to chill the roast at all after seasoning if you need to get it cooking right away.  I promise it's amazing either way.  For the best flavor though, it's nice to let it refrigerate and marinate in the spice blend for 2-12 hours.
Seasoning blend!  Don't leave anything out.  I've tested this blend so many times and it is perfect.  You can eat this meat shredded right out of the crockpot even without BBQ sauce if you want.  It's that flavorful!
Smoked paprika is worth getting if you can.  Every grocery store I've seen carries it and it's easy to find with the other spices.  It' lends a nice smoky flavor to the pork without actually having to smoke it.  Regular paprika will do if absolutely necessary.
MUST cook this pork low and slow!  In the slow cooker it will take anywhere from 10-12 hours total, and in the oven it will take around 6-7 hours at 300 degrees.  It's worth the wait, but plan ahead!  Don't be tempted to cook this on high in the slow cooker or raise the oven temp.  This will boil the meat and it won't be nearly as tender.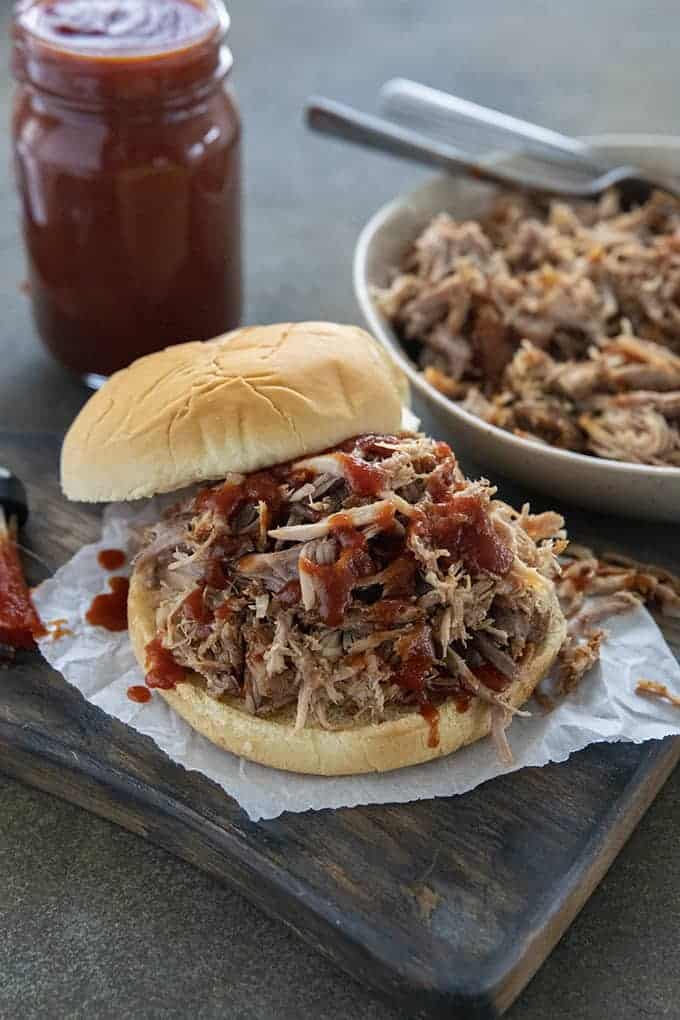 Enjoy!
~Nichole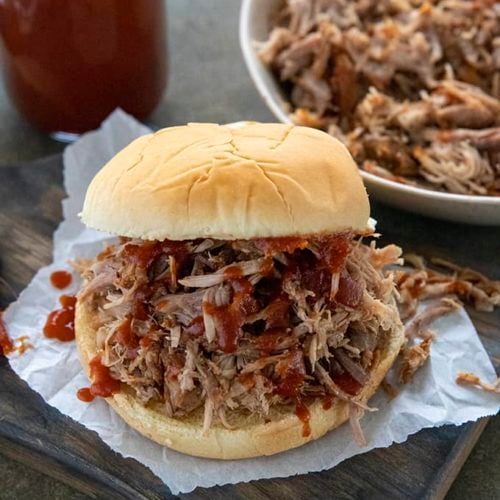 Best Pulled Pork
Best Pulled Pork is fall apart tender, juicy, and packed with flavor from the perfect seasoning! This pulled pork can be made in the slow cooker or oven!
Print
Pin
Rate
Instructions
SEASONING:
Lay the pulled pork out on a large cutting board lined with plastic wrap.

In a medium bowl whisk together the brown sugar, garlic powder, onion powder, smoked paprika, cumin, salt, pepper and cayenne.

Evenly season the pork with the seasoning mixture and use your hands to massage the rub into all sides of the meat.

OPTIONAL: Wrap in plastic wrap, place in the refrigerator and chill for 2-12 hours.
SLOW COOKER METHOD:
When ready to cook, pour the broth, vinegar, and worcestershire sauce in the bottom of your slow cooker and stir to combine.

Place the pork into the slow cooker, cover and cook on low for 10-12 hours until fork tender and falling apart. Remove the pork to a large plate, tent with foil and allow the pork to sit for 10 minutes. Shred the pork and serve with buns and bbq sauce if desired. Store leftovers in the refrigerator for up to 4 days.
OVEN METHOD:
Season the pork as directed above, and chill if desired.

Preheat oven to 300 degrees.

Pour the beef broth, vinegar, and Worcestershire sauce into the bottom of a large dutch oven and stir. Then, add the pork to the pot.

Cover the pork with the lid of your dutch oven and roast in the preheated oven for 3 hours. Remove the lid and continue cooking for 3-4 more hours until the pork is tender and falling apart.

Remove the pork from the oven and place on a large serving platter. Tent the pork with foil and allow it to sit for 10-15 minutes before shredding and serving.

Leftovers can be refrigerated for up to 5 days, and frozen for up to 2 months.
Notes
NOTE ON COOKING TIMES:  Don't cook this recipe on high or turn up the oven temperature.  It needs to cook low and slow to be super tender. NOTE ON CHILLING:  Chilling after seasoning is completely optional and the pork will have more flavor if you can chill, but also tastes great either way.
Nutrition
Sodium:
755
mg
|
Calcium:
29
mg
|
Vitamin C:
1
mg
|
Vitamin A:
483
IU
|
Sugar:
9
g
|
Fiber:
1
g
|
Potassium:
732
mg
|
Cholesterol:
102
mg
|
Calories:
266
kcal
|
Saturated Fat:
2
g
|
Fat:
6
g
|
Protein:
39
g
|
Carbohydrates:
12
g
|
Iron:
2
mg