Macaroni Salad is a classic summer pasta salad loaded with noodles, egg, dill pickle relish, and a flavorful dressing! It's always a crowd fave!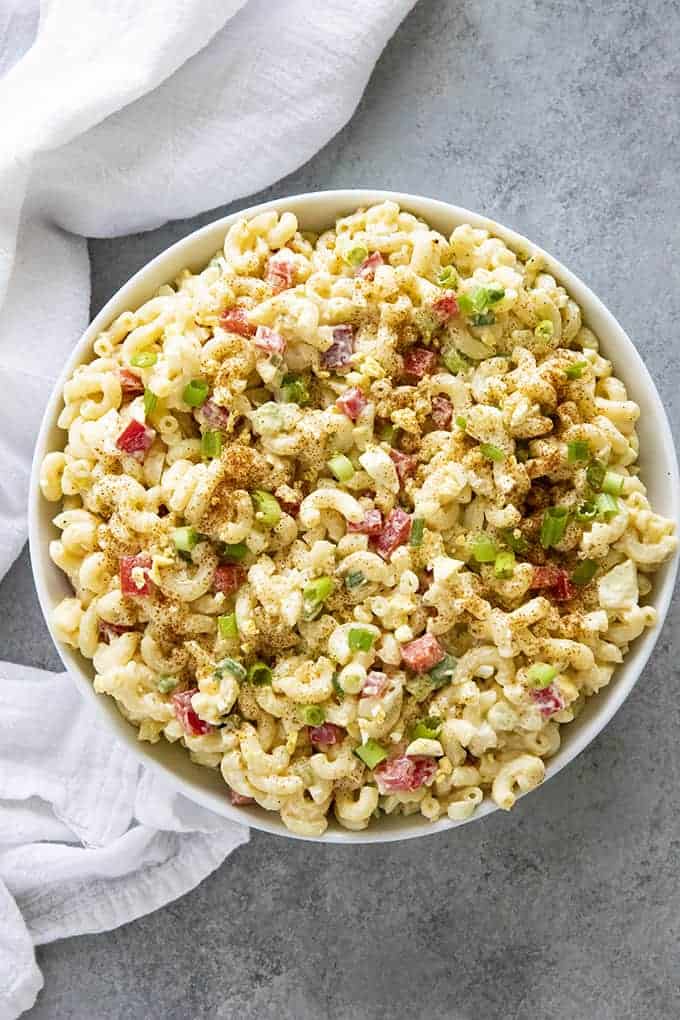 Macaroni salad is easily my all time favorite summer side dish. Well, that and our Very Best Potato Salad! In fact, we often serve it as a meal when it's super hot outside, and it often makes an appearance on all of our camping trips!  Let's talk about how to make it!  Side note, we originally posted this Macaroni Salad in May of last year and got rave reviews!  We are simply posting it again with new photos, and a few more tips within the post!
What Can I Serve With Macaroni Salad?
Macaroni salad is a great side dish with any meat that you like.  It's great with grilled meats in the summer!  We really enjoy having this salad along with chicken dishes like Baked Chicken Thighs, Lemon Pepper Chicken, Easy Baked BBQ Chicken, or Juicy Baked Chicken Drumsticks!
How to Make Macaroni Salad:
Start with boiling your dry macaroni noodles according to package directions.  After your noodles are cooked you will drain them as usual.  The most important step is to run the macaroni noodles under cold water after draining.  I usually kind of toss the macaroni around with a spoon in my strainer until they are all nice and cold.  This keeps the noodles from continuing to cook and becoming mushy.
While my macaroni is cooking I add a second small pot to the stove and allow the eggs to come to a boil.  When they are done, I simply add them to a bowl of ice water until they have cooled, at least ten minutes, then peel.
As you can see, making macaroni salad is sort of an "assembly line" but it is super easy and quick, really!  While the eggs and noodles cook, I can chop up by green onion and bell pepper.  Then, once the macaroni is cooled and in my large mixing bowl and I have peeled and chopped my eggs, I am ready to mix everything up!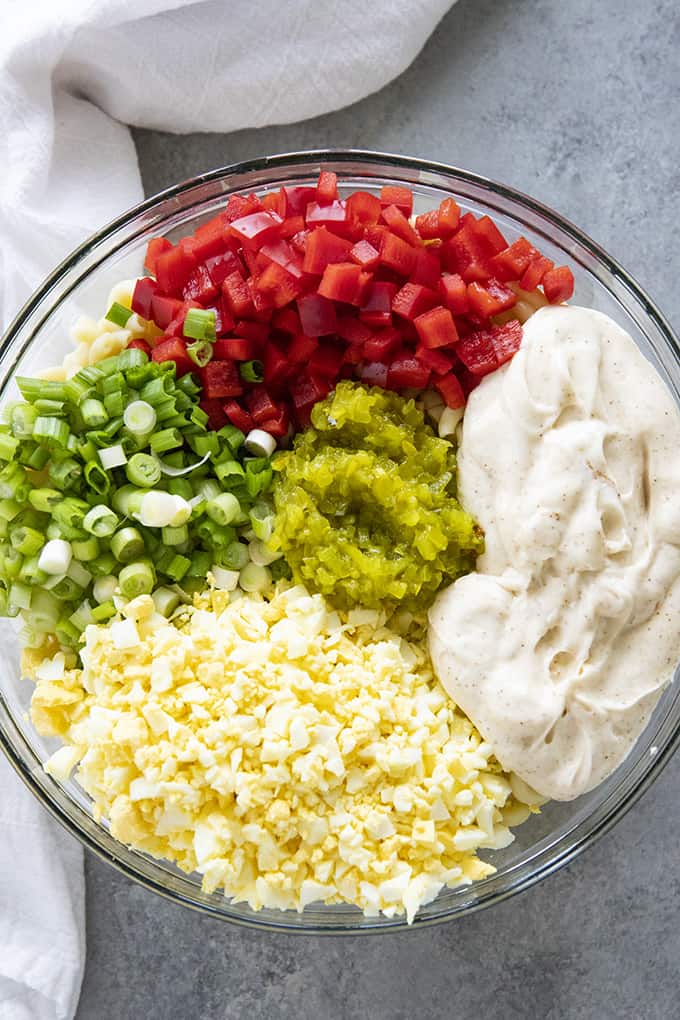 What Goes in Macaroni Salad?
Classic macaroni salad calls for a somewhat sweet dressing of mayonnaise and sugar.  This dressing is often combined with things like bell pepper, celery, eggs, onion, and of course macaroni.  My version is what I like to think of as an "updated" version of a classic.  My macaroni salad is very flavorful and much more savory than sweet because that is what we prefer. I like to use mayonnaise along with dijon mustard, DILL PICKLE relish instead of sweet relish, salt, pepper, garlic powder, and paprika.  These flavors have been tried and tested and are the absolute best, everyone loves them! I also add a good amount of hard boiled egg, bell pepper for extra color and crunch, and green onion instead of the traditional white onion.  The green onions lend a much more mild onion flavor so they don't overpower the whole salad.
Do You Rinse Macaroni For Macaroni Salad?
Yes!  After you cook your macaroni to package directions, you will drain it in a large colander, then rinse it under gentle cold running water.  This will keep the pasta from cooking further and becoming mushy.
How Long Is Pasta Salad With Mayo Good For?
Macaroni salad once prepared can be properly stored in an airtight container in the refrigerator for up to 5 days.  Make sure you stir it before serving!  If your pasta salad has sat out at a potluck for more than 2 hours, I would suggest tossing it out for safety.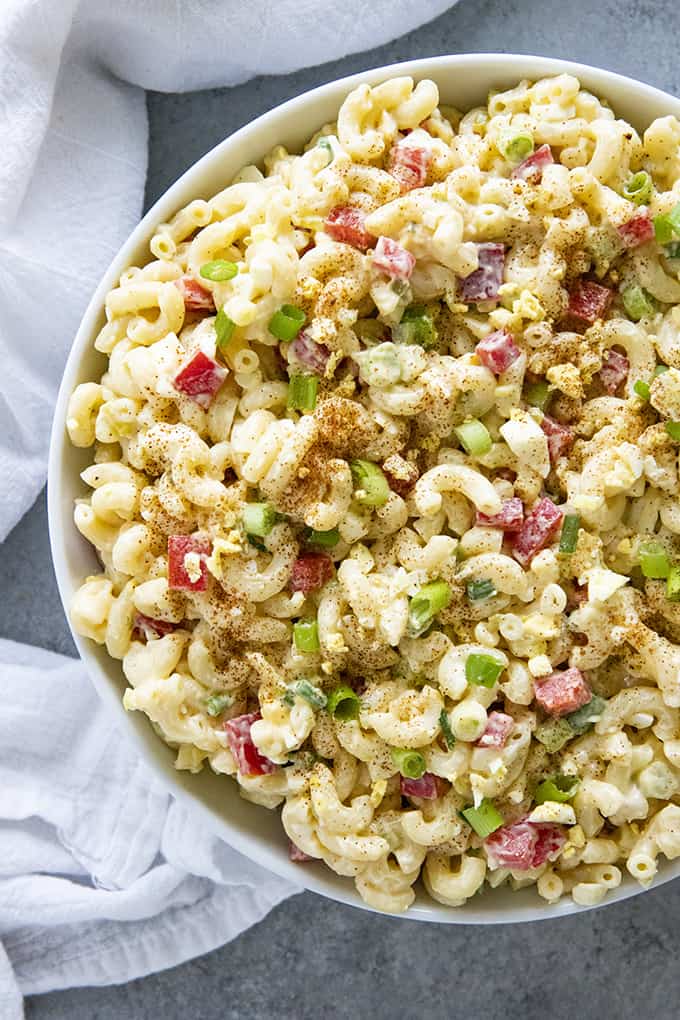 Enjoy!
~Nichole
If you're looking for other great potluck side dishes definitely try our Creamy Italian Cucumber Salad, this amazing Classic Pea Salad with bacon, and our super fun Shrimp Pasta Salad!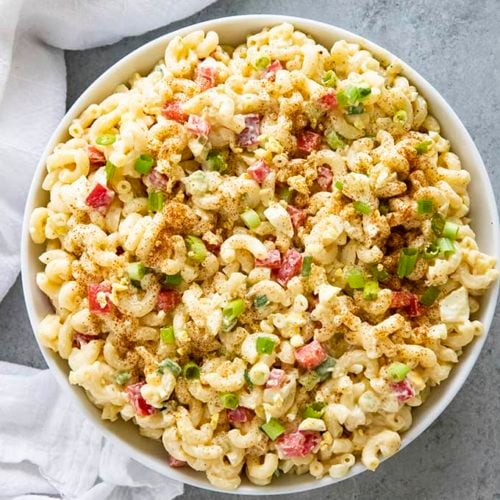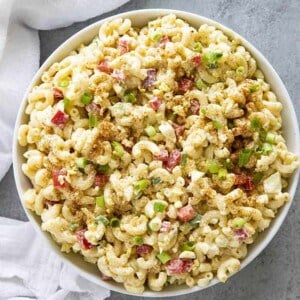 Macaroni Salad
Macaroni Salad is a classic summer pasta salad loaded with noodles, egg, dill pickle relish, and a flavorful dressing! My recipe for macaroni salad is sure to be a hit at your next picnic, potluck, or bbq!
Instructions
Cook macaroni according to package directions. Drain and rinse the macaroni under cold water in a colander.

Add the drained and cooled macaroni to a large serving bowl with a tight fitting lid.

Add the chopped red bell pepper, green onion, boiled eggs, and dill relish to the macaroni.

Next, in a small bowl add the mayonnaise, dijon mustard, salt, pepper, and garlic powder. Stir well to combine. Then pour the dressing over the salad and mix well.

Chill for at least one hour before serving.
Notes
NOTE:  Once assembled, this salad can be stored in an airtight container in the refrigerator for up to 5 days.
Like this? Rate & review this recipe below!