Perfect Mashed Potatoes are the best you'll ever have, they come out flavorful and creamy every time!  Learn how to easily make mashed potatoes from scratch!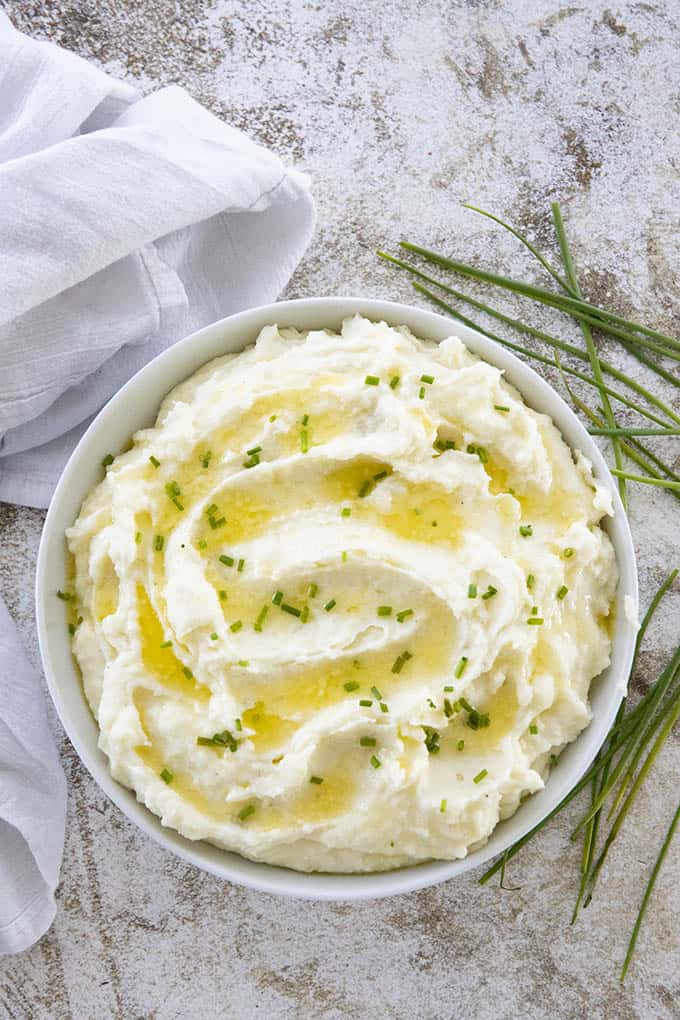 This recipe is the best for Thanksgiving! BUT, it's truly the perfect batch of potatoes for any holiday or to go with any meal, we make these at least twice per month!  We've already posted our Cream Cheese Mashed Potatoes, and our Instant Pot Mashed Potatoes.  Now, it's high time that we give you all the tips and tricks to make perfect, classic, potatoes right on the stovetop!  We've all had really good mashed potatoes, and probably some that were very gluey, or runny, or just tasteless.  These come out so creamy every single time, and will have you and your guests coming back for more!  If you're looking for more Thanksgiving try our Best Roast Turkey Recipe and Slow Cooker Green Bean Casserole.
What is the Trick to Good Mashed Potatoes?
What is the Best Potato for Mashing?
For the creamiest and fluffiest mash, you're going to want a higher starch potato.  I always use Russet potatoes, but, Yukon Gold are another great option!  Either of these have amazing flavor and texture.  The potatoes you DON'T want to use here are waxy potatoes such as red potatoes or new potatoes.  They won't give you that light texture that you're looking for.
Rinsing Your Potatoes:
A seriously simple trick is to rinse your potatoes, not once, but twice!  Once they are peeled, rinse them under cold water.  Then, after they are done cooking, place them in a colander and rinse them gently under cold water once again.  It only takes a minute to do this, and it ensures you are removing all of the excess starch, so that you don't end up with gluey or pasty potatoes.
Cutting the Potatoes:
Contrary to popular belief, you don't need to spend time cubing potatoes before cooking them!  Once you've peeled and rinsed, lay your potatoes on a cutting board and simply cut each one in half.  Keeping them larger actually ensures that your potatoes won't disintegrate, or take on too much water during boiling.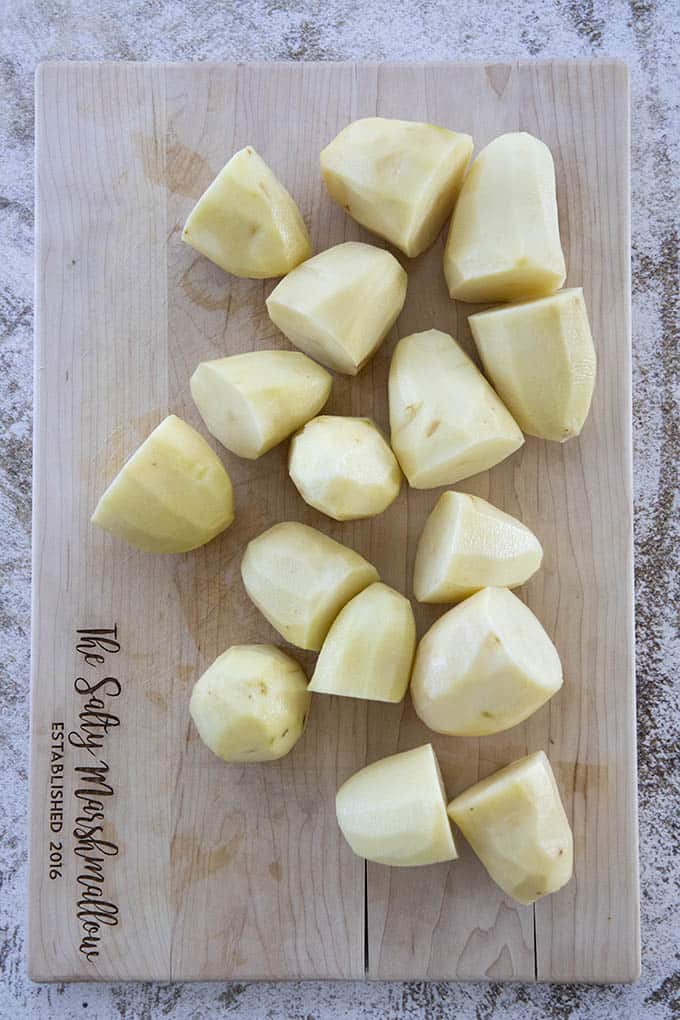 Start With Cold Water:
Place your potatoes in a large stock pot or dutch oven and cover them completely with COLD water!  One of the most important steps!  If you use hot or warm water to cover your potatoes, they will most likely fall apart during cooking.  They will cook unevenly, and could end up way too starchy.
Draining Your Potatoes:
Like I said above, we're going to rinse twice.  Thoroughly drain all of the hot water from the potatoes until there is none left.  Then, rinse as directed, and make sure that you allow all of the cold water to drain from the potatoes.  This ensures that your potatoes are not going to turn out watery when you go to mash them.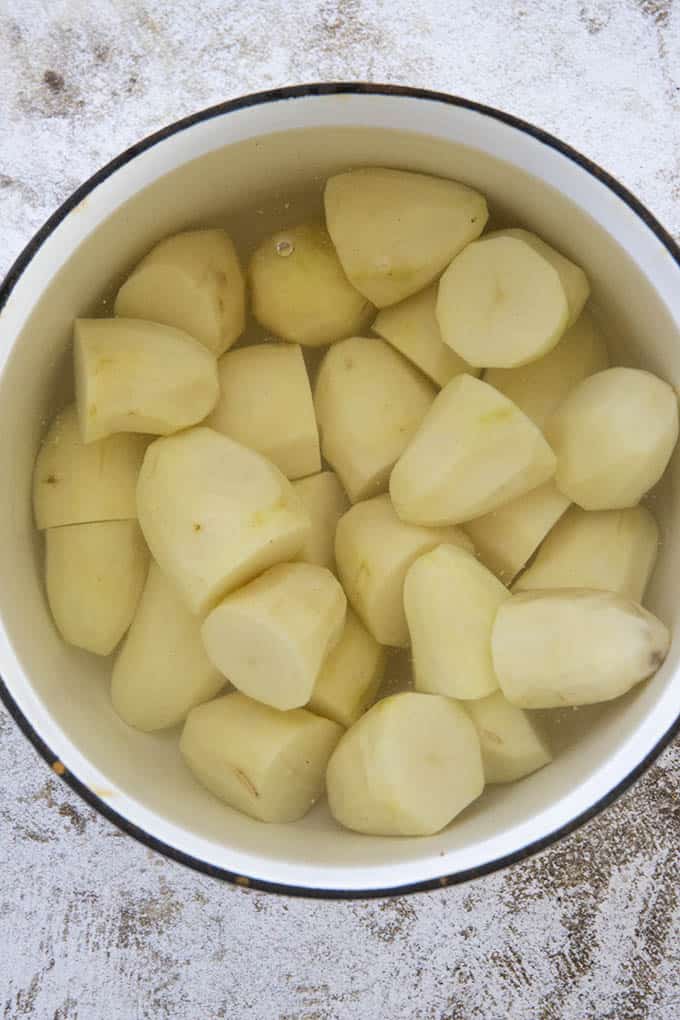 More Tips for the Best Mashed Potatoes:
Use room temperature butter, and warmed milk for best texture.  You'll want your butter to come to room temp for a good 45-60 minutes.  If you don't have that kind of time, you can pop it in the microwave in a bowl for 5 second intervals until soft.  Same with the milk.  Warm in a measuring cup in the microwave, or in a small saucepan on the stove.  Doing this also keeps your potatoes nice and hot until ready to serve.
Don't make mashed potatoes ahead of time!  Unfortunately, mashed potatoes are just not something that reheat and still taste the same.  If you want to make them a little bit ahead you can prepare as directed, then keep them in a 6 quart slow cooker on low for up to 2 hours.  If keeping them warm in the slow cooker, give them a stir every once in a while.
Mash them with a hand mixer for the smoothest potatoes.  You don't want to overwork your potatoes too much.  You can mash them with a hand masher if preferred.  I like to start mashing them with my hand mixer, while slowly pouring in the milk.  Then, on low speed beat in the butter, sour cream, and seasonings just until smooth which should only take 1-2 minutes.
Don't be afraid of seasonings!  My suggestions are a starting point.  You can, and should taste your mashed potatoes and then add more salt/pepper and garlic powder to your own taste.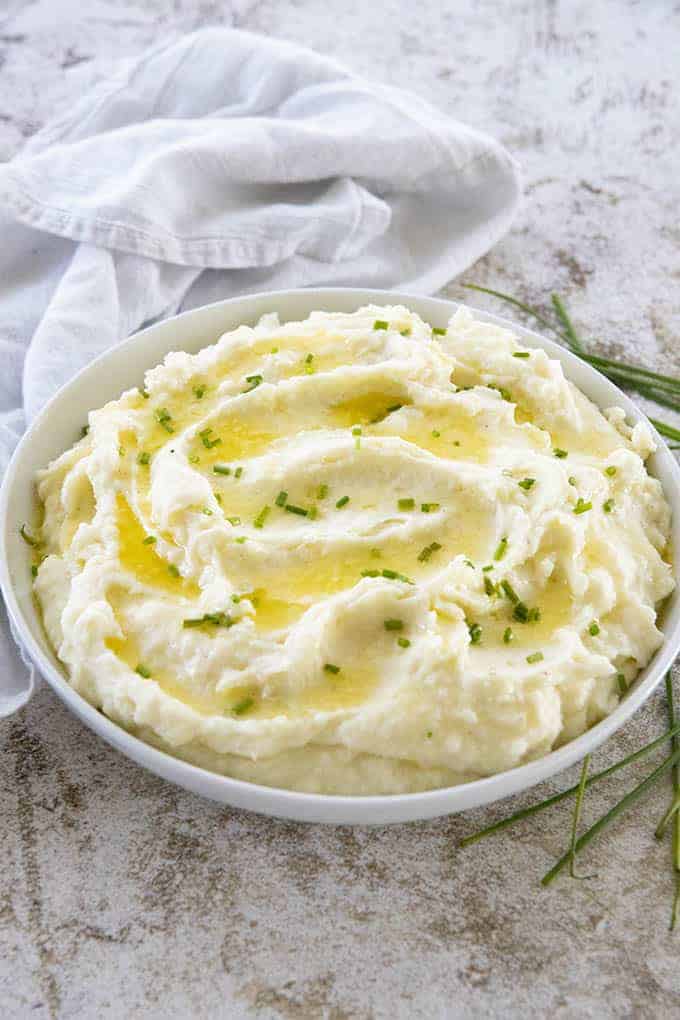 Enjoy!
~Nichole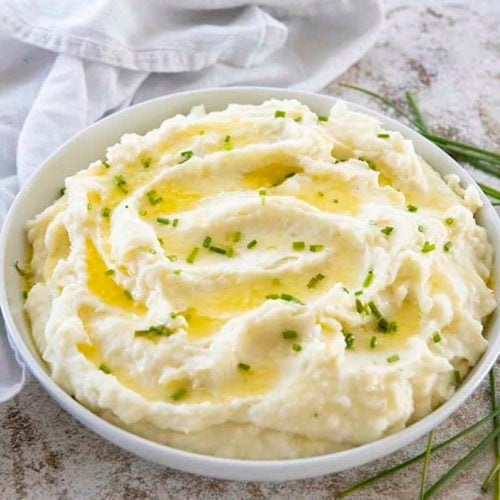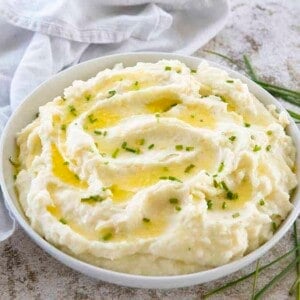 Perfect Mashed Potatoes
Perfect Mashed Potatoes are the best you'll ever have, they come out flavorful and creamy every time!  Learn how to easily make mashed potatoes from scratch!
Ingredients
5

Pounds

Russet Potatoes

1 1/2

Cups

Milk

2

Sticks

Butter (1 Cup)

Softened

1/3

Cup

Sour Cream or Plain Greek Yogurt

1-2

teaspoons

Salt

(or to taste)

1/2-1

teaspoon

black pepper

(or to taste)

1/2

teaspoon

garlic powder

Fresh Chopped Chives or Parsley for serving

optional
Instructions
Rinse the potatoes thoroughly under warm water and place on a layer of paper towels, pat dry.

Peel the potatoes until no skin remains and place them into a large colander and rinse under cold water.

Place the potatoes on a cutting board and slice in half. Transfer to a large stock pot or dutch oven and cover with COLD water.

Place the pot on the stove and bring the potatoes to a boil and cook for 15-20 minutes until fork tender.

Meanwhile, heat the milk in the microwave or on a small saucepan on the stove just until warm.

Remove the pan from the heat and drain the water from the potatoes. Rinse the potatoes under cold gently running water, drain, then return them to the pot.

Use a potato masher (or hand or stand mixer) to start breaking up the potatoes.

If using a hand (or stand) mixer, turn it on low speed and mix while slowly pouring in the warm milk.

Add in both sticks of butter, the sour cream, and seasonings and continue mashing or mixing on medium speed for 1-2 minutes until smooth and creamy.

Serve immediately. Store leftovers in an airtight container in the refrigerator for up to 3 days.
Notes
NOTE ON MAKING AHEAD:  I don't recommend making these more than 2 hours in advance.  Prepare as directed, then pour into a 6 quart or larger slow cooker and keep on low, for 1-2 hours at most.
Nutrition
Serving:
0.5
Cup
,
Calories:
250
kcal
Nutrition information is automatically calculated, so should only be used as an approximation.
Like this? Rate & review this recipe below!