Spinach Artichoke Dip is so easy to make in just one pan and 15 minutes or less!  This rich, creamy, cheesy dip recipe is perfect for any occasion!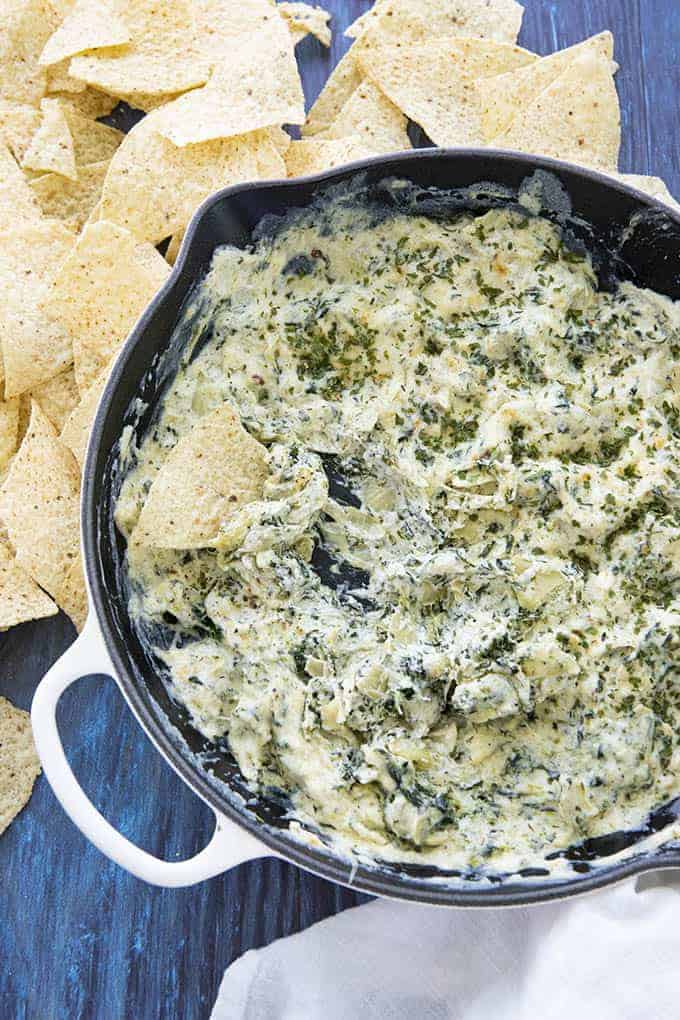 One of my all time fave restaurant dips made easy at home!  Why was this NOT on the blog yet?  We love dips, especially this time of year when we want that perfect game day spread.  If you're looking for more dip recipes be sure to try our Buffalo Chicken Dip, probably the biggest reader fave around here!  I'm also personally kind of in love with Club Sandwich Dip and the very BEST (it really is) Crab Dip!
What is Spinach Artichoke Dip Made of?
Everyone makes their spinach dip a little differently.  Over the years, this is the short and sweet list of ingredients that makes it just perfect to me!
First things first, spinach!  I typically use frozen spinach, but fresh will work as well and wilt down nicely (more on that in the recipe card).  You can see in the first picture below that your frozen spinach will be a big wet ball, and you need to squeeze it dry.
In the second photo, this is after the spinach has been rung out really well.  It will look like a teeny ball of spinach, but don't worry, there's plenty.  I like to drain mine by placing a colander over a bowl and using both hands to give it several good squeezes.
Next are your artichoke hearts.  Any brand is fine, you'll want to have one can of QUARTERED artichoke hearts.  Drain all of the juice from them, and just give them a good rough chop, doesn't have to be perfect.
Now, you'll heat a bit of butter in a skillet over medium heat, add some minced garlic and just cook for about 1 minute until the garlic is fragrant.
Keep the pan on the heat and add in your softened cream cheese, mayo, and sour cream.  You'll want to stir constantly and it should only take a few minutes for this mixture to be smooth.
Now, in goes your spinach (fresh or frozen/drained) the chopped artichokes, and the cheese!  At this point, you can add all of your cheese, or, you can add half then top the dip with the second half and place under your oven broiler for 2-3 minutes until melted.
How Long Does Spinach Artichoke Dip Last?
You can make this dip up to three days in advance, I don't like storing it longer than that because the flavor isn't as great.  Make as directed, and just store it in an airtight container until ready to serve.  When ready to serve, you can heat it in the microwave for about 3-5 minutes until warmed.  Or, you can pour the dip into a pot/pan and heat on low on the stove top for a few minutes.  I don't recommend freezing this, it just doesn't hold up well!
What to Serve with Artichoke Dip?
You mean, we cant just eat it with a spoon??  Here are a few of my personal faves along side artichoke dip!
Chips!  Tortilla chips are customary, I think that's what I see most often at restaurants. Any of your fave tortilla chips are fine.
Crackers, I like this with butter crackers like Club, Ritz, or Town House.
BREAD!!  Yes, it's so good with toasted french bread slices.
Veggies!  Anything that is easy for dipping like celery, bell pepper slices, carrots.
Enjoy!
~Nichole
Spinach Artichoke Dip
Spinach Artichoke Dip is so easy to make in just one pan and 15 minutes or less!  This rich, creamy, cheesy dip recipe is perfect for any occasion!
Print
Pin
Rate
Instructions
Thaw the frozen spinach by placing the package in a large bowl of warm water for 1-2 minutes. Remove the spinach from its package and place in a colander over a bowl or in your sink. Use your hands to squeeze as much liquid as possible from the spinach, then place back in the colander.

If using fresh spinach, remove it from its package to a large cutting board and give it a good rough chop, set aside.

Drain the quartered artichoke hearts and pour them out onto a cutting board. Roughly chop the artichokes into small pieces.

Heat the butter in a large skillet or pot over medium heat.

Once the butter is melted add in the garlic, red pepper flakes, Italian seasoning, and salt. Stir constantly for one minute.

Turn the heat to low and add in the cream cheese, sour cream, and mayonnaise. Cook, stirring constantly for 2-3 minutes until the cheese is melted and smooth.

Stir in the spinach, artichokes, and 1 cup of the parmesan cheese. Stir well to break up the spinach into the dip. Once everything is well combined remove from the heat.

OPTIONAL: Add the remaining parmesan to the top of the dip, place under your oven broiler for 3-4 minutes until bubbly. If you want to skip this step, just stir the rest of the cheese into the dip.

Serve immediately with your favorite dippers like tortilla chips, toasted french bread, carrots, celery, and bell pepper strips.
Notes
NOTE:  If using frozen spinach it is IMPORTANT to squeeze all of the liquid out of it after it thaws, otherwise your dip will be watery!
NOTE:  You can use fresh baby spinach in this recipe, chop it up roughly, and stir in at the same time you would the frozen spinach.
NOTE:  This dip does not freeze well!  It can be made up to 3 days ahead and stored in the refrigerator in an airtight container once it has cooled.  To reheat, pour the dip into a microwave safe dish and heat for 3-5 minutes, or pour into a medium pan and heat, stirring occasionally for 5-10 minutes.
Nutrition
Serving:
0.03
Cup
|
Calories:
100
kcal