Spaghetti Salad is a classic, summer pasta salad that is packed full of your favorite veggies, cheese, and a simple to make dressing!  This original, cold, spaghetti salad is always a hit!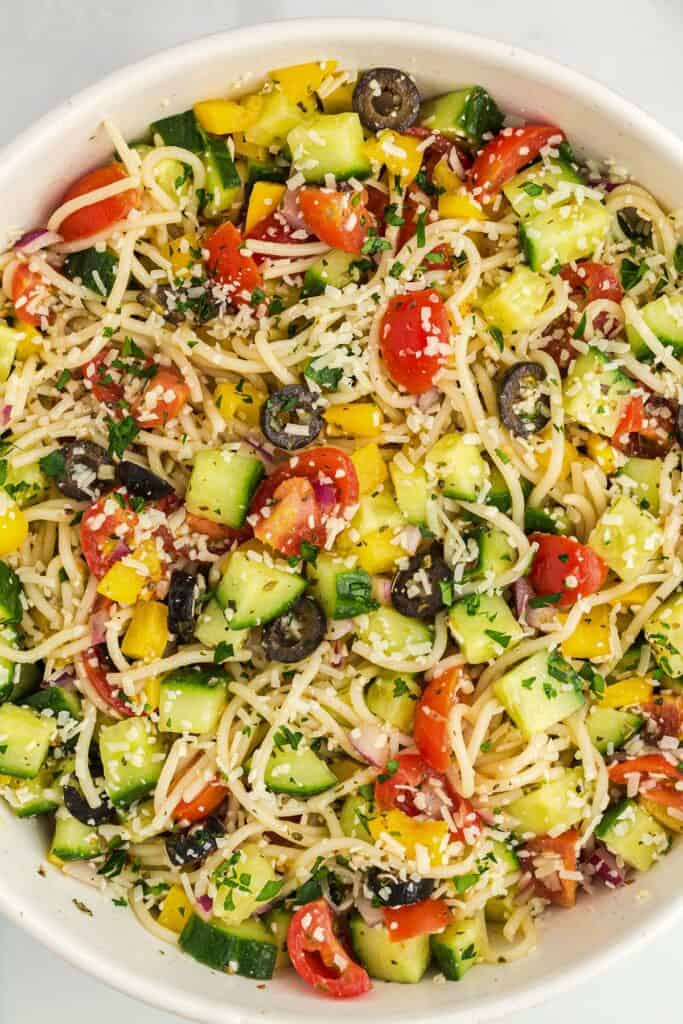 Spaghetti Salad:
A true classic, and one of my personal favorites!  I remember eating this one at potlucks when I was little and it's still so yummy and refreshing during the hot months!  Not to mention, it's kinda fun to eat with spaghetti noodles instead of the traditional Macaroni Salad or anything with short cut pasta.  We're gonna talk about what goes into this salad, and of course substitutions so you can make this to suit your own taste!  This one along with my Caesar Pasta Salad and our easy Italian Tortellini Salad are a must try this summer!  Plus, we have several more pasta salads coming over the next few months, so stay tuned for that!
What is Spaghetti Salad Made of?
1. Spaghetti: As the name says, we use spaghetti pasta for this recipe.  Now, of course you can definitely switch it out for any pasta (you could use fettuccine if you wanted long pasta) or any short cut pasta, but it will change the recipe name.
2. Cucumber: You can use any type of cucumber you want for this recipe.  You'll need 2 ½ Cups total once it's diced up so either use 1-2 large cucumbers or get a whole bag of the mini cucumbers.
3. Cherry Tomatoes: Cherry or grape tomatoes are fine.  If you don't have them, any tomatoes work well!  Just use 2-3 regular tomatoes (to your own preference) and make sure to take the seeds and excess liquid out.
4. Yellow Bell Pepper: You can use any color of bell pepper.  I use yellow because we already have red from the tomatoes and green from the cucumber.  But, please use whatever you have on hand.  I do find red/yellow/orange bell peppers to have a sweeter taste than green.
5. Parmesan Cheese: This is one of those recipes where you can use cheese of the block, or pre-shredded!  I do like off the bloc best, but but the little containers of freshly grated are good too.  The green shaker parmesan also works if that's what you have.
6. Sliced Black Olives:  Black olives are traditional, but use whichever olives you like best!  I love switching it up and using green olives, Castelvetranos, or even Kalamata.
7. Red Onion:  If red onion is too strong for you, just replace it with green onions instead.  Use thinly sliced green and white parts of the green onion.
8. Parsley:  This really adds more color than flavor, although it does add to the freshness!  Leave it out if you don't have any.
9. Red Wine Vinegar: This is part of the dressing, you can use white wine vinegar if that's what you have.  I don't recommend apple cider or regular white vinegar as it won't taste the same.
10. Extra Virgin Olive Oil:  Use any good quality olive oil.  Don't substitute with vegetable oil.
11. Lemons: This adds some tang and freshness!  It's best to use juice from fresh lemons, and not bottled lemon juice because the flavor really is different.
12. Minced Garlic: You can use fresh minced, or the jar.  Of course it goes without saying using fresh chopped cloves has a fresher taste.
13. Dried Oregano, Basil, Salt, and Pepper: Don't skip these!  You want to season your dressing!  I like dried herbs best here, but if you have fresh they also work great!
A Few Recipe Notes to Keep in Mind for This Spaghetti Pasta Salad:
This salad must be refrigerated until ready to eat.  You can serve it right away but I like to refrigerate for a couple of hours before eating if possible to let the flavors blend.
When cooking the spaghetti for this recipe keep in mind in must be cooked al dente according to package directions.  The pasta should be softened but still slightly firm.  This will help the pasta hold it's shape and keep it from breaking when you mix everything up.
The homemade dressing is so good and really so simple to make from scratch!  However, if you don't want to make it you can always use a bottle of your favorite store bought Italian Dressing too.
I find that once this is mixed up, it's best to serve within 2-3 days.  It makes a really great meal-prep lunch for the summer months too!
You can also add chopped up pepperoni, salami, diced ham, or even chicken if you want to add in some protein.  Rotisserie chicken is a great option to make life easy.
If you don't want to use parmesan, you can add whatever cheese cubes you like.  I sometimes like to add some mozzarella pearls, or cubed mozzarella in addition to the parmesan.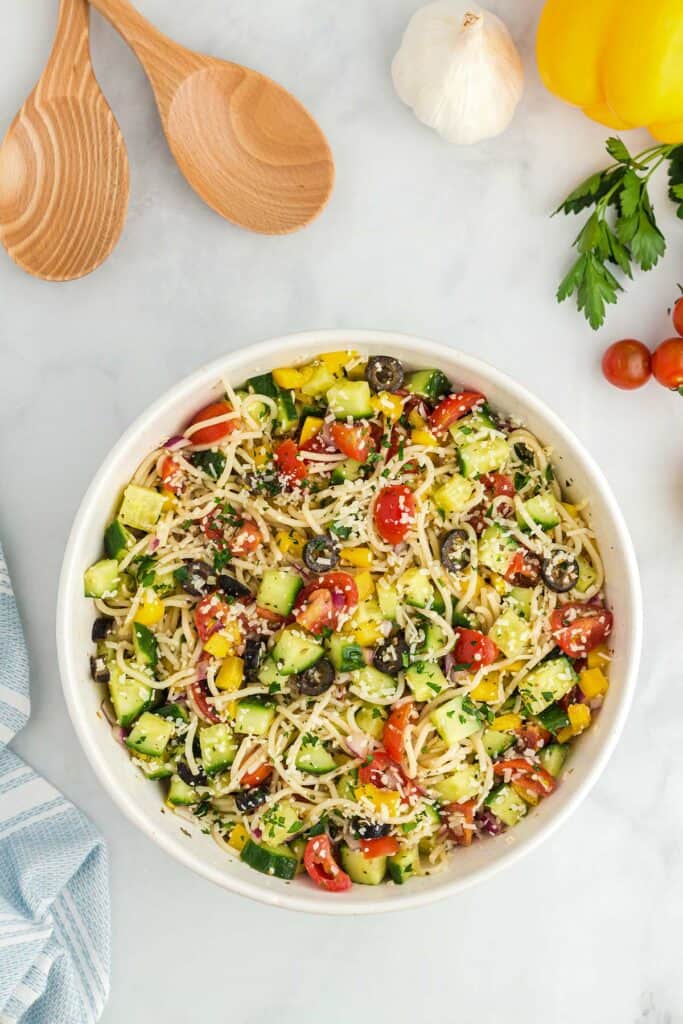 Enjoy!
~Nichole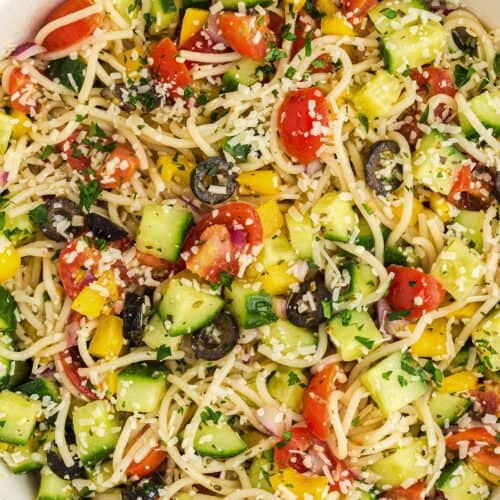 Spaghetti Salad
Spaghetti Salad is a classic, summer pasta salad that is packed full of your favorite veggies, cheese, and a simple to make dressing!  This original, cold, spaghetti salad is always a hit!
Print
Pin
Rate
Ingredients
FOR THE SALAD:
16

Ounces

Spaghetti

uncooked

2 ½

Cups

Diced Cucumber

1 ½

Cups

Halved Cherry Tomatoes

1

Cup

about 1 large bell pepper Yellow Bell Pepper, diced

¾

Cup

Grated Parmesan Cheese

¼

Cup

Sliced Black Olives

¼

Cup

Red Onion

Diced

1

Tablespoon

Fresh Parsley

chopped
FOR THE DRESSING:
⅓

Cup

Red Wine Vinegar

⅓

Cup

Extra Virgin Olive Oil

⅓

Cup

Freshly Squeezed Lemon Juice

about 1 ½ lemons

2

teaspoons

Minced Garlic

2

teaspoons

Dried Oregano Leaves

2

teaspoons

Dried Basil

½

teaspoon

Salt

¼

teaspoon

Black Pepper
Instructions
In a large pot of lightly salted boiling water, cook spaghetti until it is al dente. Al dente pasta means it is softened but still firm.*

Strain hot water from pasta and rinse with cold water. Strain all water from pasta.

In a large bowl, combine spaghetti, cucumber, tomatoes, bell pepper, parmesan cheese, olives and red onion.

In a medium bowl, stir together all dressing ingredients. Stir until well mixed.

Pour dressing over spaghetti salad and toss well to mix. All of the salad ingredients should be well coated in dressing.

Sprinkled chopped fresh parsley over top of the spaghetti salad.

Store leftovers in a sealed food safe container for up to 3 days in the refrigerator.
Notes
NOTE:  I have this listed as 8 servings, however at a potluck with lots of other dishes it will serve more like 12-15.