S'mores French Toast Casserole - A super decadent chocolate french toast casserole that can be made ahead!  This french toast is full of chocolate chips, toasted marshmallows, and sprinkled with graham crackers to make it taste just like a s'more!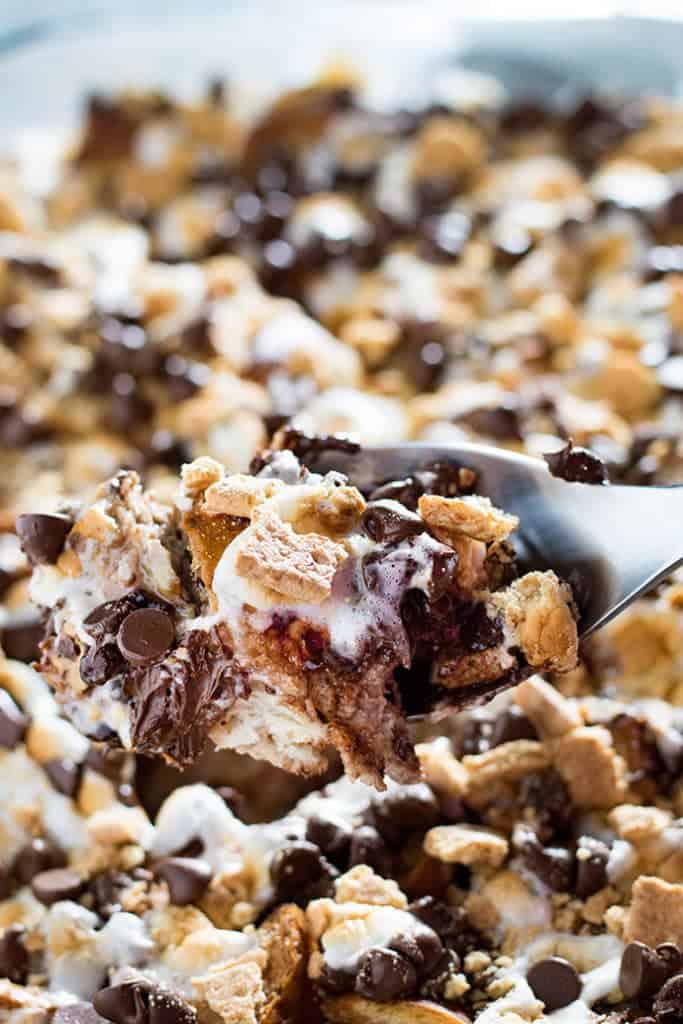 Ok, I know it's just now National S'mores Day.  BUT, this french toast has been a long time coming.
Or, should have been.
It should have been born pretty much forever and a day ago, because it's one of the most heavenly decadent things I have ever, ever, everrrrrr, put in my mouth.
If everyday could just be National S'mores Day.....
I mean, then everyone would probably just all get along??
Because you can't be mad when you have a heap of chocolate milk soaked french bread that's topped with more chocolate, toasted marshmallows, and graham crackers up in your face.....right?!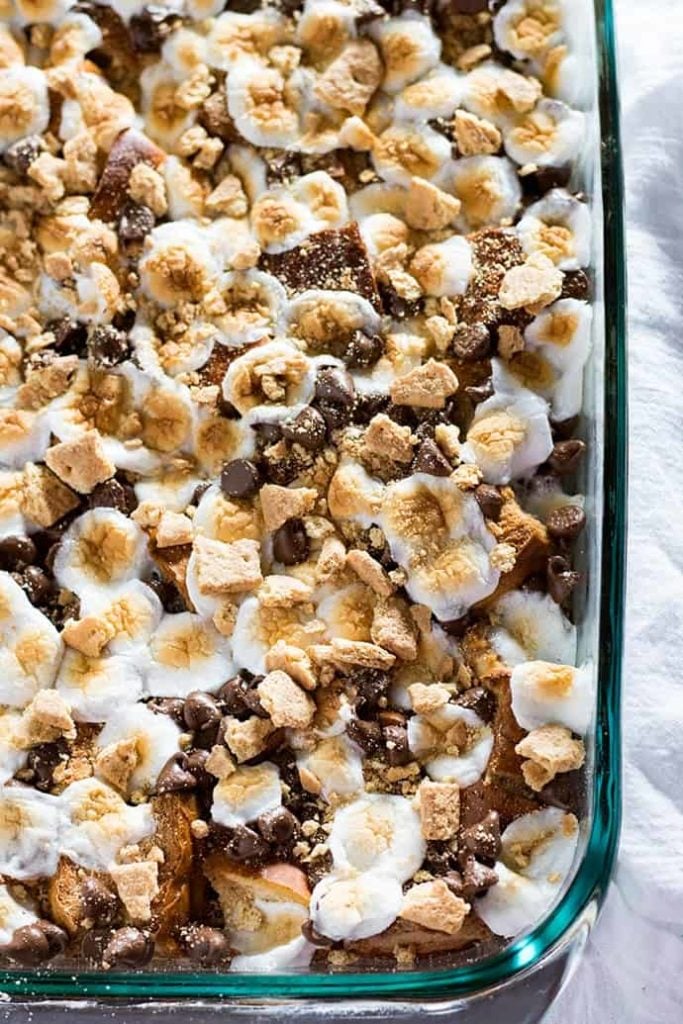 Perks of being a food blogger, you guys.
I had this french toast for dinner the other night.  Not gonna apologize for it either.
Even though we make campfire s'mores all summer long, I still wanted to just face plant into this french toast casserole as soon as it came out of the oven.
Is "gooey" an unappealing word for you guys?  Because, it is really GOOEY and I love it.
When you scoop this out of the pan, the chocolate chips and marshmallows are just warm and melty.
The bread tastes like chocolate too - because we use chocolate milk in here instead of regular, boring, white milk!
Yes, you can use chocolate almond milk here if you're dairy free.  You're welcome.
I don't want to say that french toast is kind of "my thing" but I do love the stuff, and one of the most popular of all time recipes on my blog is my Overnight Blueberry French Toast.
This s'mores version is completely different flavor wise, but it's just as simple to make.
Really about five minutes of prep.  Cut your bread into cubes, whisk together some chocolate milk with eggs and cinnamon, pour over bread cubes.
Then....wait!  Not for very long though.  The beauty of this is you can let it chill for 2 hours and go ahead and get it in the oven.
Or, if you want you can make it ahead for an overnight french toast casserole!
Either way, it's a must try!
Enjoy!
~Nichole
Ingredients
1 (15 Ounce)

Loaf

French Bread,

Cubed into bite sized pieces

1 ½

Cups

Chocolate Milk

6

Large

Eggs

1

Teaspoon

Cinnamon

1

Teaspoon

Vanilla Extract

1

Cup

Chocolate Chips

1

Cup

Miniature Marshmallows

¼

Cup

Graham Crackers,

Crushed
Instructions
Spray a 9x13 inch baking dish with cooking spray, place the bread cubes in the pan and set aside.

In a large bowl, whisk together the chocolate milk, eggs, cinnamon, and vanilla extract. Pour the milk mixture over the bread cubes. Push down on the bread slightly if necessary to make sure each piece is coated. Cover and chill for at least 2 hours, up to overnight.

Preheat oven to 350 degrees. Allow the casserole to sit at room temperature while the oven is preheating. Bake for 20- 30 minutes, until casserole is cooked through.

Remove the casserole from the oven. Top with the chocolate chips, and marshmallows. Broil for 2-3 minutes, until chocolate is starting to melt and the marshmallows are golden brown on top.

Top with crushed graham crackers, and serve immediately.
Notes
NOTE:  This french toast must chill for at least two hours and up to overnight before baking.