The easiest french toast bake – only ten minutes of prep the night before, then pop this in the oven in the oven when you wake up for an amazing breakfast.  Full of soft french bread, sweet maple cream cheese, and juicy blueberries!
Follow me HERE on Pinterest for more delicious food!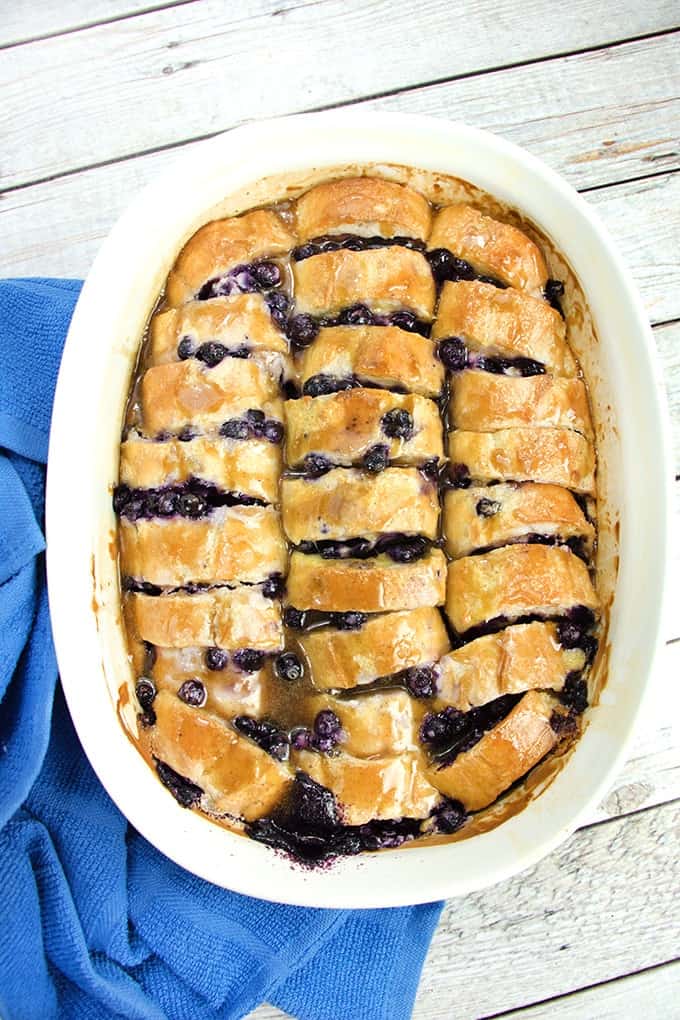 The easiest overnight blueberry french toast, because, some days call for doing nothing other than waking up, putting your breakfast right into the oven, and sipping a mimosa.
You guys.  I LOVE going out for brunch on the weekends.  It's something I look forward to every single week.  It's that one really relaxing "chill out" meal out of our weekly hectic schedule.
We all get to sit, drink champagne at noon with a proper excuse, chat about nonsense.  Even my kids have become brunch people.  I'm totally OK with that.
Sometimes….sometimes, I want to be a brunch person at home in my pajamas.  That's where dishes like this french toast come in.
It takes me all of 10-15 minutes to put this in the dish on Saturday night.  Then, wake up and realize the tastiest french toast ever is awaiting me, and all I have to do is put it in the oven, and, well, EAT.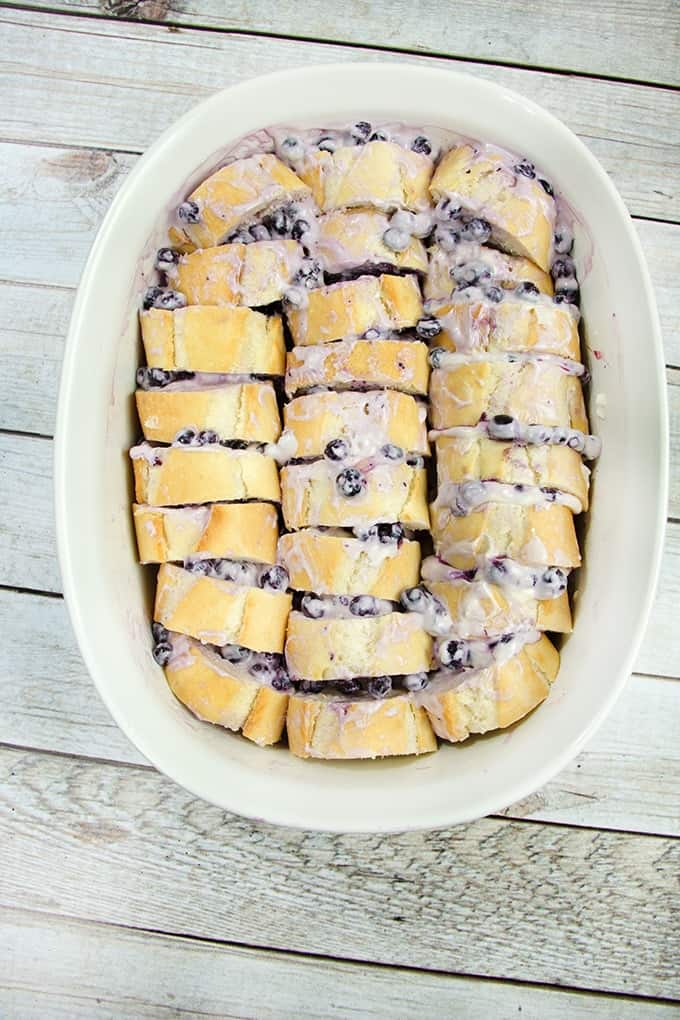 Can we please take a moment to admire all of the goodness here?
Super soft french bread, layers of maple cream cheese and blueberries in between, and a sweet, cinnamon-y egg mixture drizzled over the top.
Simply slice up your bread, slather with the cream cheese, stack them in the pan.  I love that simple things are sometimes the best things.  Even when it comes to brunch!
Two baguettes is usually a tad more than I need for this, and I save the rest to go with whatever we are having for dinner.
Don't skip the glaze – it's pure maple heaven.
I used a 3 quart casserole, as you can see, and this is enough to feed 4-6 people. If you have a big crowd coming over for the holidays (this is totally on my Christmas brunch menu) you can easily double this, and bake it up in a 9×13 inch pan.
No worries.  Just brunch.  Sweet, sweet french toast, mimosas, family time.  Life is good.
~Nichole
***PRINTABLE RECIPE BELOW***
Easy Overnight Blueberry French Toast
Ingredients
2

French Baguettes

cut into 1/2 slices (discard the ends)

1

12 ounce

Package Cream Cheese, softened

1/4

Cup

Maple Syrup

2

Cups

Blueberries

1/2

Teaspoon

Cinnamon

2

Eggs

1 1/2

Cups

Heavy Cream or Milk

1/2

Teaspoon

Vanilla Extract

Topping:

1/2

Stick Butter

1/3

Cup

Brown Sugar

1/4

Cup

Maple Syrup

1/2

Teaspoon

ground cinnamon
Instructions
Lightly butter a 3 quart casserole dish.

In a medium bowl using a hand mixer or large spoon, combine the cream cheese with the maple syrup, and cinnamon, then fold in the blueberries.

Spread about one Tablespoon of the blueberry cream cheese mixture onto one side of each slice of bread. Place bread slices evenly in a row in the prepared baking dish.

Use a glass measuring cup or medium bowl to whisk together the eggs, cream or milk, and vanilla extract. Pour mixture evenly over bread slices.

Cover pan with foil and refrigerate at least 3 hours - overnight. (Overnight is best).

Preheat oven to 350 degrees.

Place the bread mixture in the oven and bake for 35-45 minutes, until golden brown.

Prepare the topping: Melt butter in a small saucepan over medium heat. Whisk in the brown sugar until smooth. Whisk in the maple syrup and cinnamon. Drizzle over french toast as desired.
Recipe Notes
NOTE:  Bake with the foil cover on.  Remove foil during last 15 minutes of cooking for a crispier top.