Quick Dill Bread is a super fast quick bread that is so flavorful!  You'll love flavors of garlic, dill and cheddar in this soft and moist loaf!  It is perfect with any meal!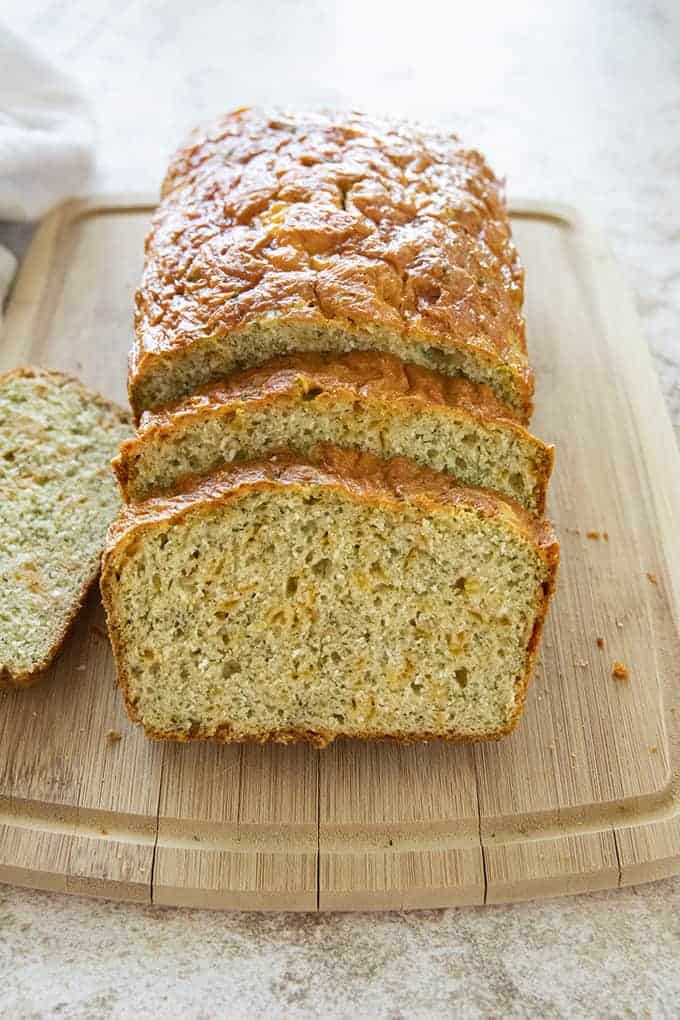 Dill bread is such a traditional, classic, easy quick bread!  I can't get enough of the flavor and we also love it so much in this Dill Dip! If you make a batch of this bread, make some of our Egg Salad too and serve them together it is so good! It's such a pronounced, savory flavor and it goes perfectly with the additions of garlic, onion powder, and sharp cheddar cheese!  This is also a great bread to bake up when you are out of yeast because you don't need any at all!  It's perfect with soups, or even to use as sandwich bread, or just slice it and slather in butter!  If you're looking for a few other quick breads, try out our Banana Bread Recipe as well as our super easy Blueberry Muffins.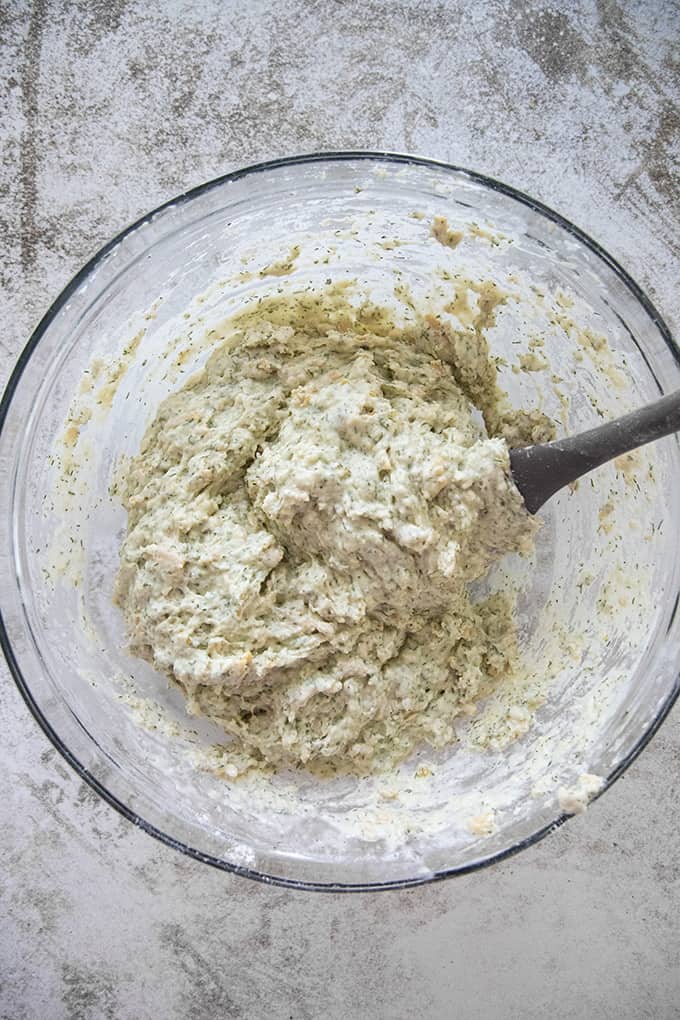 Making this bread is super simple.  Here are a few notes and tips to ensure recipe success every single time!
This recipe does call for buttermilk.  If you don't have any at home, you can make your own really easily by combining regular cows milk (almond or soy milk are ok too) with 1 Tablespoon of either lemon juice, or white vinegar.  You'll just stir together and let them sit for about 10 minutes.  Then use as desired.
For this bread you will use a pretty standard sized 9×5 inch loaf pan.  That is what I have tested this recipe in, and I can guarantee cooking times.  If you want to make mini-loaves or muffins, you'll want to cut your cooking time in half.
This batter is SUPER thick!  Don't be worried if it seems too thick, it should be that way!  You will have to pour and then spread it out in the loaf pan using a spatula.
I always use dried dill weed (not dill seeds) in this bread.  However, you can use fresh dill if that's what you have on hand.  For fresh, you will want to double the amount of dried to get the same flavor.
Don't forget to cover the bread!  We top the bread with shredded cheddar, you need to cover it with foil for the first 30 minutes of baking.  Then, uncover for the last 20 minutes to let the cheese melt and get slightly browned.  The bread is done when the center is set when checked with a knife or toothpick.
This bread lasts at room temp for a good 5 days.  In the refrigerator 7 days.  If you want, you an also freeze this cooled loaf of bread wrapped tightly in plastic wrap and foil for up to 3 months.  Let it thaw in the fridge or on the counter overnight before serving.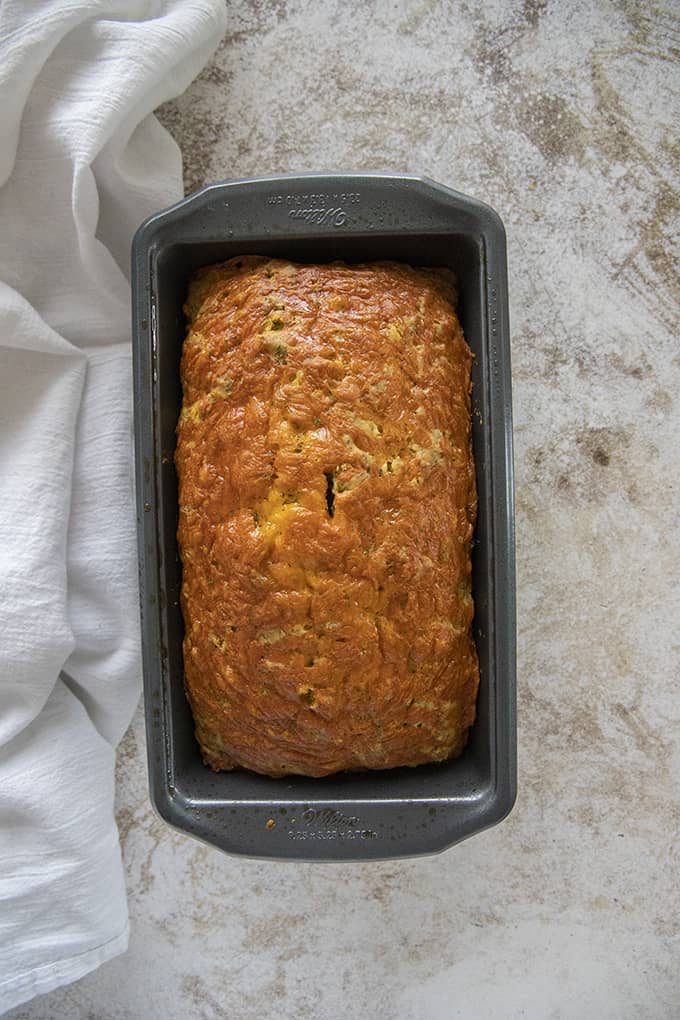 Enjoy!
~Nichole
Quick Dill Bread
Quick Dill Bread is a super fast quick bread that is so flavorful!  You'll love flavors of garlic, dill and cheddar in this soft and moist loaf!  It is perfect with any meal!
Instructions
Preheat the oven to 350 degrees. Grease a 9x5 inch loaf pan with non-stick spray or butter and set aside.

Place the butter in a medium bowl and microwave for 30-45 seconds just until melted. IMPORTANT: Set the melted butter aside and allow to cool for 5 minutes.

Whisk the buttermilk and both eggs into the melted butter until combined.

In a large bowl whisk together the flour, dill, sugar, baking powder, garlic powder, onion powder, salt, baking soda and pepper. Then, whisk in 1 cup of the cheese.

Pour the wet ingredients into the dry ingredients and use a spatula to mix just until combined. Don't over-mix only stir until moistened.

Pour the batter into the prepared pan and spread out evenly with a spatula. Top evenly with the remaining cheese. Place a large piece of foil loosely over the pan, and bake in the preheated oven for 30 minutes.

After 30 minutes, remove the foil from the pan. Return the pan to the oven and cook for 20 more minutes, until a butter knife or toothpick inserted in the center comes out clean.

Allow the bread to cool in the pan for 10 minutes before removing to a wire rack to cool completely before slicing.

Store on the countertop in an airtight container for up to 5 days, in the refrigerator for up to 7 days, or in the freezer for up to 3 months.
Notes
NOTE ON BUTTERMILK:  You can make your own buttermilk easily using any milk you have at home (whole, 2%, skim, almond, soy...etc.) simply add 1 Tablespoon of Lemon Juice or white vinegar to the milk and allow it to sit for 10 minutes before using in the recipe.
NOTE ON EGGS:  Eggs need to be room temp for this recipe.  To do this quickly, add the eggs to a bowl of warm (not hot) water for about 3 minutes.
Nutrition
Serving:
1
Slice
,
Calories:
218
kcal
Nutrition information is automatically calculated, so should only be used as an approximation.
Like this? Rate & review this recipe below!