Best Ever Egg Salad is simple to make and can be eaten right away or stored for lunches for the week!  This recipe is perfect with your favorite bread, wrap, or even on a salad!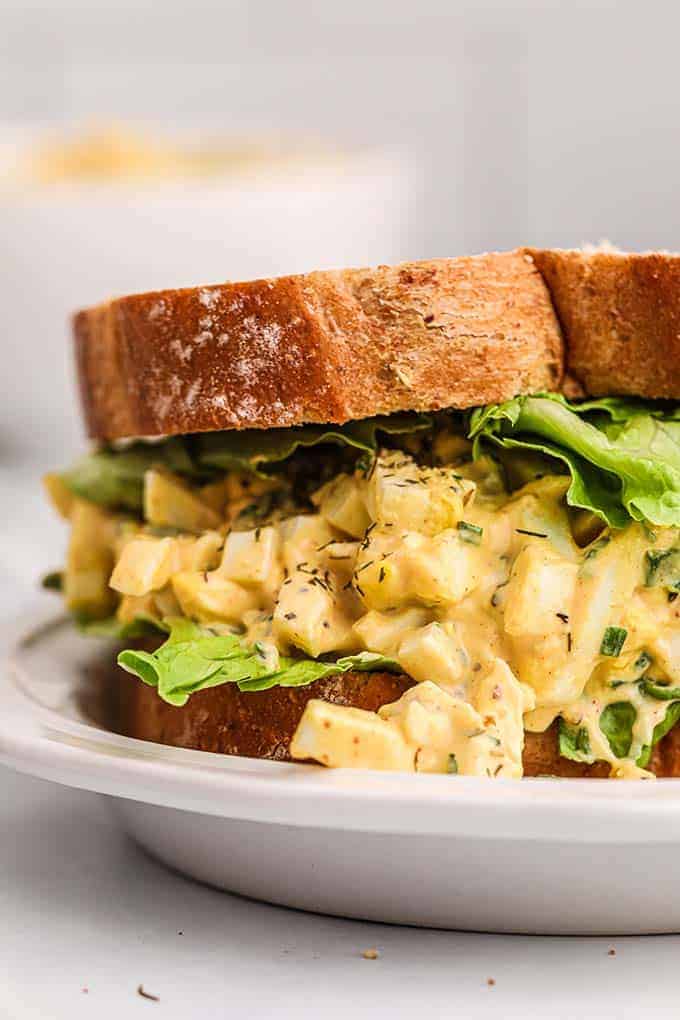 What is in Traditional Egg Salad?
Most of the time a classic egg salad is going to always have hard boiled eggs, mayonnaise, salt and pepper.  Once you have that base, you can really jazz it up to your own taste!  I personally think egg salad needs a little more "zing" from something vinegary.  So, that's going to come from mustard, dill pickle, lemon juice or some type of vinegar.  If you love this egg salad for lunch, try our classic Chicken Salad recipe too!
How to Make an Egg Salad:
Egg Salad is a family favorite at my house, we whip up a batch every week!  It is creamy, the perfect balance of flavors, and so satisfying!  This is great if you have leftover eggs from Easter too!  If you're starting from scratch, here is how we boil our eggs and they turn out perfect every single time!
Start with your eggs in a large saucepan and cover with one inch of water.  Bring to a boil then move the pan from the heat and cover with a tight fitting lid.  Now, just let the eggs sit for 9-13 minutes, depending on if you want them a little softer or a little more cooked.
Once your time is up, add the eggs immediately from the hot pan into a large bowl of ice water.  Let them sit for a good 10 minutes before you peel.  Peel your eggs, and then mash/chop them up to your preference!
You can chop them into bigger pieces if you want a chunkier egg salad with more texture, or just mash away if you like it creamy!  Now, the only non-optional ingredients in this recipe are the eggs, mayo, salt, and pepper.  But, I'll give you some ideas of what we like best as far as additions and how you can customize to your own taste!  This egg salad is so good served on homemade quick Dill Bread!  If you're looking for other creamy salads for lunch try out our Crab Salad too, its my fave!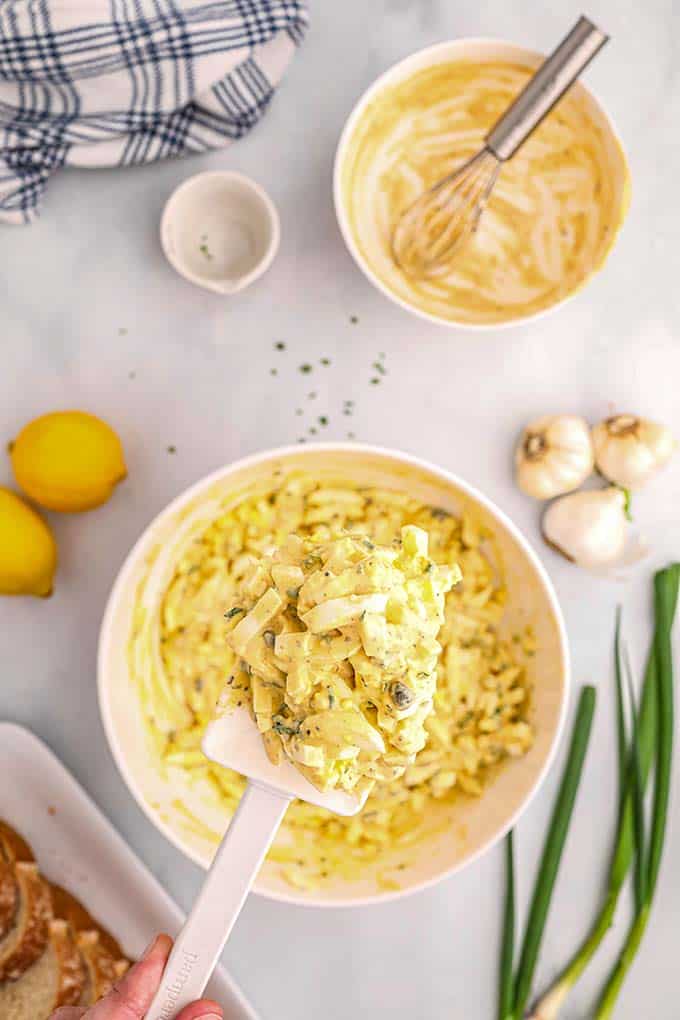 A Few Recipe Notes and Quick Tips: 
Basic egg salad can really just be made with eggs, mayo, salt and pepper.  But, we do a few things to make it the best!  Trust me on our ratio of mayo/mustard here it comes out perfect every time.  You really can use yellow, spicy brown, or dijon mustard.  If you absolutely can't do mustard try adding a bit of apple cider vinegar instead.
I love adding a teaspoon of lemon juice to my egg salad, it gives it a nice tang!  But, the mustard adds good tang too.  The lemon is optional and you can leave it out if you want!
RELISH!  I absolutely love relish in egg salad, I am a dill relish kind of girl but sweet works fine too if that is what you love the most!  If you don't have relish you can just chop up some pickles too.
I call for chives in this recipe and they add such a nice savory flavor!  If you don't have chives, just finely dice up some green onions instead.  If you like a strong onion flavor you can very finely dice up some red/yellow onion too.
Other additions:  Egg salad is great with chopped cooked bacon, diced avocados, capers, chopped cucumbers, or celery.  I like this best with fresh dill, but it's also optional and you can use dried dill if you wish.
Egg salad can be stored in an airtight container in the fridge and should be eaten within 3-4 days for the best quality and flavor.  I don't recommend freezing as it won't hold up well.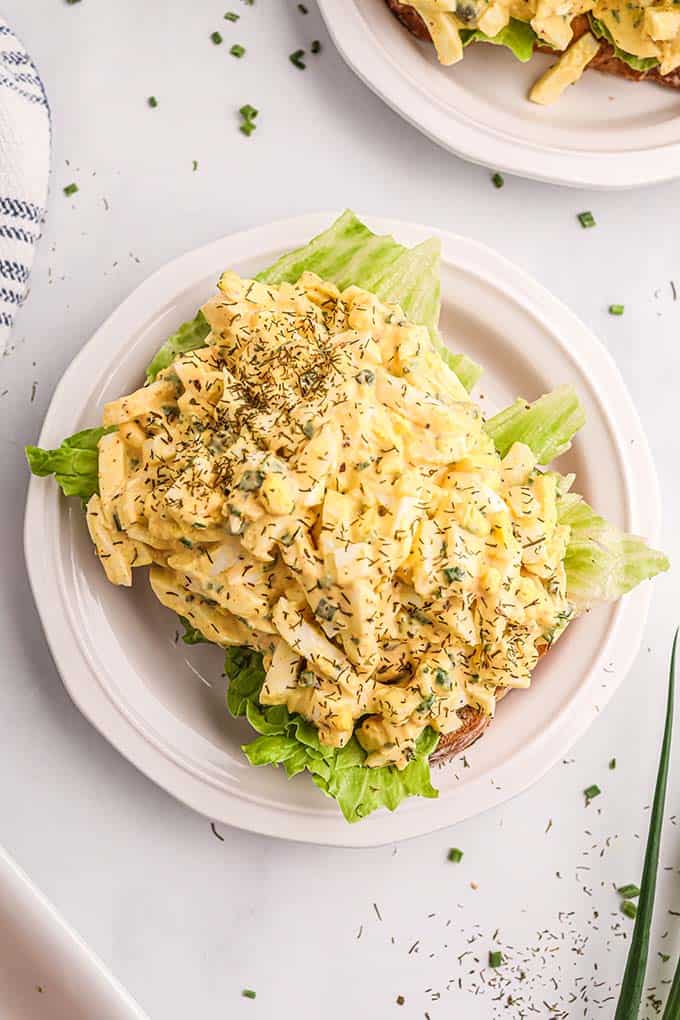 Enjoy!
~Nichole
Best Ever Egg Salad
Best Ever Egg Salad is simple to make and can be eaten right away or stored for lunches for the week!  This recipe is perfect with your favorite bread, wrap, or even on a salad!
Print
Pin
Rate
Ingredients
1

Dozen

12 hardboiled eggs, peeled & diced

½

Cup

Mayonnaise

¼

Cup

Chopped chives or green onion

1

teaspoon

Olive oil

1

Tablespoon

Dijon mustard

½

teaspoon

Garlic powder

1

Tablespoon

Dill relish

sweet relish, or capers

½

teaspoon

Salt

½

teaspoon

Ground black pepper

¼

teaspoon

Paprika

Dill

chopped (for garnish)

Bread

lettuce, or tortilla wraps for serving
Instructions
Whisk the mayonnaise, olive oil, Dijon mustard, garlic powder, relish/capers,salt, ground black pepper, and paprika in a small bowl.

Fold in the diced hard-boiled eggs and chives.

Garnish with freshly chopped dill, if desired.
Notes
BOILED EGGS:  See my notes in the first paragraph of the post for how I boil my eggs!
STORAGE:  Egg Salad is good in the fridge in an airtight container for 3-4 days.
Nutrition
Serving:
0.5
Cup
|
Sodium:
368
mg
|
Calcium:
4
mg
|
Vitamin C:
1
mg
|
Vitamin A:
60
IU
|
Sugar:
1
g
|
Fiber:
1
g
|
Potassium:
17
mg
|
Cholesterol:
8
mg
|
Calories:
138
kcal
|
Trans Fat:
1
g
|
Saturated Fat:
2
g
|
Fat:
15
g
|
Protein:
1
g
|
Carbohydrates:
1
g
|
Iron:
1
mg