One Pot Spaghetti Pie takes a classic comfort food and turns it into an easy weeknight meal! Spaghetti is cooked in meat sauce and baked with three cheeses!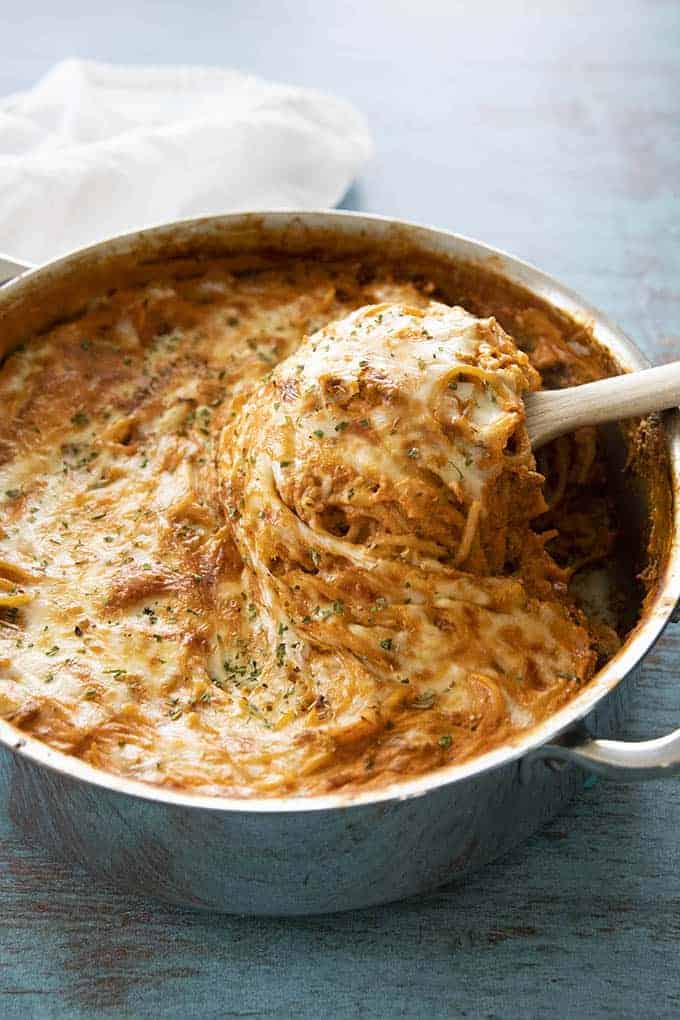 Spaghetti Pie:
Truly, a comfort food classic.  I remember spaghetti pie being a childhood favorite that I would get to help my mom make!  So, this one brings back some major memories for me!  My version is simplified into a one pan meal.  Instead of having the spaghetti as the "crust" the noodles cook in the meat sauce, then, we blend in three cheeses and the WHOLE thing becomes a gloriously cheesy/meaty pie!  If you're new here (or not) we are huge pasta lovers and so are our readers.  So, I'm always looking for something fun and new to make out of pasta!  Be sure to check out our Creamy Italian Rotini and one of our newest, Three Cheese Rigatoni!
How to Make One Pot Spaghetti Pie:
Start by browning your beef over medium-high heat, just like you normally would for spaghetti!  I use the leanest beef I can find.  Using higher fat beef is fine too, just make sure you drain all of the fat really well.
While my beef is cooking, I like to go ahead and mix up my cheese mixture.  You will want to use a hand mixer for this.
You can see that we mixed (on medium) until the cream cheese, eggs, parmesan were all very well combined.  It should only take about 1-2 minutes. You just don't want any streaks of egg remaining.
After your meat is cooked/drained, return the pan to the heat and add in your broth, water, spaghetti sauce, tomato sauce, and your spaghetti noodles. You'll need to break your noodles in half for best results.
Now, allow the mixture to come to a boil and reduce the heat to medium to let it simmer.  While it's simmering you will need to stir pretty frequently.  When the noodles are still tough it is generally easier to use a fork to stir.  Once they soften you can use tongs or a spoon if you prefer.
Remove your pan from the heat and stir your cheese/egg mix into the spaghetti.  Top with mozzarella, bake for 15 minutes, and eat!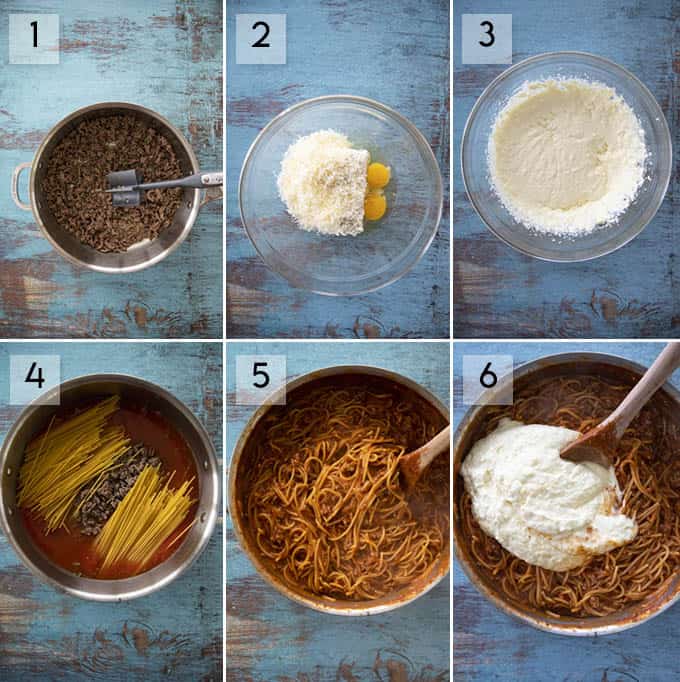 Tips for Spaghetti Pie:
I love this because it's meant to be a one pan dinner. This means you will beed to use a large (12 inch) deep saucepan like you see in my photos.  If you do not have a saucepan like this, you can use a deep oven-safe pot (dutch oven) or dump into a 9x13 inch casserole dish to bake.
I like to taste this for seasonings before I add the spaghetti.  Everyone has a different preference on seasoning, so give it a quick taste and add more salt, pepper, Italian seasoning, even garlic powder or red pepper flakes as you'd like.
If you don't happen to have any chicken broth, you can just use more water, or even sub with beef broth if you love that flavor.
You can use Italian sausage instead of ground beef if you'd like!  Or, even half beef/half sausage.  The sausage adds great flavor.
You're going to need to stir pretty often!  Once you add the spaghetti, keep in mind it should be on medium or medium-low heat at a simmer, but not a rolling boil.  Use a fork to stir frequently to break up the noodles so that they don't stick together.
Note that you can sub ricotta or cottage cheese in place of the cream cheese if that's your preference.
At this time, I have only made this recipe using spaghetti noodles.  So, I can't say for certain how it would work with another pasta and recommend using spaghetti.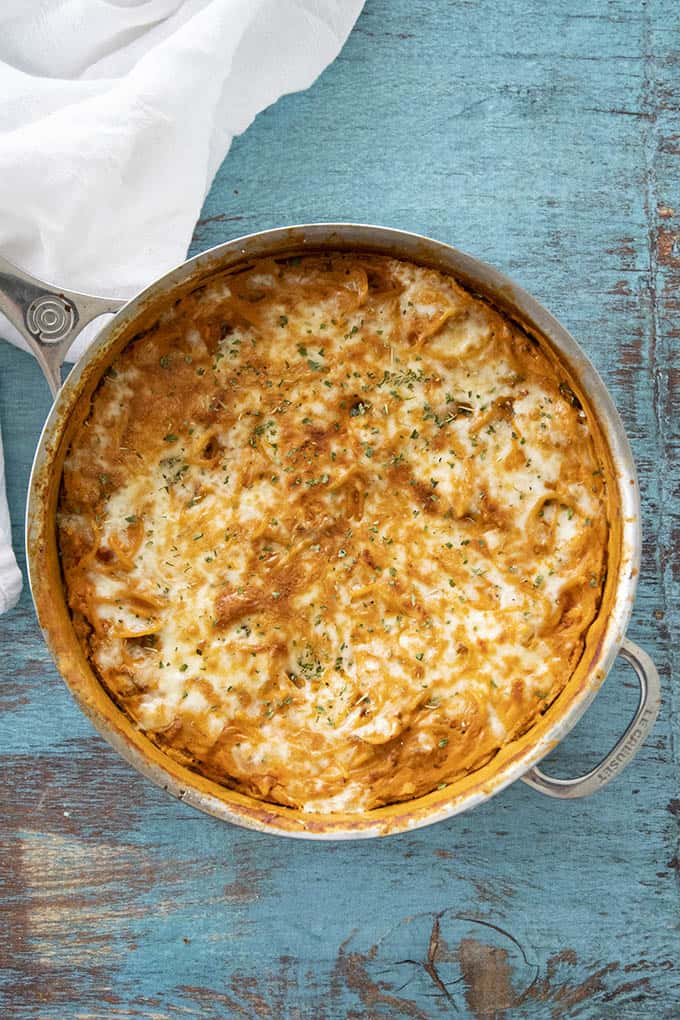 Enjoy!
~Nichole
One Pot Spaghetti Pie
One Pot Spaghetti Pie takes a classic comfort food and turns it into an easy weeknight meal!  This spaghetti is cooked in meat sauce and baked with three cheeses!
Print
Pin
Rate
Ingredients
1

Pound

Ground Beef

or Italian Sausage

4

Cloves

Garlic

Minced

2

teaspoons

Italian Seasoning

½

teaspoon

red pepper flakes

Salt & Pepper

To Taste

8

Ounces

Cream Cheese

Softened

2

Large Eggs

1

Cup

Parmesan Cheese

1

24 Ounce

Jar Spaghetti Sauce

1

Cup

Tomato Sauce

1

Cup

Chicken Broth

1.5

Cups

Water

1

Pound

Box Dry Spaghetti

1 ½

Cups

Mozzarella Cheese
Instructions
Preheat oven to 400 degrees.

Add the ground beef, garlic, Italian seasoning, and salt & pepper to taste to a large ovenproof pot or pan.

Cook over medium-high heat for 5-7 minutes until beef is cooked through. Drain any grease and return the beef mixture to the pan.

Meanwhile, add the cream cheese, eggs, parmesan, and a pinch of salt & pepper to a large bowl and mix thoroughly on medium speed with a hand mixer until no streaks of eggs remain.

Pour the spaghetti sauce, tomato sauce, broth, and water into the meat. Break the spaghetti in half, then add to the pan using a wooden spoon to submerge the pasta.

Bring the mixture to a boil, stirring constantly with a fork to separate the noodles, for about 12 minutes until the spaghetti is just cooked.

Remove the pan from the heat and stir the cream cheese mixture into the spaghetti. Then, spread out evenly in your pan.

Top with the shredded mozzarella and bake in the preheated oven for 15 minutes until cheese is melted.
Notes
NOTE ON SUBSTITUTIONS:
You can sub Italian sausage for the beef if you prefer.  
You can replace the chicken broth with beef broth, or water.
Ricotta or cottage cheese can be used in place of the cream cheese.
The tomato sauce can be replaced with more spaghetti sauce/marinara if desired.
NOTE ON EQUIPMENT:
For this recipe I used a deep 12 inch oven-safe sauce pan, and that is what I recommend if you have one.  If not, you can use any 12 inch oven safe skillet, or a dutch oven.  If none of those work, you can pour the spaghetti mixture into a 9x13 inch dish before baking.