These easy lemon bars have a sweet sugar cookie crust topped with a tangy lemon cheesecake filling and then topped with more sugar cookie crumble. The perfect balance of sweet and tangy.
This post was first published on August 30, 2016 - the recipe is the same but we have slightly updated photos AND added a video which you can check out below!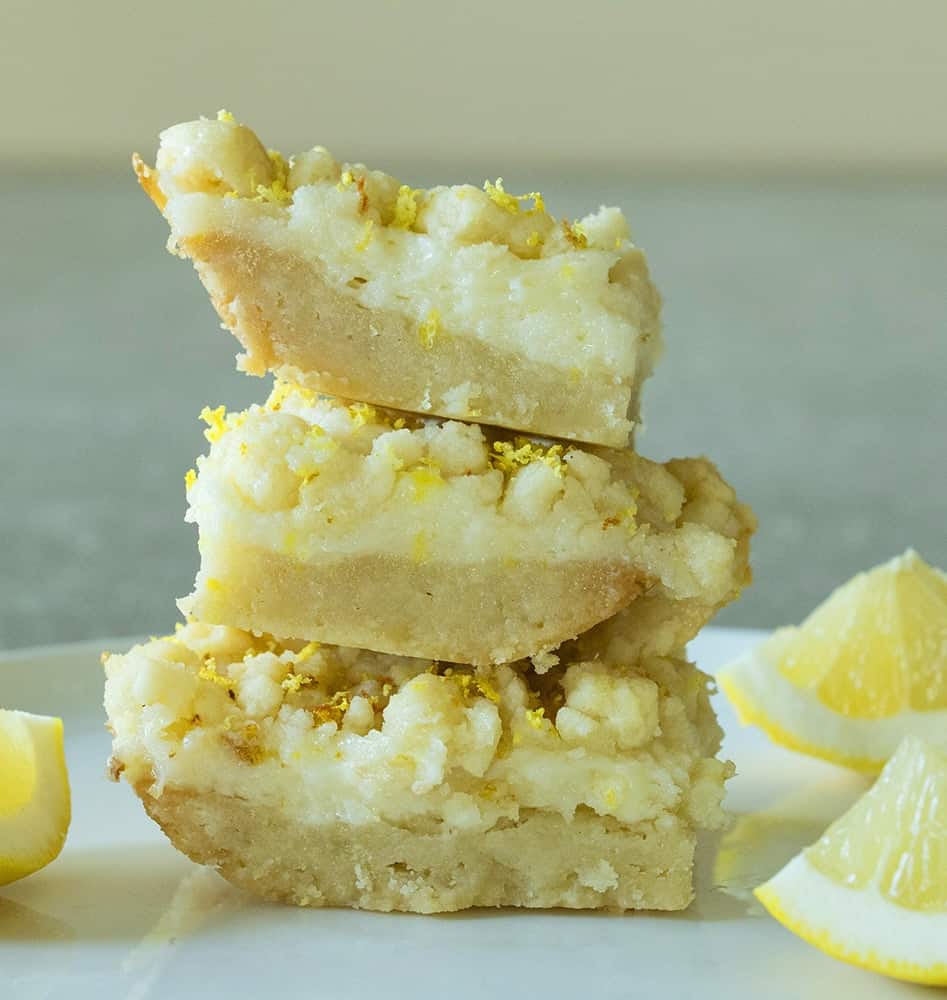 Last Saturday was my 31st birthday, and it was also national lemon bar day!! Except that it wasn't, and I just made that up. The lemon bar part, it was in fact my birthday.
I spend all kinds of time conversing with people (I almost used the word conversating there only to find out that it isn't actually a word, and that means I have probably been embarrassing myself all the time, but it's cool). Anyway, I chat with people about what exactly they'd like to see on the blog. Some people want healthy things, some people want all of the chocolate. A couple of weeks ago it was all about my son and his big day and his favorite ORANGE BROWNIES.
But, for my birthday I'm just a small town girl living in a lemon world. So I "conversated" with myself and came up with these lemon sugar cookie bars.....
Happy birthday to me! No, I didn't actually talk to myself.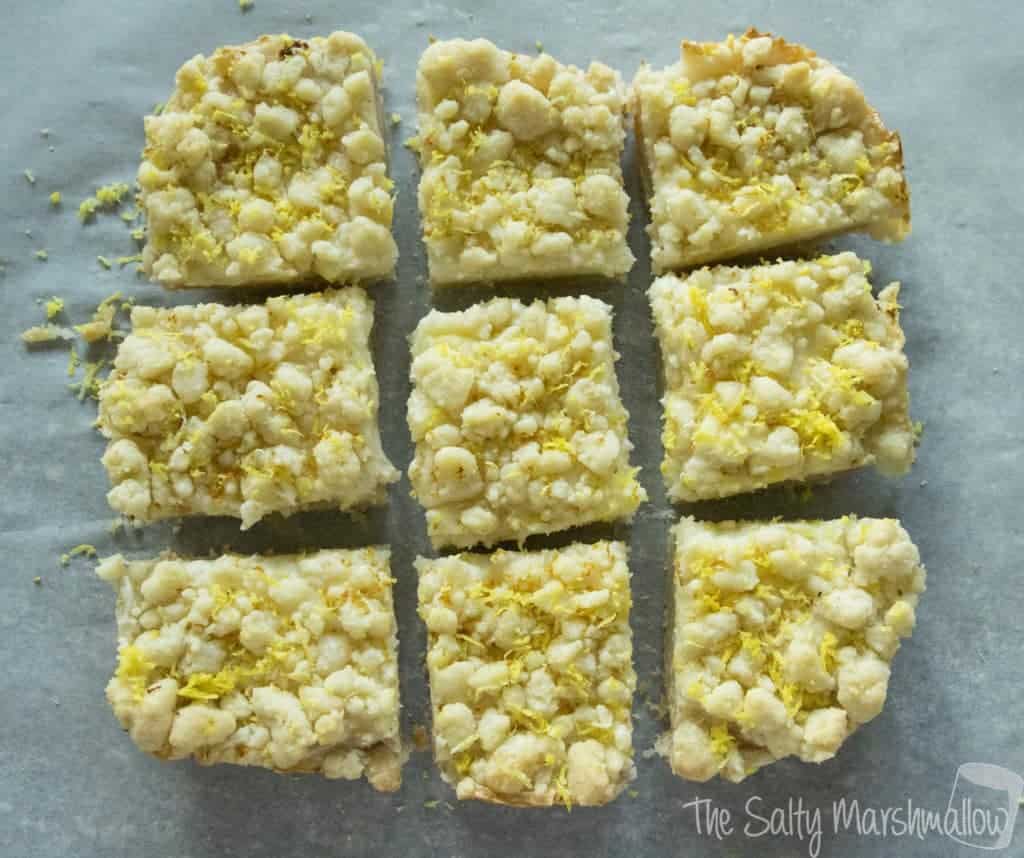 Completely off the topic of lemon anything here, but I'd like to have a wee little chat about this whole Instagram story newfangled contraption. Is anyone using this? I'm attempting to use this. It only took me about a week to realize it's just Snapchat on Instagram.
The first time I tried to use it I think I meant to take a picture, but did video instead. This lead me to sit and ponder if my new age of 31 has left me completely inept when it comes to all of the new apps, and the new things they do, and hashtags, and ok so, I'm not that old, but I am electronically disadvantaged, if you will.
Lucky me, I have an eleven (going on 25) year old that rushes to my rescue and shows me how to use the new Instagram story, because we can't have mom looking like a crazy person. She only made fun of me just a little. Bless her heart.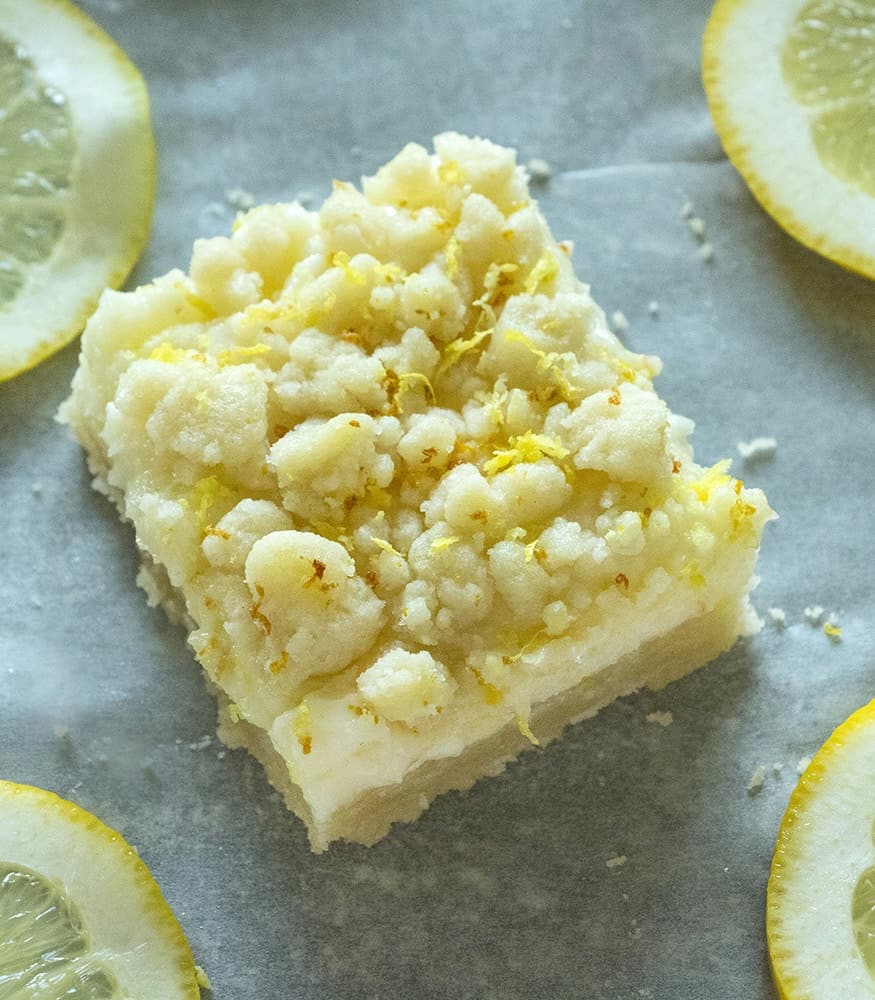 Now, let's get to talking...."conversating" about those lemon sugar cookie bar cheesecake things.
First things first, a couple of tips for you guys/ladies/human beings that take the time to read my blog.
1. Keep your extra sugar cookie crust in a bowl in the refrigerator until you are ready to use it. Don't press it down in the bowl. You want it to be all willy nilly, that's where the crumble on top comes from.
2. Please let your crust cool all the way before you add your lemon filling. I know, waiting is hard, but I appreciate you and the fact that you know if you do not let your crust cool, you will end up with a runny curdled mess.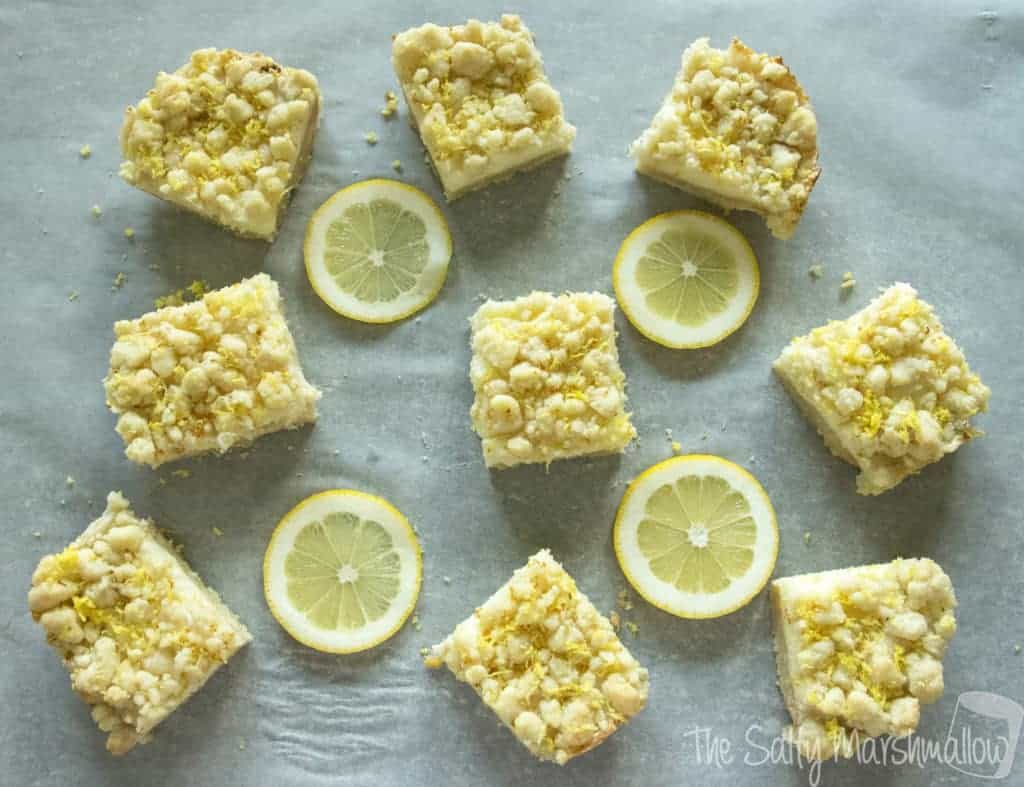 These lemon bars were everything I could have dreamed of and then some on my birthday. I don't need a present. I need sweet sugar cookie crust, topped with silky smooth lemon cheesecake filling, and then more soft sugar cookie crumbled on top.
These are really one of the most satisfying desserts I have ever had the pleasure of sinking my teeth into.
I did have a hard time naming them, let me be honest. They just aren't traditional lemon bars, and they deserve a special name!
Here I sat, jotting down names. Doodling them on paper with hearts, like I was in 7th grade and had a crush on them.
Lemon sugar cookie bars?
Lemon cheesecake bars?
Lemon cheesecake sugar cookie bars?
I do have a crush on these. They're that good. I hope you enjoy the lemony goodness as much as I did.
Come on over and follow me on Pinterest right HERE.
Don't miss a recipe! Sign up to receive Salty Marshmallow recipe notifications directly to your inbox right HERE (we will never spam or sell your email address).
Printable recipe for you below.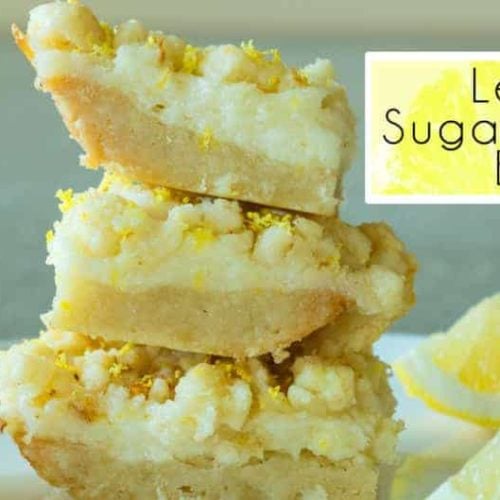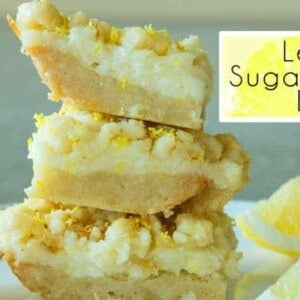 Ingredients
Lemon Cheesecake:
8

Ounces

cream cheese

at room temperature

¼

Cup

lemon juice

2

Tablespoons

lemon zest

divided

½

Cup

sugar
Instructions
For the bars:

Preheat the oven to 350 degrees.

Line an 8x8 or 9x9 inch square baking dish with foil and spray liberally with non stick cooking spray.

In bowl of stand mixer using paddle attachment, or large bowl with hand mixer, beat together the butter, sugar, and vanilla on medium speed for 2 minutes.

Turn mixer to low and slowly add the flour (½ cup at a time) and mix just until dough comes together.

Press half of the dough into prepared pan and bake for 25-30 minutes, until lightly golden brown.

Cool completely before filling.

Store remaining sugar cookie dough in a bowl in the refrigerator until ready to use.

For the Filling:

In bowl of stand mixer fitted with paddle attachment, or medium bowl with a hand mixer beat together the cream cheese, sugar, lemon juice, and 1 Tbsp. of the lemon zest until smooth and creamy.

Pour filling over cooled crust.

Top filling with the remaining sugar cookie dough by simply crumbling it evenly over the top.

Bake in preheated oven for 30 minutes, until cookie crumble is light golden in color.

Top with remaining lemon zest as desired.