These orange brownies are an incredibly easy recipe - glazed, moist, chewy, fudgy brownies!  All of the brownie texture we love to sink our teeth into with yummy orange flavor taking the place of traditional chocolate!
Follow me on Pinterest and find me on Instagram and my Facebook page!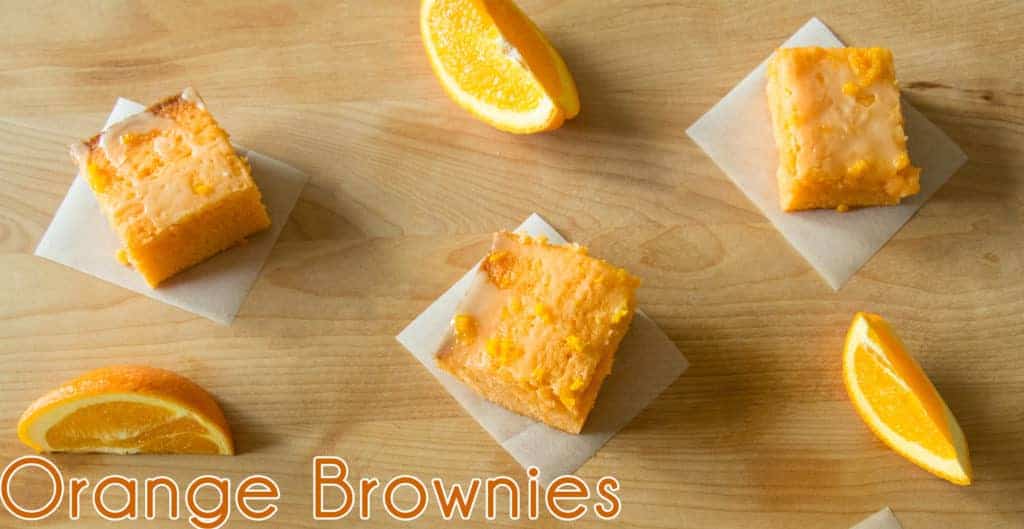 Ok, before we get started on all of the orange brownie goodness....can I please share with you all that my son is turning TEN this weekend?  My baby, my little guy, is going to be in double digits.  How is this happening?  Where did the time go?  Why is he all tall and handsome now?  Why are orange brownies so delicious? So many questions here.
I've spent most of the last week getting teary eyed and channeling my inner Cher like "If I could turn back time...."
Anyway, my little (not so little) guy declared that he wanted some kind of orange treats for his big day.  He didn't care what as long as it was orange.  He is obsessed with all things orange if you didn't already know these orange donuts are on behalf of him also!
Cake is obviously an easy go-to for birthday's but I needed something portable that he can pass out to all his friends at school and that wouldn't give his awesome teacher a giant headache by having to cut cake and pass out forks and all of that jazz.
So, here I am with this crazy idea that I can make brownies that are fruit flavored instead of chocolate.....and I did, you guys, I did.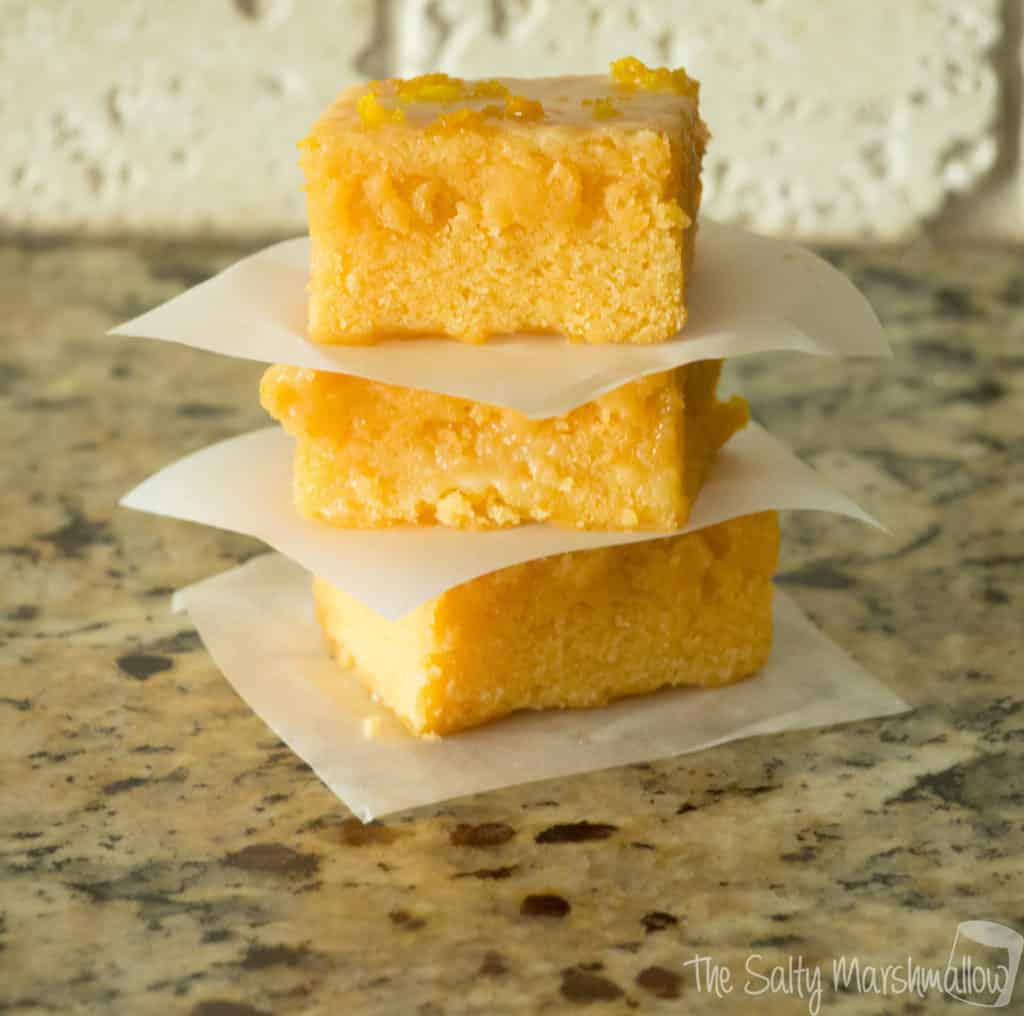 Ok, enough about Cher and tears and birthday's.  These are easy easy easy.  The hardest part of them is the time that you spend agonizing about eating one while they are in the oven.
They have that dense, fudgy, chewy texture of a brownie....but they're orange!  I'm probably the only one that is completely amazed by this.  Thank you for sharing in my excitiment!
One little tidbit about these is really not to overwork your batter.  When I said easy, I meant it.  Don't spend a bunch of time mixing, because you don't need or want to here.
Use fresh orange juice for the brownies and glaze if you can, it tastes best and doesn't have all of the extra sugar of the bottled juice.
I was able to get all of the juice for this recipe from 5 oranges.
Don't skimp on the zest!  It makes a huge difference in having an actual burst of orange flavor or just a mellow orange flavor.
*Happy Birthday to my orange loving little buddy*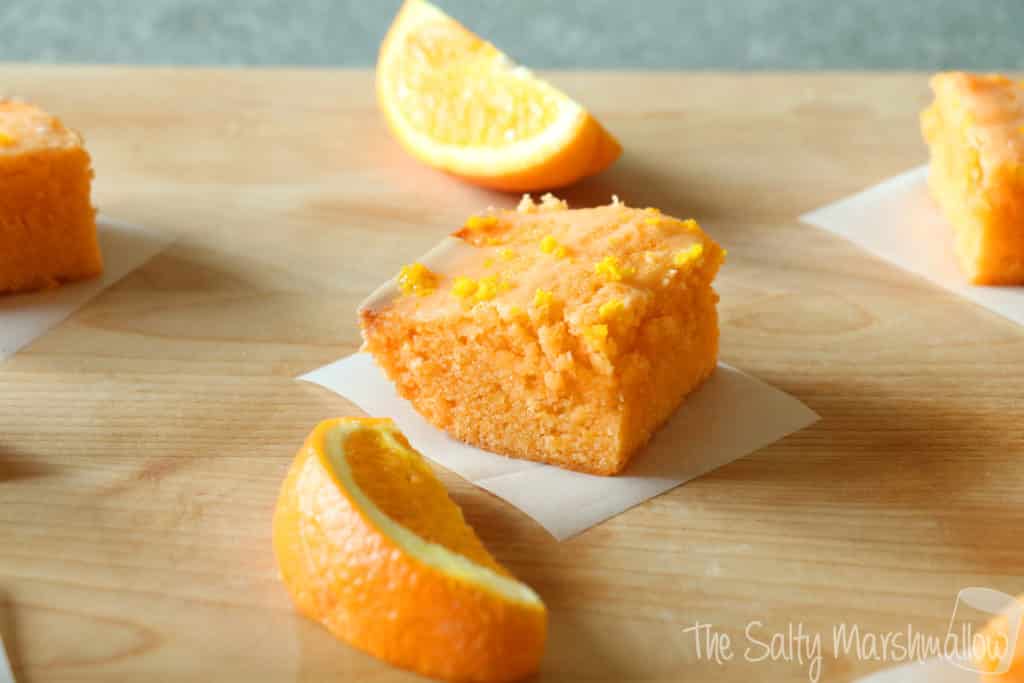 Enjoy!  Follow me on PINTEREST and INSTAGRAM for more!
Printable recipe for you below.
Ingredients
2

Cups

all purpose flour

2

Cups

granulated sugar

1

Tsp

salt

2 ½

Sticks salted butter

softened

4

Large eggs

room temperature

½

Tsp

vanilla

½

Cup

orange juice

Zest of 3 oranges

Orange food coloring

as desired

GLAZE:

2

Cups

and ½ confectioners sugar

⅓

Cup

orange juice

1

Tbsp

orange zest
Instructions
Preheat oven to 350 degrees.

Prepare a 9x13 inch pan with non stick spray, or use aluminum foil or parchment paper leaving a slight overhang over the edges

of the pan for easy removal.

In bowl of stand mixer (or large bowl if you will use a hand mixer) whisk together the flour, sugar and salt until well combined.

Add the butter and mix on LOW speed just until combined.

In a separate small bowl whisk together the eggs, vanilla, orange juice, and orange zest.

Pour the egg mixture into the flour mixture and mix gently on low with stand or hand mixer (Do not beat).

Scrape batter into prepared pan and smooth down the top.

Bake in preheated oven 40-45 minutes just until barely golden brown around the edges and firm to the touch in the center.

Cool the brownies in the pan for at least 45 minutes to 1 hour before removing from pan.

Cool completely before adding glaze.

GLAZE:

In a medium bowl with hand mixer or whisk, mix together the confectioners sugar, juice, and zest until well combined.

Spread over cooled brownies as desired.