Jalapeno Popper Pasta Salad - This pasta salad tastes just like a jalapeno popper!  Plenty of rotini noodles covered in creamy jalapeno ranch, then loaded up with chopped jalapeno, crispy bacon, cheese, and croutons!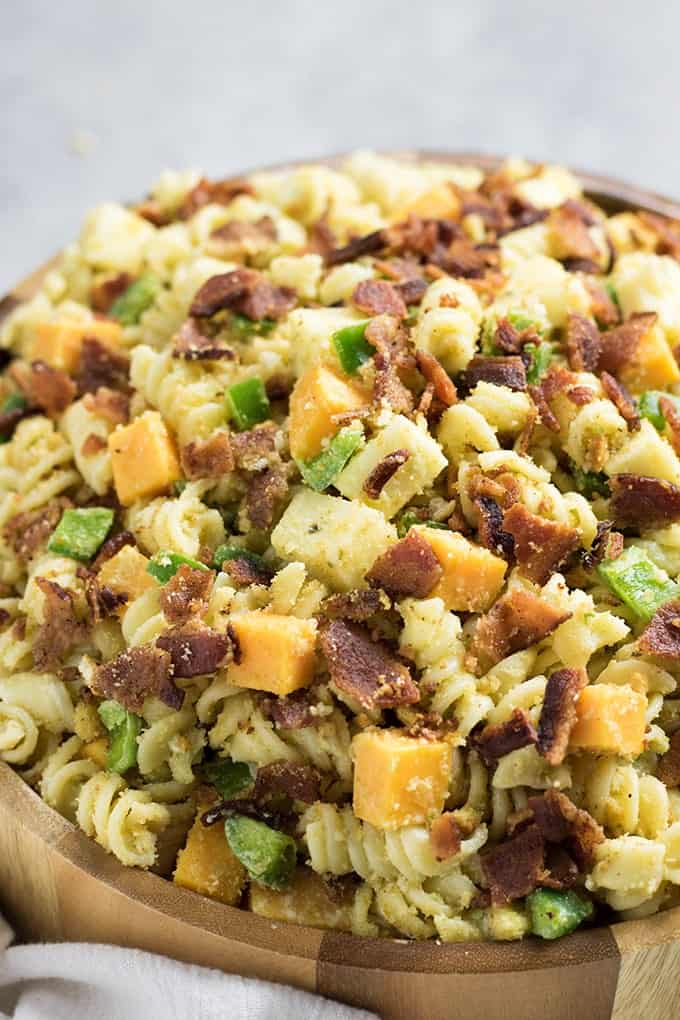 I feel like this salad really needs no introduction.  It is just loaded up with good things!
Jalapeno poppers have always been something I crave when it gets warmer outside - so, why not turn a favorite snack into the ultimate side dish?
I've had jalapeno poppers two ways - the kind that are stuffed with cream cheese then wrapped with bacon and grilled.
Then, of course the delicious fast food kind that are packed with melty cheddar cheese and typically dipped in a ranch dressing dip to cool the heat!
Have you had both?  Which is your fave??  Me?  I can't decide.  I love them all.
CHECK OUT OUR VIDEO FOR THIS RECIPE BELOW!!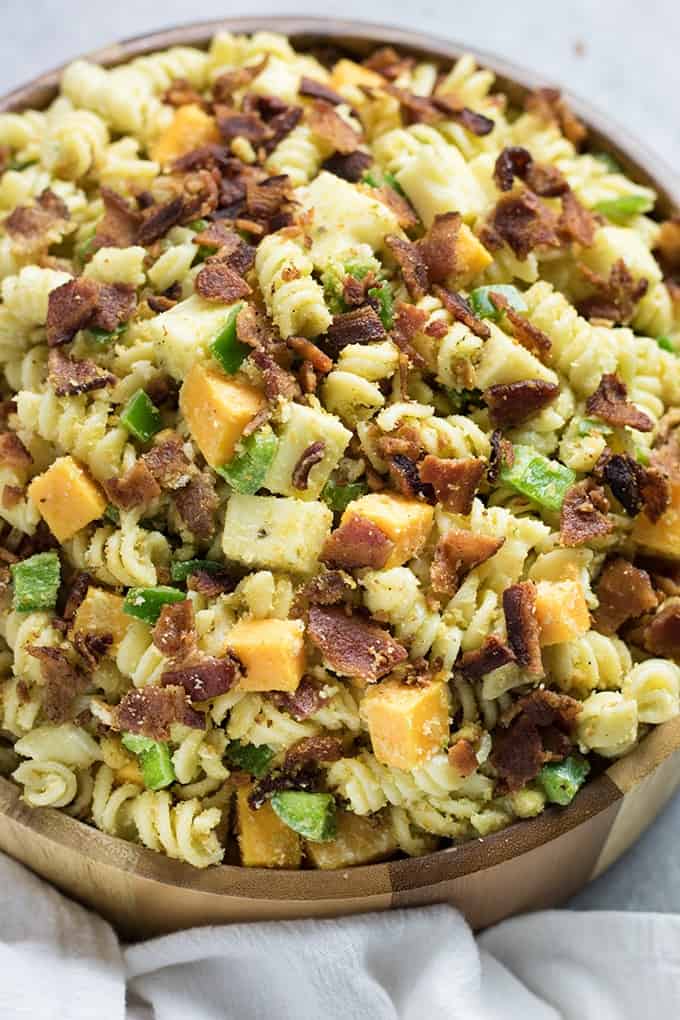 So, this pasta salad is really a mix-up of both kinds of jalapeno poppers.
This rotini pasta is coated in the ahhhmmmaazzzing jalapeno ranch that I made with these Jalapeno Ranch Chicken Tacos.
I add about ½ cup of fresh chopped jalapeno, you can also use jarred if that's what you have on hand!
If you are like heck no that looks too spicy - you can use regular ranch dressing instead of the jalapeno kind, and use a tad less chopped jalapeno.
Personally, I'm not a huge fan of crazy spicy things, and I find this to be just right as is.
We also have cubes of pepper jack and cheddar cheese in here - you know I am going to always find a way to cheese it up.  One cheese wasn't good enough for me, and these are both amazing in here.
Last but not least, crushed garlic croutons!!  These are what remind me a little of that crispy fried fast food jalapeno popper that I love so much.
Guys.  Don't skip the two cheeses, and don't skip the garlic croutons.  Trust me.  The flavor is pretty much insane! In a good way, of course.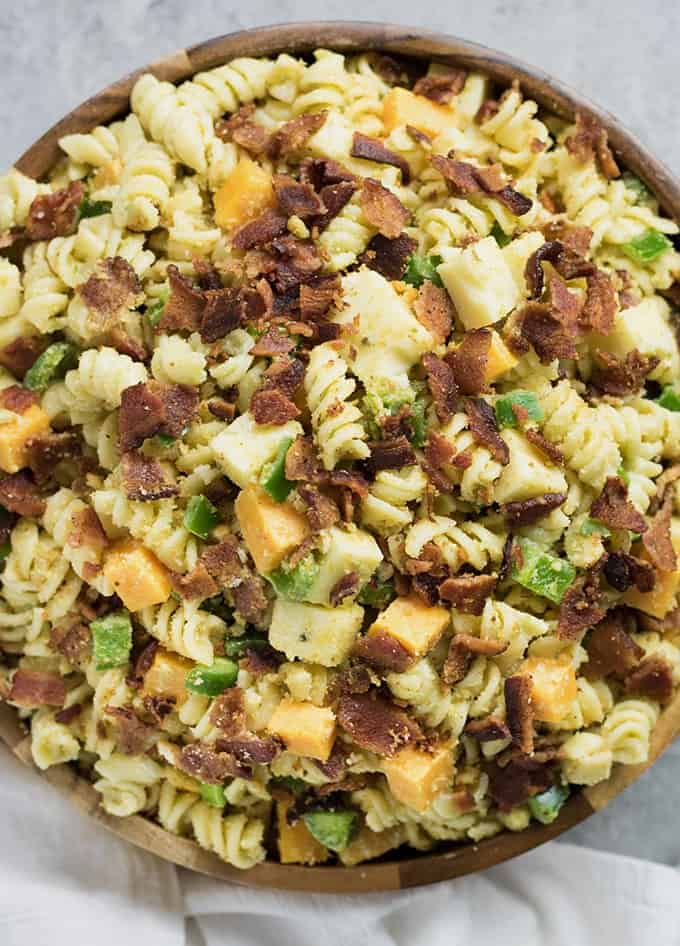 It's finally warm enough here to go enjoy the outdoors this weekend - woot!
So, we're going to the lake - and this pasta salad is coming along for the ride!
Don't forget to find the jalapeno ranch dressing recipe right HERE!
~Nichole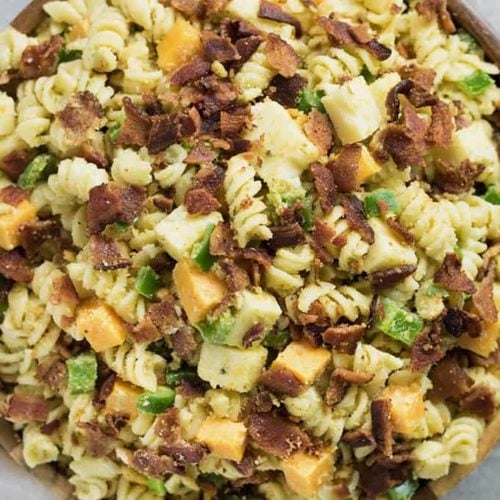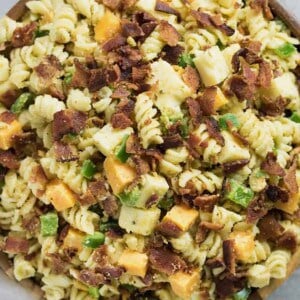 Ingredients
FOR THE JALAPENO RANCH:
1

Cup

Ranch Dressing,

Homemade or Store Bought

2

Medium

Jalapeños,

Stems and seeds removed

2

Tablespoons

Lime Juice

1

Clove

Garlic
FOR THE PASTA SALAD:
1

Pound

Rotini Pasta

½

Cup

Chopped Jalapenos

½

Cup

Cubed or Shredded Cheddar Cheese

½

Cup

Cubed or Shredded Pepper Jack Cheese

8-10

Slices

Bacon,

Cooked and Crumbled

1

Cup

Garlic Croutons,

Crushed
Instructions
FOR THE JALAPENO RANCH:
Combine the ranch dressing, jalapenos, lime juice, and garlic in a high powered blender or food processor. Pulse until completely smooth.

Bring a large pot of salted water to a boil. Cook the rotini according to package directions. Drain pasta, run under cold water until completely cool, set aside.

In a large bowl, mix together the pasta and jalapeno ranch. Add the jalapenos, cheddar, pepper jack, and bacon, stir well to combine.

Stir in half of the crushed croutons. Top the pasta salad with remaining croutons before serving. Chill until ready to serve.
Notes
NOTE:  You can leave the seeds in the jalapeno ranch if you prefer it spicier!  
I shared this recipe over at The Weekend Potluck - check it out!
Recipe adapted from A Bird and a Bean.