Crockpot Jalapeno Ranch Chicken Tacos - Tender, seasoned, chicken that's slow cooked to perfection then smothered with an easy and spicy jalapeno ranch sauce and stuffed into taco shells!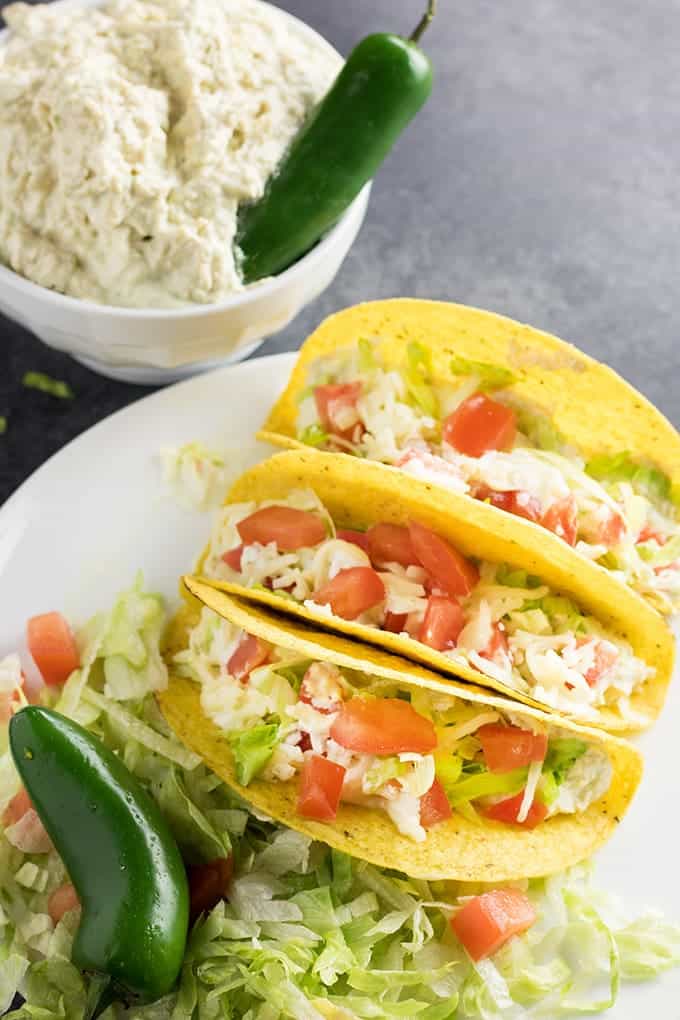 Is anyone else completely obsessed with jalapeno ranch, or is it just me?
Have you ever had it should actually be the question.
I guess I shouldn't assume that jalapeno ranch is a "thing" everywhere.  But it should be.
It seems to be a staple dressing/dipping sauce in every restaurant where I live.
I'm totally ok with this.  Creamy, spicy, garlicky - yum.  It's good on everything.
CHECK OUT OUR VIDEO FOR THIS RECIPE BELOW!
These tacos are incredibly simple to make - I actually cook the chicken in the crockpot the exact same way as my all purpose chicken!
It's best to cook the chicken this way instead of adding the jalapeno ranch right into the crockpot and cooking it all together.
Cooking the chicken separately with the chicken broth and seasonings really gives it the best flavor.  Cooking the chicken and ranch together tends to really water down the jalapeno ranch flavor, and nobody wants that!
So, this jalapeno ranch sauce - try really hard not to become addicted.
I already am, so I double the recipe anytime I make it!
It's a quick whip up in your blender of bottled ranch dressing, jalapeno, garlic, and lime juice.
You can easily customize it to your taste buds and add more or less jalapenos depending on how much spice you like.
Enjoy the new twist on taco Tuesday, guys!
Also - I highly recommend making these Turkey Guacamole Pinwheels and extra jalapeno ranch to dip them in!
~Nichole
Instructions
Combine the chicken breasts, chicken broth, salt, pepper, garlic powder, and onion powder in slow cooker. Cook on low for 6-8 hours or on high for 3-4 hours.

Remove chicken from slow cooker and shred with hand mixer or two forks.

For the jalapeno ranch: In a blender or food processor, combine the ranch dressing, jalapenos, lime juice, and garlic powder. Blend until smooth.

Mix the jalapeno ranch into the shredded chicken until well incorporated. Assemble and top tacos as desired.