Easy Beer Bread is made using only 6 simple ingredients and no yeast!  This quick bread recipe is a classic that comes together with only 10 minutes of work!
Beer Bread!
For a lot of you, this may have been the first bread that you ever learned how to make.  It's quick with minimal ingredients, no yeast, no kneading or letting the dough rise, and it comes out perfect every time!  I love baking with yeast, like when we make our homemade Pizza Dough.  But, yeast has been hard to come by lately for so many of us, and beer bread is the perfect solution.  The yeast in the beer combined with the sugar is what makes this bread "work" it is able to rise without actually using yeast.  If you're here and looking for more quick breads, try out our Dill Bread as well!
You can use any kind of beer that you love or have on hand for this bread.  Truly, don't stress about it, any beer at all is fine!  Keep in mind that a darker beer will give the bread more flavor, and a lighter beer will have a more mild flavor. I tend to like a lager, or a wheat beer best. Keep in mind that if you use something like a pumpkin beer, or citrusy beer, it will have some of those flavors in the end.  Either way, this tastes like a yeast bread, but not really like beer once it is cooked.  Also, keep in mind that this bread is totally family friendly, the alcohol evaporates during the cooking process.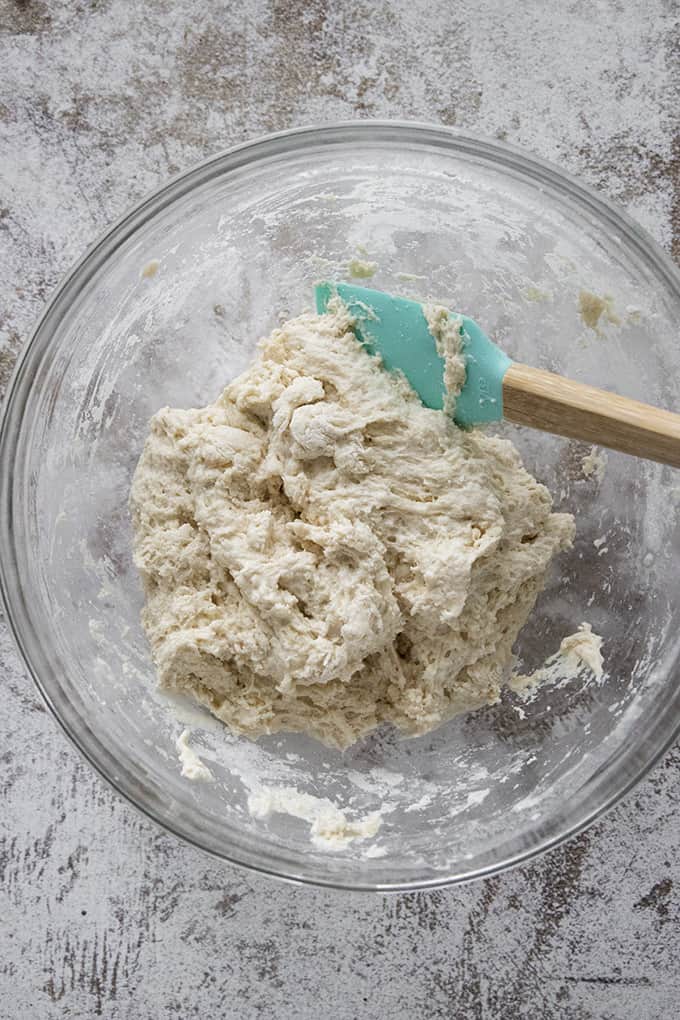 As you can see from the photo above, this is a super thick dough!  It will be thick, and sticky!  Don't be alarmed at the thickness of it, you will have to spread it into your loaf pan as opposed to pouring it in.  It's also hard to over-mix this dough as well.  If it looks dry at first, just keep mixing with your spatula, kind of folding it all into itself until no dry spots remain.  My "secret" to my beer bread is using a whole stick (½ cup) of butter.  You fold half of the butter into the batter, and save the other half to drizzle over the batter before baking!  It makes such a flavorful bread!
Recipe Variations:
You can make it an herb style bread by adding 1-2 Tablespoons of your favorite herbs such as dill, thyme, oregano, rosemary...etc.  If you are using dried herbs stick with 1 Tablespoon, if using fresh you can go up to two.
You can also make this into a garlic bread by adding in 3 cloves of finely minced garlic (or use garlic powder) and ½ cup of parmesan cheese.
Another favorite variation for us is adding cheese and bacon!  You can do either/or, depending on what you have.  Add in ½ Cup of crumbled cooked bacon and 1 Cup of shredded cheddar.
If you like a sweeter bread, you can increase the sugar in the recipe to ¼ cup, then add in 2 teaspoons of cinnamon, and 1 teaspoon of vanilla extract.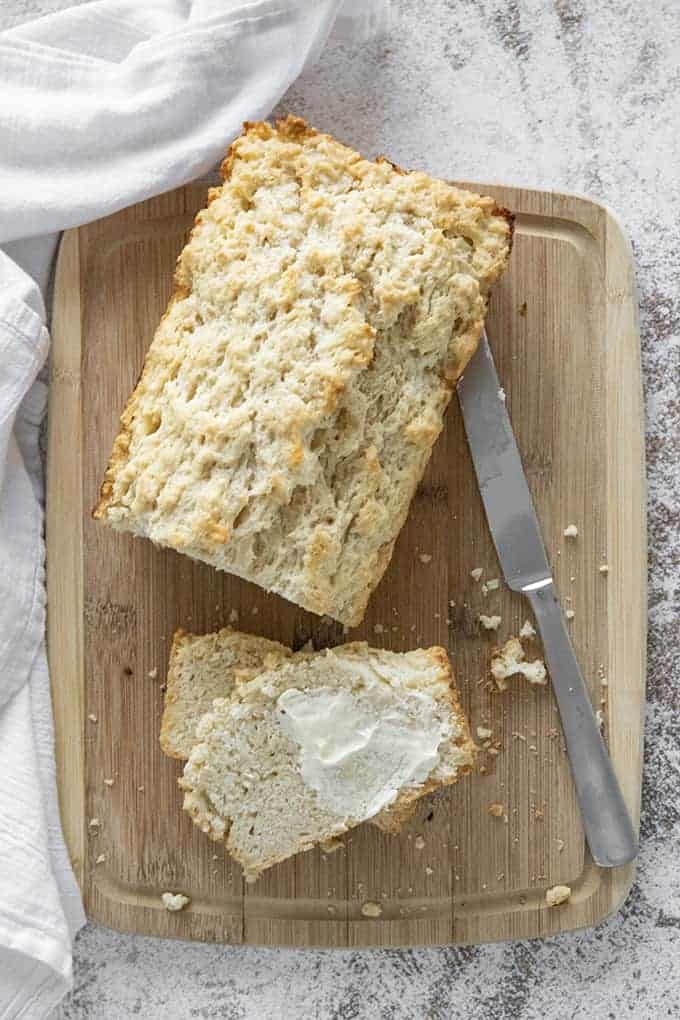 Enjoy!
~Nichole
Easy Beer Bread
Easy Beer Bread is made using only 6 simple ingredients and no yeast!  This quick bread recipe is a classic that comes together with only 10 minutes of work!
Print
Pin
Rate
Instructions
Preheat oven to 375 degrees. Grease a 9x5 inch loaf pan and set aside.

In a large bowl, whisk together the flour, baking powder, sugar, and salt for about 1 minute until combined.

Pour HALF of the butter and all of the beer into the flour mixture. Use a spatula to stir for about 1-2 minutes until combined and no dry spots remain.

Use a spatula to pour the batter into the prepared pan and spread out evenly.

Top the loaf with the remaining melted butter and bake in preheated oven for 45-50 minutes until a toothpick inserted in the center comes out clean.

Allow the bread to cool for 10 minutes in the pan before removing to cool completely.
Notes
NOTE:  This bread can be stored, covered at room temperature for up to 5 days. NOTE:  Scroll up above the recipe to see variations/additions for this recipe! NOTE:  Use your favorite beer, or whatever you have on hand.  I typically use a lager or a wheat beer.  
Nutrition
Serving:
1
Slice
|
Calories:
134
kcal