Steak & Garlic Bread Kabobs - Tender sirloin steak that's marinated and skewered with tomatoes and garlic butter bread, then grilled to perfection!  A complete meal on a skewer!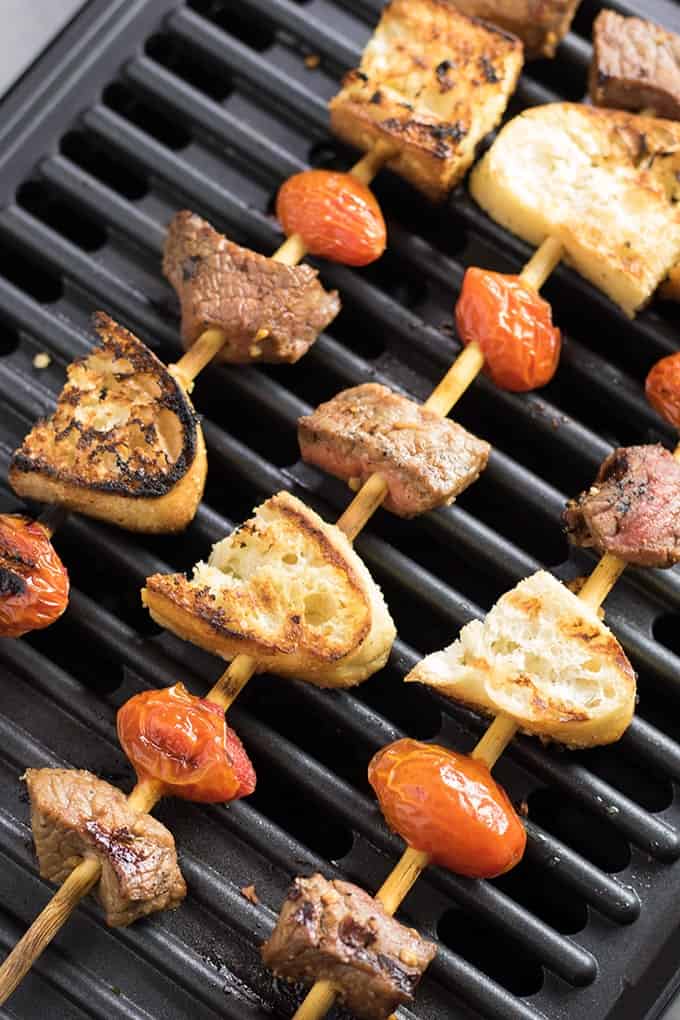 Hey guys!
Keeping today's post short and sweet.
This only seems appropriate, since Memorial Day is a day of remembrance.
I definitely don't want to make a super somber post.
Having said that, I think it's important that we remember the men and women.
Those who made the ultimate sacrifice to keep our country safe.
They're the reason we get to enjoy time with our families, comfortably in our homes this weekend.
And every day.
Keeping the families that have lost loved ones in my most sincere thoughts today.
CHECK OUT OUR VIDEO FOR THIS RECIPE BELOW!
These kabobs!  Super easy to make, the marinade for the meat is simple, but packed with flava!
I like to use sirloin, I feel like I get the most tender kabobs this way.
The bread is simply tossed with melted butter, garlic and herbs.
Cherry tomatoes round out the whole package.
Tender flavorful meat, with the crusty grilled bread.
It's an amazing combo that MUST be on your summer grilling menu!
Enjoy!
~Nichole
Ingredients
Steak Marinade:

¼

Cup

Olive Oil

¼

Cup

Soy Sauce

2

Tablespoons

Worcestershire Sauce

1

Tablespoon

Garlic,

Minced

1

Teaspoon

Pepper

For the Kabobs:

2

Pounds

Sirloin Steak,

Cut into Cubes

½

Cup

Cherry Tomatoes

4

Cups

Ciabatta Bread,

Cubed

½

Cup

Melted Butter

2

Tablespoons

Olive Oil

1

Tablespoon

Garlic,

Minced or Powder
Instructions
In a small bowl, whisk together all of the steak marinade ingredients. Place steak cubes into a large resealable plastic bag and add marinade. Turn bag a few times to make sure each piece of steak is coated. Marinate in the refrigerator for at least 30 minutes, up to 2 hours.

Preheat grill to medium high heat.

In a small bowl, whisk together the melted butter, olive oil, and garlic. Place the cubed bread into a large bowl. Pour melted butter mixture over the bread, toss to combine.

Remove meat from refrigerator, discard marinade. Thread meat, garlic bread, and cherry tomatoes onto skewers as desired. Grill each kabob for 3-4 minutes per side.
This recipe was shared over at The Weekend Potluck!