Pico De Gallo is so easy to make at home from scratch with simple ingredients and only 15 minutes!  This authentic Pico De Gallo Recipe is the absolute best!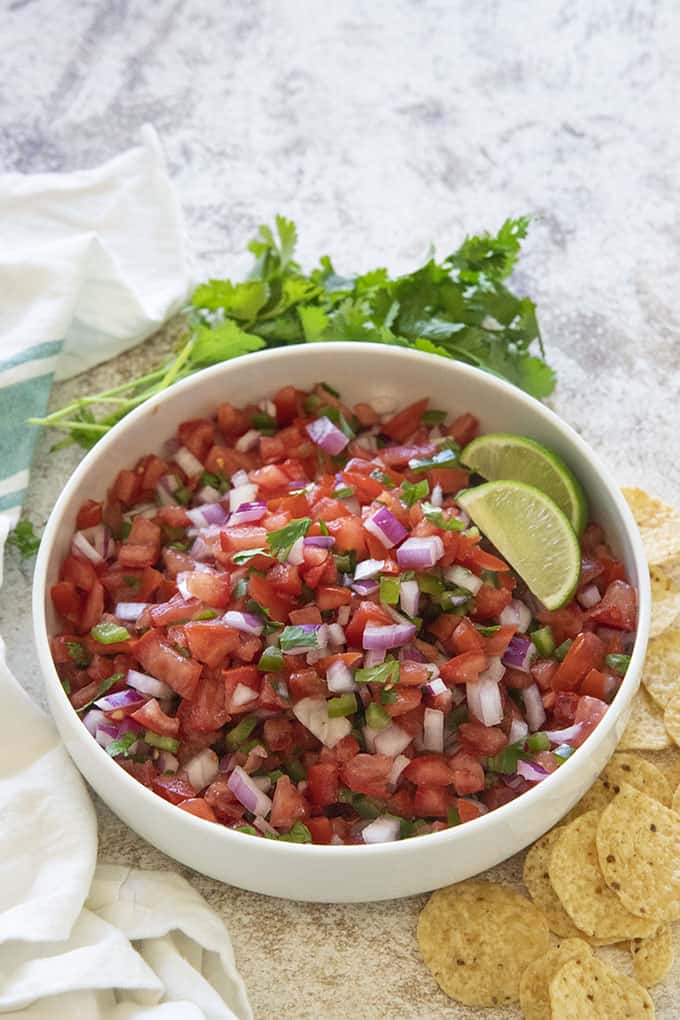 We are all about dips in my house as a lot of you already know!  Like this Black Bean Salsa or the very best Mango Salsa!  If you're looking to make this recipe you must serve it with our easy Machaca and our Pork Carnitas!  Especially now that tomatoes are back in season it was high time for a good Pico De Gallo!  Grab your favorite chips and take these dips with you poolside all summer long.  That's what I'll be doing!
What is the Difference Between Pico De Gallo and Salsa?
While Pico De Gallo is a type of salsa it is a much "chunkier" and fresh version than what we typically call salsa. It is always made with fresh, rough chopped veggies and classic salsas Like our easy Salsa Recipe and Salsa Verde are more blended. Some of the salsas that you purchase at the store are actually cooked, and they will have a smoother consistency, while Pico de Gallo is always made with fresh veggies.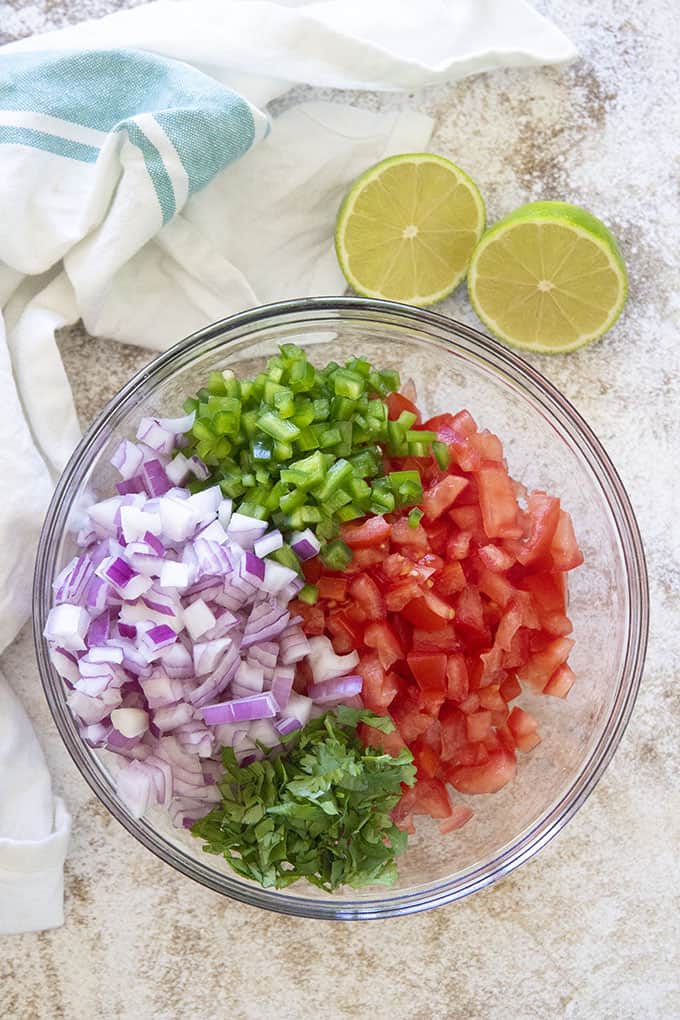 What Goes in Pico De Gallo?
Let's talk about what goes into the very basic recipe for Pico De Gallo!
Tomatoes – You can use any kind you like: roma, plum, hothouse, etc.
Onion – I prefer the flavor of red onion, but white onion is fine if that's what you love.
Jalapeno – One jalapeno adds just enough spice for us, but, you can add extra if you like it hot.
Cilantro – Start with one tablespoon of cilantro and then add more to taste from there.
Lime Juice – Don't skimp on the lime!  I use the juice of one whole large lime for the best tang.
Garlic Powder – This is not authentic, but, I love the flavor it adds.  Try it and see, or add fresh garlic!
Salt – I always end up adding about 1 full Teaspoon, start with 1/2 teaspoon and test from there.  Everyone's taste for salt varies.
How Do You Make Pico De Gallo From Scratch?
To make Pico De Gallo you will simply start by dicing up all of your vegetables.  For the tomatoes, you will want to remove the seeds and pulp.  If you don't know how to do this, no worries, it's super easy!  You can find a great resource for How to Seed Tomatoes right HERE with step by step photos.
Let's chat about dicing jalapeno!  I always remove the seeds and ribs from my jalapeno's, if you like your pico on the spicy side just leave some of those jalapeno ribs on.  Be aware that jalapenos contain oils that can burn your skin or eyes.  I am able to handle them with my bare hands, however, if you have sensitive skin you may want to wear gloves.  Be sure to thoroughly wash your hands after dicing your jalapenos before you touch your face or anything else!
Next, the onion!  I use finely diced red onion like I said above you can use white onion if preferred.  They both have great flavor here.
For the cilantro I simply give it a rough chop, it doesn't have to be perfect!  You can chop your cilantro smaller if that is your preference.  One Tablespoon of cilantro is enough for me because I find the flavor to be very powerful, definitely add more if you are a cilantro lover.
After all of your veggies are chopped and in a good sized bowl simply slice a whole lime in half and squeeze the juice over. Next, top with your garlic powder and salt, and you're ready to eat!
The beauty of Pico is that it doesn't necessarily have to chill before serving.  It truly tastes great right away!  Pico De Gallo can be chilled before serving if you wish and will stay fresh in the refrigerator for about 1 week.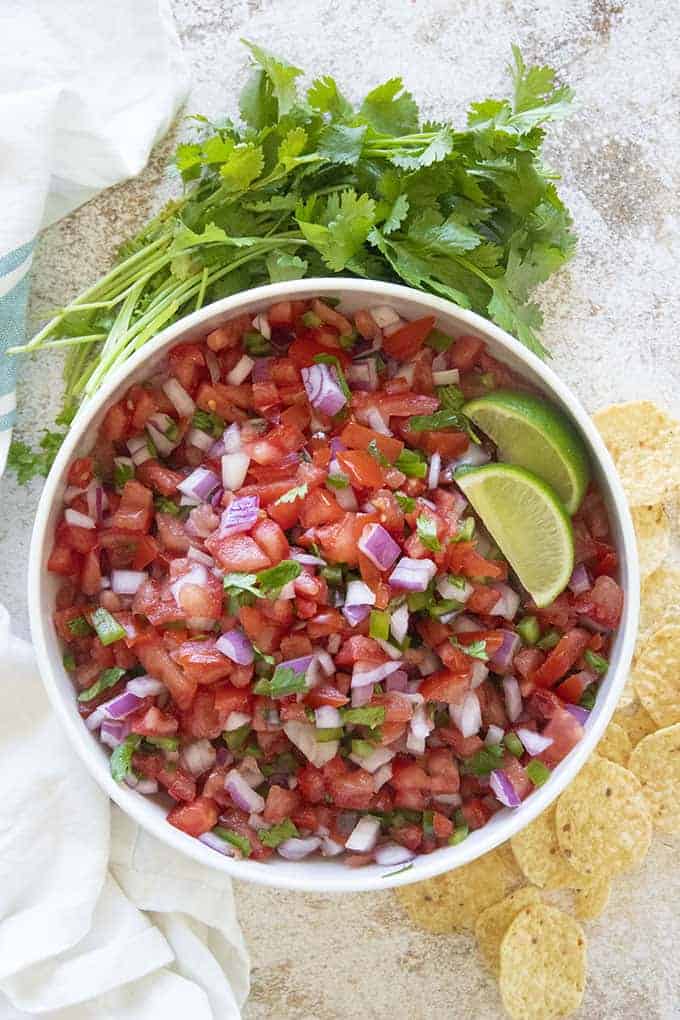 Enjoy!
~Nichole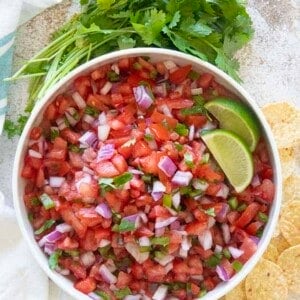 Pico De Gallo
Pico De Gallo is so easy to make at home from scratch with simple ingredients and only 15 minutes!  This authentic Pico De Gallo Recipe is the absolute best!
Ingredients
5

Large

Tomatoes,

Seeded and Chopped

1/2

Large

Red or White Onion,

Chopped

1-2

Jalapenos,

Diced

1-2

Tabelspoons

Cilantro,

Chopped

1

Large

Lime

1/2

Teaspoon

Salt

1

Teaspoon

Garlic Powder,

(Optional)
Instructions
Add the chopped and seeded tomatoes, chopped onion, diced jalapeno, and chopped cilantro to a medium sized bowl.

Slice the lime in half and squeeze the juice of the whole lime into the bowl over the vegetables.

Sprinkle the vegetable mixture with the salt and garlic powder.  Stir well to combine. For best flavor, chill for 1-2 hours before serving if possible.

Serve with chips, tacos, burritos, chicken, or any of your other favorite dishes. Store in the refrigerator, covered, for up to 7 days.
Notes
NOTE:  I like to use garlic powder instead of fresh garlic in this recipe so that it doesn't overwhelm the other ingredients.  However, you can add 1-2 cloves of fresh garlic if that's your preference. NOTE:  Pico de gallo is good stored in the refrigerator for up to one week.
Nutrition
Calories:
19
kcal
,
Carbohydrates:
4
g
,
Protein:
1
g
,
Fat:
1
g
,
Saturated Fat:
1
g
,
Sodium:
121
mg
,
Potassium:
223
mg
,
Fiber:
1
g
,
Sugar:
3
g
,
Vitamin A:
780
IU
,
Vitamin C:
16
mg
,
Calcium:
11
mg
,
Iron:
1
mg
Nutrition information is automatically calculated, so should only be used as an approximation.
Like this? Rate & review this recipe below!