Pumpkin Monkey Bread - The classic pull apart monkey bread is given a twist of fall pumpkin spice flavor!  Still super easy to make with refrigerator biscuits, packed with pumpkin flavor, and topped with a decadent cinnamon glaze!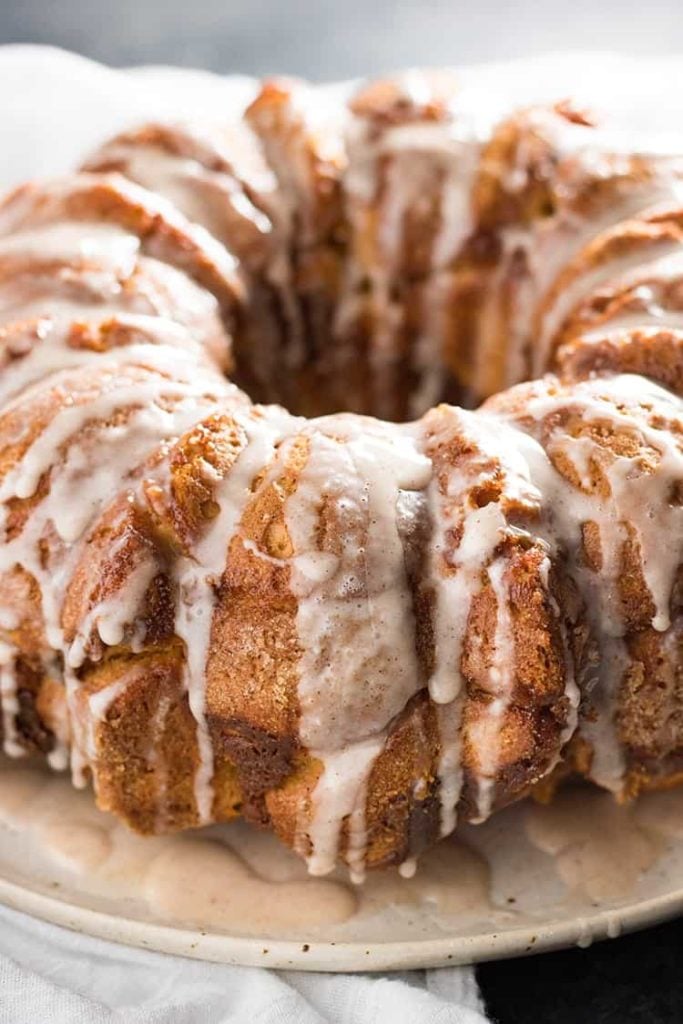 GUYS.  Pumpkin Monkey Bread!!  Sorry for yelling.  I'm a little excited about the first pumpkin recipe of the season.
I know you're probably going "girl, it is only August, have you lost your mind?"  Nope, pumpkin season comes early for this girl (not just me, food bloggers everywhere) and I'm totally welcoming it with open arms this year!
CHECK OUT OUR VIDEO FOR THIS RECIPE BELOW!! 
Pretty much as soon as my kids head back to school I start day dreaming about Autumn things.  Pumpkin spice, mulled wine, caramel apples, cozy nights by the fire.
Well, it's still shorts and flip flops weather here, so, the fire will have to wait.  Lucky us, the pumpkin doesn't have to!
I've had this monkey bread for breakfast and dessert a few days in a row now!  Can't get enough!
Next time, I'm going to make it for brunch and actually share instead of hoarding all the goodness for myself!
Our pumpkin monkey bread is still as simple to make as the classic monkey bread we all know and love.
We start with two cans of refrigerator biscuits, roll them in cinnamon/sugar/pumpkin pie spice mixture.
Then you'll just melt together your pumpkin, butter, cream cheese, brown sugar.
Layer half the biscuits, half of your ooey gooey pumpkin mixture, more biscuits, more pumpkin deliciousness!
Pretty darn simple!
Do make sure you grease your bundt pan very well to avoid sticking!
I use a stick of butter for this, and make sure to get every nook and cranny.
Did I mention that the cinnamon glaze is to die for??  Only four simple ingredients, and it seriously tastes like heaven!
I hope you all enjoy this early taste of fall as much as we have!
~Nichole
Ingredients
FOR THE GLAZE:
½

Cup

Powdered Sugar

½

Teaspoon

Vanilla Extract

1

Teaspoon

Cinnamon

3

Tablespoons

Milk
Instructions
FOR THE MONKEY BREAD:
Preheat oven to 350 degrees. Grease a 12 cup bundt pan with butter, set aside.

Mix together the granulated sugar, cinnamon, and pumpkin pie spice in a large resealable bag and set aside. Remove biscuits from their package. Cut each biscuit into four pieces. Place the biscuit pieces in the bag with the sugar mixture and shake well to coat.

In a small sauce pan over medium heat melt together the brown sugar, butter, canned pumpkin, vanilla, and cream cheese until smooth.

Place half of the biscuit pieces into the prepared bundt pan and top with half of the pumpkin mixture, top with the rest of the biscuit pieces, then the second half of the pumpkin.

Bake in preheated oven for 35-40 minutes, until biscuits are golden and cooked through. Allow the monkey bread to cool in the pan for 10 minutes before inverting onto a plate.
FOR THE GLAZE:
In a medium bowl whisk together the powdered sugar, vanilla, cinnamon, and milk until smooth. Drizzle over cooled monkey bread as desired.
Notes
NOTE:  This recipe uses plain canned pumpkin, not pumpkin pie filling.
This recipe has been shared at The Weekend Potluck!!