Perfect Chocolate Waffles are easy to make at home in about 30 minutes!  These waffles are crisp on the outside, with a tender and rich chocolate inside!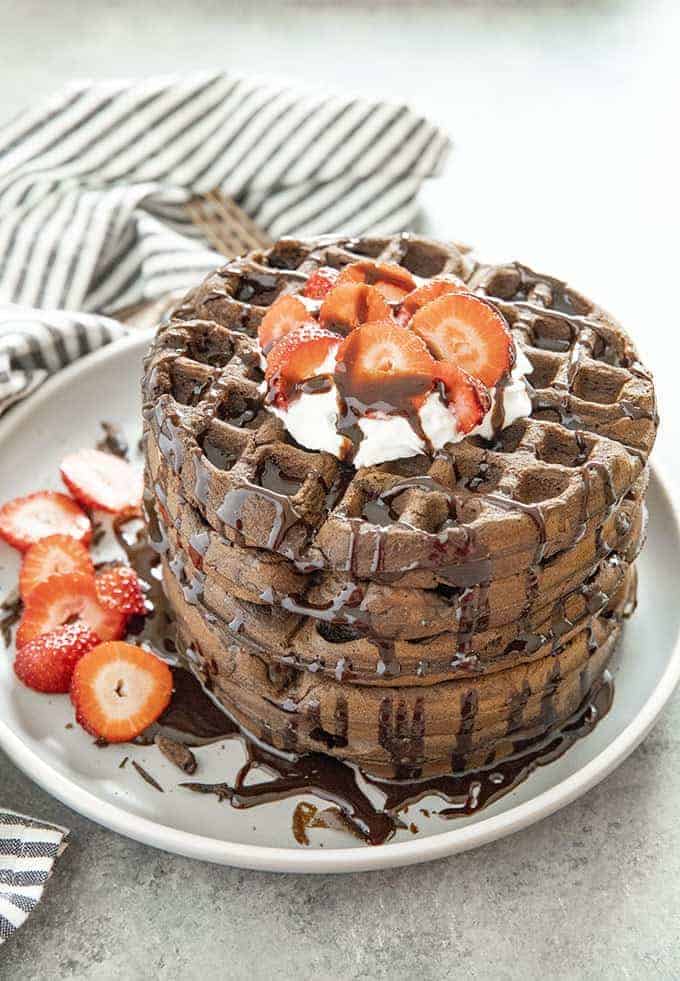 So many readers have come raving fans of my traditional Belgian Waffles Recipe that I thought it was time to do another fun flavor!  Like my other waffles, these are Belgian style, but super simple to make!  They come out nice and crisp on the outside and they're light and fluffy on the inside.  The chocolate flavor is out of this world too.  They almost taste like a brownie, but, they aren't overly sweet at all.  These are so decadent topped with a bit of chocolate syrup, whipped cream, and strawberries!
How To Make Chocolate Waffles:
For anyone that hasn't made homemade waffles before, I've included a few process shots below to help walk you through the process.  It only takes about 10 minutes to put these together!
First, grab three bowls.  Use one large bowl and two medium sized.
In the large bowl, you will whisk together your dry ingredients.  This will be flour, sugar, cinnamon, baking powder, and salt.
Next, and this is important because it's the trick to those light and airy waffles!  You will separate your egg whites into one of the medium bowls, and place the egg yolks in the other bowl.
Use a hand mixer to beat the egg whites on medium speed until stiff peaks form.  This will take about 3 minutes.
Then, mix the remaining wet ingredients with your egg yolks until combined.
Stir the egg yolk mixture into the flour mixture.  Then, use a spatula to fold the egg whites into the batter until no white streaks remain.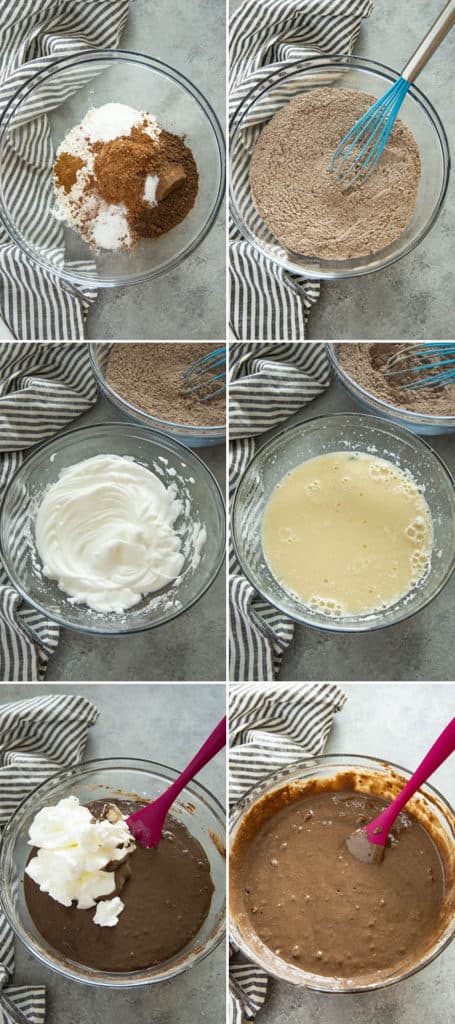 Your batter may look a tad lumpy, and that is ok.  Next, you will want to preheat your waffle iron.  Since waffle irons are all different, please preheat and cook the waffles according to manufacturers directions.  For example, my waffle iron makes two BIG waffles at one time and I use about 3/4 cup of the batter per waffle.  However, yours can vary.
This recipe generally makes anywhere from 6-10 waffles.  You can store them in the refrigerator for two days, or freeze them in freezer bags for about 3 weeks.  They are best reheated in the oven at a low temperature of 250 degrees for about 10 minutes.
A quick note, you can see that this recipe calls for 1/2 cup of coffee.  I simply use leftover cold coffee.  We love that the coffee depens the chocolate flavor!  However, you can use 1/2 cup of milk in place of the coffee if you prefer!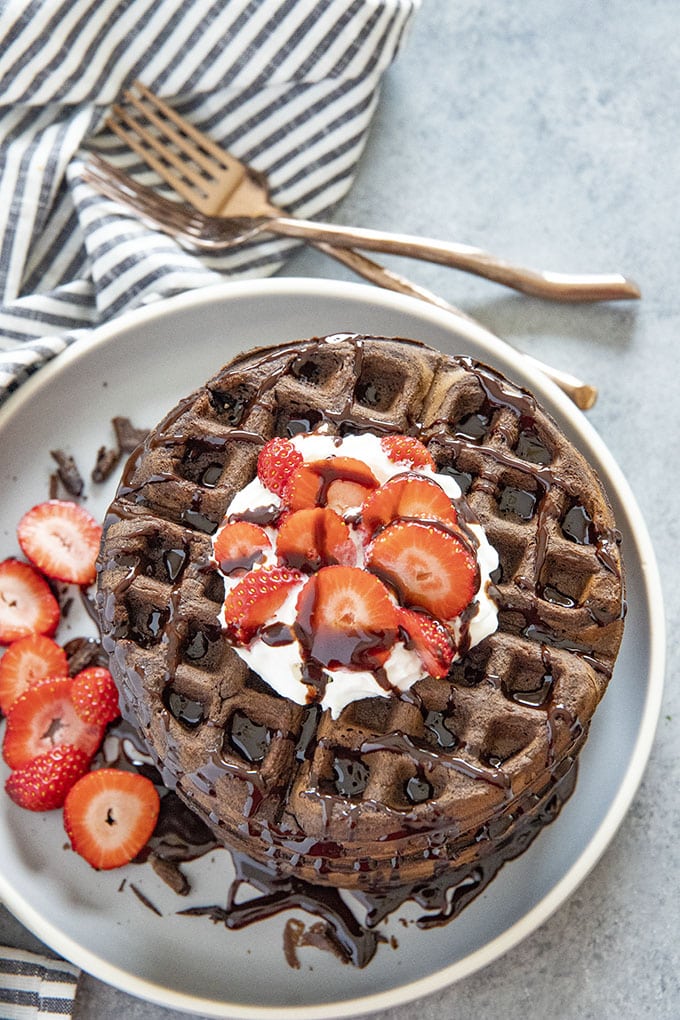 Enjoy!
~Nichole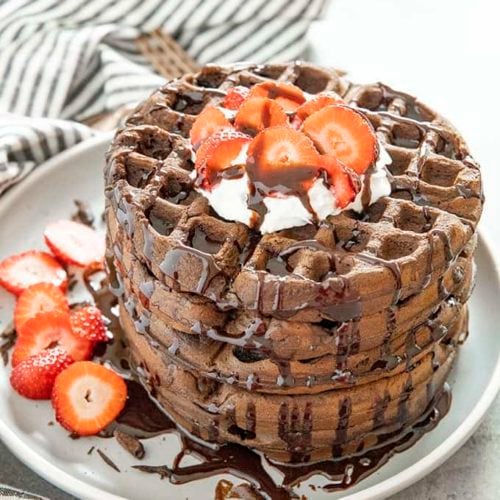 Perfect Chocolate Waffles
Perfect Chocolate Waffles are easy to make at home in about 30 minutes! These waffles are crisp on the outside, with a tender and rich chocolate inside!
Instructions
Preheat your waffle iron, spray with nonstick cooking spray and set aside.

In a large bowl whisk together the flour, cocoa powder, baking powder, baking soda, sugar, salt, and cinnamon.

In a medium bowl beat the egg whites with a hand mixer until stiff peaks form. Set aside.

In a separate medium bowl mix together the egg yolks, vegetable oil, milk, coffee if using, and vanilla extract.

Add the egg yolk mixture to the dry ingredients and mix well.

Fold in the egg whites.

Pour the batter onto your hot waffle iron and cook according to manufacturer's directions**

Serve immediately with butter, syrup, powdered sugar or any other favorite toppings.
Notes
**NOTE:  You can also use milk in place of the coffee in this recipe.
Like this? Rate & review this recipe below!