Peanut Butter Crunch Marshmallow Bars are an amazingly easy NO BAKE dessert!  Layers of rich, soft peanut butter cookie are topped with a layer of Nestle Crunch baking bits and then finished off with miniature marshmallows!
Be sure to come and follow The Salty Marshmallow on Pinterest for more delicious recipes!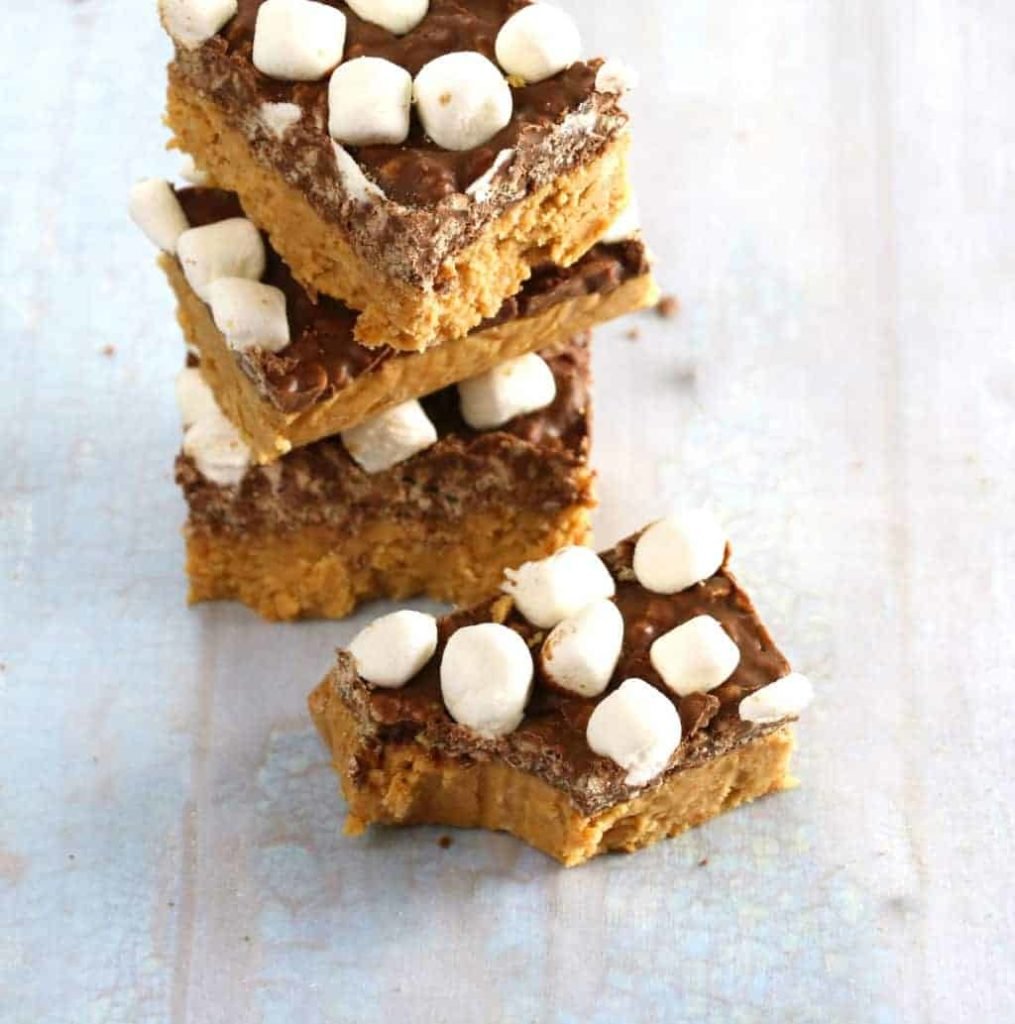 Peanut Butter Crunch Marshmallow Bars FOR PRESIDENT!!  Am I right?  It's probably just my unabashed love of all things peanut-buttery getting the better of me again.
I'm just not myself around peanut buttery treats.
Or, maybe I am, and "myself" is a big giant peanut butter loving hound?  If you're one of those people that is a hater of peanut butter....you may have found yourself in the wrong place.
We, at The Salty Marshmallow like PB in our sandwich cookies, our non sandwich cookies, and inside of biscuits.
Either way, you guys, these bars are worth getting completely weird obsessed over.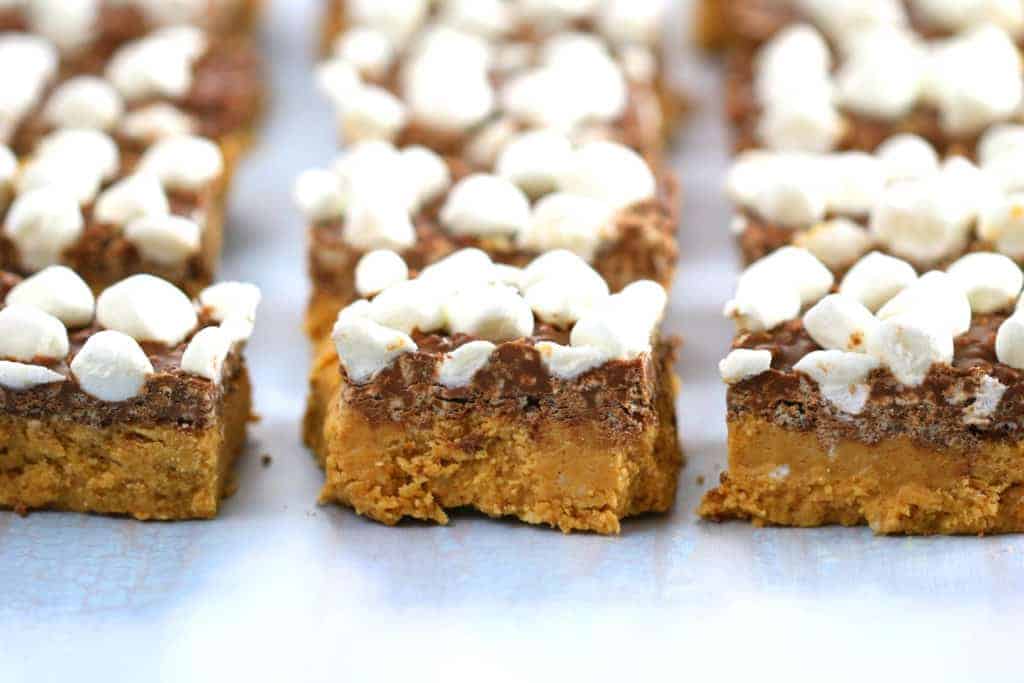 These remind me of a "back in the day" kind of treat.  These are something that your awesome, sweet, adorable, grandma would serve you.  They are a really special, super rich, indulgent kind of bar.
Grandma wasn't watching her figure when she made treats like this.  Neither are we!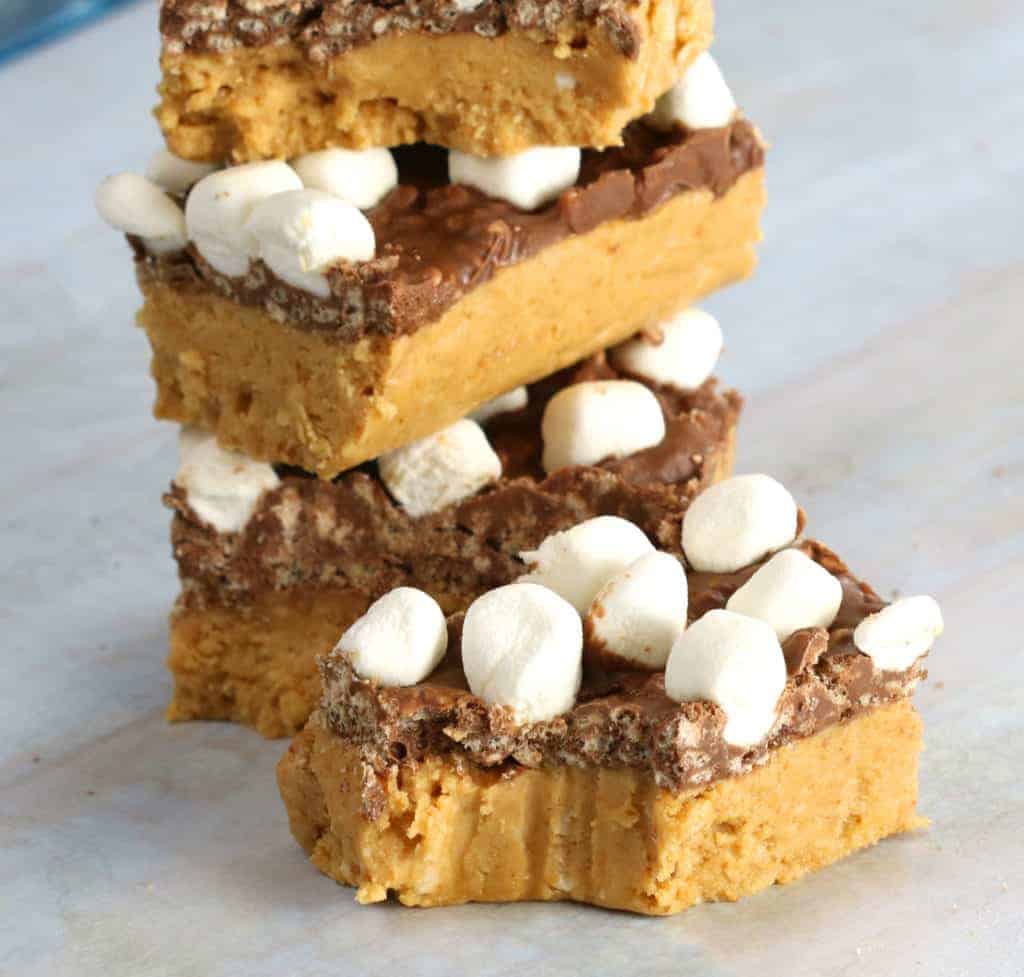 What is awesome about these?  Besides, ya know, everything.
They are NO BAKE!!
The bottom layer is like a mixture between a peanut butter cookie and peanut butter fudge.  A lot of peanut butter bars call for graham crackers.  These are extra special with vanilla wafers!
The chocolate layer is just melted Nestle Crunch Baking Bits (you can use the cut up candy bars if you'd like).  It gives the perfect crunchy texture to this bar.  Like eating a big fat soft and cruncy candy bar!
The marshmallows....well, they're for fun.  They're my "namesake" so, there they are!  They add another fun layer as well.
Soft peanut butter, crispy chocolate.....squishy marshmallow?  Something like that!
Get these on your fall no bake dessert list!
Printable recipe for you below!

Make sure you PIN IT now to keep it handy for later!
NOTE: Cook time listed is actually chill time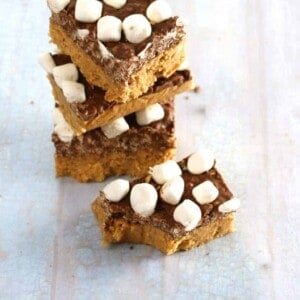 Ingredients
½

cup

melted butter

1 ½

Cup

vanilla wafer cookie crumbs

1 ½

Cup

powdered sugar

1

Cup

creamy peanut butter

Pinch of salt

1

Cup

Nestle Crunch baking bits

⅓

Cup

mini marshmallows
Instructions
Line an 8x8 or 9x9 square baking dish with foil and set aside.

In a medium bowl, mix together the melted butter, vanilla wafer cookie crumbs, and powdered sugar until combined.

Stir in the peanut butter.

Spread mixture into prepared pan.

In a microwave safe bowl melt the baking bits until melted.

Spread melted baking bits on top of peanut butter mixture.

Sprinkle marshmallow over the chocolate layer.

Refrigerate for 45 minutes or until set before cutting into squares.