Peanut Butter Butterfinger cookies are perfectly soft, chewy, peanut butter cookies filled with sticky sweet Butterfinger baking bits!
EXCITING RECIPE UPDATE!!
I originally posted this recipe back on May 31 of this year.  Well, it's been by far my most popular recipe so far here Salty Marshmallow land….and was even featured on People Magazine Online (YAY!!!)
Since everyone seems to love these cookies SO MUCH we decided to go ahead and feature a video for the recipe.  Check it out below, and enjoy! 🙂
Update Number TWO:
Since these cookies continue to be everyone's favorite recipe from my blog, I've updated the photos!  It was time for a little revamp.  The recipe is still the same! 🙂 
This photo is from May, 2106.
Hey everyone! I've been gone away from my Salty Marshmallow home for a week.  It seemed like forever!  I think I may now just permanently park myself in front of my stove and or laptop because I never want to go away again.
You know me, if I go on hiatus, I am at least going to come back bearing delicious treats.  These Butterfinger cookies…..they're outrageous.  The dough only takes about 10 minutes to come together.  Even better, no refrigerating!
NEW photo from January 2017.  Much Prettier!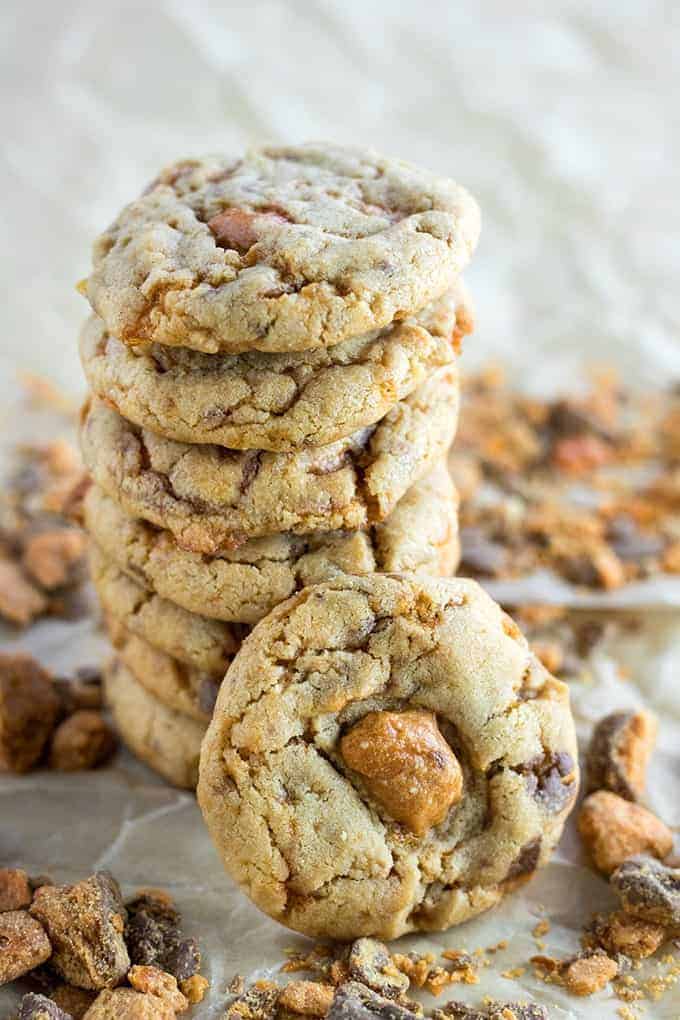 It's not often that I find a product that seriously, just completely changes my life.
Well, these Butterfinger baking bits have done just that.  (Nope, I am not being paid to say this).  I have been making Butterfinger cookies for years.  Let me tell you, I love them, I also despise chopping up those candy bars.  If you are one who can do the chopping without getting Butterfingery pieces everywhere, my hats off to you.  I can't do it! Honesty feels good.  Butterfinger cookies taste good.  End of discussion.
You can find those baking bits right in the baking aisle at your grocery store, with all of the chocolate chips and other fun things that we bakers love.  If you can't find them, do not be sad, you can definitely get a bag of mini butterfingers and chop them up for this recipe – or throw the candy bars in the food processor and give it a quick whirl. I am certain that you are less messy than I am, so the chopping should be a snap for you anyway!
I don't wanna you know, "toot my own horn" but, people really like these cookies. They like them even more when they have one in their mouth and you explain to them how simple they are to make, then you watch that persons eyes get huge!
So make these babies up.  Take them places.  Everyone will love you for it!
You can find me on Pinterest and Instagram, be sure to give me a follow!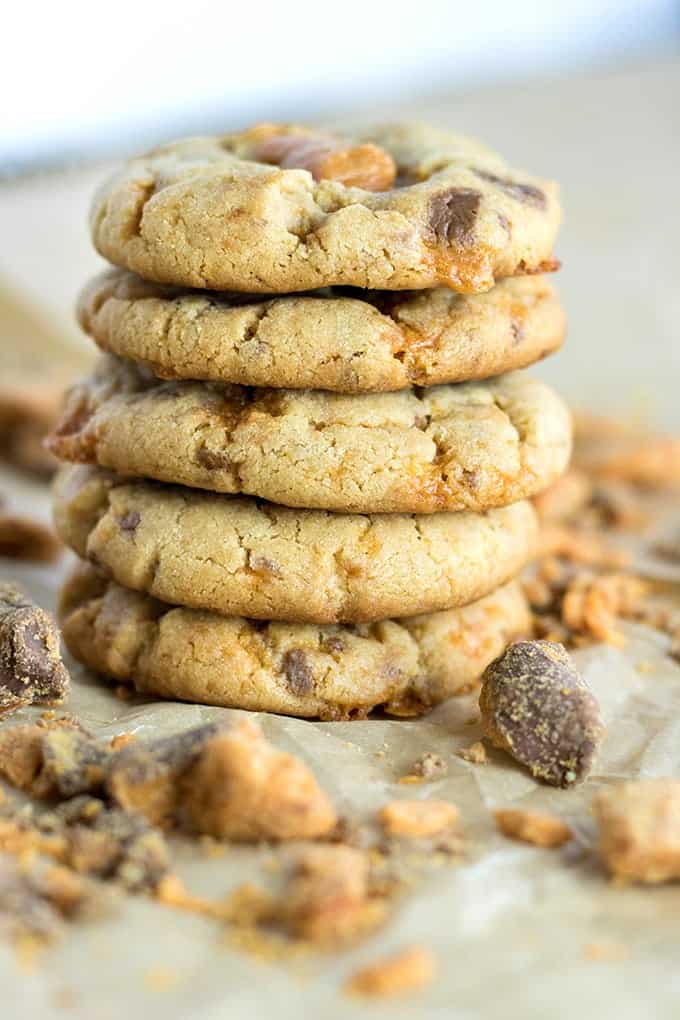 Peanut Butter Butterfinger Cookies
The Best Butterfinger Cookies! Peanut Butter Butterfinger cookies are perfectly soft, chewy, peanut butter cookies filled with sticky sweet Butterfinger baking bits!
Ingredients
2 1/2

Cups

all purpose flour

spooned and leveled

1 1/2

Tsp

. baking powder

1

Tsp

. baking soda

1/2

Tsp

. salt

1/2

Cup

granulated sugar

1/2

Cup

brown sugar

1

Cup

butter

softened

1

Cup

creamy peanut butter

2

Large eggs

1

Tsp

. vanilla

2

Cups

Butterfinger baking bits

or 2 Cups chopped butterfinger candy bars
Instructions
Preheat oven to 375 degrees

Prepare a baking sheet with non-stick cooking spray or line with parchment paper

Whisk together the flour, baking powder, baking soda, and salt in a medium bowl

In bowl of stand mixer, or large bowl with hand mixer, beat together the butter and peanut butter until fluffy

Add egg to butter and peanut butter and beat until incorporated

Beat in sugars and vanilla until combined

With mixer running, add dry mixture to wet mixture in thirds until everything is fully incorporated

Stir Butterfinger Baking Bits into dough

Drop dough by heaping Tablespoon fulls onto prepared baking sheet

Press down on dough gently to flatten just slightly

Bake at 375 degrees for 8-10 minutes
Nutrition Facts
Peanut Butter Butterfinger Cookies
Amount Per Serving
Calories 140
* Percent Daily Values are based on a 2000 calorie diet.