**This post contains affiliate links**
Hello! We meet again! So, I had this whole plan when I set up the blog that I was going to do "Donut Sunday" every single Sunday. As you can see, it is Wednesday....not Sunday and here I am with a donut for you. But we know you're not going to turn down donuts, right? What happened you see, is that I have a problem. I have a donut addiction. Feels good to get that out. That is why we are having glorious citrusy orange donuts today ladies and gentlemen, because I am unable to contain myself!
Let me say that in my humble home baker opinion, if you don't own a donut pan or two, you are really missing out! Seriously, stop what you're doing and go get one, you won't regret it. Let me tell ya why! They are one of the cheapest investments I have ever made and I can whip up some mouth watering cake donuts in roughly 20 minutes! Sorry for all the exclamation, I become a wee bit over zealous when donut discussing. This is the donut pan that I prefer to use if you want to check it out. There will be many many many donut recipes to come here in Salty Marshmallow Land.
We ended up at orange donut today at my son's request. He loves orange, the color and the flavor. I have a donut addiction, he has an orange addiction.  Lucky for him, these doughnuts pack a huge orange punch.  They bake up pretty light, pretty fluffy, no ultra dense hard to chew donuts here.  The shining star of this recipe really has to be the glaze.  It's sticky, and sugary in the best way possible and it's light enough that it kinda soaks into the top of the donut.  Do not be alarmed, it will not make your donuts mushy unless you actually give them a glaze bath.  Sticky, sugary, citrusy glaze.  I think I've said enough, on to the donuts!
Orange addict hard at work (pardon our clutter, we couldn't wait to get started)
Go on ahead and whisk your cake flour, salt, and baking powder together in whichever big bowl you see fit.
When you have your sugar, melted butter, beaten eggs, OJ, vanilla, and orange zest mixed together you can just start adding it right in to the dry mix a little at a time....then a little cream....then a little more wet ingredients.....then a little more cream. You get the idea, until it's all used up and mixed up.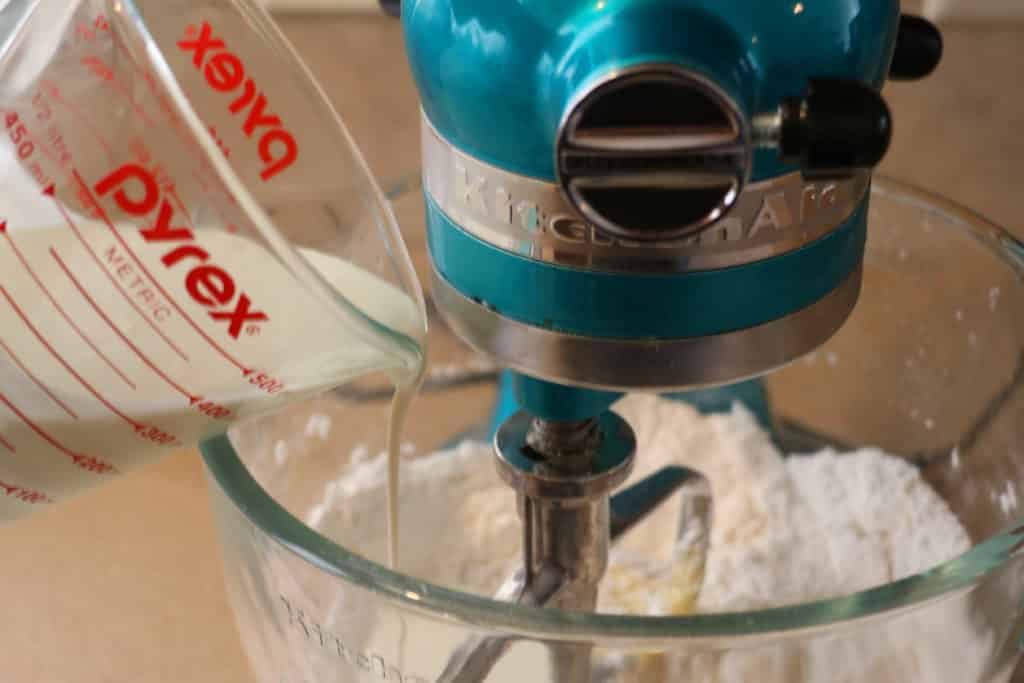 Grab yourself a teaspoon and start filling up that donut pan, if the sticky dough gets stuck to you just follow my lead and lick it off your fingers, then wash your hands, then get more on yourself, and repeat until it takes you approximately 20 minutes to fill up 12 donut spaces.  Just kidding, don't listen to me.
My apologies for not getting a picture of the glaze being made, I have no excuse, my hands were sticky.  You'll notice when you make your glaze you need to beat the juice, zest, and powdered sugar for a good 3-5 minutes so it doesn't have that whole I just ate a mouth full of powdered sugar thing going on.
Please be gentle with your donuts when you take them out of the pan if they are still a tad warm, you don't want them to fall apart on you.  These are really pretty as is after you glaze them with the bits of orange zest, but go ahead and add some sprinkles to fancy them up like I did if you'd like.
Full recipe for you down below!
Ingredients
DONUTS:

2

Cups

cake flour

2 ½

Tsp

Baking powder

1

Tsp

Salt

1

Cup

Sugar

2 ½

Tbsp

Melted butter

2

Eggs

beaten

⅓

Cup

Orange juice

½

Tsp

Vanilla

Zest of 3 oranges

¾

Cup

heavy cream

GLAZE:

1 ½

Cup

powdered sugar

⅓

Cup

orange juice

Zest of 1 orange
Instructions
In a large bowl sift/whisk together the cake flour, baking powder, and salt.

In a separate bowl mix together the sugar and melted butter until combined. Then, mix in the beaten eggs, orange juice, vanilla and orange zest.

Add wet ingredients to dry, alternating with the heavy cream, just until combined.

Butter/spray dount pans and fill ⅔ of the way full with batter.

Bake at 425 for 8-9 minutes.

Allow donuts to cool 5 minutes before removing from pan and glazing.

Mix together powdered sugar and orange juice with hand powered or stand mixer on high speed until smooth.

Dip donuts into glaze and top with sprinkles if desired.