Easiest snack mix ever!  This salty sweet treat is full of Lucky Charms cereal, mint M&M's, salty pretzels, buttery popcorn, and all topped with melted white chocolate!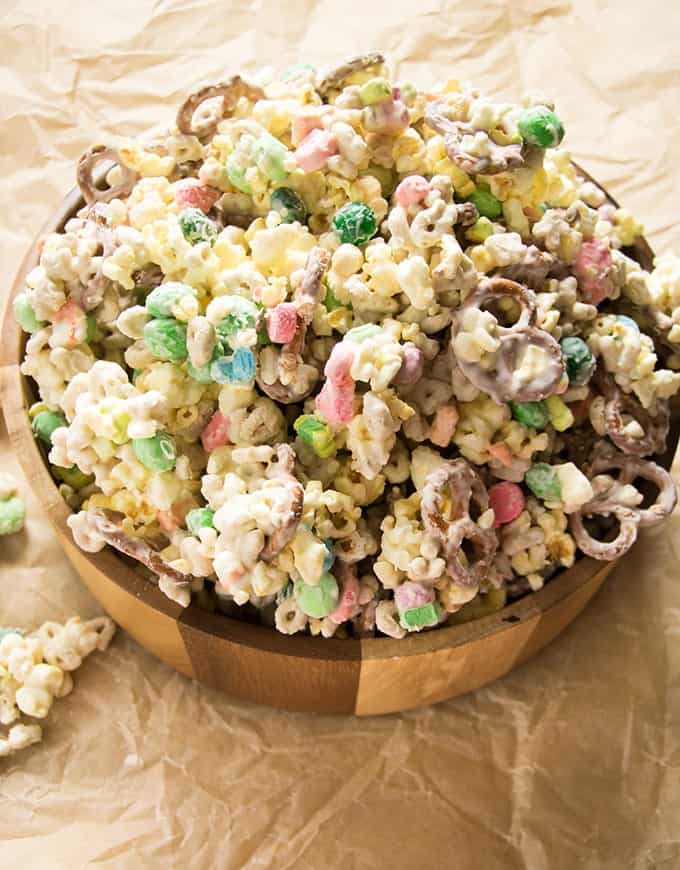 Ok, I'm not one to typically refer to recipes as "crack" but this mix is kind of like crack.
I could/did spend a decent amount of time munching away on this.
The whole salty-sweet mixture is just pure addiction!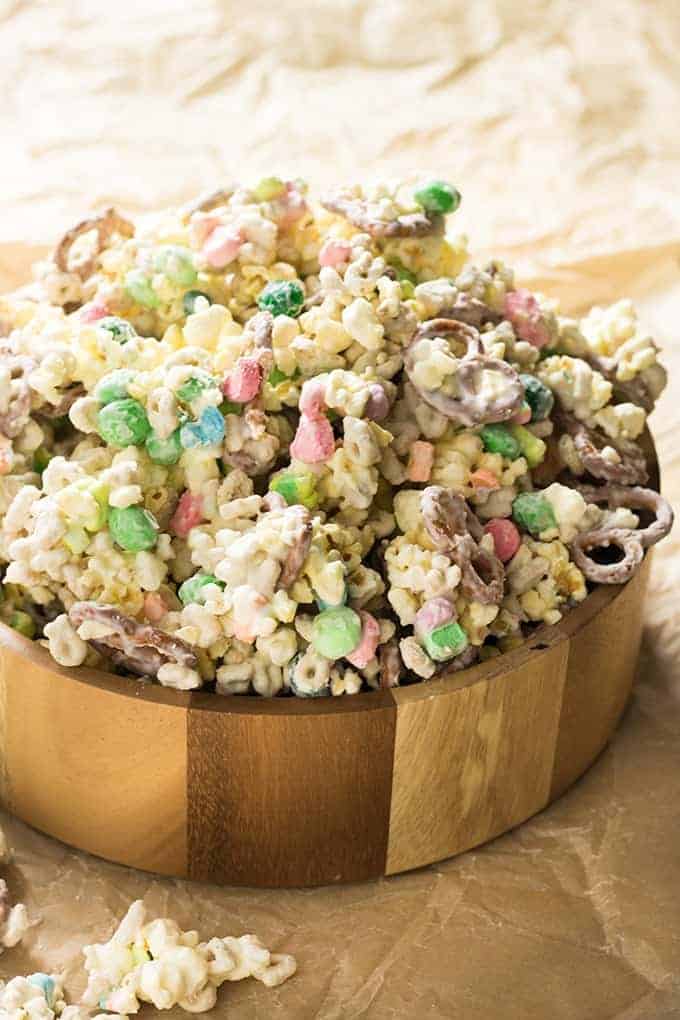 This is a pretty short post today, but, honestly it's just a short fun recipe!
I wanted to whip a little early something special up with St. Patrick's Day in mind.  Something that's easy, kids and adults will all want to grab big giant handfuls of.
This would be perfect to send with your kiddos to school for class parties.
Or, just surprise them with a special treat after school one day, because this takes all of 10 minutes to throw together!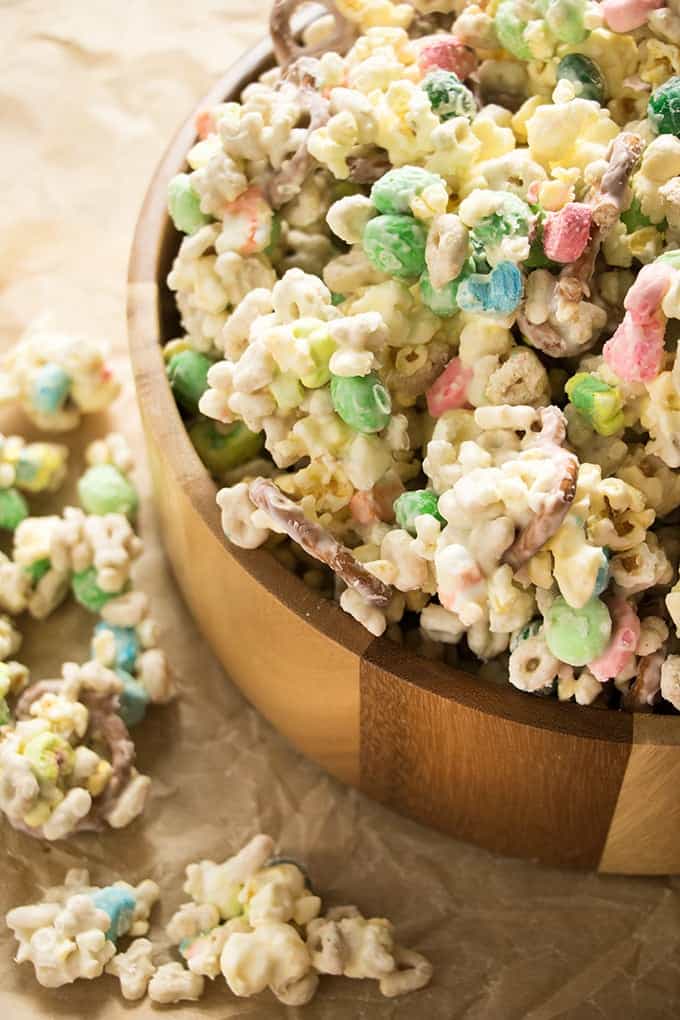 Any kind of cereal will work with this if you have some laying around that you'd like to use up.
For the popcorn, I used exactly one regular sized (not those tiny snack size) bags of microwave popcorn.
The pretzels - use whichever shape your heart desires, they just add some salt and crunch.
M&M's, I used green mint to kind of fit in with my St. Patrick's day thing, but again use whatever flavor you love - they're all good here!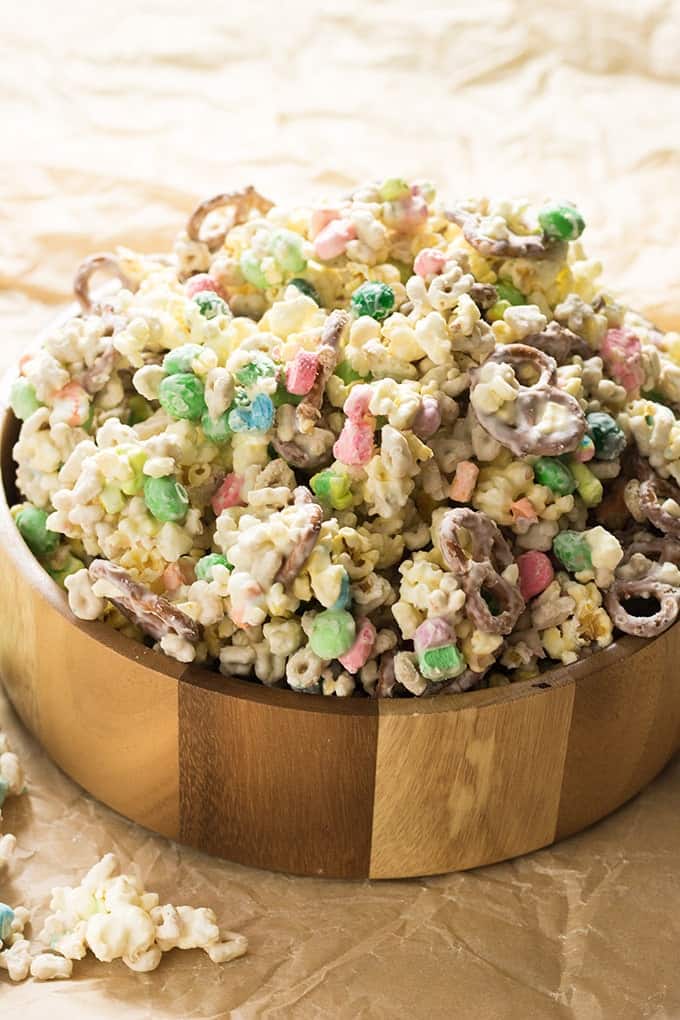 Now, excuse me while I get back to munching......
Enjoy!
~Nichole
Ingredients
5

Cups

Lucky Charms Cereal

2

Cups

Salted Pretzels

6.5

Cups

Popcorn,

This was one bag of microwave popcorn for me

1

Bag (10 ounces)

M&M's

24

Ounces (2 bags)

White Chocolate Chips

3

Tablespoons

Oil,

Olive, Canola, Vegetable, etc.
Instructions
In a large bowl, mix together the cereal, pretzels, popped popcorn, and M&M's candy.

In a medium microwave safe bowl, combine both bags of white chocolate chips with the oil. Microwave in 30 second intervals, stirring i between, until chocolate is smooth.

Pour melted chocolate over the cereal mixture, stir to coat.

Pour the snack mix out onto wax paper lined baking sheets and allow to cool until hardened (10-20 minutes).

When snack mix is cool, break into pieces. Store in an airtight container.