My favorite thin crust pizza dough ever is thin but still perfectly foldable with a tasty and slightly crispy crust! An easy weeknight pizza with minimal ingredients and no waiting for the dough to rise!  This favorite recipe of mine makes not one, but two pizza crusts so you can have one now and another easy weeknight meal later.
You can find me on PINTEREST and INSTAGRAM and my FACEBOOK page for all of your favorite Salty Marshmallow Recipes!
*** This post may contain affiliate links.  This means if you purchase a product via links on my website, I might make a few cents.  All opinions here are strictly my own.***
We are lovers of all and anything pizza in this house.  We may not always agree on toppings, but of course I always win because I'm mom…..and that's a total lie, we usually do what the kids want or compromise with half and half.
But, we can all agree that we love pizza, and that when we are hungry for pizza we want it now, and we want it homemade if possible.  Which is why we should all thank the lord for no rise pizza crusts like this one!  I often also make pizza out of my cheesy bread since it's another great no fuss recipe.
The dough for the cheese bread is thicker, and chewier and I absolutely adore it as well….because uh, bread and cheese is awesome.
Sometimes I want pizza but I want it lighter.  I don't want to feel like I just ate an entire loaf of bread and that I might need to go take a nap afterwards.
I want that nice thin crust that is perfectly foldable because folding pizza and getting that big cheesy bite is pretty much what life is all about, right?
What I really and I mean REALLY love about this pizza is that it makes two balls of dough.  Next time the kids declare they want pizza, I have a happy ball of yeast and flour all whipped up chillin in my fridge.  Go me!
I keep blaming the kids in this post, but let's be real….I can always eat pizza, and I would eat it everyday, and if there was a pizza island I would sail away and move there and be a chubby happy pizza eating fool for the rest of my life.
You can definitely use a pizza stone or a nonstick pizza pan like I did for this recipe.  The key to the crispness is to make sure you bake it for a few minutes, then yank it out of the oven, throw your toppings on, and bake some more.
If you are using a Calphalon pan like I did, make sure you get a good coating of olive oil on the crust and the pan.
Be like me, and brush your crust with garlic too because good grief it sends the pizza right over the edge!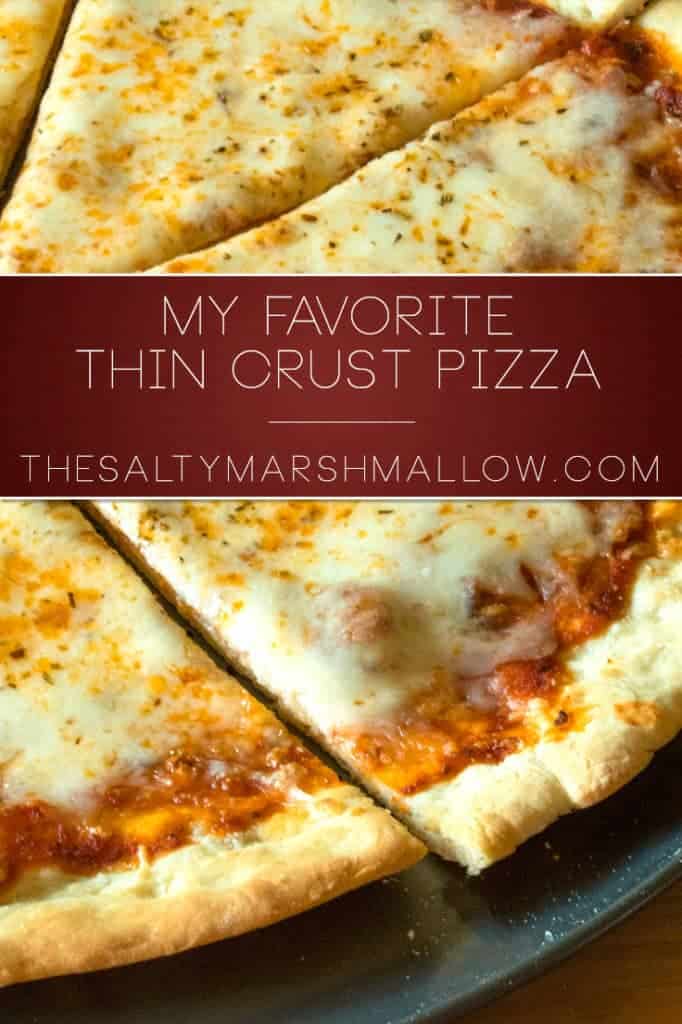 PS: You can find my favorite Calphalon pan for making pizza right HERE.
My Favorite Thin Crust Pizza
Ingredients
2 1/4

Teaspoons

yeast

1/2

Teaspoon

granulated sugar

1

Cup

warm water

1

Teaspoon

salt

1

Tablespoon

olive oil

2 1/2

Cups

all purpose flour

Sauce and Toppings of choice
Instructions
Preheat oven to 450 degrees.

In a large bowl mix together the yeast, sugar, and warm water and allow to sit for 10 minutes until foamy.

Stir the olive oil and salt into the yeast mixture, then add the flour about 1/2 cup at a time until soft dough starts to form.

When dough has started to pull away from the sides of the bowl use your hands to incorporate and knead the rest of the flour into the dough on a lightly floured surface.

Roll the dough into one ball, and slice in half evenly. At this point you can roll out both balls of dough for two 10 -12 inch pizzas. Or, store the remaining dough in the refrigerator for up to 5 days, or the freezer for up to one month.

Roll dough out to 1/4 inch thick and place on a pizza stone or well oiled pizza pan.

Bake pizza in preheated oven for 5 minutes.

Remove the pizza from the oven and top with your favorite sauce and toppings.

Continue baking pizza 10-15 minutes until crust is golden and crispy, and cheese is melted.