A super easy to put together overnight french toast - full of juicy strawberries, sweet lemony cream cheese, and soft baguette.  The perfect spring brunch!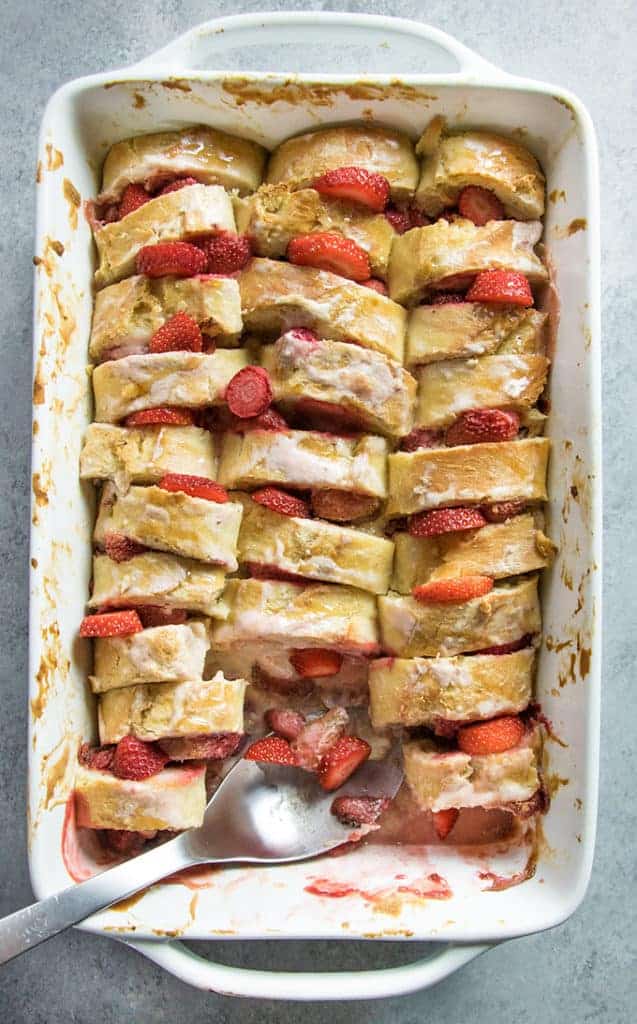 Ok, it's official, I've totally embraced eating brunch at home.
I talked about my love of brunch when I wrote up my recipe for Easy Overnight Blueberry French toast.  Since everyone loved that recipe so much - why not do another?
Why not give ourselves another delicious reason to stay in our jammies on the weekend instead of going out?
French toast at home in my comfy clothes definitely beats going out and standing in line - because you know all of the best brunch places are packed to the brim on the weekends.
Check out our video for this recipe below!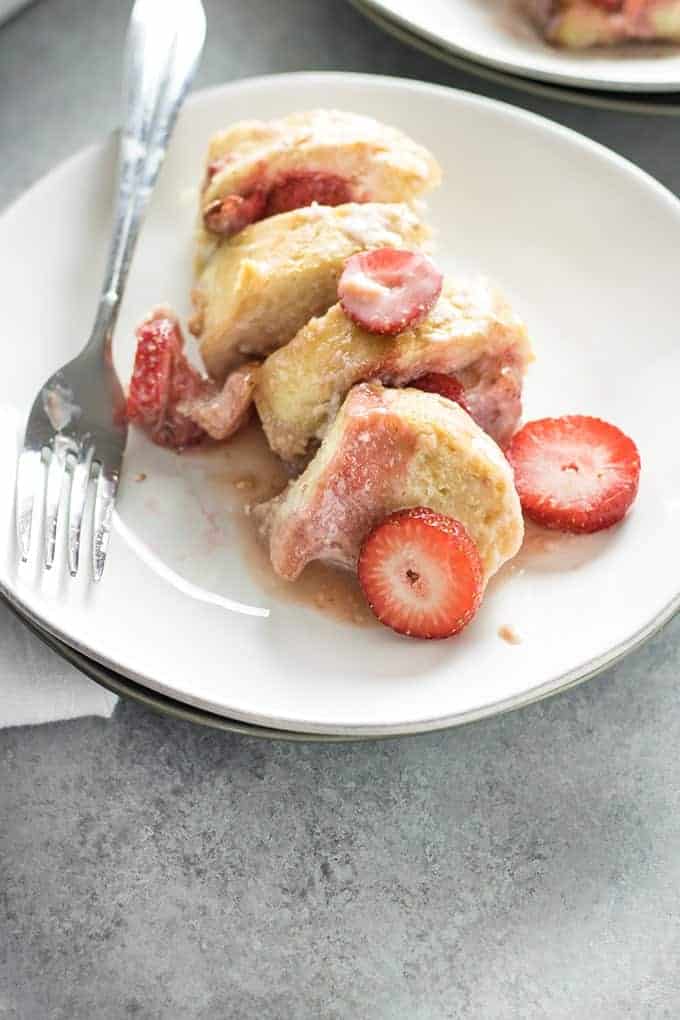 I'm going to level with you guys.  This girl, is NOT a morning person.  In the morning I want coffee, and I want quiet.
On the weekends I want those things, along with some good food in a hurry, and maybe a mimosa.
I'm not demanding or anything.
Overnight dishes are the saving grace for us morning crabs - you know who you (we) are.
About ten minutes to put things together the night before.  Then, you get to sit and sip your coffee peacefully while the air fills with the smell of sweet strawberry and lemony goodness.
And then your kids get up and ask you a million questions, and you quickly give them this french toast so that their mouths are full and things are quiet again....or, because you love them.  Whatever.  Real talk.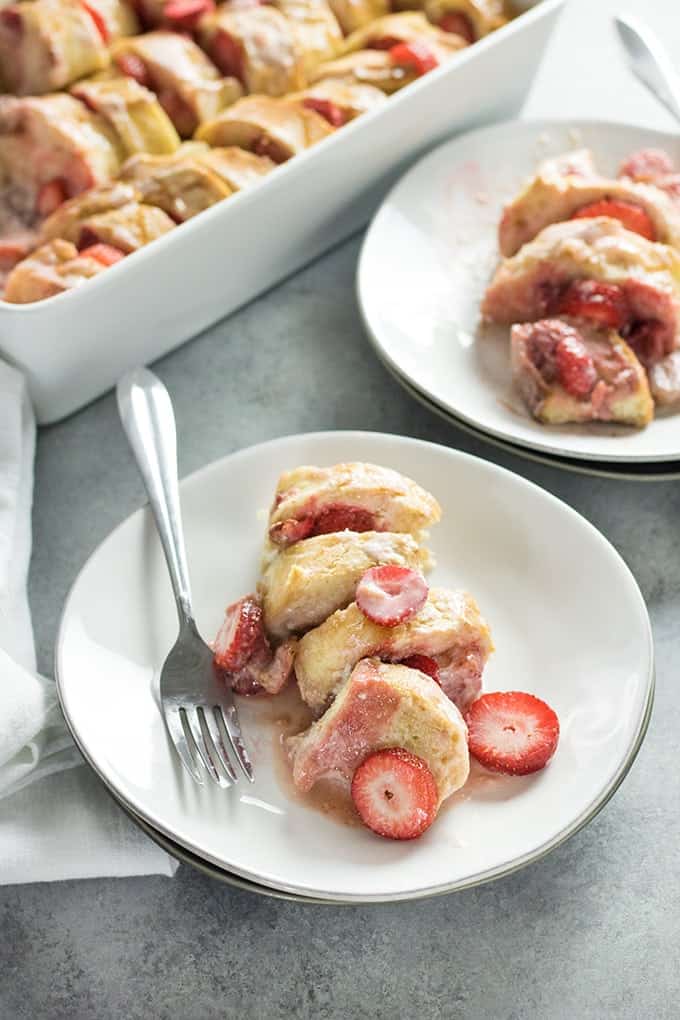 Ok, let's talk about this recipe!
Two baguettes is generally a tad more than I need for this recipe.  Which isn't a problem for us, I serve whatever is left with dinner.
This recipe doubles really easily if you're inviting friends or family over for brunch.  This one is absolutely, positively, on my Easter menu!
Usually, I have some of the strawberry/lemon/cream cheese mixture left after I'm done getting it all in the pan.  If that's the case for you as well, just spoon it in between the slices.  You want ALL of that mixture in the dish - because nothing is better than strawberries and cream cheese.
I didn't do a special glaze for this recipe and usually just give it a drizzle of pure maple syrup over the top - and it really doesn't need much.  It's really sweet and flavorful enough as it is!
Enjoy!
~Nichole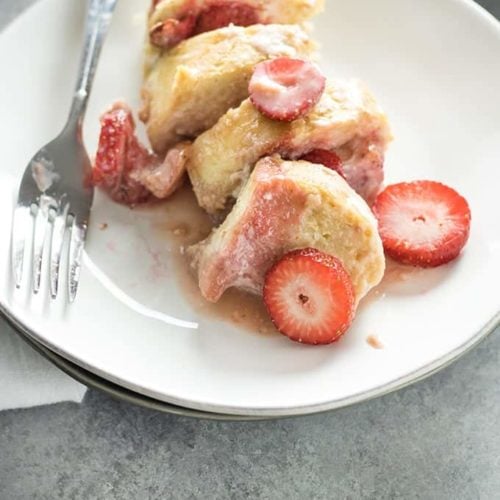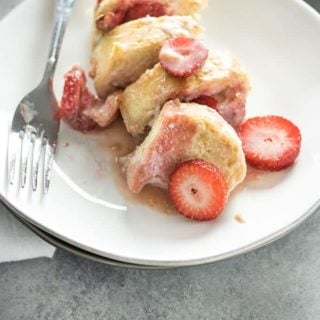 Ingredients
2

French Baguettes

Cut into ½ inch slices

1

12 Ounce

Package Cream Cheese

Softened

2

Lemons

1

Cup

Granulated Sugar

2

Cups

Strawberries

Fresh or Frozen

2

Eggs

1

Teaspoon

Vanilla Extract

1 ½

Cups

Heavy Cream

Can use half & half or milk
Instructions
Lightly butter or non-stick spray a 3 quart casserole dish.

Zest both of the lemons into a medium bowl. Cut lemons in half and squeeze the juice into the same bowl. Add the cream cheese, and granulated sugar. Mix all ingredients together with a hand mixer until well combined. (Can use stand mixer if preferred).

Stir the strawberries into the cream cheese mixture.

In a small bowl, beat together the eggs, vanilla extract, and heavy cream.

Spread about 1 Tablespoon of the strawberry cream cheese mixture onto one side of each slice of bread and place bread slices in an even row into the prepared baking dish.

Pour the egg mixture evenly over the bread slices. Cover pan with foil and refrigerate for at least 3 hours - overnight.

Preheat oven to 350 degrees. Bake the french toast for 35-45 minutes, until golden brown.
Notes
NOTE:  This must chill in the refrigerator for at least 3 hours, overnight is best.