Easy Greek Fettuccine is a simple and flavor packed weeknight dinner recipe!  This pasta is full of olives, artichokes, diced tomato, garlic, and plenty of feta cheese!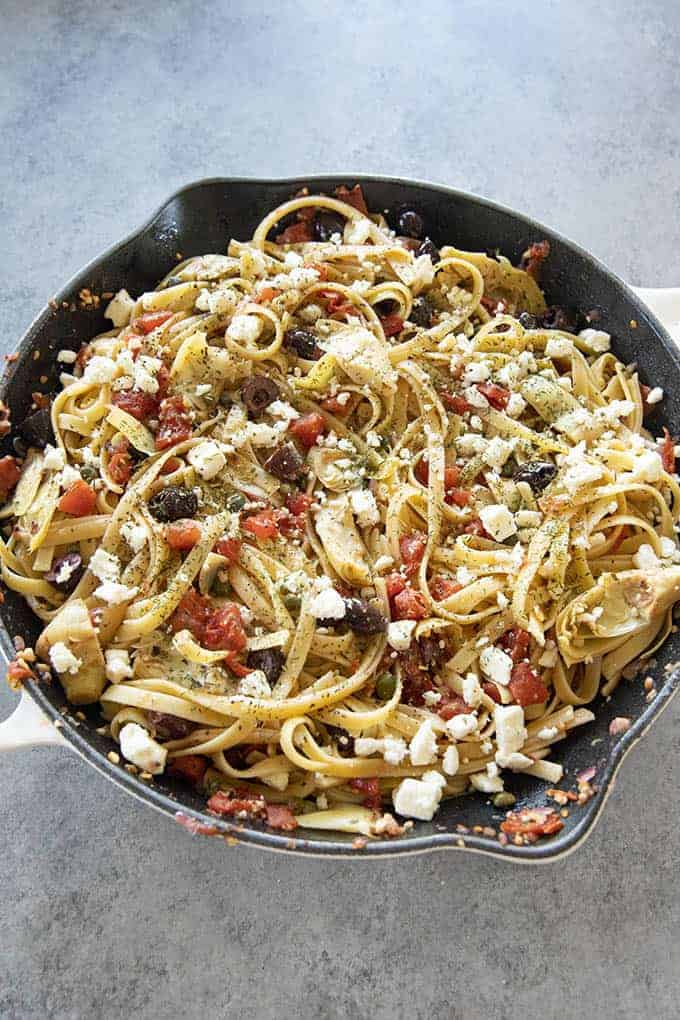 Greek Fettuccine:
I am completely obsessed with this pasta, end of story.  Fettuccine is a big, flat, thick noodle that I happen to love, it soaks up the light garlic butter sauce perfectly in this dish.  This will probably be a go-to summer dinner because it is nice and light, flavor packed with a whole lotta garlic, salty kalamata olives, juicy tomatoes, capers, creamy feta cheese, dill and oregano….the list goes on.  But, even though it's refreshing it's also filling, the total package, I don't even make a side to go along with this one!  If you're crushing on all the Greek flavors like we are at my house, be sure to try my Greek Chickpea Salad, the most flavorful Chopped Greek Salad, and these super juicy Greek Chicken Thighs!
How to Make Greek Fettuccine:
Start out by adding your generous amount of olive oil and butter to a skillet.  This is the base for your sauce!  We use red onion in this recipe, but only a small amount because we don't want the flavor to overwhelm the entire dish.  Red onion can be strong, but, when cooked it has more of a sweet flavor!
Once your onion is soft, add your minced garlic to the pan.  I know 5 cloves seems like a lot, but, trust me here.  Stir the garlic for one minute just until fragrant.
Now, add your drained diced tomatoes, drained quartered artichoke hearts, olives, and capers to the pan and stir around for about 2-3 minutes until everything is warm.
Stir in the cooked and drained pasta.  I use tongs for this so that I can really toss the pasta around in the sauce.  Top with feta and eat!
How Long Does Greek Fettuccine Last?
I find that it's best to eat this within 3 days.  If you think it's too dry, add an extra Tablespoon of olive oil or butter when you heat it up.  I don't recommend freezing this at all, it doesn't hold up well.  My family of four eats this for dinner, then we usually have two portions left for lunches during the week.
I Don't Like Something In This Recipe, Can I Leave it Out?
Yes, please make this to suit your own taste.  I don't recommend leaving the tomatoes out, because even though they are drained, they add tons of flavor to the sauce.  However, if you aren't an artichoke fan, you can leave them out, love them?  Add extra….etc.  Also, the cheese is just a starting off point and we usually add more at the table!
Enjoy!
~Nichole
Easy Greek Fettuccine
Easy Greek Fettuccine is a simple and flavor packed weeknight dinner recipe! This pasta is full of olives, artichokes, diced tomato, garlic, and plenty of feta cheese!
Ingredients
1

Pound

Fettuccine Pasta

1/4

Cup

Olive Oil

3

Tablespoons

Butter

1/4

Cup

Finely Chopped Red Onion

5

Cloves

Garlic,

Minced

1

14 Ounce Can

Quartered Artichoke Hearts,

Drained

1/2

Cup

Kalamata Olives,

Cut in Half

1

14.5 Ounce Can

Diced Tomatoes,

Drained

2

Tablespoons

Capers

Salt & Pepper,

To Taste

1

teaspoon

Oregano

1

teaspoon

Basil

1/2

teaspoon

Dried Dill Weed

1/4

teaspoon

Red Pepper Flakes

1/2

Cup

Feta Cheese
Instructions
Cook the fettuccine according to package directions, drain and set aside.

While the pasta is cooking, heat the olive oil and butter in a large skillet over medium heat. Add the minced onion and cook, stirring occasionally for about 5 minutes, until the onion is soft.

Add the garlic to the pan, cook stirring constantly for one minute.

Add the artichoke hearts, olives, tomatoes, capers, and seasonings to the pan. Stir for 2-3 minutes until warm, then toss the sauce mixture with the cooked pasta.

Top with feta cheese as desired. Serve immediately.
Notes
NOTE:  This pasta can be stored in an airtight container in the refrigerator and should be eaten within 3 days.
Like this? Rate & review this recipe below!