Crockpot Garlic Ranch Red Potatoes – These crock pot roasted potatoes are bursting with garlic and ranch flavor! Perfect for any easy weeknight side dish, or to save some room on your stove when you have company.  One of my all time favorite slow cooker potato recipes!
Well, September is officially here!  In my part of the USA, it is starting to feel like fall too!  Which, I'm actually really loving even though I'm more of a summer kinda girl.
Tis the season for all things that are pumpkin flavored, warm and cozy, comfort food.
And, also for colds.  Unfortunately.
It never fails, my kid's go back to school.  They bring home all the germs.  The germs make their way into my body, and I'm sick.
I'm always the first one sick!  Which I'm glad for I suppose, better me than the kids, right?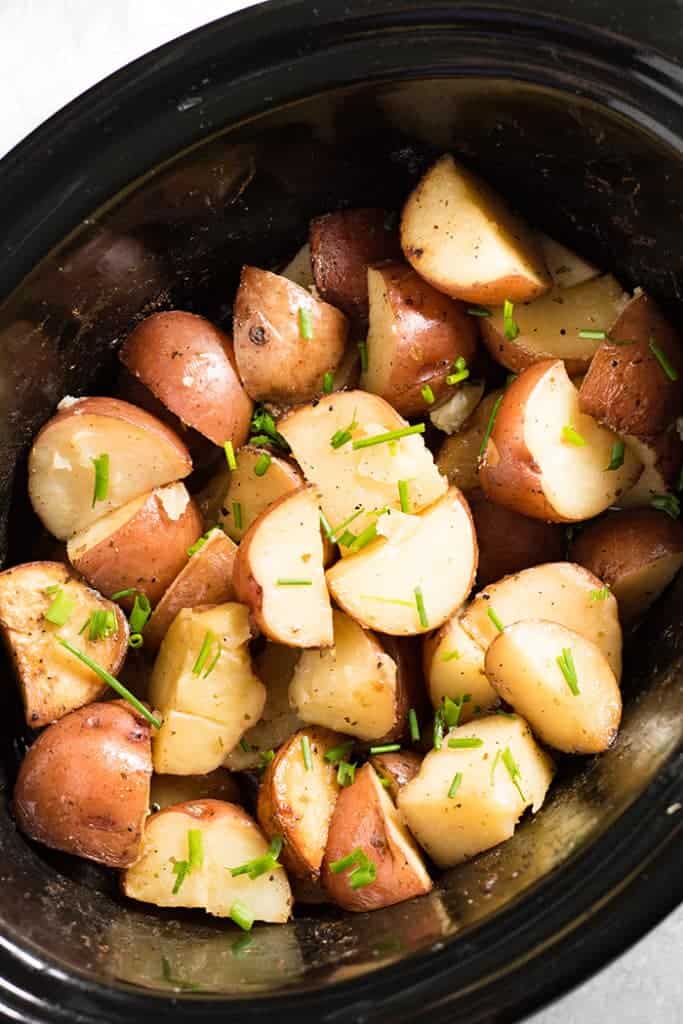 I'm really thankful that I'm a food blogger right now.  I can kind of just hide behind my computer, sniffling, with my giant box of tissues.
You don't have to look at my sad red nose.
Instead, you get to gawk at some gorgeous red potatoes that we whip up in a snap right in the slow cooker!
They really don't get much easier.  Most of the ingredient's you probably already have on hand!
I don't know about you, but I always keep ranch seasoning on hand.
Definitely, couldn't survive without the stuff!
So, for this recipe, you need a few pounds of red potatoes.  Some garlic, which you can use either garlic powder or fresh minced.  Ranch seasoning, butter, and olive oil.
Salt & pepper are kind of a given, right?  If you think the amounts I have listed are too much, just S&P to your own taste.
The chives are optional too, but I do love the flavor they add, and they look pretty if you're having people over for dinner!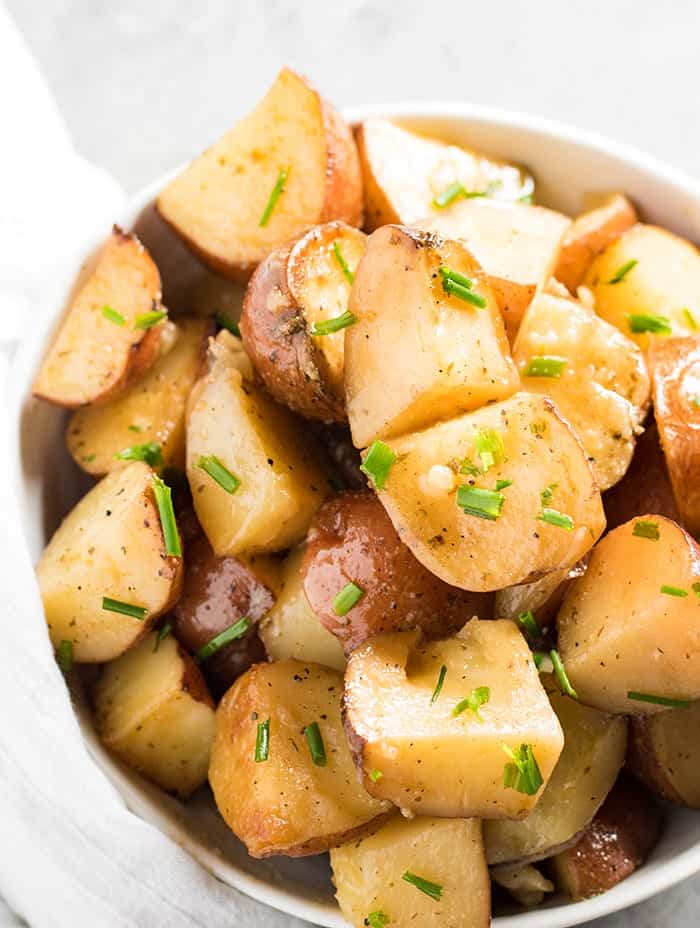 These Crockpot red potatoes come out so amazingly tender, creamy on the inside, melt in your mouth.
They are a life saver of a side dish for busy nights since they can go in the slow cooker in the morning.
I also feel no shame at all in making a double batch of these impressive looking potatoes for a crowd!
Enjoy!
~Nichole
Tip:  These are a great side dish to go along with my Instant Pot Country Style Ribs!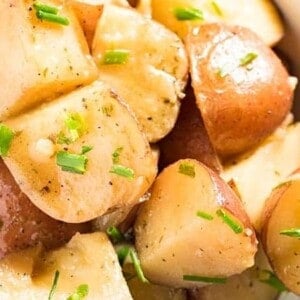 Crockpot Garlic Ranch Red Potatoes
Ingredients
3

Pounds

Red Potatoes,

Washed and cut into quarters

5

Tablespoons

Butter,

Melted

1

Tablespoon

Olive Oil

1 (1 Ounce)

Packet

Ranch Seasoning

1

Tablespoon

Garlic Powder

1/2

Teaspoon

Salt

1/2

Teaspoon

Pepper

Chopped Chives for Serving,

Optional
Instructions
Lightly grease a large slow cooker with butter and place the washed and quartered potatoes inside.

In a small bowl whisk together the melted butter, olive oil, ranch seasoning, garlic powder, salt, and pepper. Pour mixture over the potatoes.

Cover and cook on low for 5-6 hours, or on high for 3-4 hours, until potatoes are tender. Serve hot with chives if desired.
Like this? Rate & review this recipe below!
LOOKING FOR OTHER FALL RECIPES?  TRY THESE: