A bourbon based cocktail that is as easy to whip up as it is to enjoy!  The perfect drink to share with your love this Valentine's Day!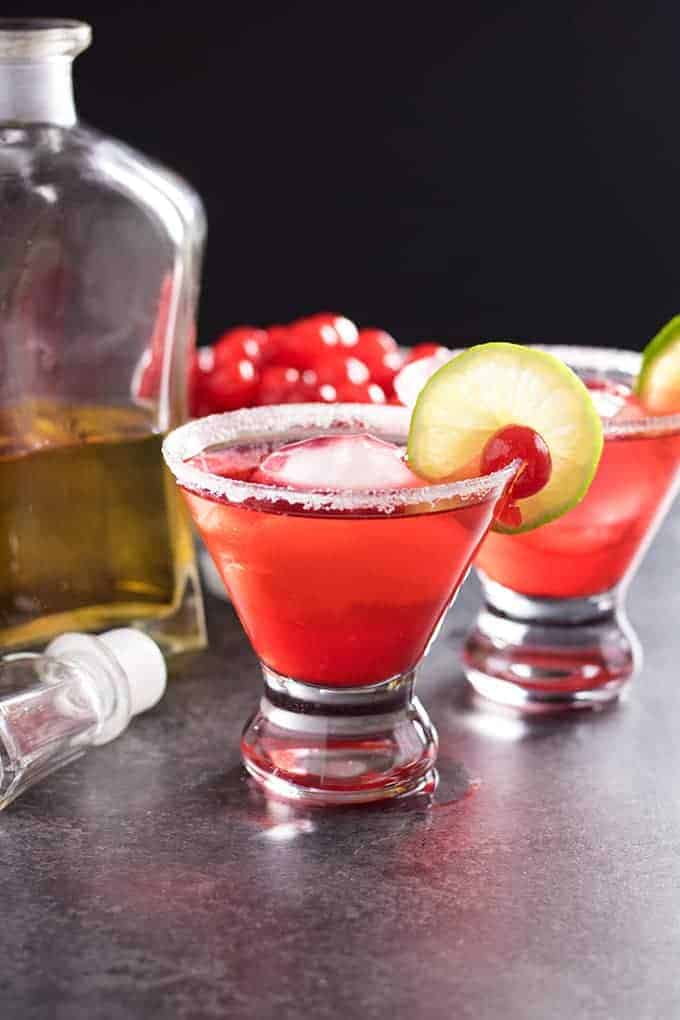 Today's post is sponsored by our friends over at Drizly.  All opinions maintained in this post are mine alone.
Guys. It's Friday. Which means….cocktails! It's been a long week, you deserve it. Kick back, and relax.
Or, better yet, go get your bourbon and your shaker!
Let's chit chat about this drink here, shall we?
Quite possibly my favorite thing about this bourbon-ey drink is stumbling upon Drizly. I can get every single thing I need to whip up a beverage in a quick snap, right from my laptop – including the bourbon!
Perfect, because, really who wants to go to the store at the end of a long week after work? Everybody puts their hands down.
I've always liked playing at home bartender, but I have never ever enjoyed going to two or three different stores for liquor, fruit, soda water, etc.
That's where Drizly comes in – They have all of those goodies mentioned above, and they currently deliver in 28 cities! You can pop on over and check out their website right HERE for all of that info.
What I love about this cocktail in particular is that it's for everybody. Whether you're a bourbon on the rocks kind of person, or a fruity beverage lover, you'll adore this.
It's a cocktail that is slightly sweet, but not overbearing.  A little bit tart (hopefully not like your Valentine) and then you get a nice, smooth, rich, bourbon background.
True to Salty Marshmallow fashion, this is quick and easy to make. A super tasty, but simple line up of ingredients here, folks!
No difficult steps, just a matter of pouring everything into your shaker, shaking like a maniac, and enjoying.
If you don't have a shaker, no worries, those are available through Drizly as well.  I'll be honest, I didn't have one for a long time and I'd mix my at home drinks in a big pitcher.  The drinks of course taste awesome either way, but something about having that shaker makes me feel like a pro whipping up cocktails in my kitchen!
Cheers to a happy weekend!
~Nichole
Ingredients
4.5

Ounces

Bourbon

About Three Shots

3

Ounces

Grenadine

About Two Shots

1

Shot

Maraschino Cherry Juice

2

Tablespoons

Lime Juice

Juice of One Lime

1/2

Cup

Sparkling Water or Club Soda

1/4

Cup

Granulated Sugar, for rimming the glass

Optional

Extra maraschino cherries and limes for garnish

Optional
Instructions
Fill a shaker or medium sized pitcher halfway full with ice cubes.

Pour the bourbon, grenadine, cherry juice, and lime juice into the shaker or pitcher. Shake or stir well until well mixed and chilled.

If desired, pour the sugar onto a small plate and run a cut lime wedge around the rim of the glasses. Dip the rim of the glass into the sugar to coat.

Pour the shaken cocktail into prepared glasses.

Serve with extra limes, and cherries as desired.
Like this? Rate & review this recipe below!