Best Fish Tacos are so easy to make in 20 minutes with the very best, simple, baja sauce!  You'll love that this recipe has a flavor packed spice mixture and are made right on the stove in one pan!
Fish Tacos:
These tacos are one of my favorite summer dinners! I also love our classic Ground Beef Tacos, but sometimes a fish taco hits the spot! They come together really, really, fast and you don't even need to heat up your oven!  The best fish for these tacos is cod, if you can find it.  If not, you can always use tilapia which is easy to find, or any kind of white fish you like.  All you need to do to make these is pat your fish dry to help the coating stick, then, cut the fish into bite sized cubes.  Don't worry, these have a slightly crisp crust on the fish pieces, but no deep frying involved!  You'll grab your fish cubes and dunk them in a mixture of flour, and spices.  Lots of spices give these fish tacos some out of this world flavor.  Then, you just simply cook the fish pieces in butter/oil in a skillet.  You'll want to turn them and cook on each side just until your coating is golden.  I find it easiest to cook the fish in two batches, so we don't crowd up the pan.  If you're looking for other tacos while your here, be sure to try out our slow cooker Machaca Recipe, it's authentic and so good!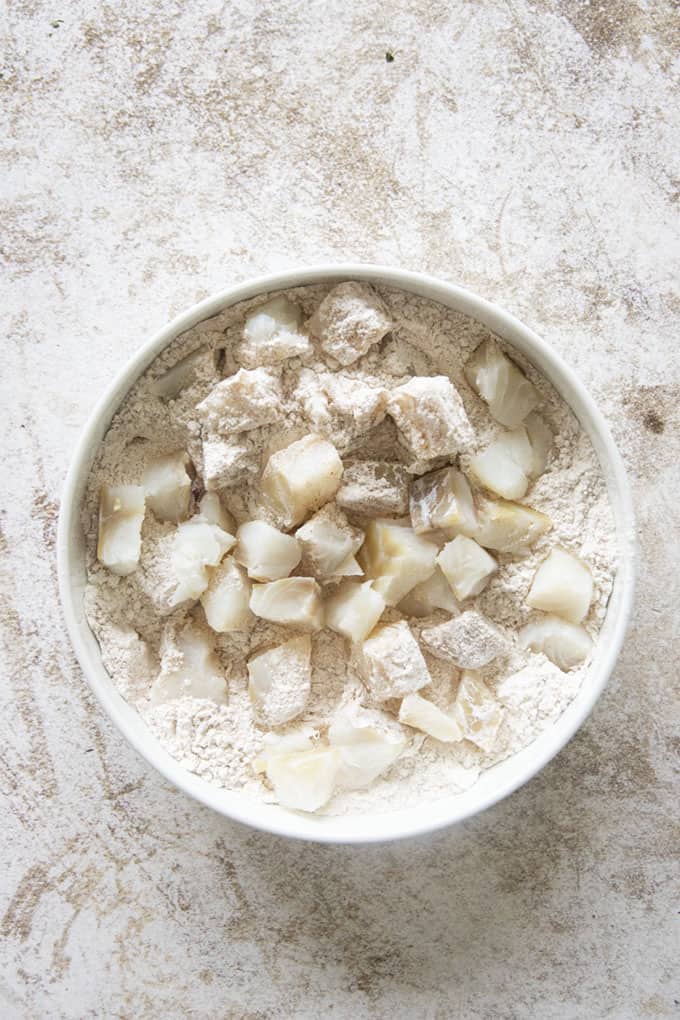 What is Baja Sauce Made of?
I think everyone has a different version of a tasty fish taco sauce.  You can't skip the sauce, it makes the taco what it is!  I've been making these tacos for years, and have perfected my sauce recipe.  It's a simple mixture of mayonnaise, sour cream, salsa, fresh squeezed lime, chili powder, cumin, garlic powder, and a couple of dashes of hot sauce!  For the salsa, you can use whatever store bought salsa that you like best.  If you have a chunkier salsa, you can always pulse it in the blender first before making the sauce if you want it smoother.  I always like to use my blender Easy Salsa Recipe and it's always fairly smooth anyway.  Now, for the hot sauce, I'm a HUGE fan of Cholula, it's my favorite!  However, use whatever hot sauce you like best such as Tapatio or Tabasco are also great.  I like to do about 3-4 good dashes of hot sauce, but of course mix it in to your own taste.  Taste the sauce before serving and add more spices if you wish.  Keep in mind the sauce can be made ahead, and you can keep it in an airtight container in the fridge for up to 2 weeks!
What Goes Good With Fish Tacos?
Black Bean Salsa:  For me, this is a MUST.  We have this every single time, and you can see it in the photos.  The freshness of that salsa with the red onions, and beans is just perfect with these tacos.
You can make a batch of Blender Easy Salsa Recipe to go in the sauce, or serve with the tacos as well.
If you want more than basic red salsa, be sure to try out our Mango Salsa and Salsa Verde Recipe too!  They are both AMAZING on fish tacos.
CHEESE, now I know some people don't like cheese with fish, but we do.  Shredded Mexican blend, Cotija, Monterrey Jack, or Cheddar are all great.
I consider fish tacos a full meal, especially with the black bean salsa.  But, if you want a side this Black Bean Corn Salad is really good, as well as our favorite Spanish Rice Recipe.
A big heap of Pico De Gallo is always a welcome addition because it's so fresh!  And, obviously, Guacamole is always amazing.
Otherwise, the sky is the limit. Black olives, extra sour cream, purple cabbage, shredded lettuce, pickled jalapenos, thinly sliced green or red onion are all amazing!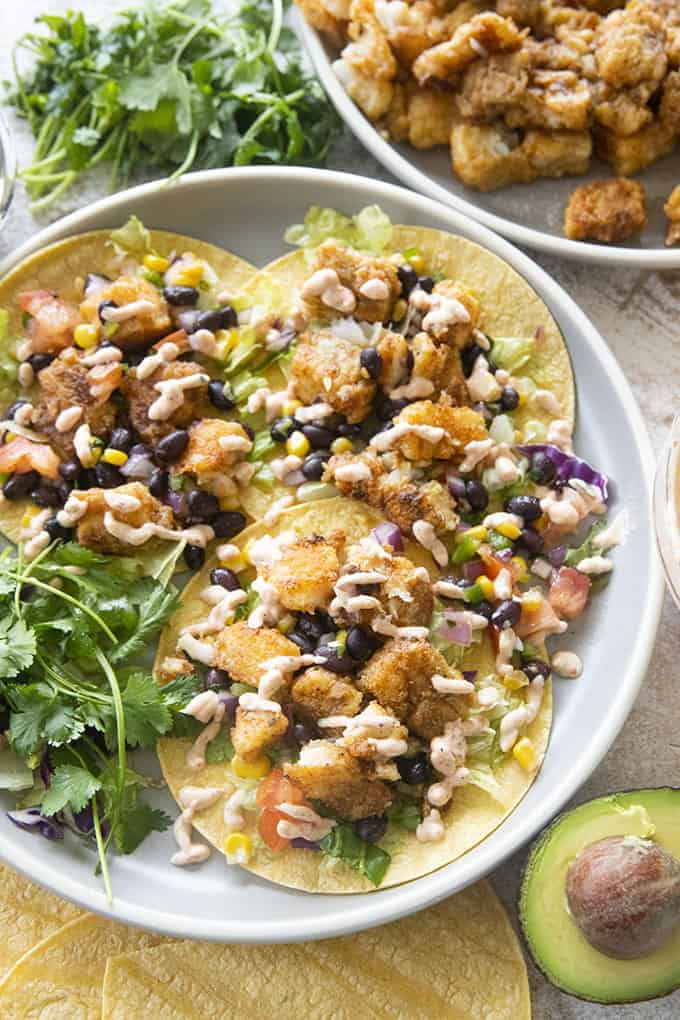 Enjoy!
~Nichole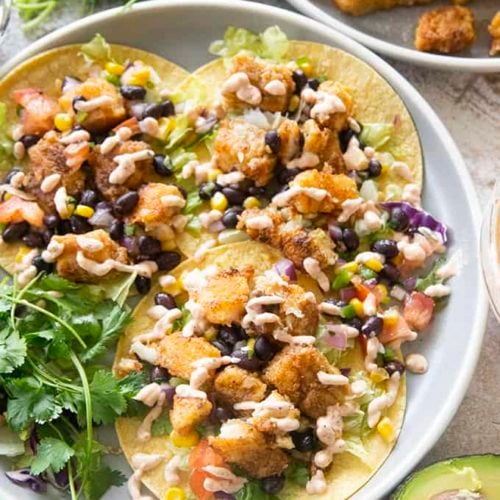 Best Fish Tacos
Best Fish Tacos are so easy to make in 20 minutes with the very best, simple, baja sauce!  You'll love that this recipe has a flavor packed spice mixture and are made right on the stove in one pan!
Print
Pin
Rate
Instructions
FOR THE FISH:
Lay the fish out on a cutting board and gently pat dry with paper towels. Then, cut the fish into bite sized pieces, about 1 inch.

In a shallow bowl combine the flour, chili powder, garlic, salt, cumin, paprika, and cayenne using a fork until well combined.

Heat one Tablespoon of the butter and oil in a large skillet over medium high heat.

Dredge the fish in the flour mixture and add HALF of the fish pieces to the hot skillet Cook the fish for about 2 minutes on each side, until golden. Remove from the pan to a paper towel lined plate and sprinkle with salt as desired. Repeat with the remaining fish.

Serve immediately in flour or corn tortillas with fish taco sauce and your favorite toppings.
FOR THE SAUCE:
In a medium bowl, whisk all ingredients together until smooth. Chill for up to 2 weeks or until ready to serve.
Notes
NOTE:  We find these best served with the fish taco sauce above as well as topped with this Black Bean Salsa!  See notes in post for more on what to serve with these tacos.
NOTE ON SERVING SIZE:  Nutrition does not include the tortilla shells, only the fish and taco sauce.
Nutrition
Serving:
2
Tacos
|
Sodium:
702
mg
|
Calcium:
23
mg
|
Vitamin C:
1
mg
|
Vitamin A:
661
IU
|
Sugar:
1
g
|
Fiber:
1
g
|
Potassium:
103
mg
|
Cholesterol:
22
mg
|
Calories:
271
kcal
|
Saturated Fat:
6
g
|
Fat:
21
g
|
Protein:
3
g
|
Carbohydrates:
19
g
|
Iron:
1
mg