These 26 dinner recipes are all made in one pan, pot, or skillet!  Making a mouthwatering dinner for your family has never been so simple or delicious!  There is something everyone in your house will love in this all-star recipe lineup!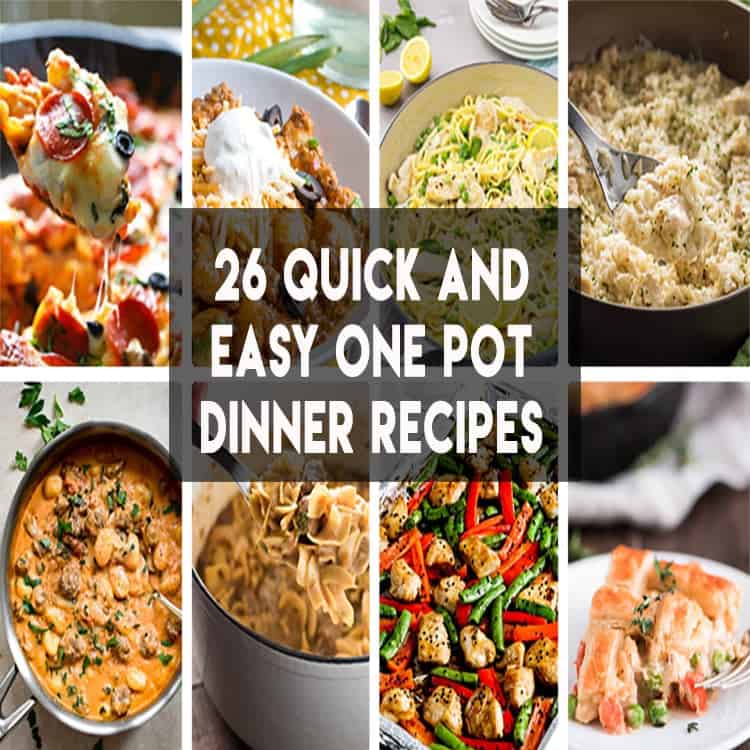 I've been craving nothing but easy and delicious dinners lately!  One pot, pan, and skillet meals have been a complete lifesaver and I wanted to share some of my favorites with you guys!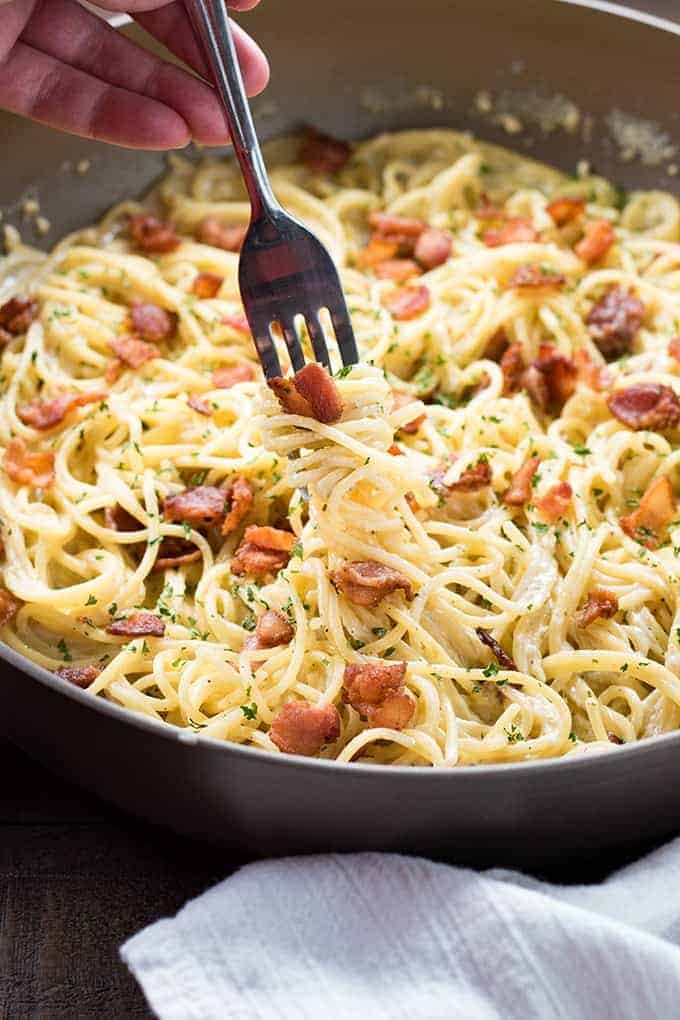 This one pot pasta is packed full of flavor!  Garlic parmesan spaghetti comes together with bacon and ranch for an unforgettable 30 minute meal.  Full recipe:  One Pan Bacon Ranch Garlic Parmesan Pasta.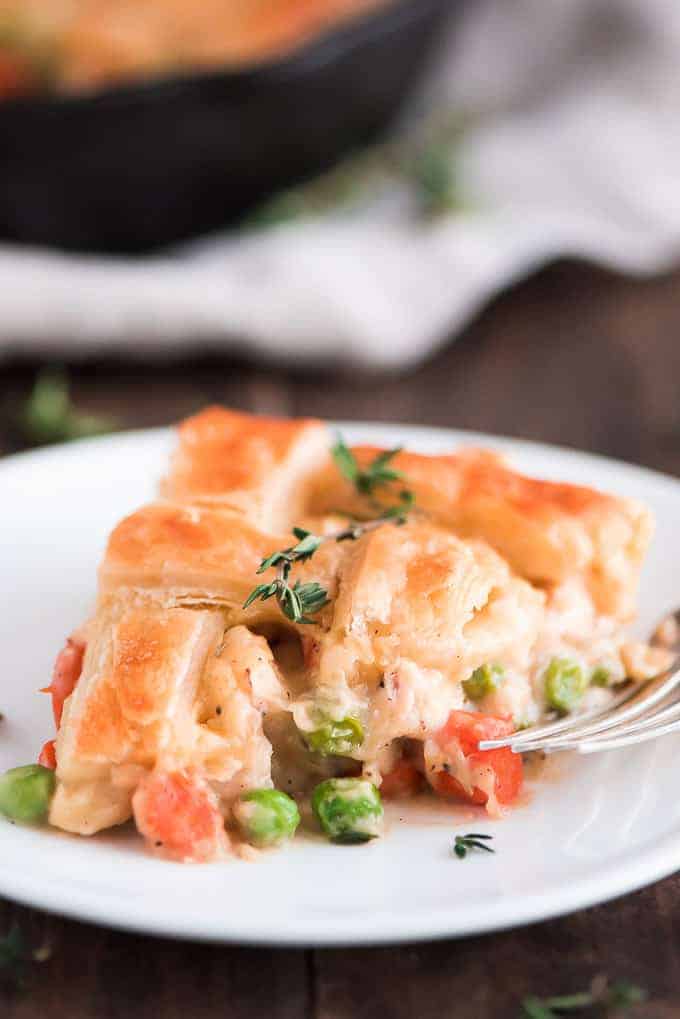 Nothing is better than classic chicken pot pie!  With this one skillet version using a super tasty puff pastry crust, you can have a warm, creamy, and filling pot pie for dinner any night of the week.  Full Recipe:  Easy Chicken Pot Pie.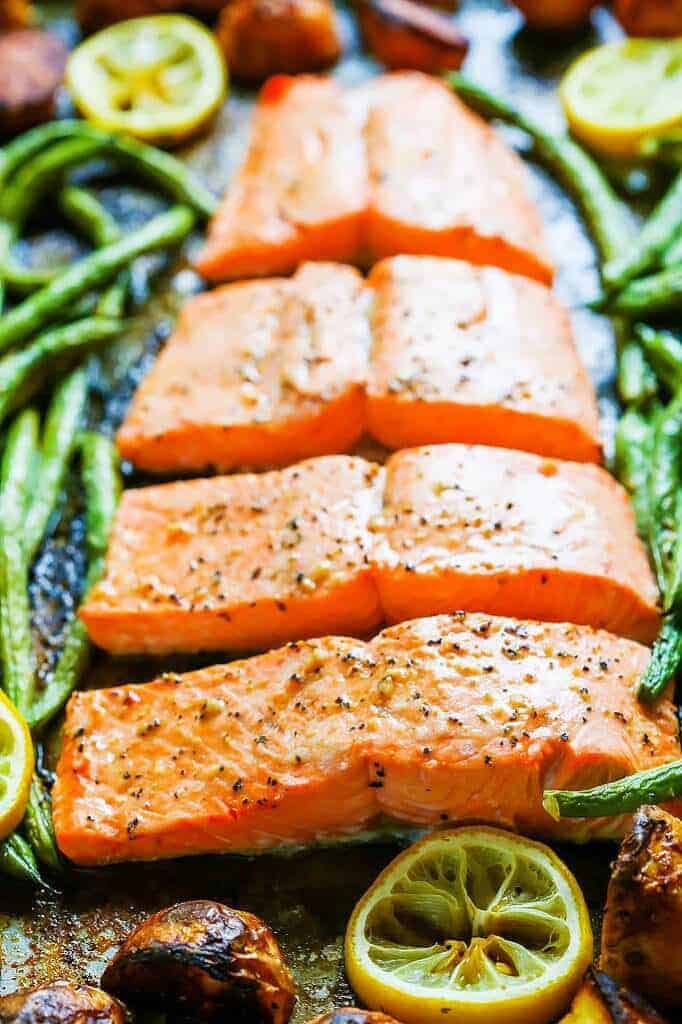 If you're craving salmon, this complete one sheet pan seafood dinner is a total winner!  Only five ingredients make up this salmon supper served along baby potatoes and green beans.  Full Recipe:  5-Ingredient Sheet Pan Salmon.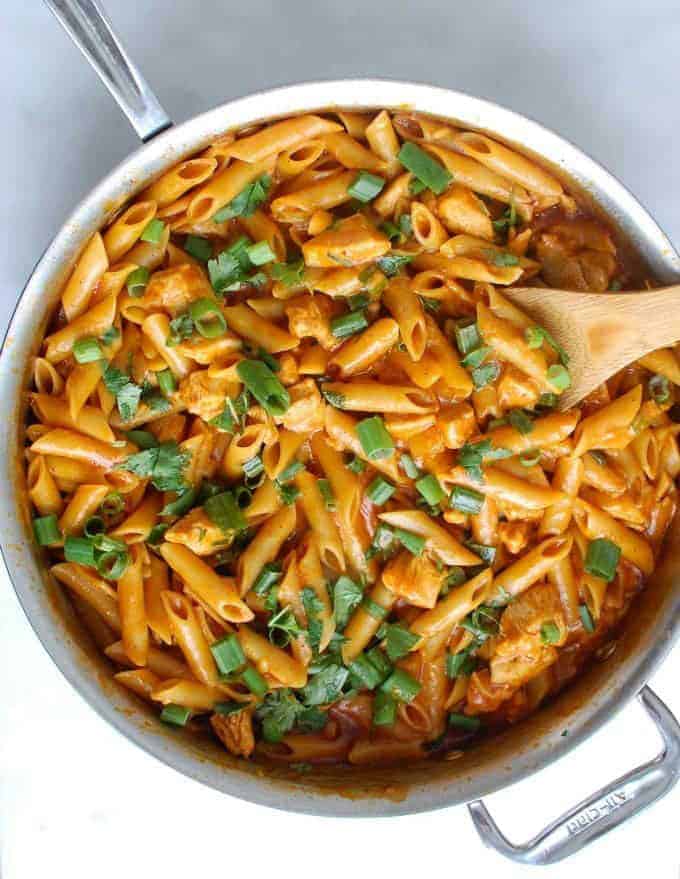 This easy one pot meal combines the best of both worlds, pasta and Mexican flavor!  A pot full of noodles with chicken, enchilada sauce, and cheese!  Full Recipe:  One Pot Chicken Enchilada Pasta.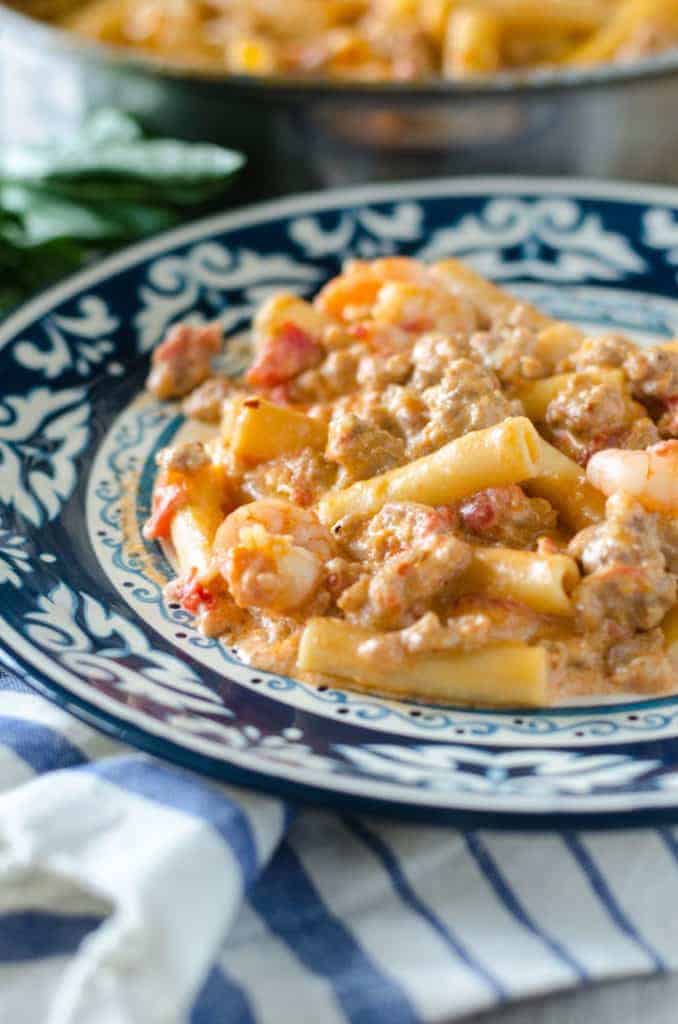 An amazing one pot pasta with shrimp, sausage, and a vodka sauce that's made in less than 30 minutes!  It is possible to have a delicious and flavorful pasta dinner with only one pan to clean.  Full Recipe:  One Pot Pasta With Shrimp, Sausage and Vodka Sauce.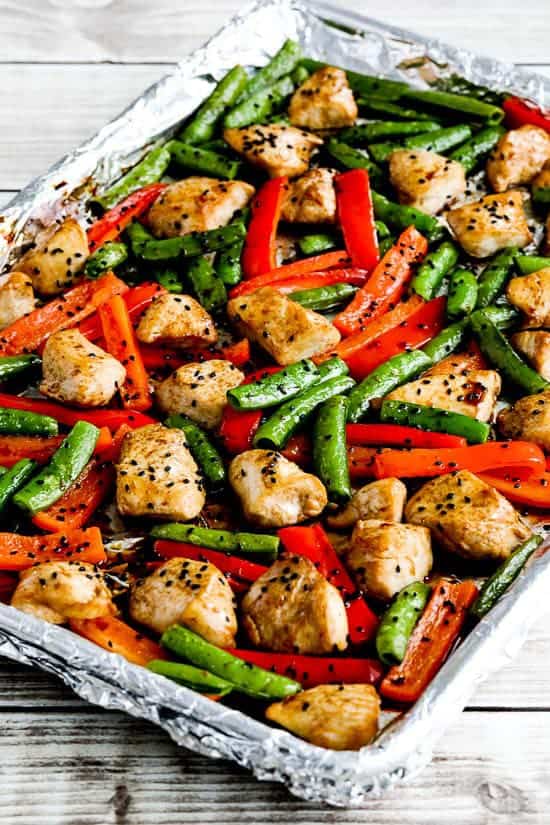 If you love stir-fry, this one sheet pan meal is the dinner for you!  This stir-fry is also low carb, dairy free, and can be made gluten free to suit everyone's dietary needs. Full Recipe:  Low Carb Chicken Stir Fry Sheet Pan Meal.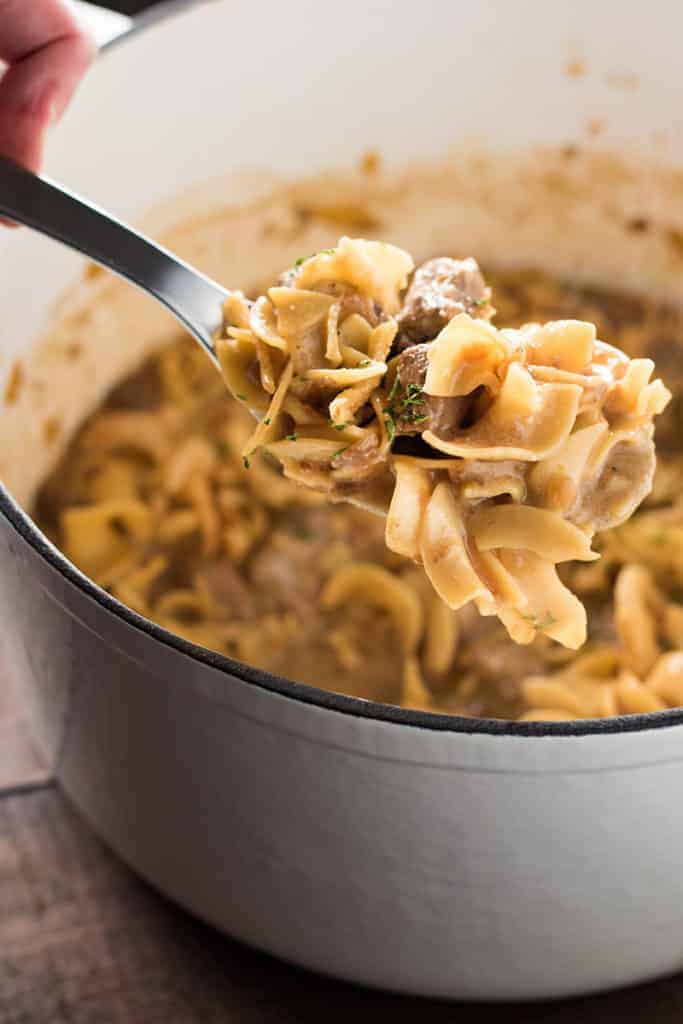 Creamy French Onion Beef and Noodles is an upgraded comfort food classic!  A super cozy beef and noodle dinner that's packed full of French onion flavor!  Full Recipe:  Creamy French Onion Beef and Noodles.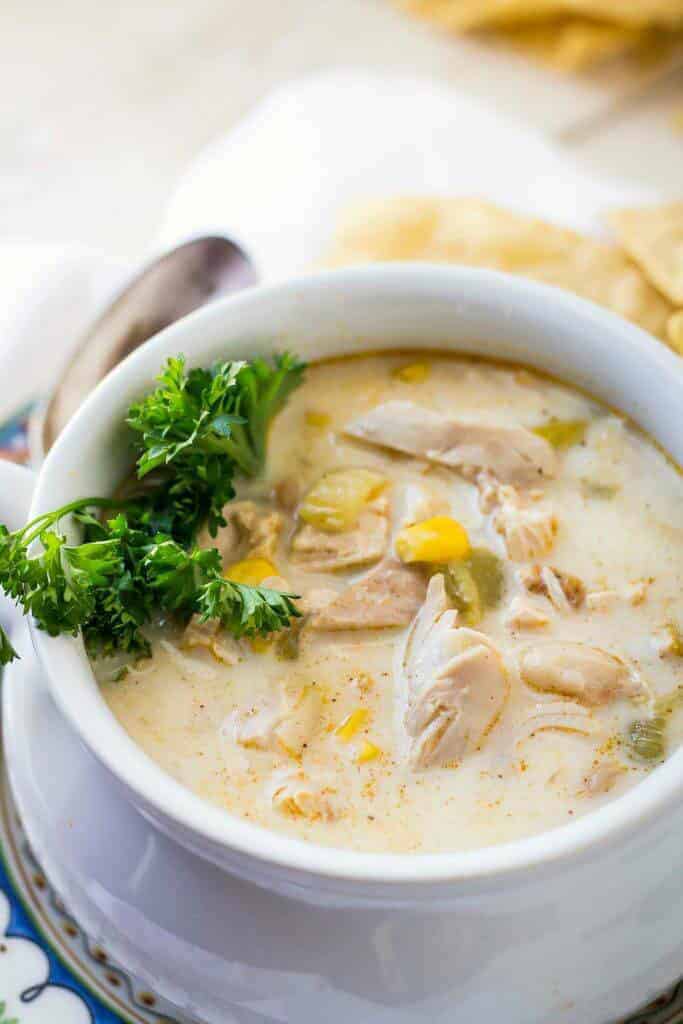 The use of rotisserie chicken makes this White Chicken Chili easy for a weeknight!  A creamy, delightful soup that's perfect for chilly winter nights.  Full Recipe:  White Chicken Chili.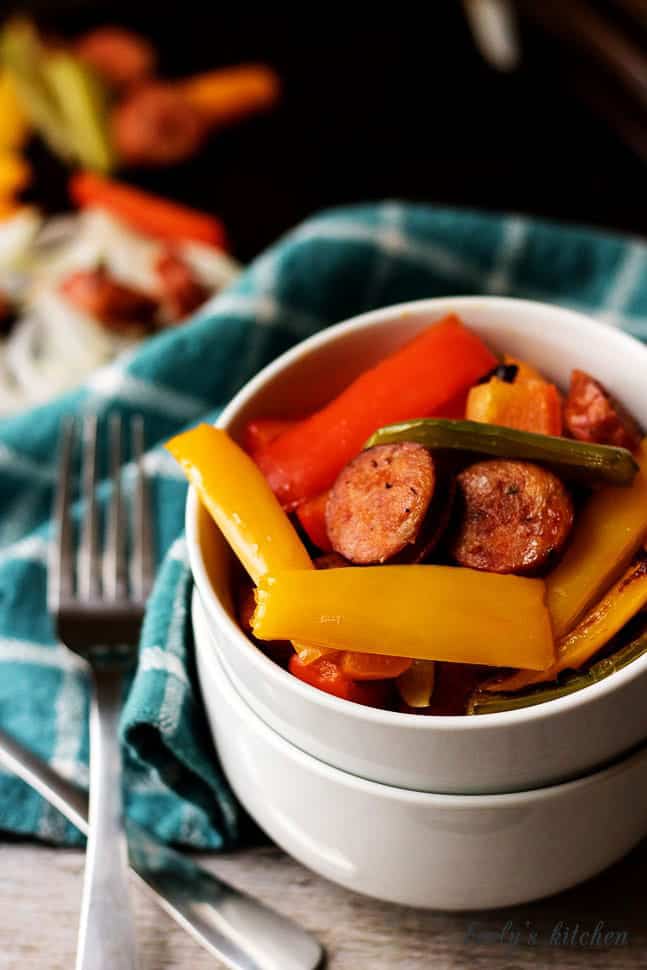 Sausage and peppers is always a family favorite!  Save time by making this spicy sausage, peppers, and onions that comes together using only one sheet pan.  Full Recipe:  Time Saving Sheet Pan Sausage and Peppers.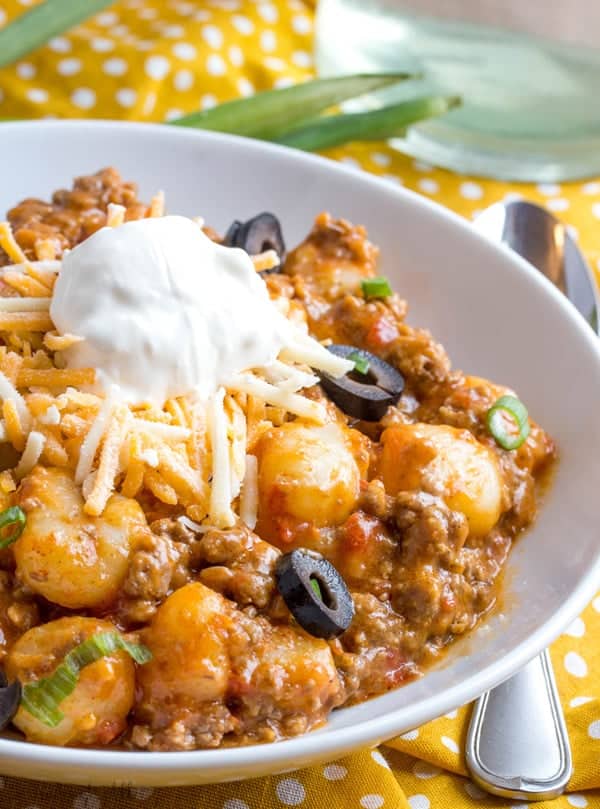 This One Pot Taco Gnocchi is a fun twist on classic tacos, and a great way to spice up a bowl of gnocchi!  Be sure to get this on the menu for your next taco Tuesday.  Full Recipe:  One Pot Taco Gnocchi.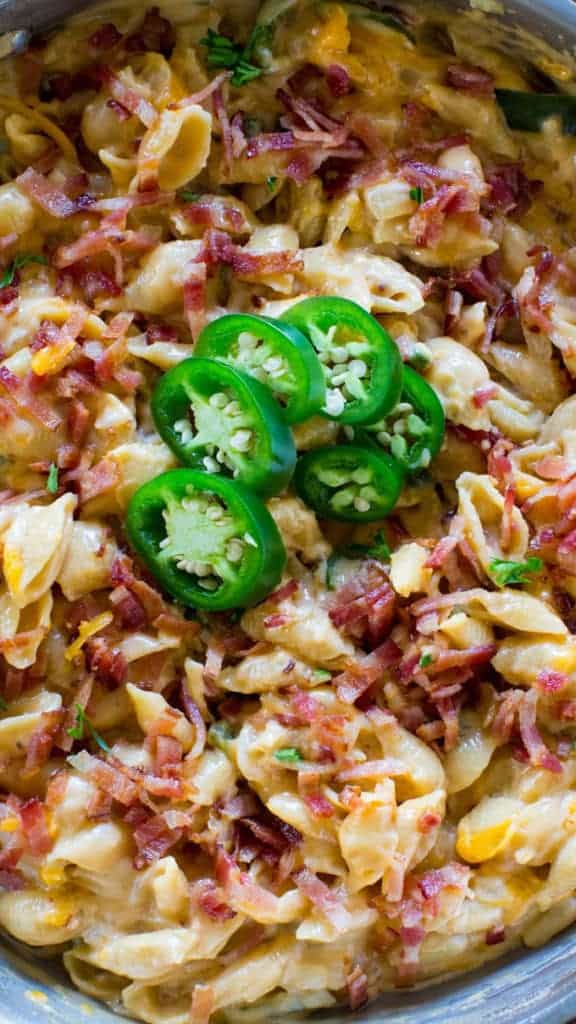 Spice up your weekly dinner with a one pot Jalapeno Popper Pasta!  Noodles combined with jalapeno, bacon, cream cheese, and cheddar make a super tasty comfort food meal.  Full Recipe: One Pan Jalapeno Popper Pasta.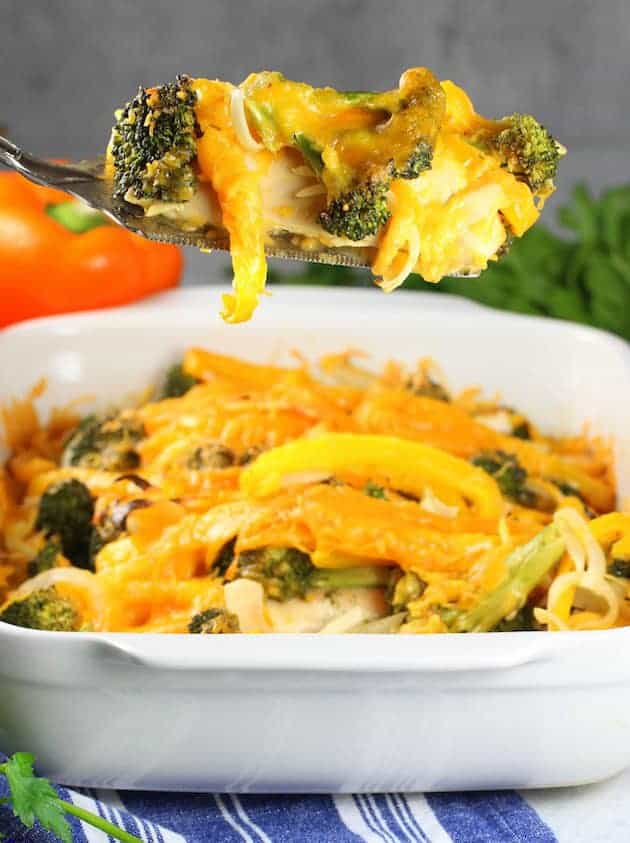 Ranch Chicken Broccoli Casserole is full of chicken, veggies, and so much flavor!  A seven ingredient, low-carb dinner that the whole family will love!  Full Recipe:  Ranch Chicken Broccoli Casserole.
This Zucchini Beef Skillet is fast to make and great served over rice or even on it's own for a fantastic Paleo friendly supper!  Full Recipe:  Zucchini Beef Skillet.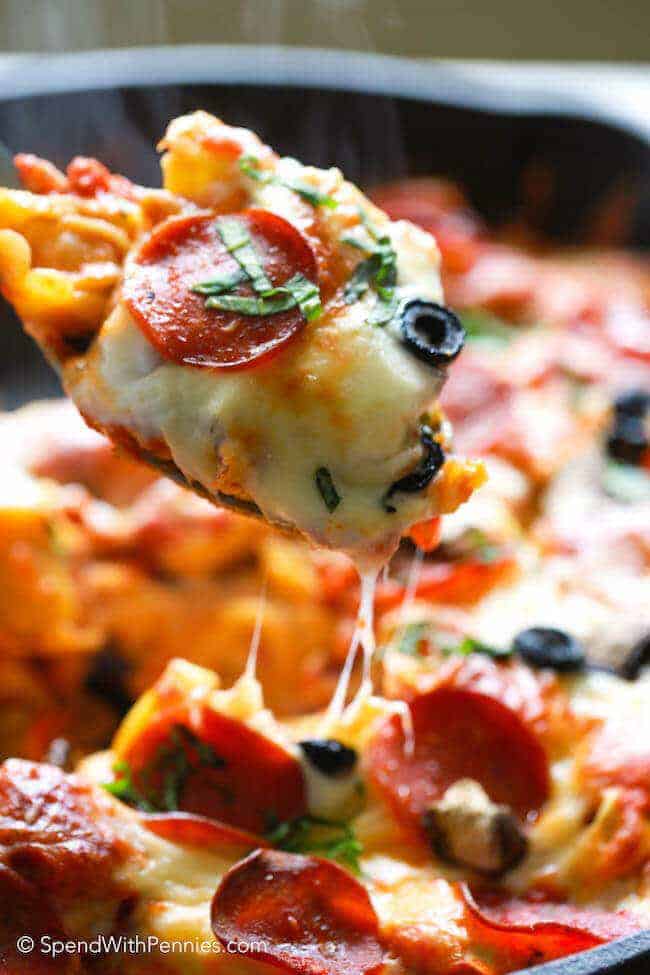 If you're craving pizza and don't want to order take out, this One Pot Pizza Tortellini is just what you need!  This pizza pasta is customizeable with you family's favorite toppings!  Full Recipe:  One Pot Pizza Tortellini.
Chili mac is always a family favorite!  This one is homemade, fast, and has two special secret ingredients making it the best chili mac skillet you'll ever have.  Full Recipe:  Homemade Cheesy Chili Mac Skillet.
This creamy, dreamy lemon chicken one pot pasta is not only fast, it's loaded with flavors of lemon, basil, peas, and garlic!  Chicken alfredo with a kick of spring deliciousness!  Full Recipe:  One Pot Creamy Lemon Chicken Pasta with Basil and Peas. 
This sheet pan Chicken Shawarma is a middle eastern classic, and street food favorite!  You can easily create it right at home using only one pan!  Full Recipe:  Sheet Pan Chicken Shawarma and Vegetables.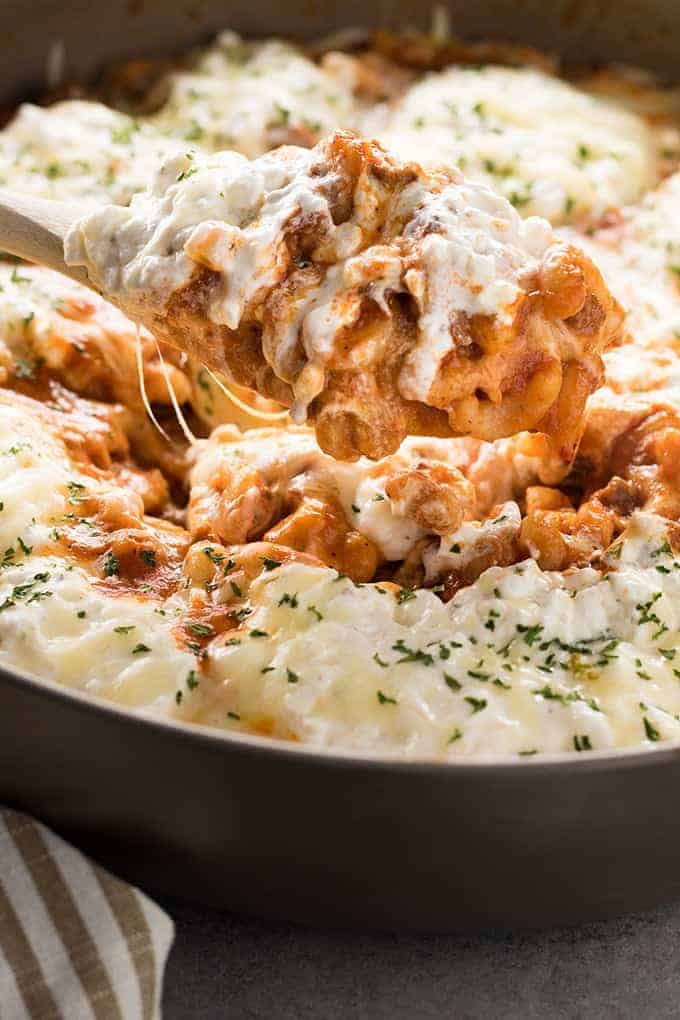 This one pot lasagna is a total time saver!  When your pasta cravings hit, this cheesy, macaroni lasagna skillet is just what the doctor ordered.  Full Recipe:  One Pot Macaroni Lasagna.
This colorful baked chicken dinner combines the delicious flavors of pesto with two full servings of veggies!  An unforgettable and healthy meal.  Full Recipe:  Pesto Chicken Bake.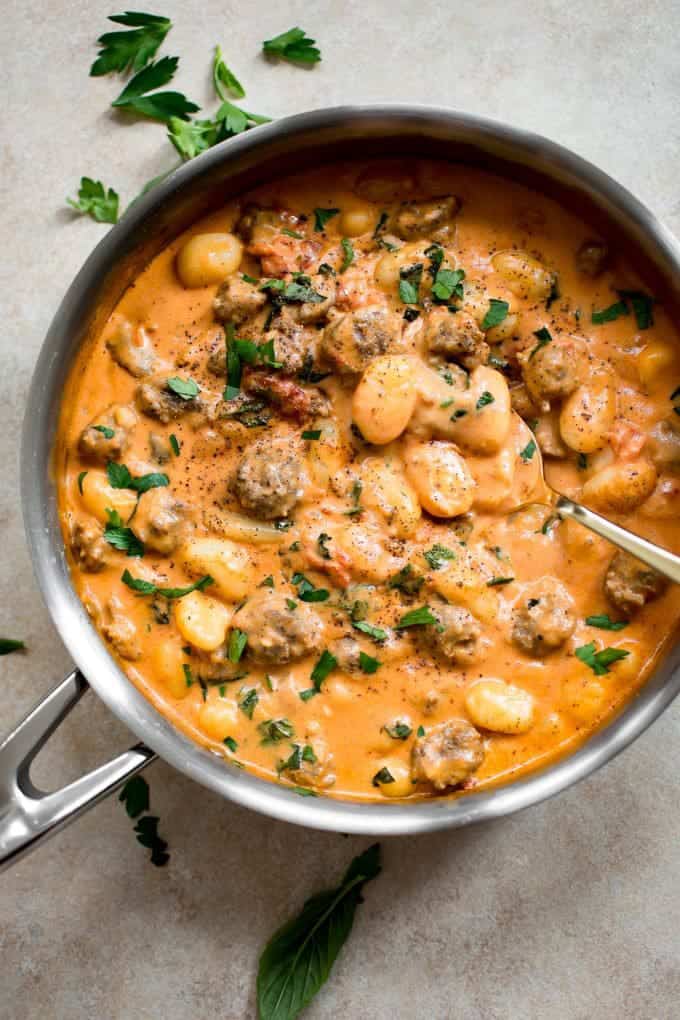 Gnocchi makes for the ultimate comfort food meal when it's combined with Italian sausage in a creamy, garlicky, tomato sauce!  Full Recipe:  One Pan Creamy Gnocchi with Sausage. 
This creamy, cheesy, comfort food soup is absolutely amazing on a cold day!  Serve it up in a bread bowl with bacon and chives for the perfect meal!  Full Recipe:  Beer Cheese Soup.
Bulgur wheat has a delicious, warm and nutty flavor!  It's super easy to prepare right into this delicious sausage and veggie dish in only 20 minutes.  Full Recipe:  One Pan Sausage Bulgur Wheat Recipe.
Rich cream cheese combines with the smoky flavors of roasted red peppers in this one pot pasta!  You'll love that this crazy good sauce is ready in 20 minutes.  Full Recipe:  Cheesy Roasted Red Pepper Pasta.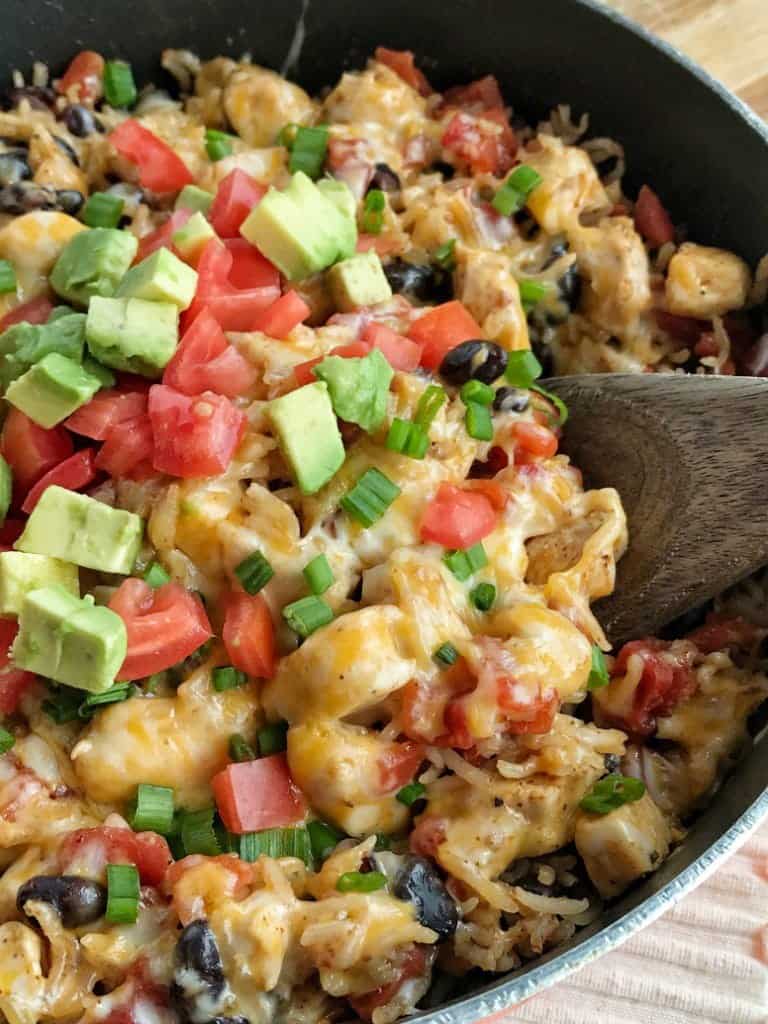 The easiest skillet dinner to satisfy your burrito cravings!  Tender chicken cooks up with rice, beans, cheese and seasonings for a crowd pleasing 30 minute dish.  Full Recipe:  Chicken Burrito Skillet.
It doesn't get much better than a combination of spicy Sriracha with cool and creamy ranch!  Your spice loving family will adore this one pot pasta.  Full Recipe:  Sriracha Ranch One Pot Pasta.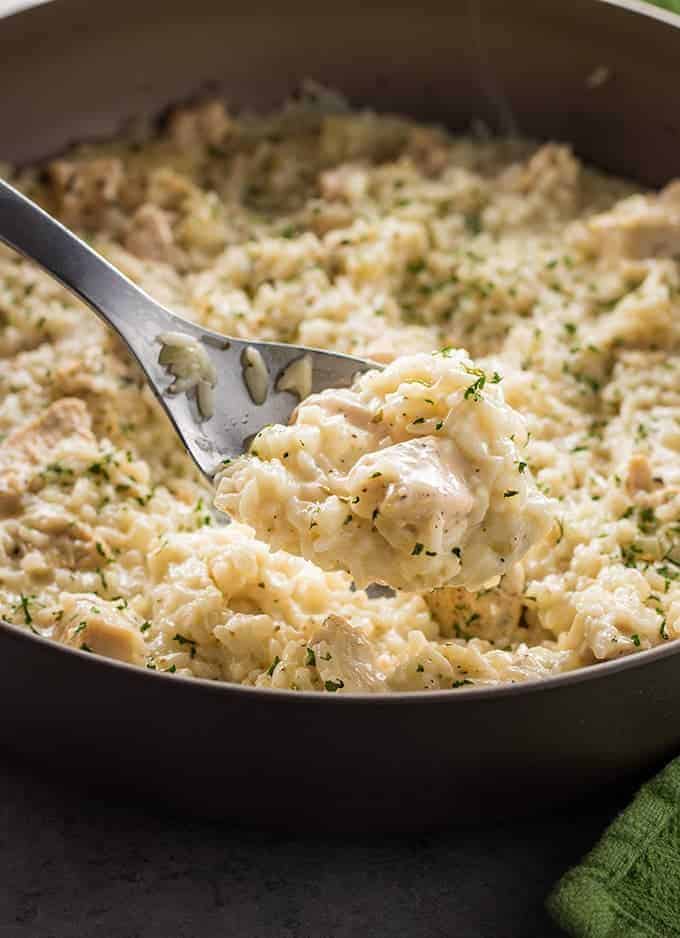 Chicken and rice made from scratch in 30 minutes or less!  This is the ultimate creamy chicken and rice skillet loaded with garlic and parmesan flavor.  Full Recipe:  Creamy Parmesan One Pot Chicken and Rice. 
Enjoy!
~Nichole