White Sangria Recipe is the perfect, super refreshing cocktail for spring and summer!  This drink is made using your favorite white wine, fruits, and so easy to make!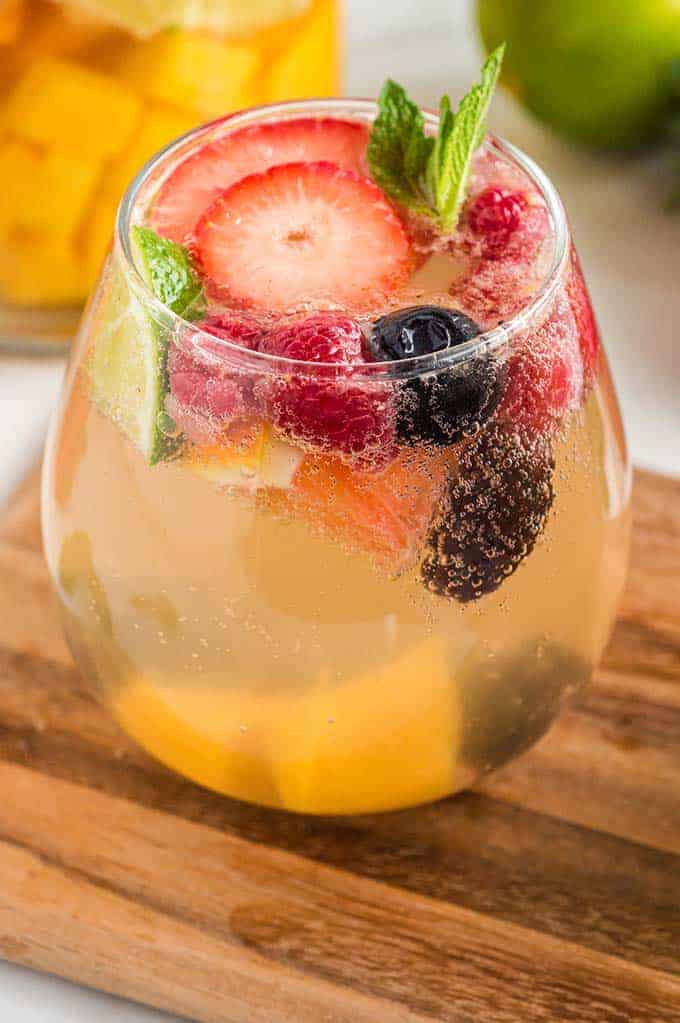 White Sangria Recipe:
White wine sangria is my go-to summer drink!  I start craving it as soon as the weather gets even a little bit warm outside!  It is so light and refreshing with the perfect amount of smooth fruitiness!  You can really easily change this recipe up to use vodka, peach schnapps, or even no liquor at all!  You can also use whatever your personal favorite wine is depending on how sweet or dry you like your drinks. For fruit I tend to use a combo of berries, orange, strawberries, mango, and a sliced lime to perk things up!  We like to use a simple Pinto Grigio here because they tend to have a slightly sweet (but not overly sweet) natural fruit taste to them. Other great options are a Chardonnay because they also have nice neutral flavor and are a bit drier.  Or, if you like a sweeter drink I'd recommend a good Moscato!  If you are obsessed with Sangria like me, try out our Dragonfruit Sangria and our Chai Spiced Fall Sangria too!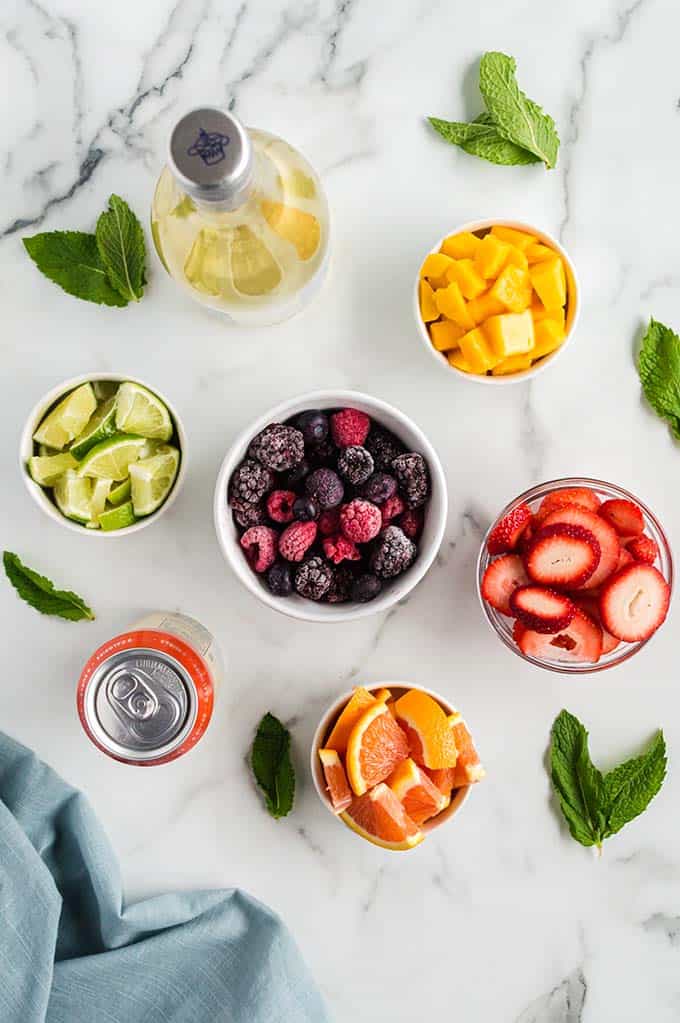 White Wine Sangria Recipe Notes:
Sangria is great for making ahead of time!  It can sit in the refrigerator for 1-2 days in advance of serving.  I do suggest that if you want to make it ahead that you remove the rinds from the limes and oranges.   If the rinds are left in for too long it can make your sangria bitter.  Also, be sure to leave the sparkling water out until just before serving.
Feel free to substitute your favorite wine. Some that work well are Moscato, Chardonnay, and Riesling. Keep in mind the sweetness or dryness of the wine you choose and how it will affect the taste.
Sangria is such a versatile drink that you can easily customize to suit your tastes. Feel free to leave out any of the suggested fruits or add in any of your favorites. I find that with sangria pretty much anything goes! If you like the taste of the fruit as is you'll probably like it in the sangria!
I do not recommend using ice in this recipe since it will water down the drink as it melts. The frozen berries act to keep the sangria cool while avoiding the watered down taste and giving it extra flavor. You can leave the frozen berries out entirely if you prefer.
Any flavor of sparkling water works great here!   We love lemon-lime, peach, berry,  or grapefruit personally.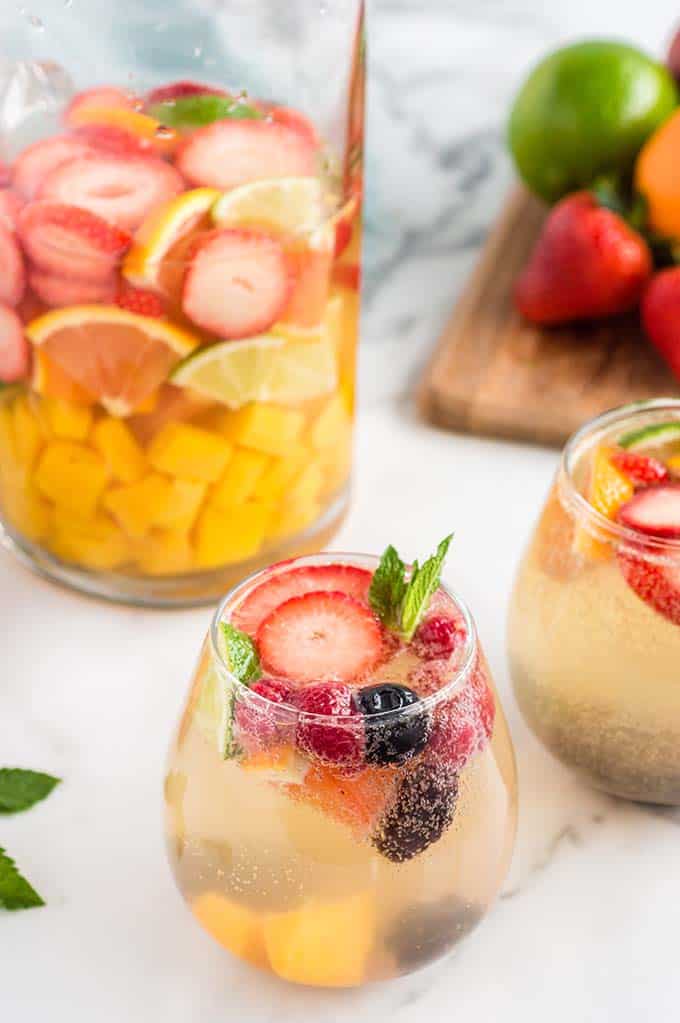 Enjoy!
~Nichole
White Sangria Recipe
White Sangria Recipe is the perfect, super refreshing cocktail for spring and summer!  This drink is made using your favorite white wine, fruits, and so easy to make!
Ingredients
1

Large Lime

sliced into wedges

1

Large. Orange

sliced into wedges

1

Cup

Sliced Strawberries

1

Cup

Diced Mango

1

750 mL Bottle White Wine, Chilled

Frozen Mixed Berries

I used a mix of raspberries, blueberries, and blackberries

Flavored or Plain Sparkling Water

Chilled

Fresh mint sprigs for garnish

Optional
Instructions
Add the lime, orange, strawberries, and mango to a large pitcher.

Pour in the Pinot Grigio and stir gently to combine.

To serve, add a handful of frozen berries to a glass. Fill ¾ full with sangria and top with sparkling

water. Skip the sparkling water if you prefer a flat sangria. Garnish with a sprig of mint if desired.
Notes
NOTE ON FRUITS:  Feel free to use a combination of your favorite fruits here and leave out any you don't like.  Peach/nectarine are a good substitute for mango! NOTE ON STORAGE:  This sangria can be made ahead and stored in the fridge for 1-2 days before serving!  If making ahead, remove any of the citrus rind before storing so the sangria doesn't become bitter. NOTE ON LIQUOR:   If you like a stronger sangria,  add in 1/2-1 Cup of Vodka or Peach Liquor such  as schnapps or brandy.
Like this? Rate & review this recipe below!