White Chocolate Chip Cookies are soft, chewy, and packed full of white chocolate chips!  These easy to make cookies are sure to become a family favorite!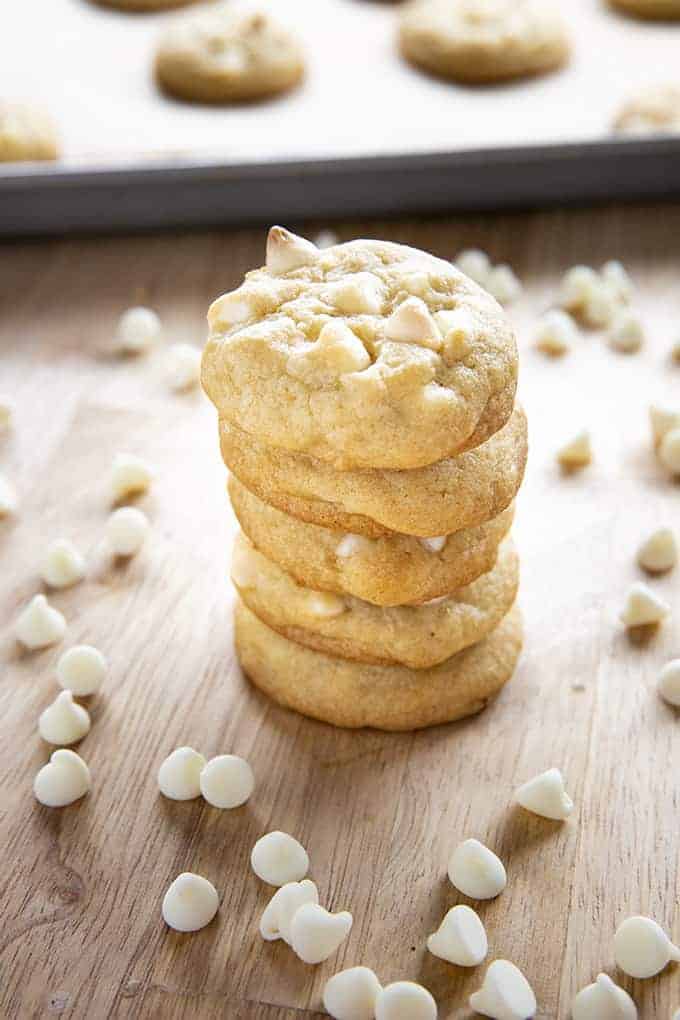 Those of you that absolutely love my Butterscotch Chip Cookies will be happy to know that this recipe for White Chocolate Chip Cookies uses the same basic, easy, and super delicious dough!  Cookies are my all time favorite thing to bake.  All you need is a really good tried and tested dough that produces a buttery, soft, and chewy cookie.  Then, you can add in any of your favorite candies!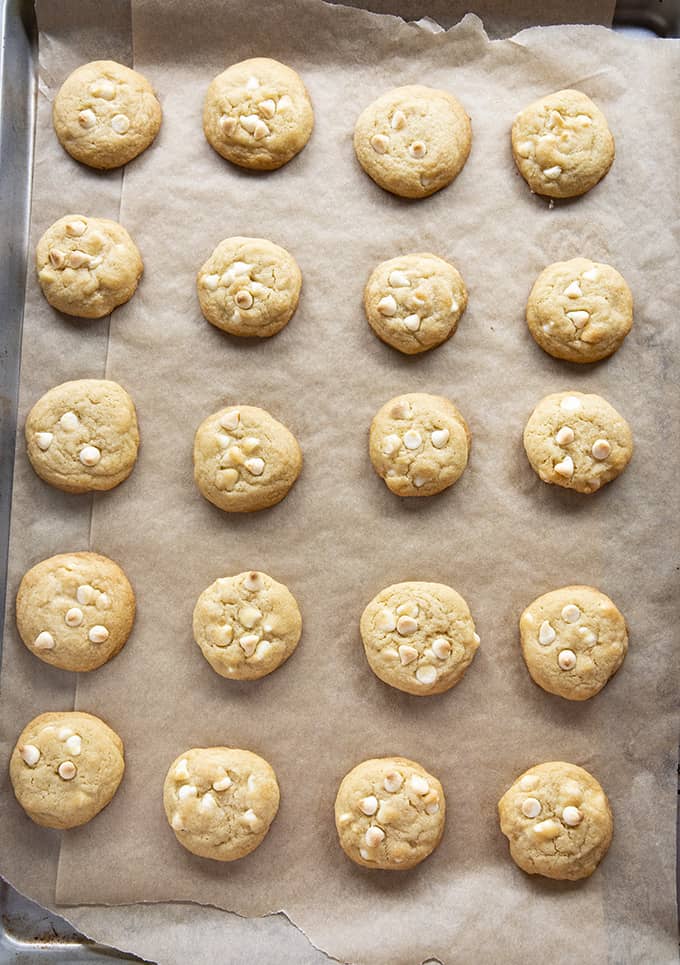 How to Make White Chocolate Chip Cookies:
To start, it is always best to make sure that your eggs and butter are at room temperature if possible.  You must use softened butter for this recipe.
You can use a stand mixer with the paddle attachment, or a large bowl and a hand mixer to cream together both of the sugars with the butter.  This part will take 2-3 minutes.  You will be able to see when the butter and sugar become a light and fluffy mixture instead of small, coarse, granules.
Once your butter and sugars are well mixed, add in both eggs and the vanilla and mix for 1-2 more minutes on medium speed until all of the egg is well incorporated.
In a medium sized bowl whisk together all of your dry ingredients.
Mix the dry ingredients into the wet ingredients in 3 batches.  This really helps so that flour doesn't go flying all over the place!
Next, stir in your white chocolate chips.
The next step is chilling your dough!  Plan ahead, because chilling really is necessary so that these cookies don't flatten out too much.  Minimum chill time is 30 minutes.  You can place this dough in a large zip-top bag and refrigerate for up to 5 days, then bake later.
Drop the dough with a cookie scoop or by heaping Tablespoons onto a large cookie sheet prepared with non-stick spray, or parchment paper.
No need to press down on these cookies before baking!
Once they come out of the oven, allow them to cool on the baking sheet for 3-5 minutes then remove to a wire rack or serving plate to cool.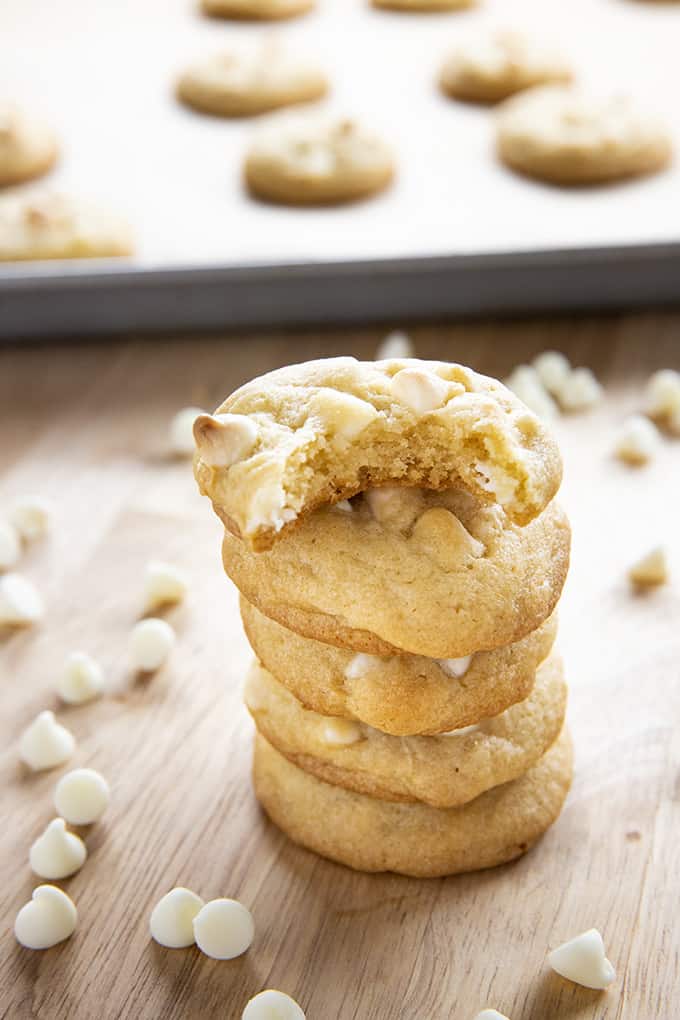 Enjoy!
~Nichole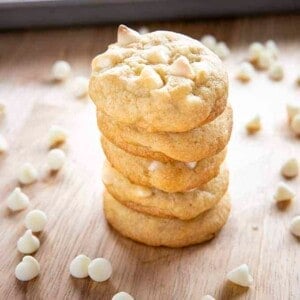 White Chocolate Chip Cookies
White Chocolate Chip Cookies are soft, chewy, and packed full of white chocolate chips! These easy to make cookies are sure to become a family favorite!
Print
Pin
Rate
Instructions
In a large bowl using hand mixer or bowl of stand mixer, cream together the butter, both sugars, and vanilla extract for 2 minutes on medium speed until well mixed and fluffy. Add eggs and mix until well combined.

In a medium bowl, whisk together the flour, baking soda, baking powder, salt, and cinnamon. With mixer running on low speed add the dry ingredients to the wet ingredients and beat until just incorporated. Fold in the white chocolate chips.

Cover bowl with plastic wrap and refrigerate the dough for 30-45 minutes.

Preheat the oven to 350 degrees. Line a large baking sheet with parchment paper or spray with nonstick cooking spray.

Scoop one heaping Tablespoon of dough at a time into a ball and place on the prepared pan about 1 - 1 ½ inches apart. Bake cookies in preheated oven for 10-12 minutes, until slightly golden around the edges.

Allow cookies to cool for 5 minutes before removing from pan.