Cinnamon Roll Cookies are perfectly spiced, soft and chewy!  These beautiful cookies feature layers of cinnamon, sugar butter and a melt in your mouth sugar cookie base!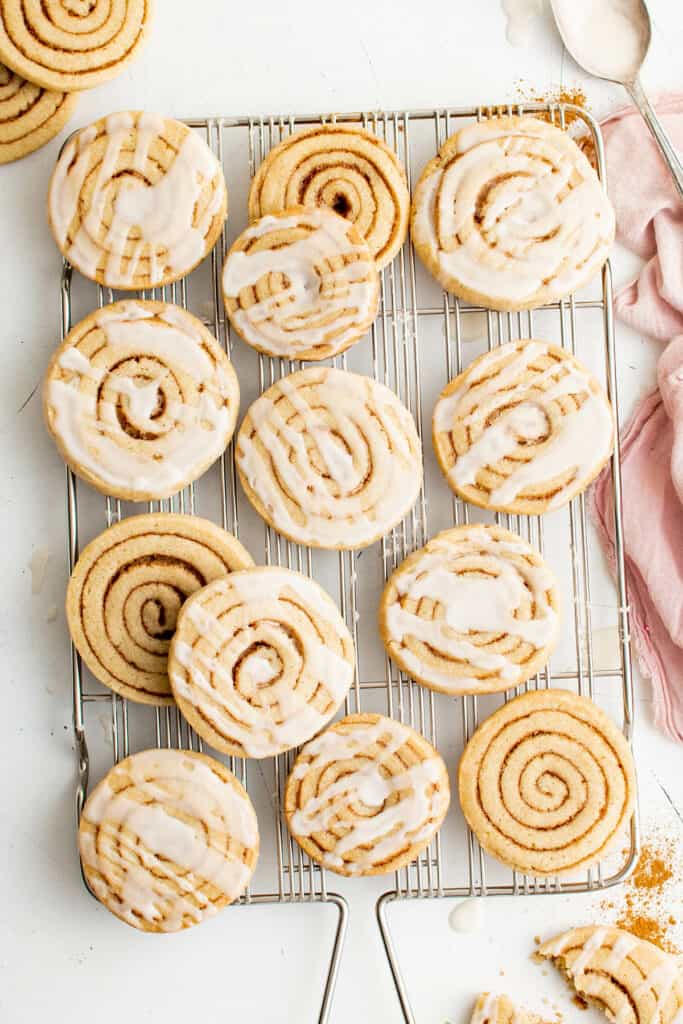 Let's take classic homemade Cinnamon Rolls and make them into an irresistible batch of cookies!  These cookies are completely yeast free, and the do require a little more effort than a drop cookie but are still pretty easy.  They are truly a lot of fun to make and they look absolutely gorgeous on a holiday cookie tray!  They're a soft and chewy cookie with all the cinnamon roll flavor, right down to the icing! I'll give you a step by step photo collage below so you have a guide for whipping these up with ease.
How to Make Cinnamon Roll Cookies:
The first thing I do is make the filling.  Stir together you soft butter, cinnamon and brown sugar and set aside.  That way it's ready to go as soon as you have your dough rolled out.
Now, beat together your wet filling ingredients.  Butter gets whipped first, then the sugars, then the egg, milk and vanilla until you have a nice smooth cookie dough.
The dry ingredients go right in and we just use flour, salt and baking soda and mix just until the dough comes together and no dry streaks remain.
Now, lightly flour either a clean countertop or cutting board and place your dough on the floured surface.
Go ahead and use your hands to shape the dough as best as you can into an even rectangle like you see below.  This makes rolling easier.
Roll the dough out with a rolling pin into a rectangle about 12×16 inches.  This doesn't have to be perfect but should be as close as possible and you want the dough to be even thickness.
Now, spread on the filling that you prepared at the beginning. You can spread it all the way to the edges.  Next, start to tightly roll up the dough starting from one of the shorter ends.
Lay out a large piece of plastic wrap and place your dough on top.  Tightly wrap the dough up and at this point you will chill for a minimum of 4 hours or up to overnight.
After chilling remove from the plastic wrap and slice the dough evenly into 1/'4 inch slices and then bake!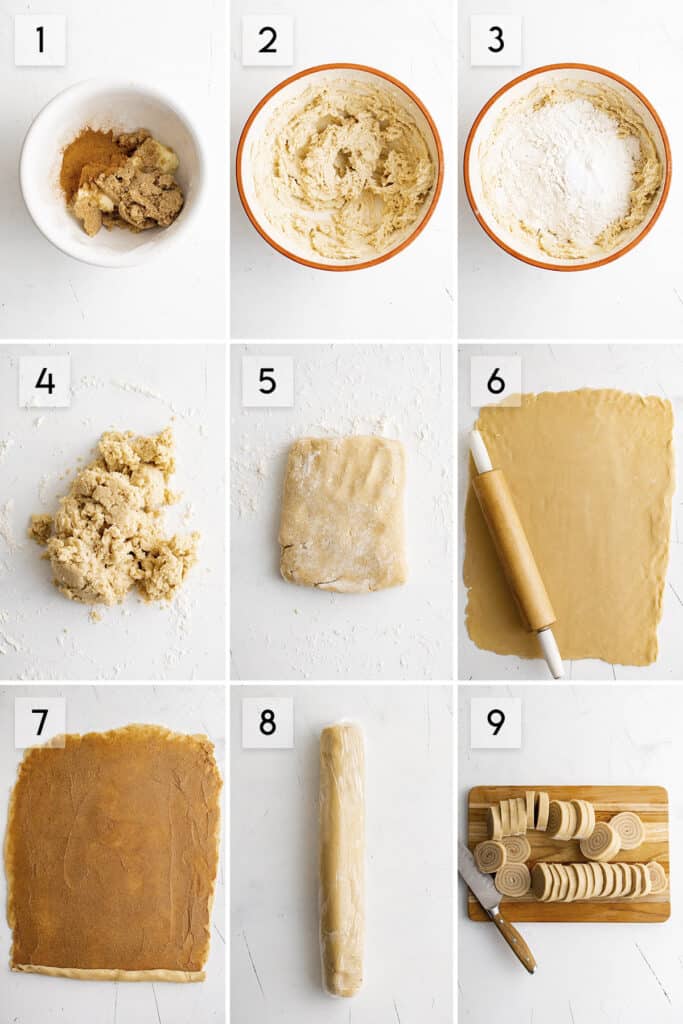 Recipe Notes and Tips for Cinnamon Roll Cookies:
Chilling the dough is an absolute MUST for this recipe!   Please do not try to skip this step.  The dough will be too soft and spread too much. You can chill for as little as 4 hours or up to 12.
Note that when you are rolling your cookie dough up into a log the dough might crack slightly.  This is ok, just gently press the dough up with your fingers and keep rolling slowly and gently.
This recipe has a very simple icing of powdered sugar, milk, and vanilla extract.  You can play around with different extract flavors such as almond or orange if you like those too.
If you don't plan to serve these right away, leave the icing off until serving time.  The cookies will last up to 5 days in an airtight container without the icing.  Once iced, it's best to eat the same day if possible.
If you want to freeze this dough for later you can!  Once you have your cookie dough rolled into a log simply wrap in a double layer of plastic wrap. Then, you can freeze for up to 3 months.  Allow the dough to defrost in the refrigerator before slicing and baking.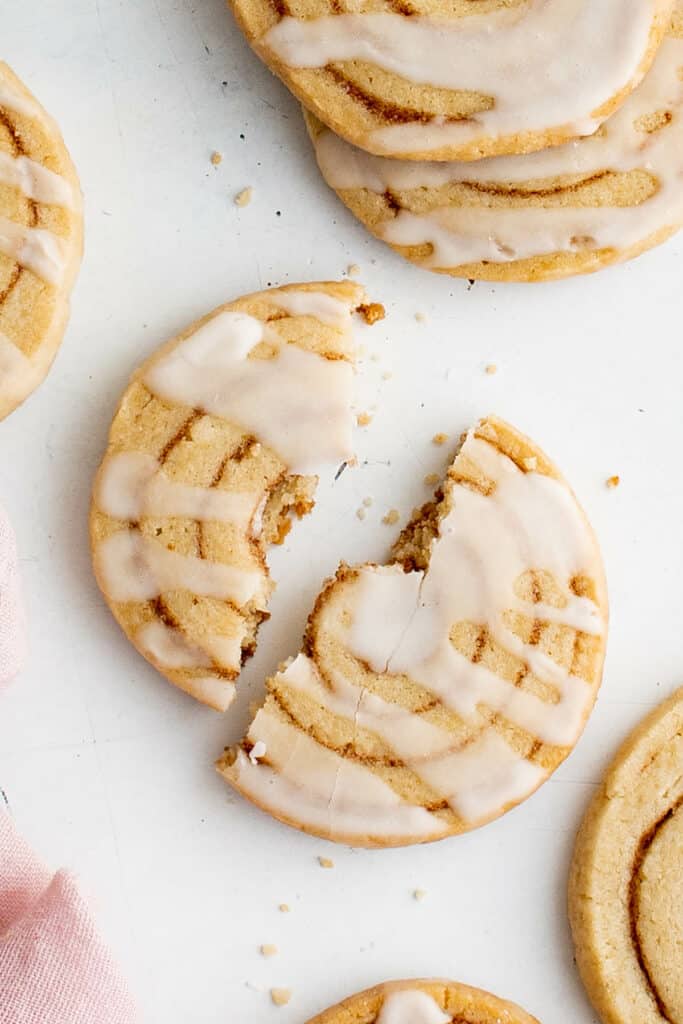 Enjoy!
~Nichole
Cinnamon Roll Cookies
Cinnamon Roll Cookies are perfectly spiced, soft and chewy!  These beautiful cookies feature layers of cinnamon, sugar butter and a melt in your mouth sugar cookie base!
Ingredients
For the icing:
1

Cup

Powdered Sugar

2

Tablespoons

Milk

1/2

teaspoon

Vanilla Extract
Instructions
Stir the filling ingredients together in a small bowl and set aside.

Beat the butter in a large bowl until smooth then beat in the granulated and brown sugar until creamy.

Add the egg yolk, milk and vanilla and stir then fold in the flour, salt and baking soda just until combined.

Lightly flour a countertop or cutting board then turn the dough out on top and roll the dough out into a 12x16 inch rectangle.

Spread the cinnamon sugar butter on top then gently roll the dough up, starting at the thinner end. (The dough may start to crack but keep gently pressing it in and rolling.)

Lay a sheet of plastic wrap out then place the roll on top and wrap tightly then refrigerate for at least 4 hours or overnight.

Preheat the oven to 350 degrees Fahrenheit and line 2 12x16-inch baking pans with parchment paper.

Remove the dough from the fridge, unwrap the dough from the plastic and discard the plastic.

Place the roll on a cutting board and cut it into ¼-inch thick slices.

Place 9-12 of the cookies on the prepared pan then bake for 10-12 minutes or until the tops have dried out and the edges start to turn a light, golden color.

While one pan is baking, refrigerate the other dough so that they don't start to soften.

Repeat the baking process with the remaining cookies and let them cool on the pan for 10 minutes then transfer them to a cooling rack.

Whisk the icing ingredients together in a small bowl then drizzle it over the cookies and let the icing dry for 10 minutes before serving.
Notes
NOTE:  You must chill the dough for this recipe or the cookies will lose their shape!  Chill for anywhere from 4-12 hours.  Or, you can wrap the dough log up and freeze for three months, then defrost the dough in the fridge before slicing and baking.
Like this? Rate & review this recipe below!