Swedish Meatballs - The most amazing, tender and juicy Swedish meatballs made easy at home!  These meatballs have the most mouthwatering creamy and flavor packed sauce!
What is so special about Swedish meatballs?
This meatball recipe has been a comfort food classic for years!  They are so special because of the mixture of pork, beef, and the amazing warming spices like nutmeg and allspice.  They have a unique savory and rich flavor!  Ikea of course made these meatballs very popular, but they are incredibly simple to make at home too.  Using a mixture of pork and beef makes for a really flavorful and savory meatball that comes out incredibly tender and soft.  Fresh diced onion is a must here as well!  Spices like fresh garlic, allspice, and nutmeg are not to be missed and give these their classic flavor.  I love our classic Meatballs and Gravy which have a brown gravy, but this is my go-to for something creamy!
Swedish Meatballs Gravy:
The gravy here is so creamy, silky, and rich!  It's perfect for coating the delicate meatballs and ladling over potatoes, rice, or pasta!  The gravy/sauce just starts out with a simple roux of butter and all purpose flour.  Then we use beef broth instead of something like chicken or vegetable broth for the ultimate savory flavor!  Next, in goes sour cream, and salt and pepper.  That's it!  A really simple sauce but the mixture of beef broth and sour cream is what gives it an unforgettable taste!
Swedish Meatballs Recipe Notes and Tips:
This recipe calls for half beef and half pork.  Try not to substitute if you don't have to!  This mixture gives the best flavors all around!  I use a full pound of  each meat which makes quite a lot of meatballs!  You can always freeze some if you want to halve the recipe.
Don't skip the step of browning your meatballs.  When you brown them you just want a nice golden color on all sides which you can see in my photo above.  They won't be cooked all the way through yet, they'll finish cooking in the sauce.  Browning is an important step to getting the flavor you want.
Make sure to use the Allspice and nutmeg!  This is what really lends in giving these a unique flavor and making them stand out from other meatballs.  Both of these seasonings are easy to find.
As far as the sour cream goes, I like to use full fat here.  You can use "light" if that's what you have just keep in mind it is more likely to curdle.  If you are worried about curdling, you can allow your sour cream to come to room temp, covered before whisking into the gravy.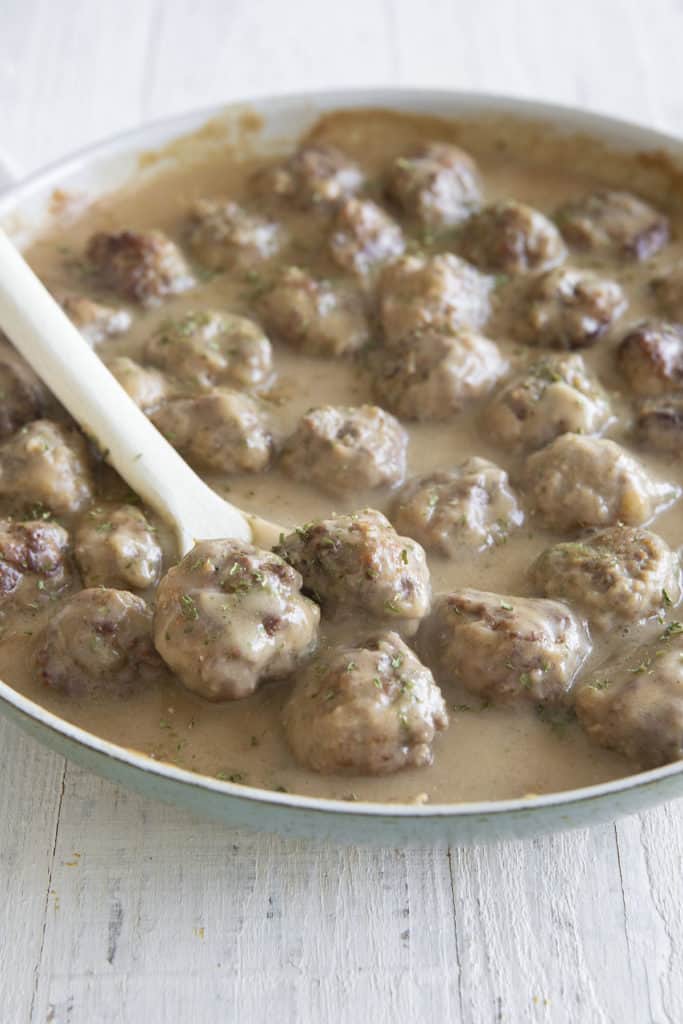 Enjoy!
~Nichole
Swedish Meatballs
Swedish Meatballs - The most amazing, tender and juicy Swedish meatballs made easy at home!  These meatballs have the most mouthwatering creamy and flavor packed sauce!
Print
Pin
Rate
Ingredients
FOR THE MEATBALLS:

1

Pound

Ground Beef

1

Pound

Ground Pork

1

Cup

Panko Breadcrumbs

2

Large Eggs

¼

Cup

Very Finely Minced Onion

3

Cloves

Garlic

Finely Minced

1

teaspoon

Salt

½

teaspoon

Pepper

¼

teaspoon

Allspice

¼

teaspoon

Nutmeg

2

Tablespoons

Butter

FOR THE GRAVY:

4

Tablespoons

Butter

¼

Cup

All Purpose Flour

3

Cups

Beef Broth

½

Cup

Sour Cream

Salt & Pepper

to taste
Instructions
FOR THE MEATBALLS:

In a large bowl combine the beef, pork, panko, eggs, minced onion, garlic, salt, pepper, allspice and nutmeg. Mix together with a large wooden spoon or clean hands until well combined.

Use your hands (or a heaping Tablespoon measure) to roll the meat mixture into meatballs placing them on a large cutting board or sheet pan.

In a large skillet, heat the butter over medium-high heat. Add half of the meatballs and cook, turning once or twice for 3-4 minutes until browned. Remove the browned meatballs from the pan to a clean plate and repeat with remaining meatballs.

FOR THE GRAVY:

Add the butter to the hot skillet to melt and reduce heat to medium.

Once melted, whisk in the flour and cook, stirring constantly for one minute.

Whisk in the beef broth and cook for 1-2 minutes, then whisk in the sour cream.

Add the meatballs to the gravy and cook, stirring occasionally for 8-10 minutes until cooked through.
Nutrition
Sodium:
1137
mg
|
Calcium:
88
mg
|
Vitamin C:
1
mg
|
Vitamin A:
555
IU
|
Sugar:
1
g
|
Fiber:
1
g
|
Potassium:
571
mg
|
Cholesterol:
203
mg
|
Calories:
619
kcal
|
Trans Fat:
1
g
|
Monounsaturated Fat:
18
g
|
Polyunsaturated Fat:
3
g
|
Saturated Fat:
22
g
|
Fat:
49
g
|
Protein:
31
g
|
Carbohydrates:
13
g
|
Iron:
3
mg