These savory scones filled with bacon, two cheeses, and a hint of garlic are completely melt in your mouth delish!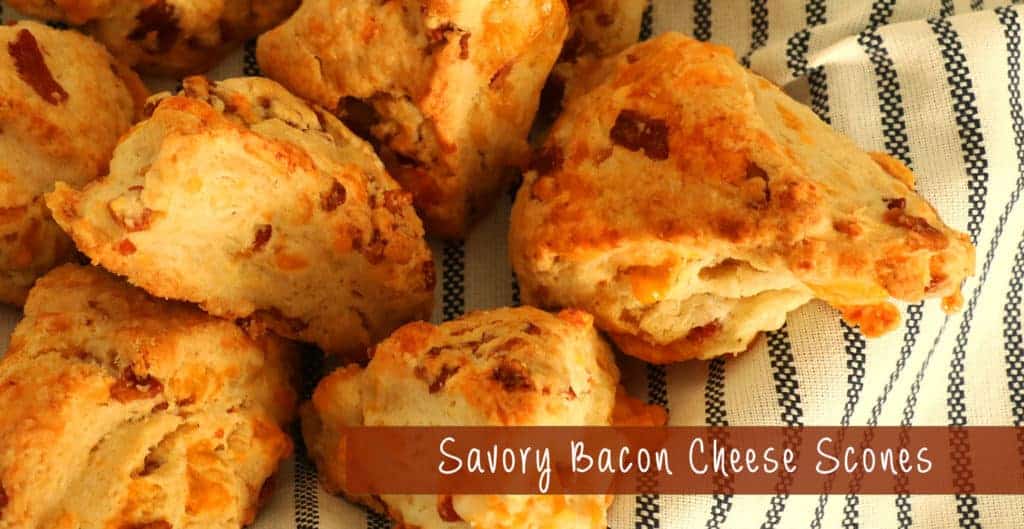 So, I wanted to make something really special for mom this Mother's Day. I have been racking my brain for weeks with ideas and none of them ever seemed right! I might be biased, but, my mom is the best, and she deserves the best treats! I think my problem was, Mother's Day is almost always associated with sweets. Well, let me tell you about my mom.....she has a very little tiny teeny weeny sweet tooth. Don't get me wrong, she tries every single sweet thing I bake up, and she raves about it, and loves it. That's what mom's do. Biggest supporters, cheerleaders, question answerers, life coach....the list goes on. Since my mom is my biggest supporter, I am going to be the biggest supporter of her "savory tooth" and give her a treat that she wants to really dig into and enjoy the entire darn box of!
Honestly though, whether your mama is a sweet or savory supporter, or somewhere in between, these scones are a great gift.  You can easily box them up, not worry about messing up frosting or any crazy things like that.  They would also be a delicious addition to your Mother's Day brunch, or any other day brunch menu.
Just a few notes on things here before we get started.  I think scones are intimidating for some people to make.  Don't be scared! These little babies are not difficult at all.  One important step is to use frozen butter, and let me tell ya why. When you work with frozen butter, it creates these amazing little pockets of steam when it melts in the oven.  Say hello to super tender flaky layers!  You can freeze even 30 minutes or so before baking.  Then, whip out the box grater, grate that butter into pretty little shreds.  Just watch your fingers at the end of the butter stick.....there are no boo-boo's involved in these scones!
Again, we're pretty basic here.  Whisk your dry ingredients together really well.  Incorporate the grated butter into the flour mixture using a pastry blender if you have one, a fork, or just your finger tips (which is what I did, because I think it's fun).  Your dough will be crumbly after you do this step.  Go ahead and use your fork to stir the cream in just until your dough comes together.  Then (time to use our hands again, trust me it's the easiest way) mix in your shredded cheeses and bacon.  Just squish (technical terms) the bacon and cheese in until incorporated.  The next important thing to grated butter, is to not over work this dough.
Now you've plopped your yummy bacon cheese dough onto your cutting board.  Slice it in half, and pat each half into a round.  You'll want your rounds to be about 7 inches by ¾ inch thick.  If you are a perfectionist, go ahead and measure your rounds, your secret is safe with me.
Cut your rounds into pretty little wedges....8 each to be exact.  Then onto the baking sheet.  Make sure you brush a little cream over the top of each wedge.  If you don't it's fine.  If you do, it makes them all golden brown and pretty to look at.
Try your very hardest to let these cool for 5 minutes or so before you dig in.  They are great at room temp, warm, warm with butter.  They're just good is what I'm saying.
I couldn't wait for Mother's Day, so I took these to my mom at work yesterday.  The first one she had, she basically didn't speak to me while she was eating it, because she loved it so much and I didn't mind at all.  I was secretly feeling like the best kid EVER. Win!
Several snapshots of these beauties.....I had a lot of fun taking pictures of theses scones.
Happy Mother's Day!
Enjoy your scones!
***Come follow me on Pinterest to keep all your Salty Marshmallow recipes in one handy spot***
Printable recipe for you below!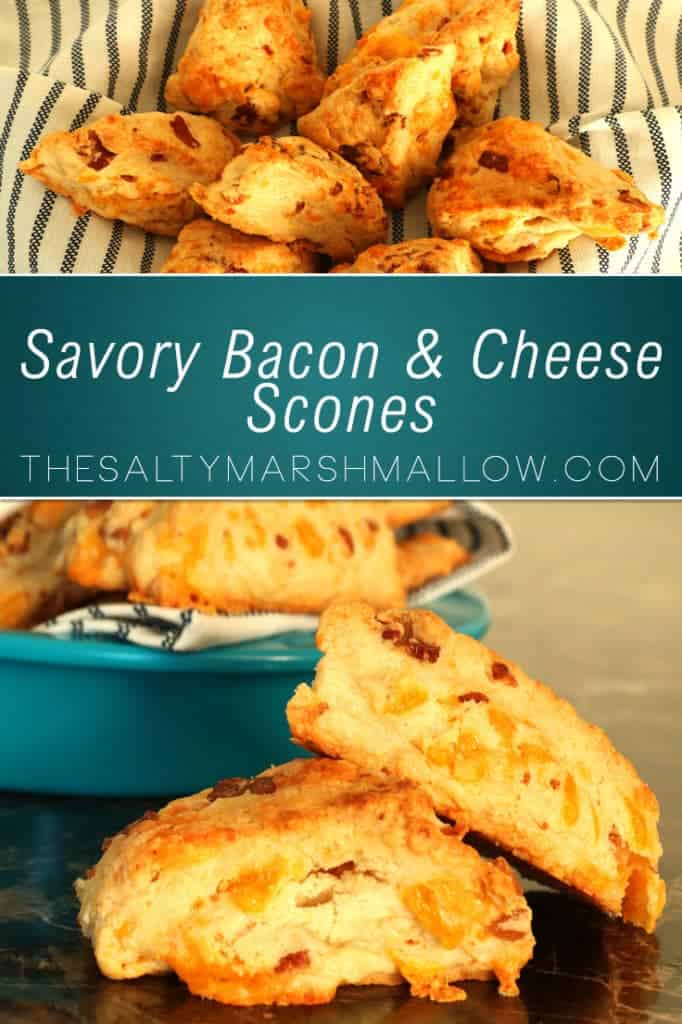 Ingredients
3

Cups

all purpose flour

1

Tbsp

baking powder

1

Tsp

salt

2

Tsp

sugar

½

Tsp

garlic powder

10

Tbsp

butter

frozen and grated

½

Cup

monterrey jack cheese

shredded

½

Cup

cheddar cheese

shredded

10

Slices

bacon

cooked and crumbled

1

Cup

heavy cream

plus ¼-1/2 cup more as needed to bring dough together
Instructions
Preheat oven to 400 degrees.

Cook bacon until crisp and crumble or chop into small pieces.

In a large bowl whisk or sift together the flour, baking powder, salt, sugar, and garlic powder.

Using the tips of your fingers, a pastry blender, or fork mix the butter into the flour mixture. Dough will be crumbly at this point.

With a fork, mix the cream into the flour/butter mixture and work just until dough comes together and forms some large clumps.

Add cheese and bacon. Using your hand mix bacon and cheese into dough by pressing the dough against the side of the bowl until everything comes together.

Turn dough out onto a lightly floured surface. Pat dough into a large round.

Using a knife, cut dough in half, and pat each half into a 7 inch round by ¾ inch thick.

Slice each round into 8 wedges.

Place wedges ½ inch apart on a baking sheet and lightly brush each wedge with heavy cream.

Bake for 20-23 minutes, until golden brown.

Allow to cool for 5-10 minutes before serving.