Tender and savory muffins filled with tons of nutty roasted garlic flavor and sharp white cheddar cheese - these muffins are easy to make and perfection with a big bowl of soup!
You can follow me on PINTEREST and INSTAGRAM and my FACEBOOK page to keep up to date with The Salty Marshmallow, and have all of your favorite recipes kept in one handy spot!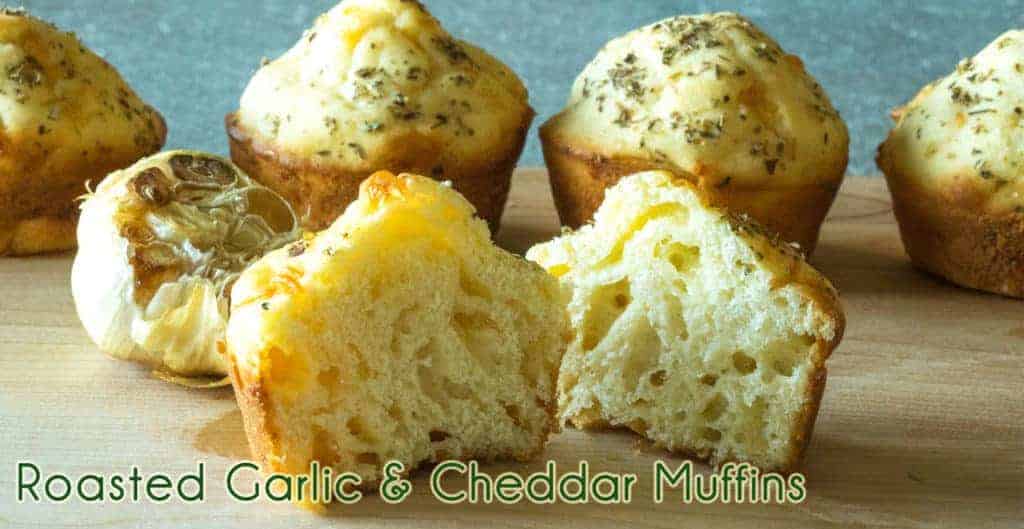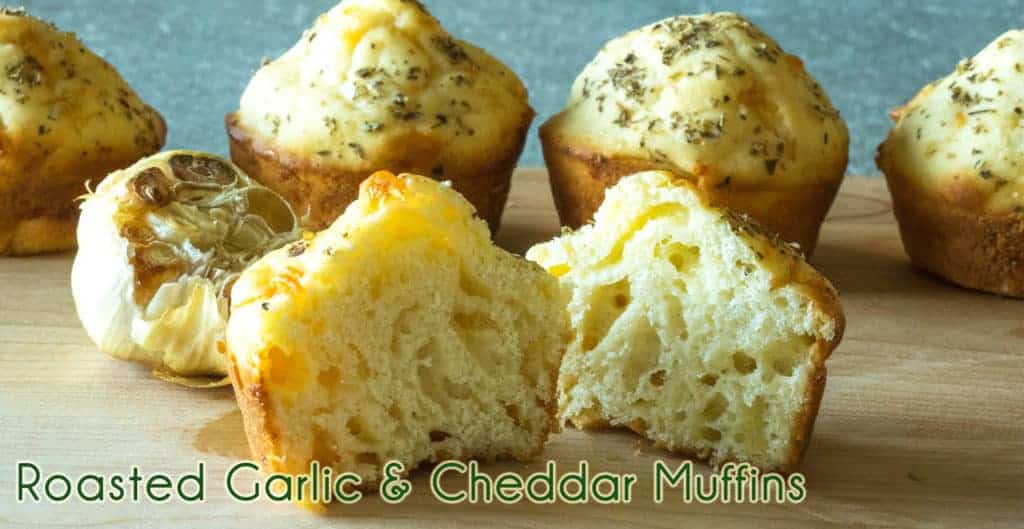 So, here I was on a Tuesday morning, just sitting and enjoying my coffee, looking out the window when it occurred to me that our scalding hot summer mornings are probably gone for the year.  This meant that I could get up and open my windows and let that delicious fall morning air in.  Next, that meant that I started dreaming of soup at about 7:30 a.m. And, you know, along with soup dreams comes the dream of the perfect bread for dunking.
Preferably something cheesy.  Definitely something garlicky.
For some reason just getting some store bought garlic bread (yes, I do that sometimes) didn't seem good enough. Maybe it's because it was so early in the morning and I had a jumbled mess of cheesy, garlic, soup things on my mind that muffins seemed reasonable.
Muffins are morning food.....cheese and bread are anytime foods in my little world.
In my early morning confusion before finishing a proper cup of coffee these muffins were born.  My blog ideas sometimes come to me at the most random of times, but I'm not complaining when they turn out this delicious!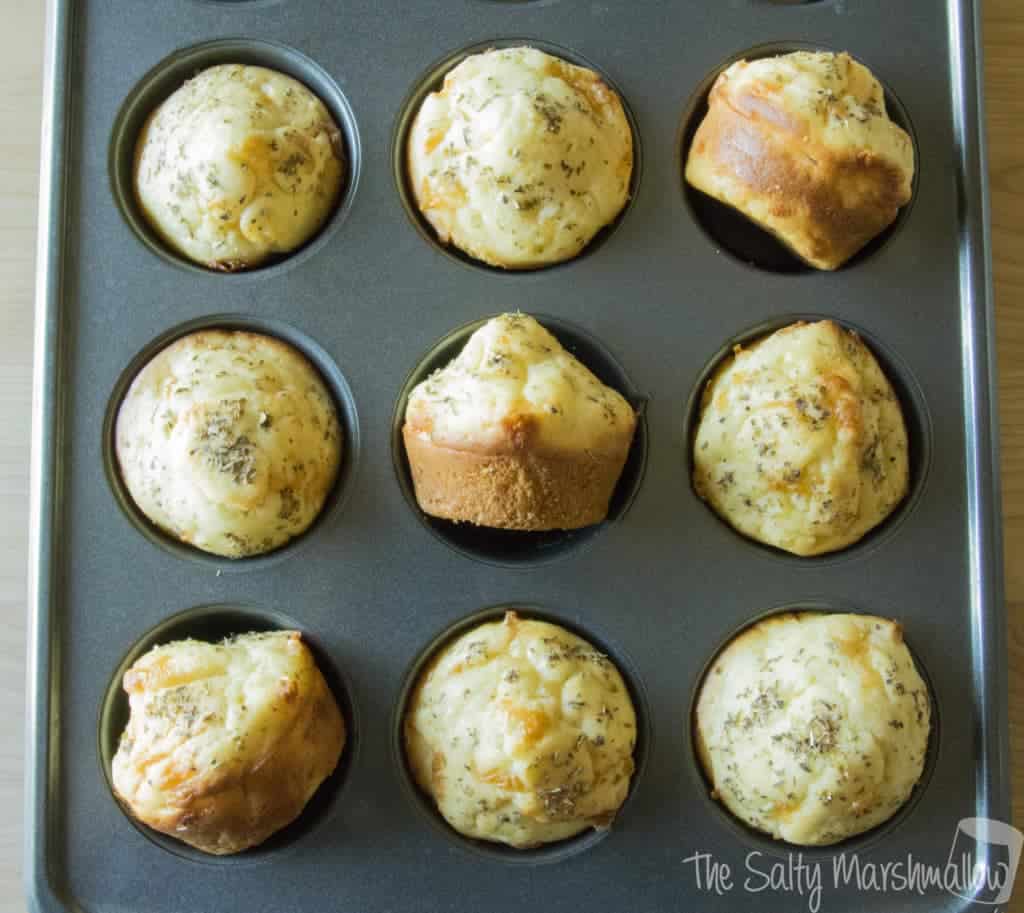 Now, if the thought of making muffins in the evening seems like a daunting task, do not fear, these are easy.
You could ya know just skip the soup and have muffins for dinner?
Not that any self respecting person would just eat 5 muffins for dinner or anything....I am not a self respecting person, and I may have eaten a few of these and called it dinner, and I may have also had a couple earlier in the day too....and I may have had to make a second batch because I ate too many before I got pictures of them.
But, who's counting?
I really hope my readers are a non-judgmental bunch!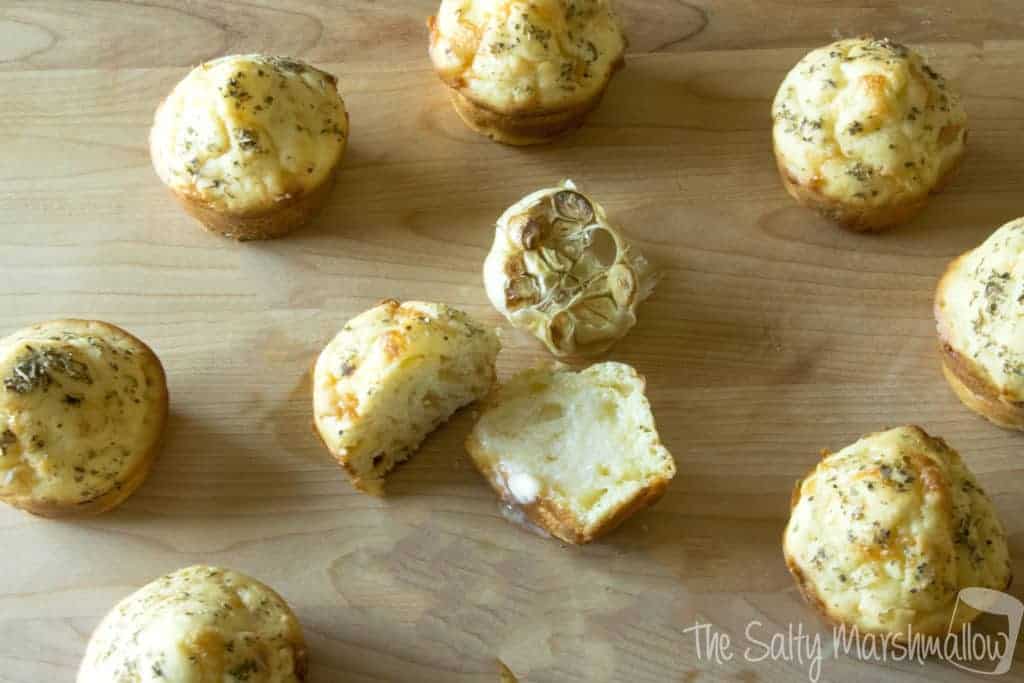 Ok, now, back to your regularly scheduled muffin programming.  Like I was saying, these are quick.  The longest part is roasting your garlic.
Roasting garlic is kind of a quick do it and toss it in the oven and leave it.  If you've never done it before it goes like this: Cut ¼ inch off your head of garlic so that you have the cloves exposed.  Place the cut garlic on a square of foil large enough to cover the garlic.  Drizzle delicious garlic with 1 Tablespoon of olive oil. Wrap the foil up over your garlic. Stick it on a baking sheet.  Put it in the preheated oven for about 30 minutes and go on about your life until the timer goes off.
Try not to go nuts over the ridiculously good smell of garlic wafting through your kitchen as it cooks.  That's important.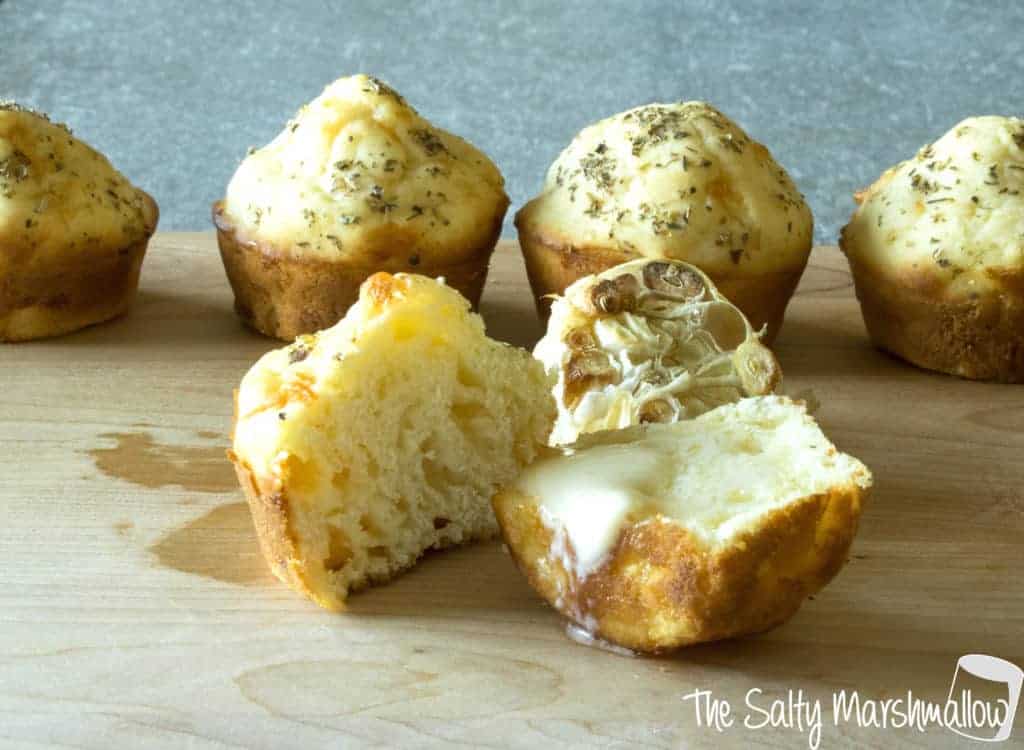 If you're looking for a homemade soup to go along with these I absolutely love them with my tomato soup.  This soup is slow cooker easy and also filled with roasted garlic.
So, if you eat both the roasted garlic soup and garlic muffins together, maybe just try not to breathe on anyone afterwards or anything like that!
Enjoy!  Printable recipe for you below.
Be sure to follow me on INSTAGRAM and PINTEREST!
**NOTE: I included the time that the garlic needs to roast in the prep time for these muffins**
**NOTE: Can use jarred roasted garlic if you prefer, refer to package directions**
Ingredients
2

Cups

all purpose flour

2

Tsp

baking powder

½

Tsp

salt

2

Tbsp

sugar

2

Tbsp

butter

melted

2

Eggs

1

Cup

milk

1

Cup

grated white cheddar cheese

1

Large head of garlic

1

Tsp

garlic powder

optional

1

Tbsp

olive oil

1

Tbsp

oregano

or as desired for sprinkling on top of muffins
Instructions
Preheat oven to 400 degrees.

Cut the top quarter off the head of garlic so that cloves are exposed, discard top quarter.

Place head of garlic on a square of foil, drizzle with 1 Tbsp. olive oil, and wrap garlic up in the foil.

Place garlic in foil on a small baking sheet and bake in preheated oven for 30 minutes, until cloves are soft.

While garlic is roasting, prepare a muffin pan (12 muffins) with non stick spray or paper liners.

Whisk together the flour, baking powder, salt, and sugar.

When garlic is done roasting, squeeze the cooled pulp from the cloves into a medium bowl and mash with a fork.

Whisk the eggs, butter, and milk into the mashed garlic, set aside for 10 minutes to allow flavors to meld.

Add wet ingredients to dry, and stir just until combined.

Gently stir in the cheese, being careful not to over mix.

Fill muffin cups evenly with batter, and sprinkle with oregano as desired.

Bake in preheated oven for 18-20 minutes, until muffins have lightly browned.

Allow muffins to cool in pan for 5-10 minutes before removing.