Roast Beef Tenderloin – The perfect recipe for making a juicy, tender, melt in your mouth beef tenderloin at home!  This beef is seared with garlic butter and cooked in the oven to perfection!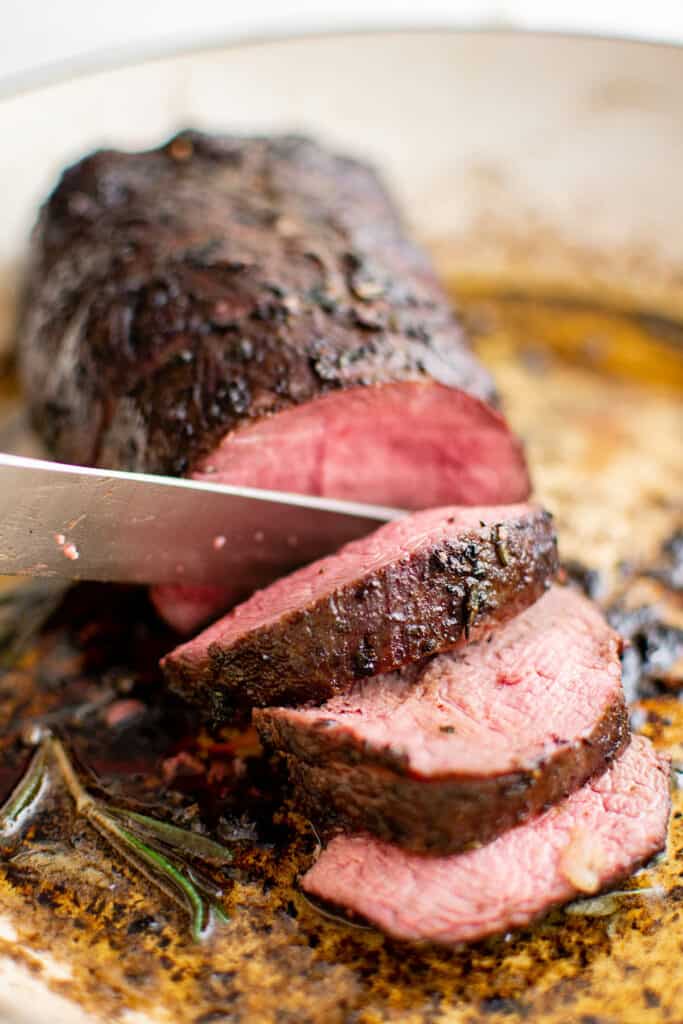 Beef Tenderloin:
This impressive cut of meat will wow all of your family and friends!  It is a pricey cut, and very popular at restaurants but it's truly so simple to make at home!  Most people are familiar with filet mignon which comes from the very end of the tenderloin.  The tenderloin itself is the most tender cut of beef which is long and when cooked properly is melt in your mouth tender.  This dish is so perfect as an impressive Christmas or Holiday dinner!  We love it served with Roasted Potatoes or Mashed Potatoes!
Prepping and Tying Up Your Beef Tenderloin Roast:
First things first, lay your roast on a cutting board and cut off any silver looking skin.  Your roast will be long with one end that is more pointy. You will tuck that pointy end under the roast, then tie it up with kitchen twine.  If you want to save yourself the time and effort, you can ask the butcher at the meat counter to trim and tie the beef up for you!  Either way, this step is a must for even cooking.
Use kitchen string or twine to tie a loose knot around one end of the meat and pull gently until you have a snug knot.
Now, loop the string around your hand and pull the loop over your tenderloin roast spacing it about 1 to 1 1/2 inches away from the first knot.
Pull more kitchen string to create another loop and secure it the same way about 1 1/2 inches away from the second loop.
Continue tying the roast in the same method until the whole roast is completely secured.
Which Cooking Method is Best?
The best way to cook the tenderloin is to first pull it out of the fridge for 2 hours before cooking.  This allows an even temperature so that the meat will cook evenly throughout.  Next, after tying up the meat you will coat it in garlic butter.  Once the butter is on, sear the roast in a very hot skillet!  This gives the meat a gorgeous crust that adds amazing flavor.  The process of searing all sides will take about 10-15 minutes.  Now, the roast stays in the same ovenproof dish and goes right into the oven. You will roast it for a total of 25-30 minutes for a medium tenderloin roast.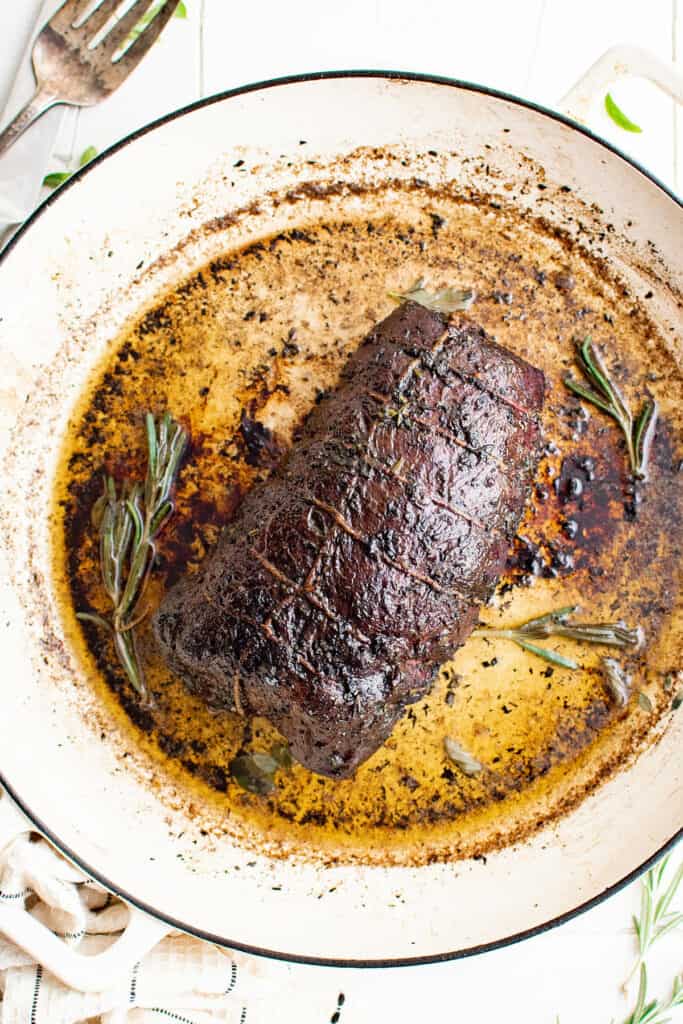 What Temperature Should I Roast Beef Tenderloin:
We cook our tenderloin at 450 for 10 minutes, then turn the oven down to 400 and cook for anywhere from another 15 minutes to 25 minutes until you reach your desired level of doneness. The best way to eat beef tenderloin is anywhere from rare to medium!  You do not want to serve this well done, it loses its flavor and becomes tough.  Please follow the chart below for our best cooking times.  You should invest in a cooking thermometer as well to measure the temp of your beef and ensure it's at the temperature you want it before you cut into it.
For Rare:  You will want to check after 10-15 minutes of cooking at 400. Rare will be about 115 degrees or up to 120.
For Medium Rare: This will be about 15-20 minutes.  Temperature of the meat will be 120-125.
For Medium:  This will be 20-25 minutes.  Temperature should be between 130-135.
NOTE:  Keep in mind that you must allow the roast to sit at room temperature for 15-20 minutes after pulling it from the oven before slicing and serving.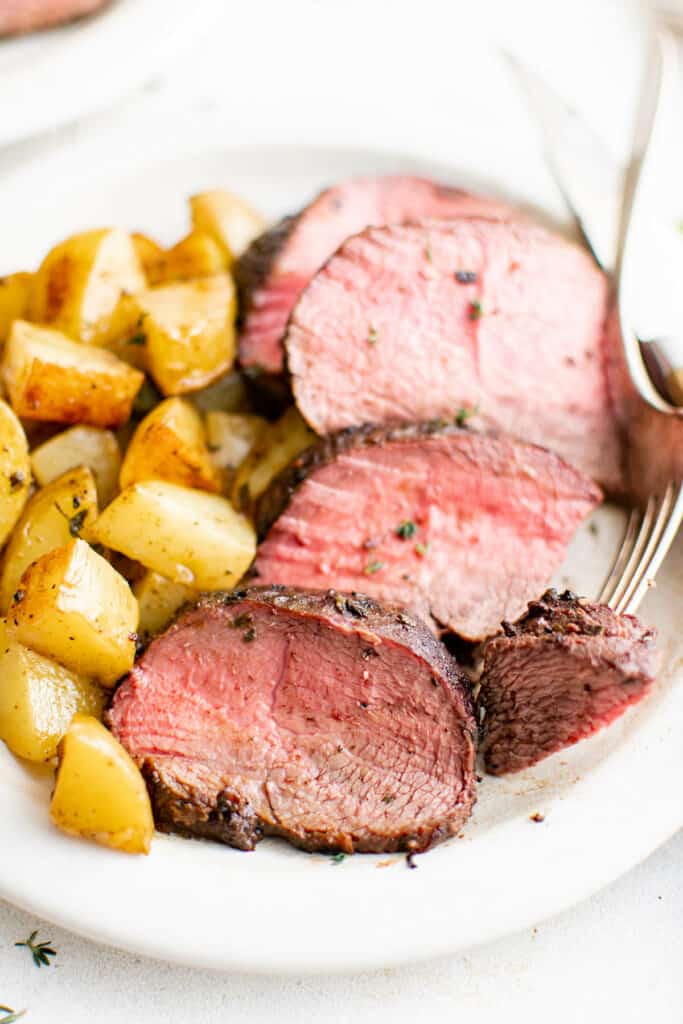 Enjoy!
~Nichole
Roast Beef Tenderloin
Roast Beef Tenderloin - The perfect recipe for making a juicy, tender, melt in your mouth beef tenderloin at home!  This beef is seared with garlic butter and cooked in the oven to perfection!
Ingredients
6

Tablespoons

Salted Butter

at room temperature

3

Cloves

Garlic

finely minced

1

Tablespoon

Freshly Minced Parsley

1

teaspoon

of Freshly Minced Thyme

1

teaspoon

Freshly Minced Rosemary

1

teaspoon

Freshly Minced Oregano

½

teaspoon

Salt

½

teaspoon

Ground Black Pepper

1

3-4 pound Beef Tenderloin Roast, with the fat trimmed off

1

Tablespoon

Olive Oil
Instructions
Lay a piece of kitchen twine on a cutting board then place the roast on top and tie a double knot around the top then make a loop out of the twine and slip it around the top and tighten it.

Repeat the tying process with the entire roast, leaving about an inch between each tie.

Flip the roast over and adjust the string so that it's evenly spaced then slip the string under the ties and continue looping until you get to the top.

Flip the roast over again and double knot the back end with the front end securely. *SIT THE ROAST ASIDE AT THIS POINT FOR 2 HOURS TO COME TO ROOM TEMPERATURE.

Preheat the oven to 450 degrees Fahrenheit.

Mix the butter, garlic, parsley, thyme, rosemary, oregano, salt and pepper together in a medium bowl until fully incorporated then set aside.

Heat an oven safe skillet over medium heat and spread half of the butter onto the front side of the roast and the other half on the back side of the roast.

Once the pan is hot, place the roast in the pan and cook for 4-5 minutes or until the roast starts to develop a nice color then flip it over and sear on the other side as well.

Place the roast in the oven directly for 10 minutes then turn the heat down to 400 degrees Fahrenheit and bake for another 20-25 minutes or until the internal temperature of the roast reaches 130 degrees Fahrenheit.

Cover it with aluminum foil and let it rest for at least 15 minutes before slicing and serving with roasted potatoes if desired.
Notes
NOTE PLAN AHEAD:  The beef tenderloin must be removed from the refrigerator to sit at room temperature for 2 hours after tying and before searing.  At the end of cooking you must let the roast sit for 15-20 minutes before slicing.
Nutrition
Nutrition information is automatically calculated, so should only be used as an approximation.
Like this? Rate & review this recipe below!