Oven Roasted Lemon Pepper Chicken is so easy to make and packed with delicious lemon pepper flavor!  These chicken thighs come out of the oven with a crispy outside and juicy center!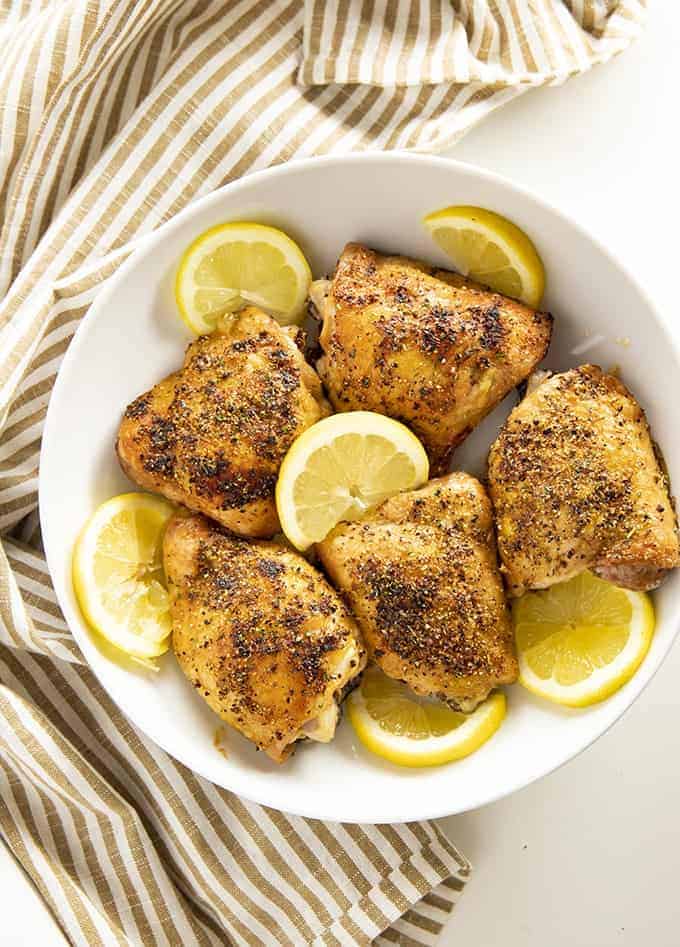 Since everyone is absolutely loving my recipe for Crispy Baked Chicken Thighs and how to make them in the oven, I thought it was time for another great chicken thigh recipe!
I did go over the basics on how to make the perfect oven baked chicken thighs in that previous post, but, for those of you who haven't seen it, we will definitely cover it again!
We adore chicken thighs and they are just as easy to make as chicken breasts, but, they have WAY more flavor!  Let's chat about the best cooking time and temperature for lemon pepper roasted chicken thighs, and a few other tips and tricks that will ensure your chicken turns out perfect every time!
Lemon Pepper Chicken:
To make lemon pepper chicken you will start out with about 3 pounds of chicken thighs.  This is typically about 8 thighs total for me.
For this chicken, we use a combination of lemon juice, plus lemon pepper seasoning for max flavor!  You will whisk together lemon juice and olive oil and coat both sides of your chicken.
Then, you will mix together a blend of spices like lemon pepper, salt, garlic, onion powder, paprika, and Italian seasoning and sprinkle it very liberally over the chicken.
After that, it goes directly into the oven and your work is done until it's time to eat!
I recommend using non-stick foil on your pan for easy cleanup.  If your foil isn't non-stick, simply give a light spray with cooking spray before placing the chicken in the pan.
We love lemon pepper chicken served with rice, veggies, or sometimes Cream Cheese Mashed Potatoes for a more decadent meal!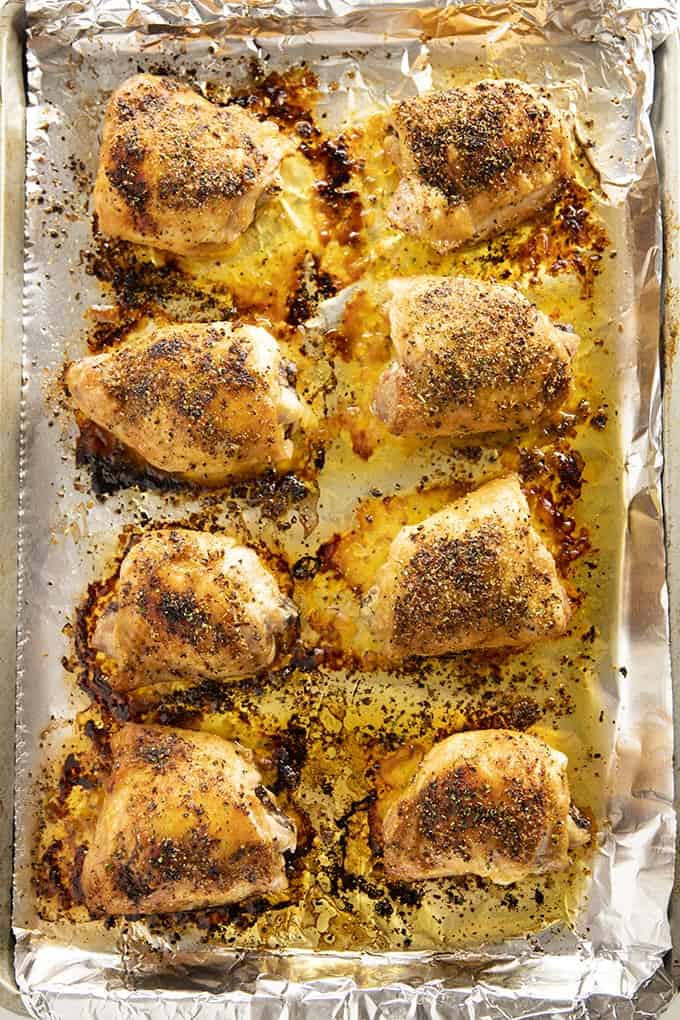 Chicken Thighs:
Chicken thigh meat is great for so many reasons!  Thighs are more budget-friendly to purchase than chicken breasts, they are more flavorful and juicy as well.  Believe it or not, thighs are much easier to cook as well, without having to worry about them drying out!
For this recipe, I prefer to use skin on and bone-in chicken thighs.  However, if you have some boneless and skinless thighs on hand you can use those as well and they work great with this recipe. One thing to watch is that thighs without the bone may cook a little faster.  Keep an eye on them.  Chicken should reach an internal temperature of 165 degrees before consuming.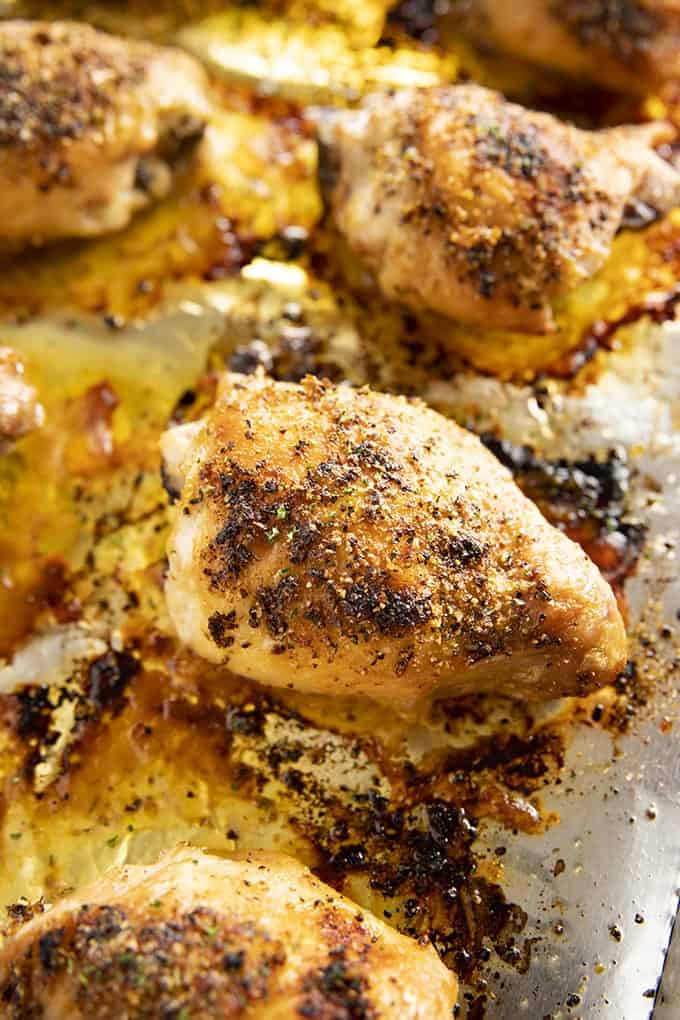 Chicken Breast:
Yes, you can use chicken breasts for this recipe if you prefer!  There is no need to cut them in half.  I find that when I use 2.5 pounds, it comes out to about 4 large chicken breasts.  The cooking time will remain the same.  Keep in mind that they won't be as crispy on the outside due to not having the skin on like your chicken thighs would.  But, they are still very juicy and tender!
On that note, I'd like to mention that it is not at all necessary to wash your poultry before cooking!  You can read more about that on the USDA website right HERE if you're interested.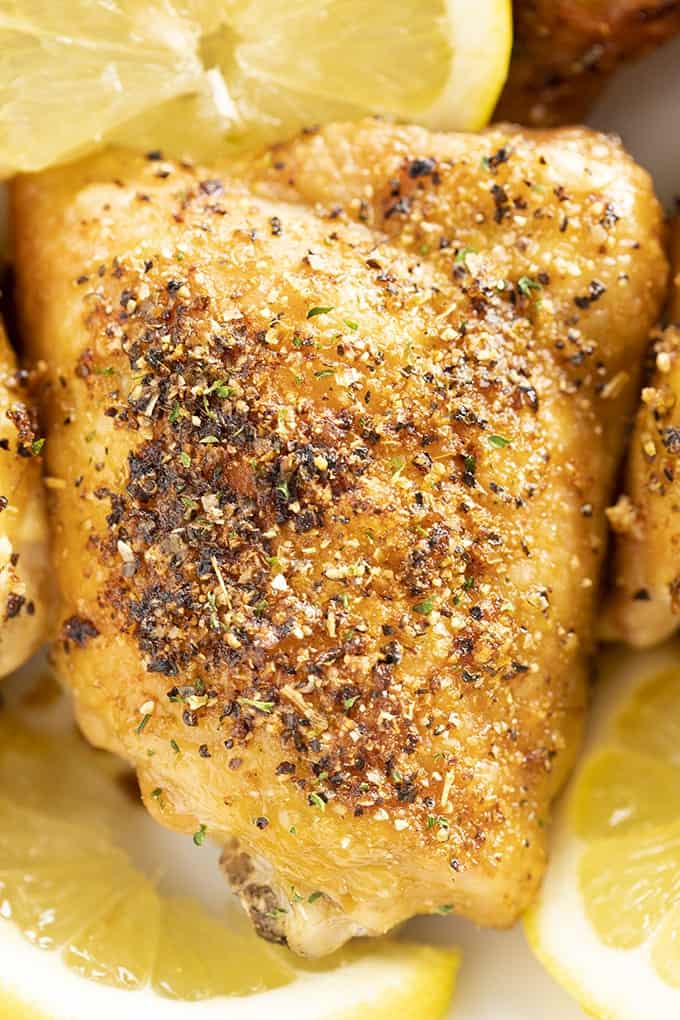 Enjoy!
~Nichole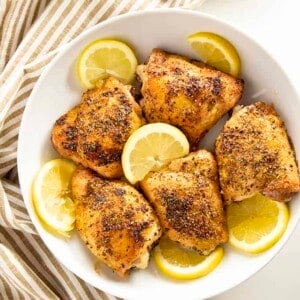 Lemon Pepper Baked Chicken Thighs
Lemon Pepper Baked Chicken Thighs are easy to make and packed with delicious lemon pepper flavor! These chicken thighs come out of the oven with a crispy outside and juicy center making for a truly irresistible chicken dinner!
Instructions
Preheat oven to 400 degrees. Line a large baking sheet with foil and set aside.

Pat the chicken dry with paper towels and place on the baking sheet.

Whisk together the olive oil and lemon juice in a small bowl.

Drizzle the olive oil mixture evenly over both sides of the chicken, rubbing to coat well.

In another small bowl stir together the lemon pepper seasoning, salt, garlic powder, onion powder, Italian seasoning, and paprika.

Sprinkle the spices evenly over the chicken.

Bake in preheated oven for 35-45 minutes, until the chicken has reached an internal temperature of 165 degrees.
Notes
NOTE:  Bone-in, skin on, chicken thighs are my preference for this recipe and I typically get about 6-8 depending on the package.  If you are using chicken breasts this will be about 4 large.
Nutrition
Calories:
47
kcal
,
Carbohydrates:
1
g
,
Fat:
4
g
,
Sodium:
388
mg
,
Potassium:
19
mg
,
Vitamin A:
80
IU
,
Vitamin C:
1.9
mg
,
Calcium:
7
mg
,
Iron:
0.2
mg
Nutrition information is automatically calculated, so should only be used as an approximation.
Like this? Rate & review this recipe below!